Alaska has long been on my bucket list
Not so much for D.A. His memories of Alaska during his Orvis years involved black bears and swarms of mosquitoes.
I didn't expect it would be by cruise however because of my previous experience cruising. A lifetime ago, I took a Western Mediterranean cruise; a Greek ship with about 500 passengers. It set the bar for me at a very high level. Later, I took a Carnival cruise to the Caribbean. It was not a carnival. It was living in a giant ashtray for a week with 2,500 passengers! The itinerary took us to many ports where Cuban cigars were sold. Those cigars could be purchased but not brought back to the U.S. 
I always said an ideal trip for me would be a cruise to Alaska on a small ship…
And then, one day in May, our dear Boise friends, Athena & Bob, called to say they had just booked an Alaska cruise and wanted us to go with them. I looked at D.A. and said, "Wanna go?" and he said YES! We booked. It wasn't until afterwards that we realized the Norwegian Bliss carries 4,000 passengers and 1,700 crew. Oh my. How could it be that in Covid times we'd be traveling for a week with 6,000 strangers? How could it be we'd also paid for that?!! 
We arrived in Seattle for our transfer to the ship. After walking what seemed like many miles (thank goodness we are not those folks with huge bags packed to the gills), we were given a bus number, 21. At that moment, number 18 was boarding, so we thought it was no big deal and soon we would board our bus and be on our way. No. Not even close. It was cold in the boarding area. We had already surrendered our bags. We waited. We shivered. And we realized that while 4,000 people were embarking that day, 4,000 other people were also disembarking the same vessel. 
Finally, our bus arrived and we were off to our adventure. Well, not quite. We left the bus only to join a very long line of people trying to check in for their cruise. It's not that it was an inefficient process, there were just so many people! 
Everything had to be checked and rechecked then checked again, I.D. photos taken for card keys, but eventually we ended up in our stateroom – a balcony room on the 9th floor – our little oasis – with a sliding glass door to magical views. Our friends arrived! Our luggage arrived! We sailed out of Seattle Saturday evening.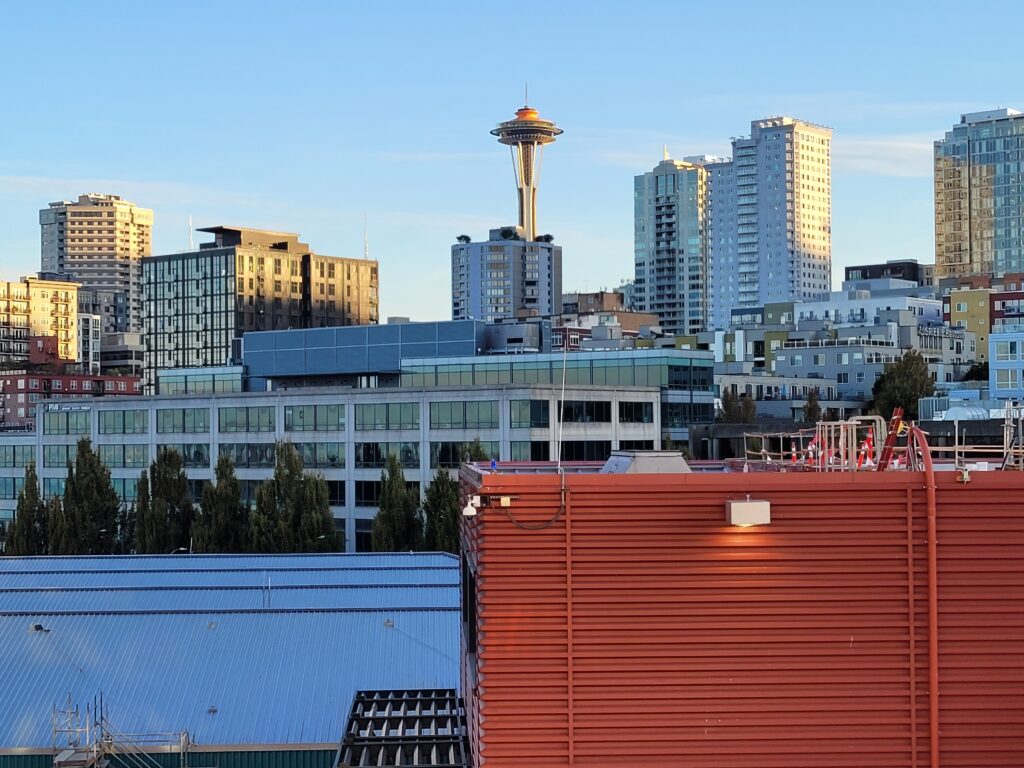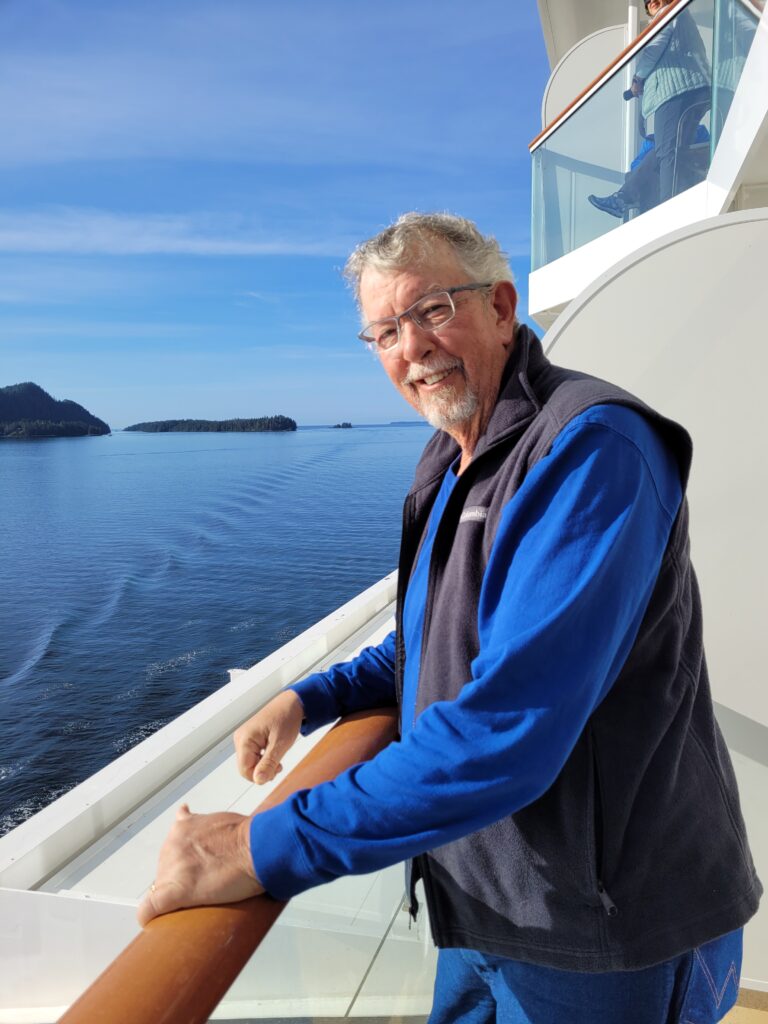 Sunday was a sea day, so we wandered the ship and found what would be our two favorite places. (1) The spa. We bought a pass for the week to the spa area that included use of a huge hydro pool, hot tub, sauna, steam room, salt room, snow room, heated tiled lounges. It was money well spent, especially on rainy days. They sold a limited number of passes, so it was never crowded. (2) The Observation Lounge took up the entire 15th deck and was a lovely and restful place to spend time with its intimate lounge areas and floor to ceiling windows.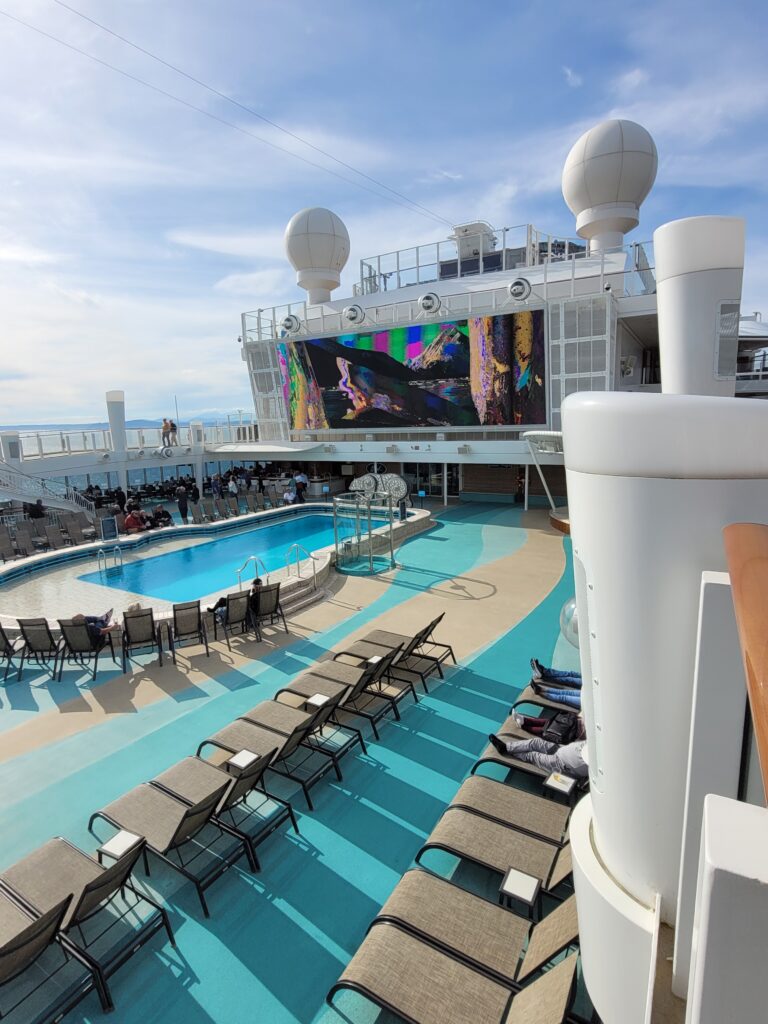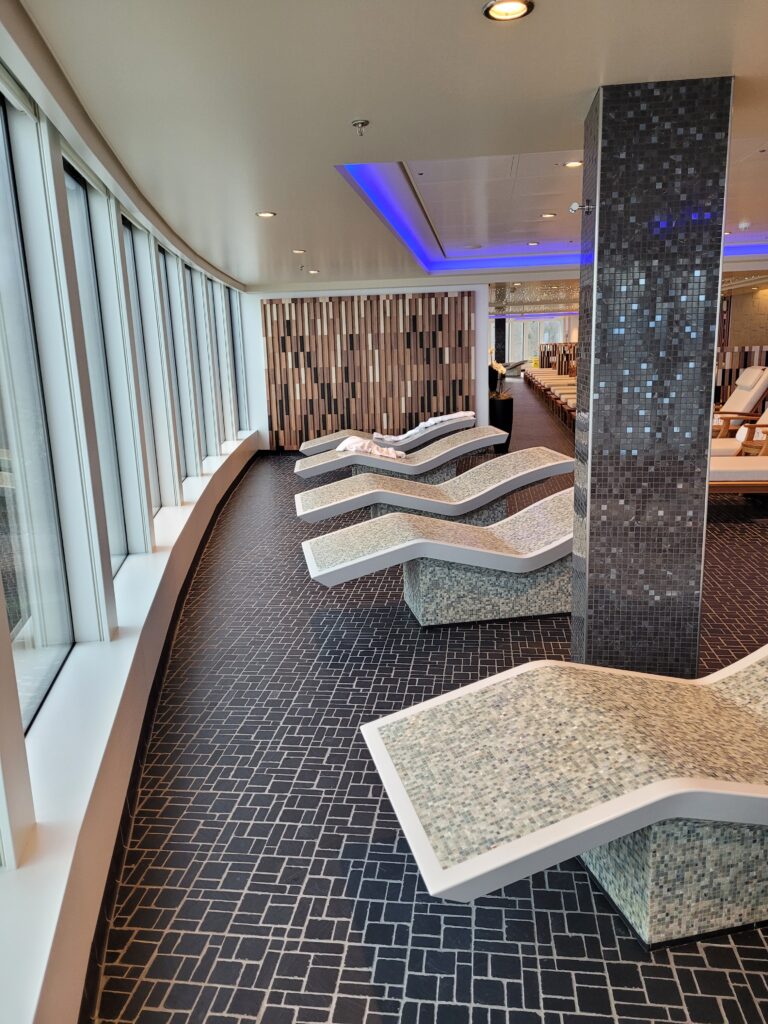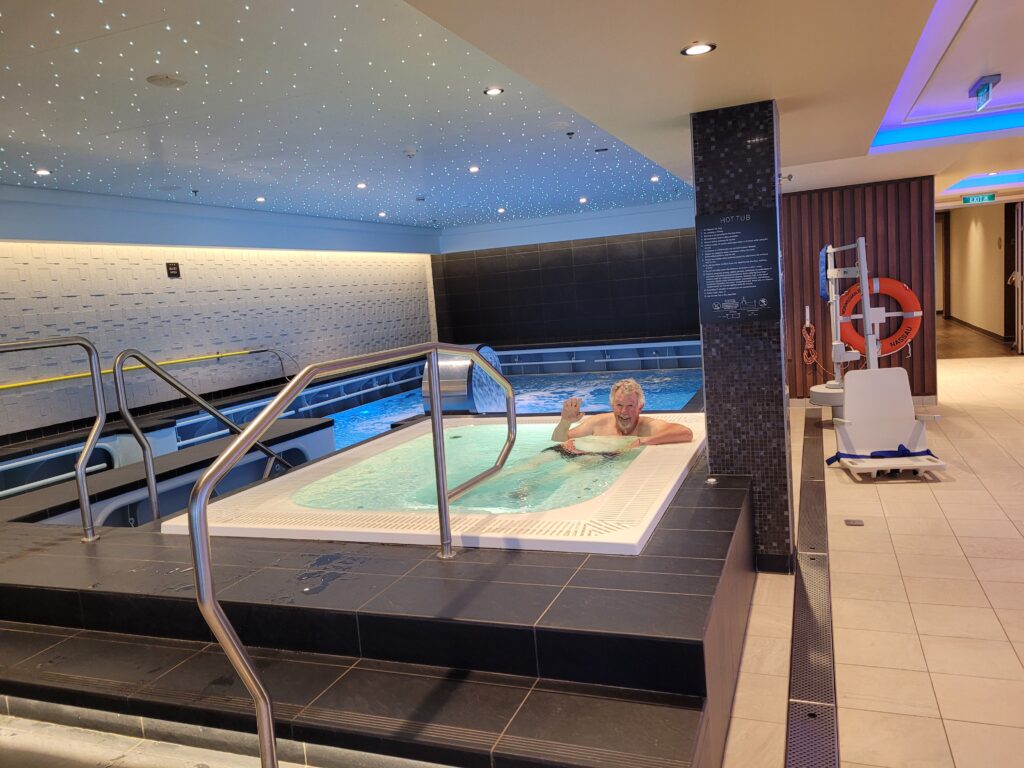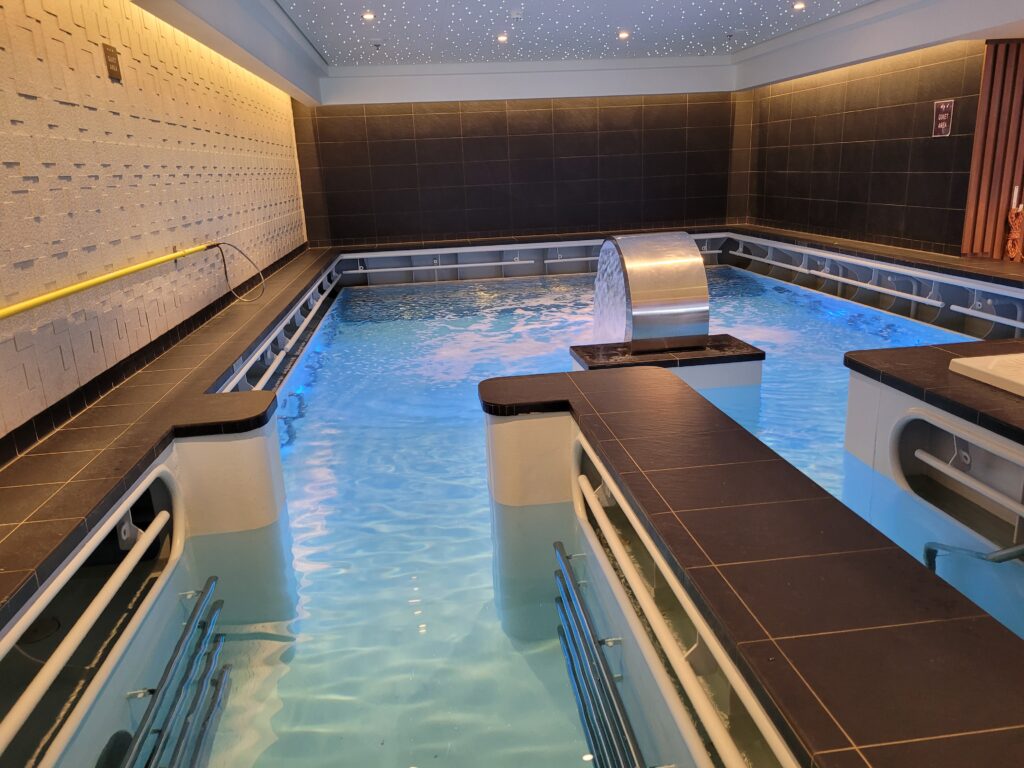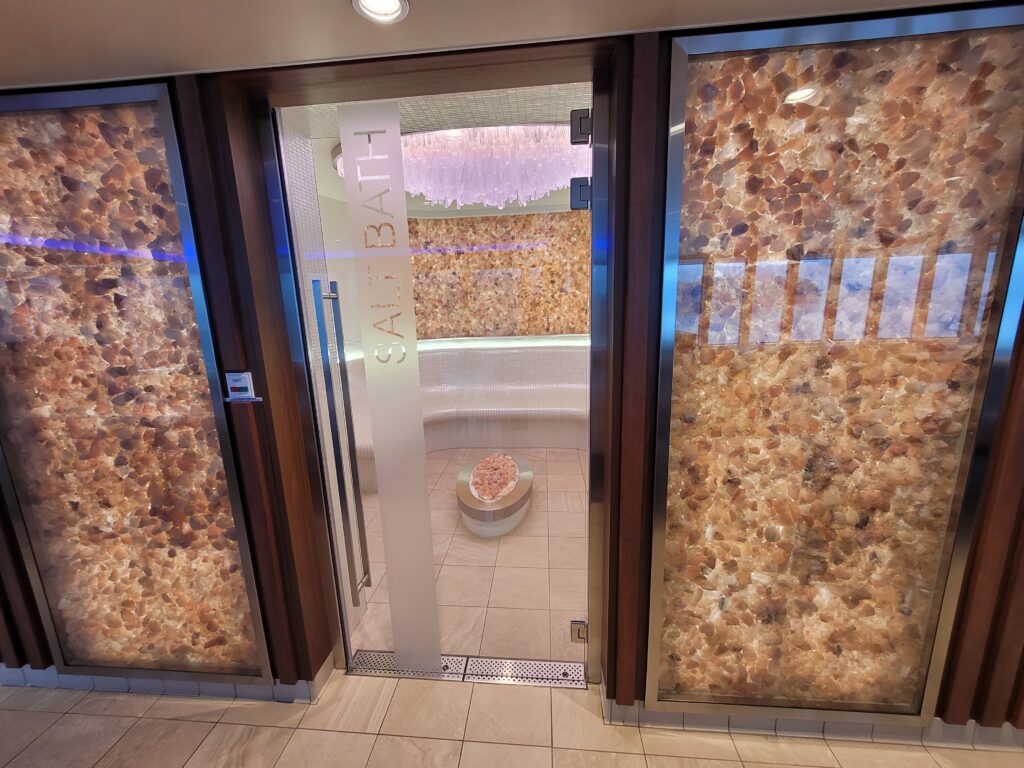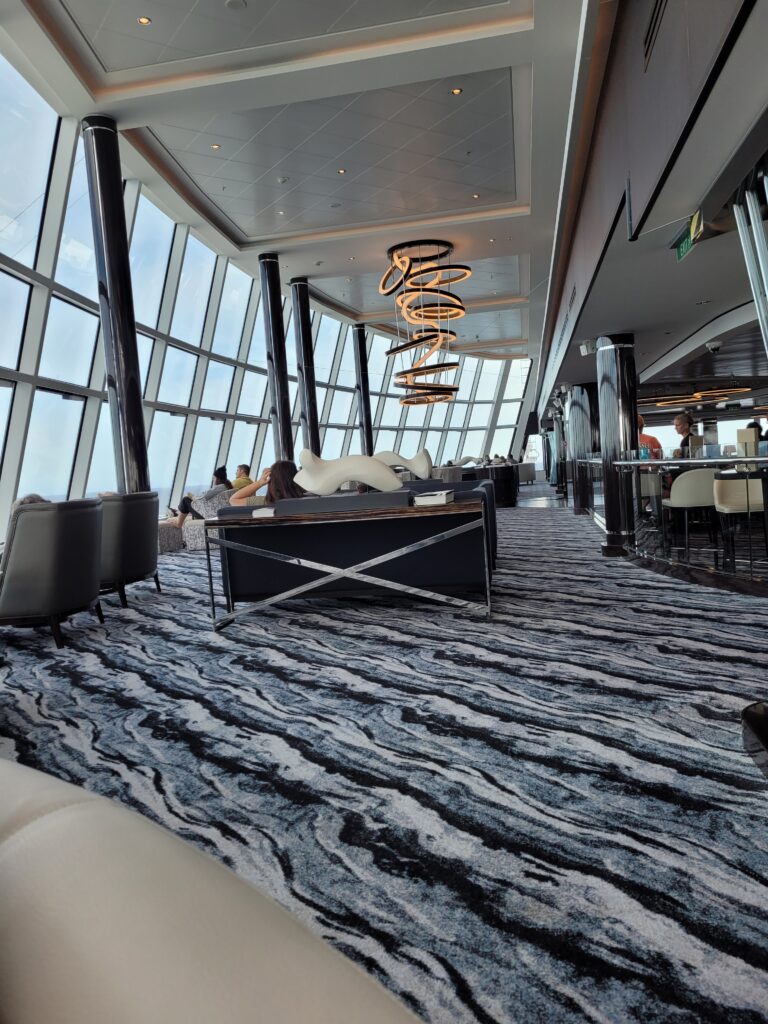 Early Monday we arrived in Sitka for the day. Unfortunately, another cruise ship arrived about the same time, so getting into town meant another l-o-n-g line. We hadn't booked a tour there, which gave us time to explore the downtown area. We went to the museum and took a nice walk along the waterfront to Sitka National Historic Park to see the totem poles displayed there.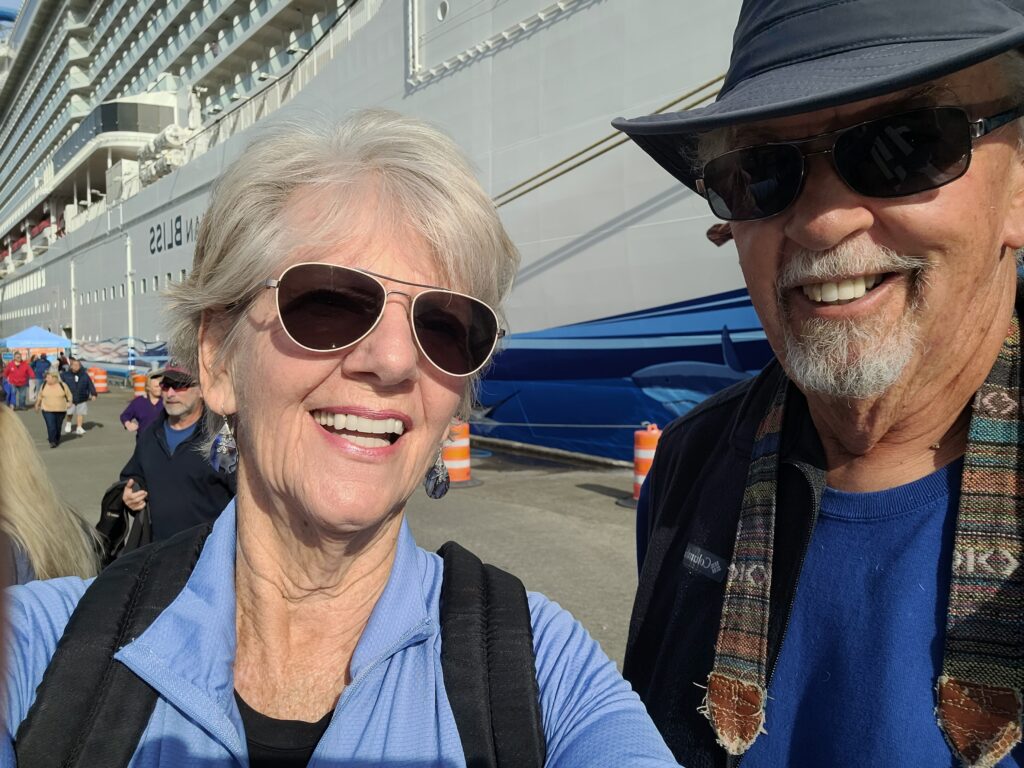 We didn't book many tours in advance because the weather predictions included a lot of rain, but it turned out the weather was mostly perfect. The one tour we did book in advance was a Whale Watching & Mendenhall Glacier Photo Safari in Juneau.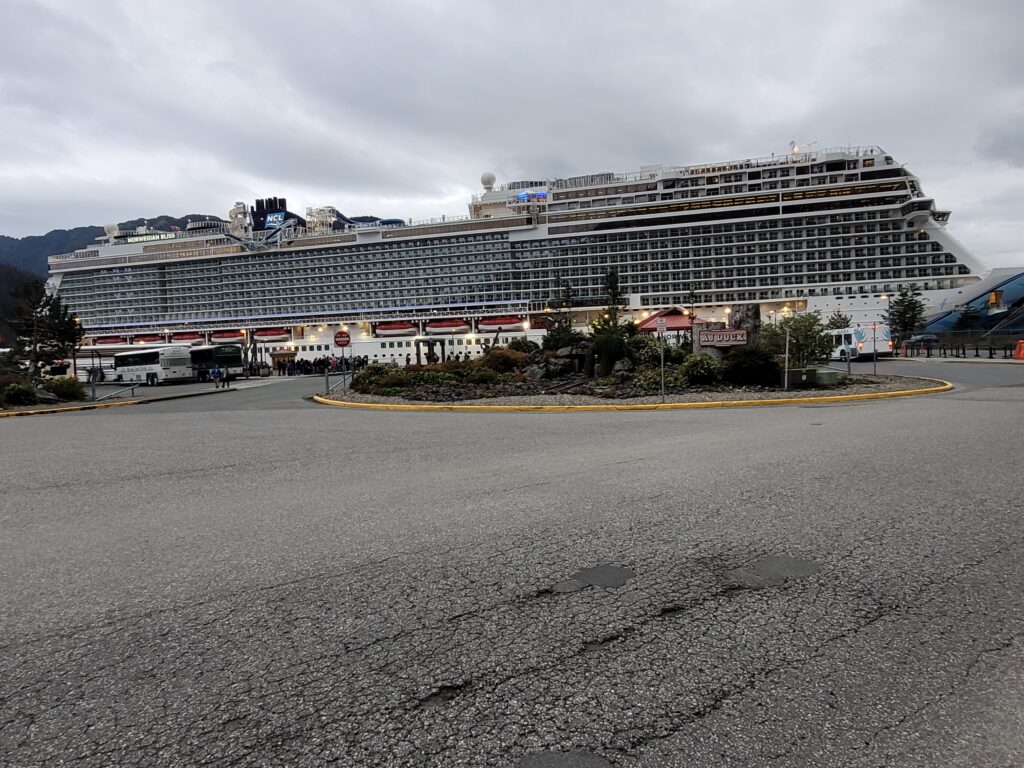 I kept backing up and backing up to try to get the whole ship into a photo! It almost worked. Seeing those busses parked nearby kind of puts it in perspective.
This tour was a great experience. The bus delivered us near the Mendenhall Glacier Visitor Center where we took the "Trail of Time" capturing the natural history of the glacier with our naturalist guide and photographer, ending with magnificent views of the glacier. Back on the bus we had snacks, "They tell us we must feed and water you every two hours!"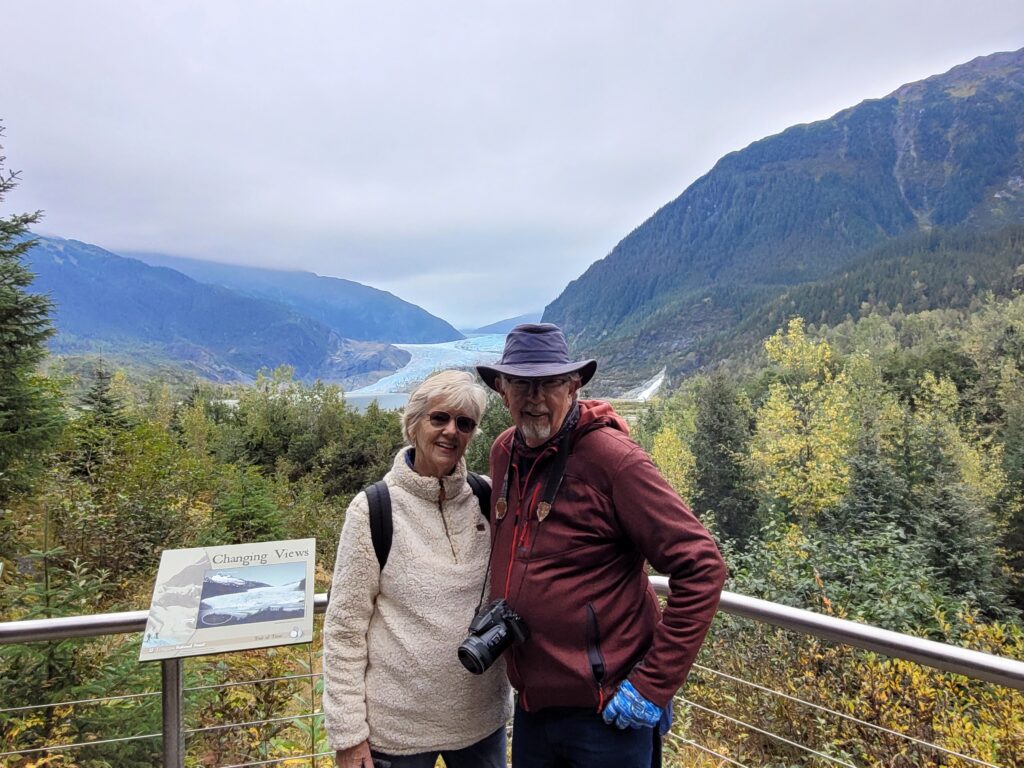 The action started practically as soon as we boarded the whale watching vessel and continued throughout. We were in the area known as Stephens Passage and there were so many whales even our guide and captain were awestruck!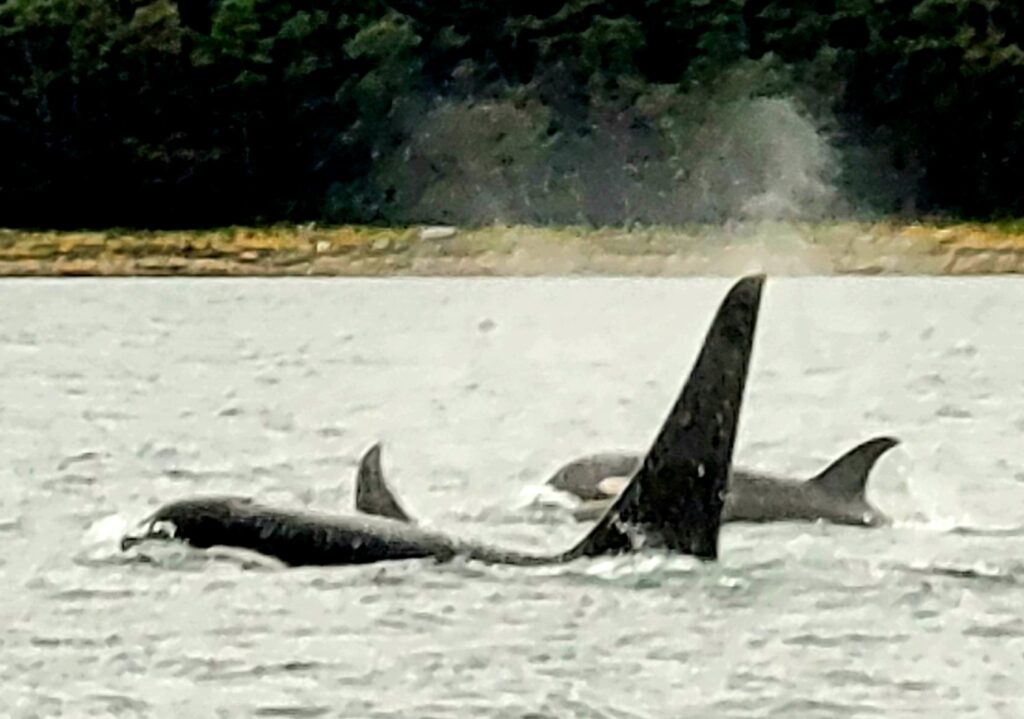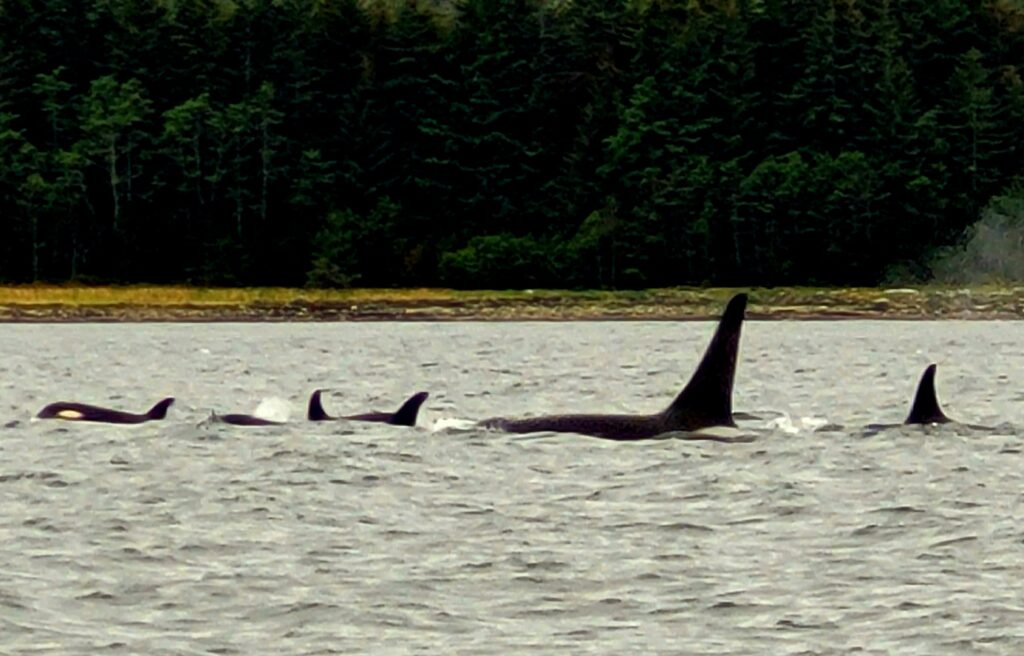 The vessels in the Gastineau fleet are specially designed and built to get you up close with the environment. The cabin has large panel windows that open from within to give unrestricted views (while keeping you dry). They are the only crafts of their kind in Southeast Alaska, custom built specifically for marine wildlife photography. We will never forget this experience.
We had a short visit on Day 5 to Icy Strait Point, a privately owned tourist destination just outside the small village of Hoonah. It had been raining and when it finally cleared, we took a walk to see the sights near the dock. Later we learned Icy Strait Point has the highest concentration of wild bears anywhere in the world! 
Its history is fascinating because Icy Strait Point did not even exist 50 years ago! In 1912, the Hoonah Packing Co. built a large salmon cannery. The cannery operated on and off under different ownership until the early 1950s, then it sat shuttered for decades until the local Alaska Native corporation, Huna Totem Corp., purchased and rehabilitated the facility which now houses a museum, local arts and crafts shops, restaurants and a mid-1930s cannery line display. Outside and easily seen on our walk from the ship to the cannery is the world's largest and highest zip line – 5,330 feet long featuring a 1,300-foot vertical drop! If we had more time in port and a little better weather, we surely would have given that a try.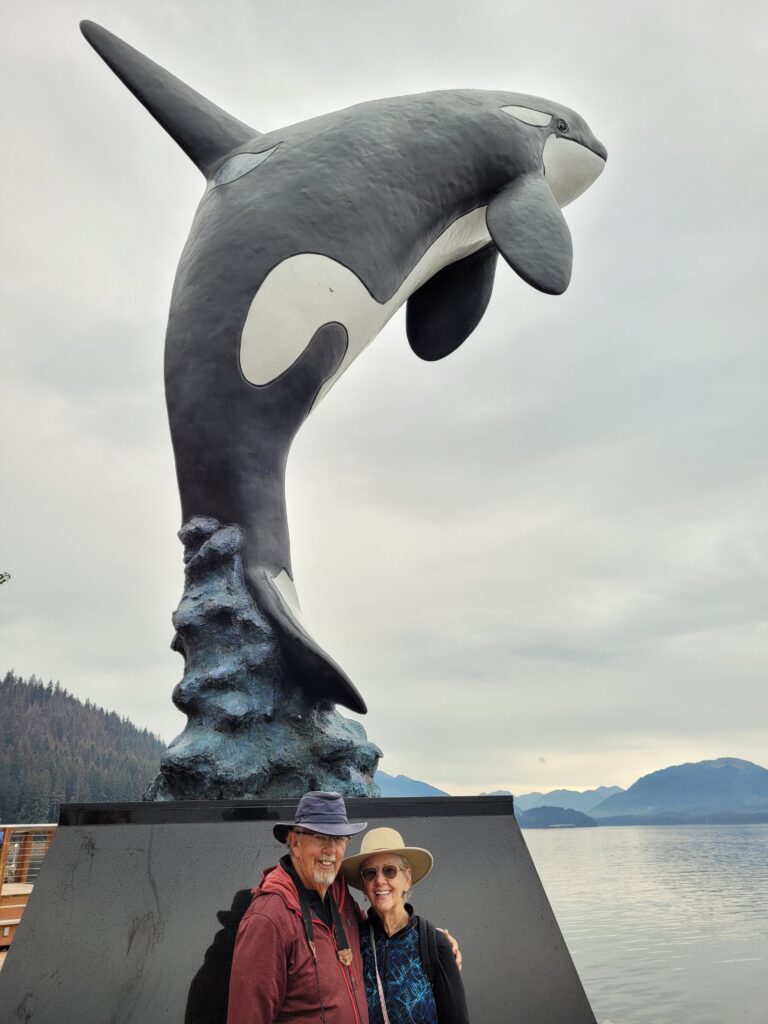 Day 6 was Ketchikan, the salmon capital of the world, and it was time for salmon fishing! And it was raining. Nonetheless, we went out with a captain and four other passengers trolling with downriggers. There were three or four downriggers, so as a fish hit, we took turns reeling it in. I lost mine right at the boat, but D.A. brought his in. Five were caught in total – which were donated to the guy who was willing to pay $240 to have them processed and shipped home! Knowing D.A. was a "6-pack" captain too, our captain had him take the wheel several times while he was busy with other tasks. It won't surprise you to hear D.A. would love to go back and spend a summer guiding in Alaska. Stay tuned.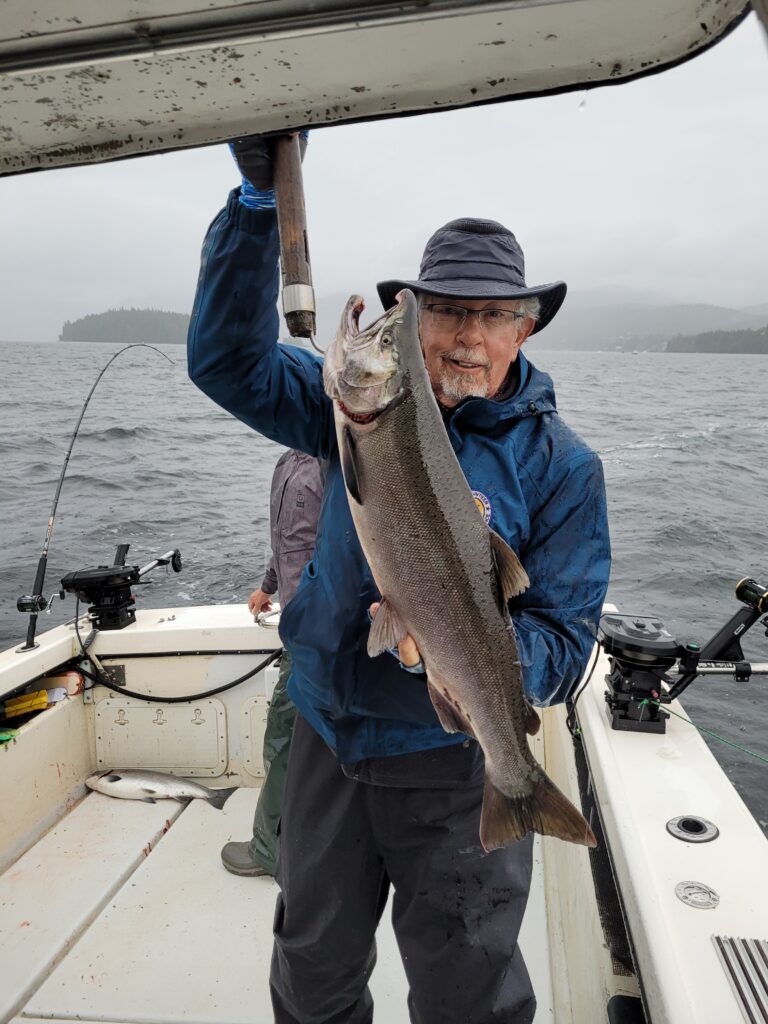 Our last full day was mostly at sea, but included an evening stop in Victoria, British Columbia, Canada. Not quite long enough (or early enough) for a visit to Butchart Gardens, or much else. I had to wonder why NCL would have an arrival at 8PM and departure at midnight. I learned that all cruises sailing from the U.S. must stop in Canada or another foreign port due to the Passenger Vessel Services Act (PVSA) of 1886. Foreign-flagged ships must visit at least one foreign country during the cruise. A cruise line would face significant penalties for not complying. That didn't make much sense to me since NCL is a U.S. company, but it doesn't matter where the company is domiciled, it matters where the ship is "flagged." Most of the NCL ships are flagged in the Bahamas. Mystery solved!
Athena and I decided to take a walk to the historical harbor and a DIY tour of the Empress Hotel. It was the perfect choice to walk off the most decadent dinner of our voyage at Ocean Blue.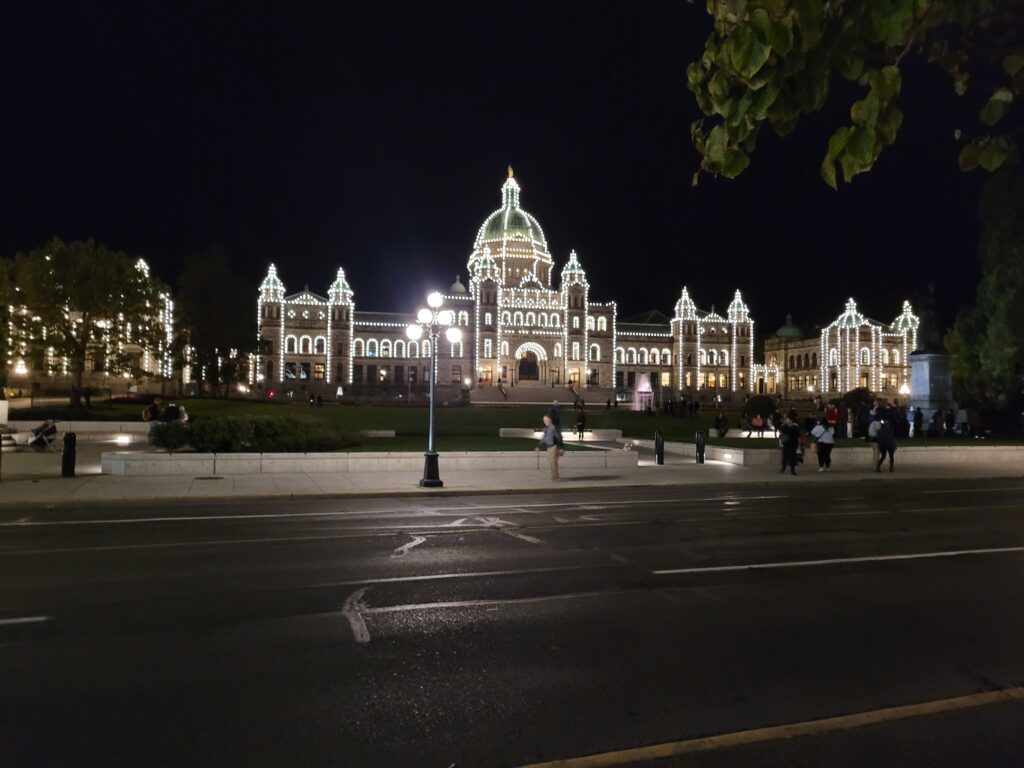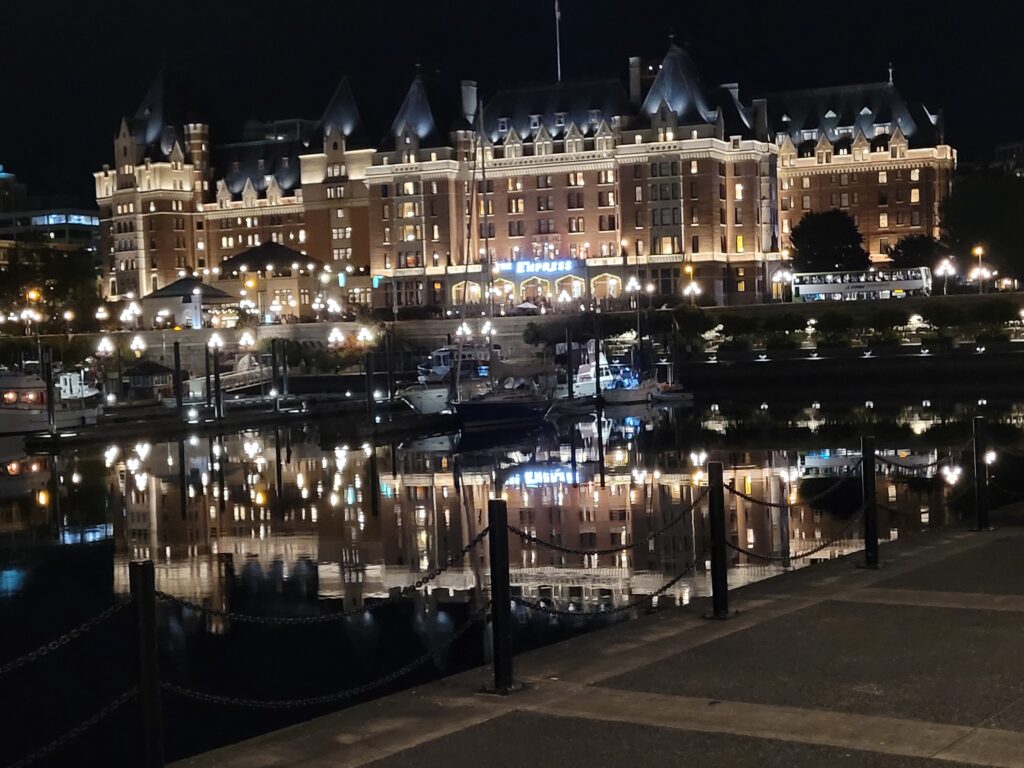 I haven't talked much about eating or entertainment. Suffice to say the options were generous. Eating-wise, there was a huge buffet on the 16th floor which offered breakfast, lunch and dinner. We avoided it because there were so many other choices where you could be seated and served. The food and service were excellent. The desserts were out of this world and we tried them all. There was entertainment all day in an area called the Atrium, and many shows to choose from at night, plus a wild assortment of opportunities, i.e., solo travelers, trivia, karaoke, wine and chocolate pairing, beer and whisky tasting, game show themes. And did I mention the casino? Huge. 
I personally would have loved talks by naturalists, but we got that kind of info on the tours. Had the weather predictions been better, we would have taken more tours.
It was a huge pain and inconvenience embarking. It was a huge pain and inconvenience debarking, but the time between couldn't have been better. It was a level of luxury, alright decadence, we had not previously experienced, but thoroughly appreciated and enjoyed.
Would we go again? No. It's really not our gig. We want to connect with people, spend time in places and get to know them.
Are we happy we went? Yes. It was an experience of a lifetime we will never forget or regret!
That being said, I personally would love to spend a summer touring around Alaska. There are a couple of considerations, the main one being road conditions of the 3,500 to 5,000 mile one-way drive. Only other RVers can understand this. You arrive at your destination, then wander around with your little baggie picking up screws that have become detached. Next step is trying to determine where they belong. Maybe we'll hitchhike!
Up until that trip, we had spent the whole summer planning our next summer. We thought we would go to a couple of lakes in Oregon and Washington to fish for Kokanee, then follow the Missouri River – the longest river in the U.S. – from southwest Montana through North Dakota and South Dakota (where I will renew my driver's license and we will meet our Casper friends for the 4th of July weekend). 
But who knows? There's more to this story and it literally could take us anywhere!