It all began in Tucson. I relocated there in 2004. Don Allen, D.A., relocated there in 2006 and we met online. He had recently gotten his master's at ASU and was pursuing a career in Social Work and Substance Abuse counseling. I (Jude Gilford) was mostly retired but interested in restarting the Money Awareness Program which originated in San Francisco. Money counseling was a skill mostly overlooked in Recovery, so we soon found ourselves working together on programs that lifted our spirits and contributed to the community.
My Mom relocated to Tucson in 2009. While caring for her, we began thinking that when we could retire, we would escape in an RV and get to know our country in an entirely new way.
D.A. is a fisherman and I am a kayaker, so our time off was usually spent near water. We visited lakes in southern Arizona and particularly liked Roper Lake State Park. We got to know a few camp host volunteers, we camped or rented cabins and began thinking how great it would be to have a camping trailer. We started with an Aliner – one of those hard-sided pop-ups.
My Mom passed away in 2012 and we found ourselves ready to pursue our dream. Getting rid of all the stuff was hard, I won't kid or lie. It was R-E-A-L-L-Y hard! But down-sizing is also very liberating. We sold real property, we sold personal property, and then we started giving it away. By then it was mostly fun.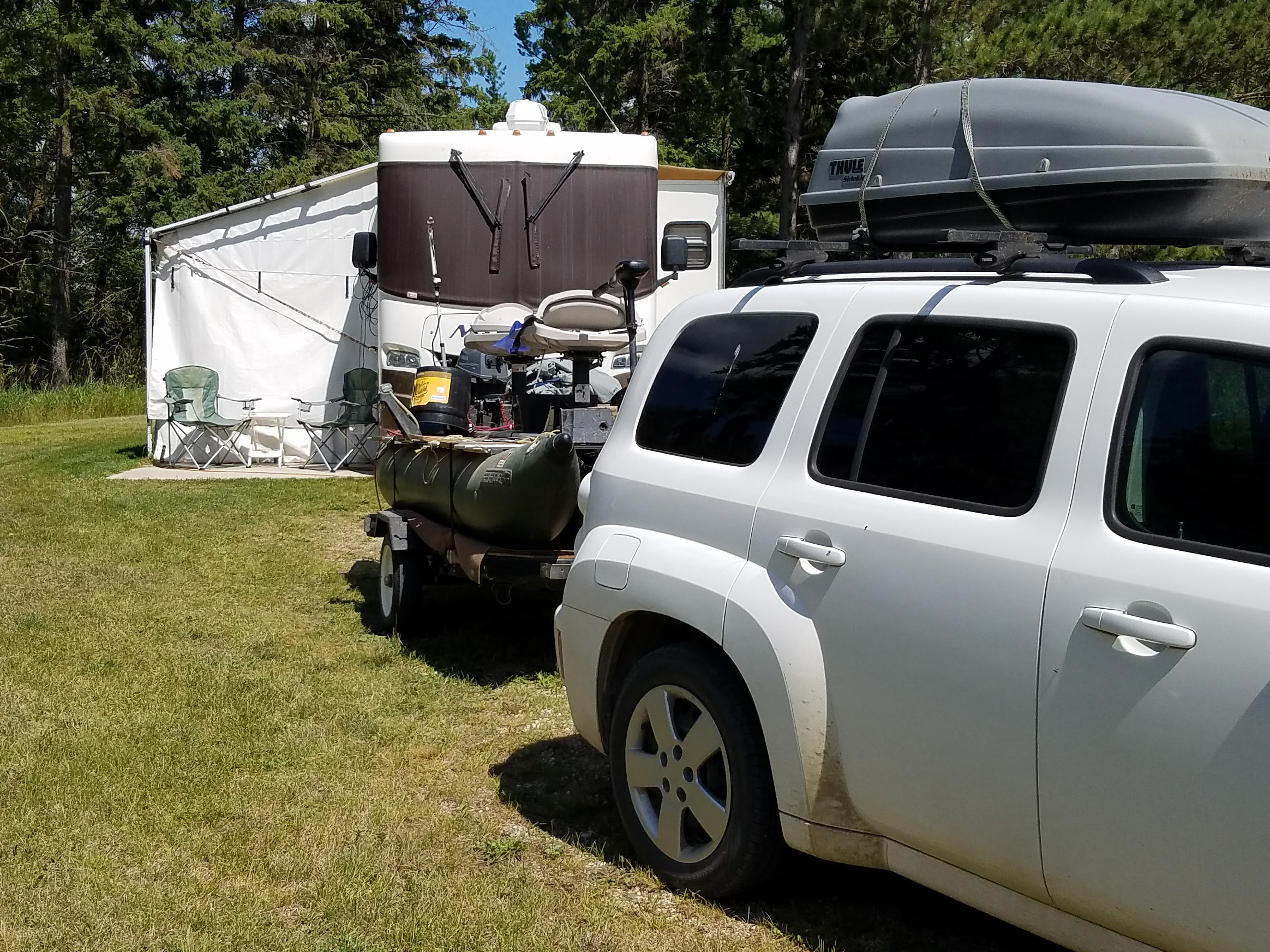 We sold D.A.'s Chevy Silverado. We traded my Chevy Impala for a Chevy HHR, the "toad," and then purchased a 32' 2007 Coachman by Mirada, the "mothership." At the end of March 2013, we set off with an RV full of "stuff" we were sure we couldn't live without. That's how we got to know most of the thrift stores in Arizona, New Mexico and Colorado. Every time we landed in a new town, we had yet another box of that couldn't-live-without stuff to drop off, never to be thought of or missed.
We purchased a membership in Colorado River Adventures because we knew we wanted to be in Arizona in the winters. As we've questioned ourselves over the years if it was a good investment for us, we've come to see it was a VERY GOOD choice for us. We spend winters at Havasu Springs, a resort half-way between Parker and Lake Havasu City, AZ, and that is where we see dentists and doctors for routine care.
We became residents of South Dakota. There are three states that offer advantages to full-time RVers: South Dakota, Texas and Florida, the biggest advantage being no state income tax. We joined Americas Mailbox near Rapid City. They provide a street address, a mail forwarding service and they also handle our vehicle registrations.
The blogs were mostly written by D.A. and sent to a small email list of friends and family. D.A. is also a photographer, so when we traveled and he showed his photos, people would ask if he had a blog. It took five years, but here it is.