My dream was of Costa Rica; D.A.'s was Peacock Bass fishing in the Amazon.
So here we go!
Leaving San Jose, Costa Rica, our next stop was Miami. We had a five-hour layover and it was freezing in the airport. Not really freezing of course, but our clothes were for the tropics, not for winter. D.A. bought us travel blankets.
Our tour provider, Acute Angling, offered us branded items that would serve to identify us to their driver. We chose tackle bags that first served to identify us to other Acute Angling customers on the trip – which was an unexpected benefit.
Acute Angling offers a variety of accommodations, but D.A. wanted to try the floating bungalows because the site was more wild, out on the frontier, where we could truly experience the rain forest.
Arriving in Manaus, Brazil, about midnight, we were taken to the Nobile Suites very near the airport. We were instructed to check in and be ready for breakfast at six a.m., with departure to our float plane at seven. The hotel was beautiful and very modern but the rooms had no reading lights, no glasses, no bottled water. We brushed our teeth with Listerine and fell into bed.
A nice breakfast buffet greeted us in the early morning and then we were on our way to the domestic airport. There were only four of us. Jim and Barbara from Washington state would be joining us. The other folks we met last night were taking other Acute Angling trips. After having all literature from the company telling us our checked bag must not weigh more than 33 pounds, since there were only four of us, I don't think our bags were even weighed!
The float plane could accommodate eight passengers, but two guys missed their connection to Miami and would be joining us the next day.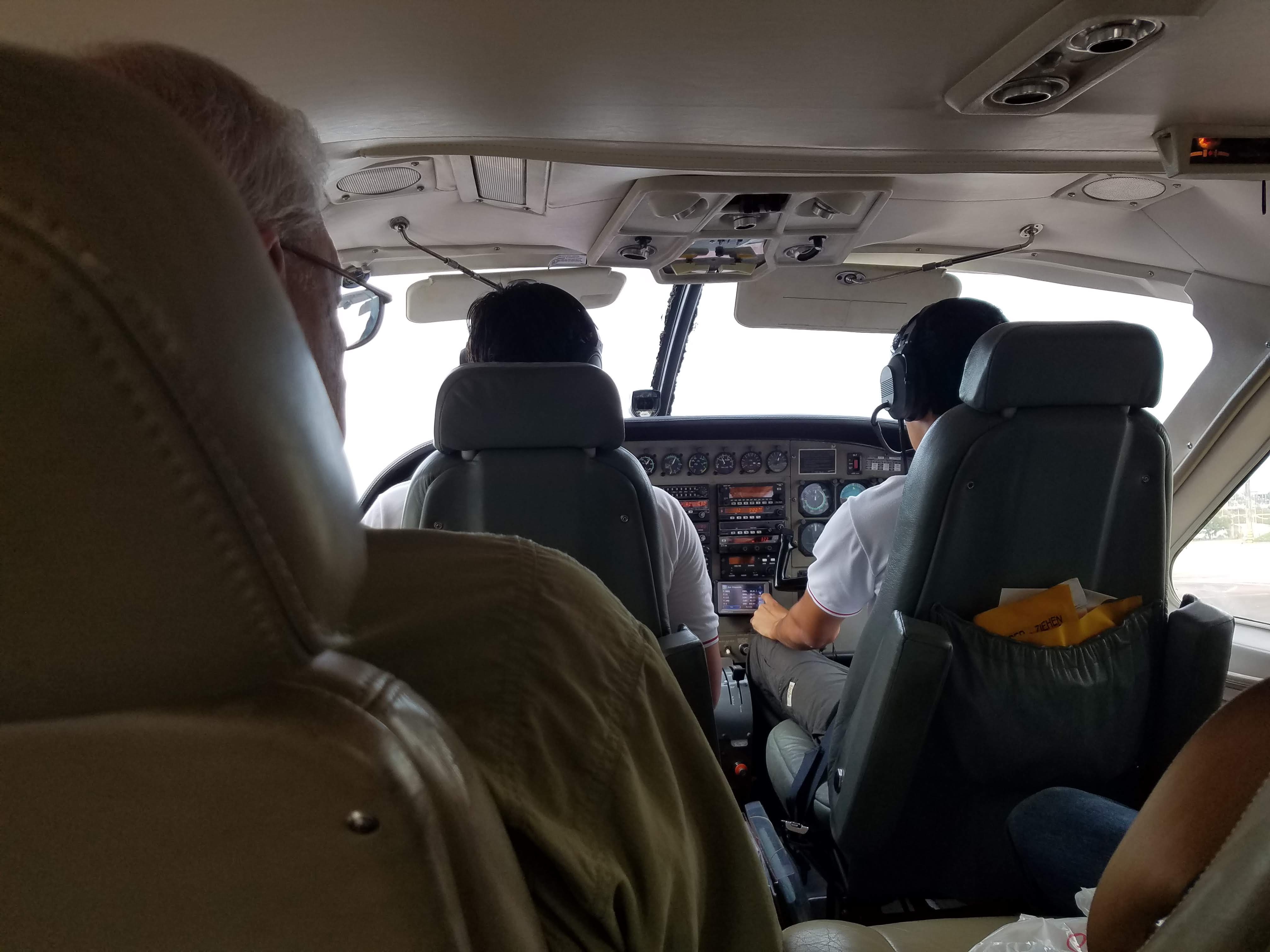 A few minutes later, all we could see was water and canopy – no boats, no habitations, no roads. We were truly in the jungle!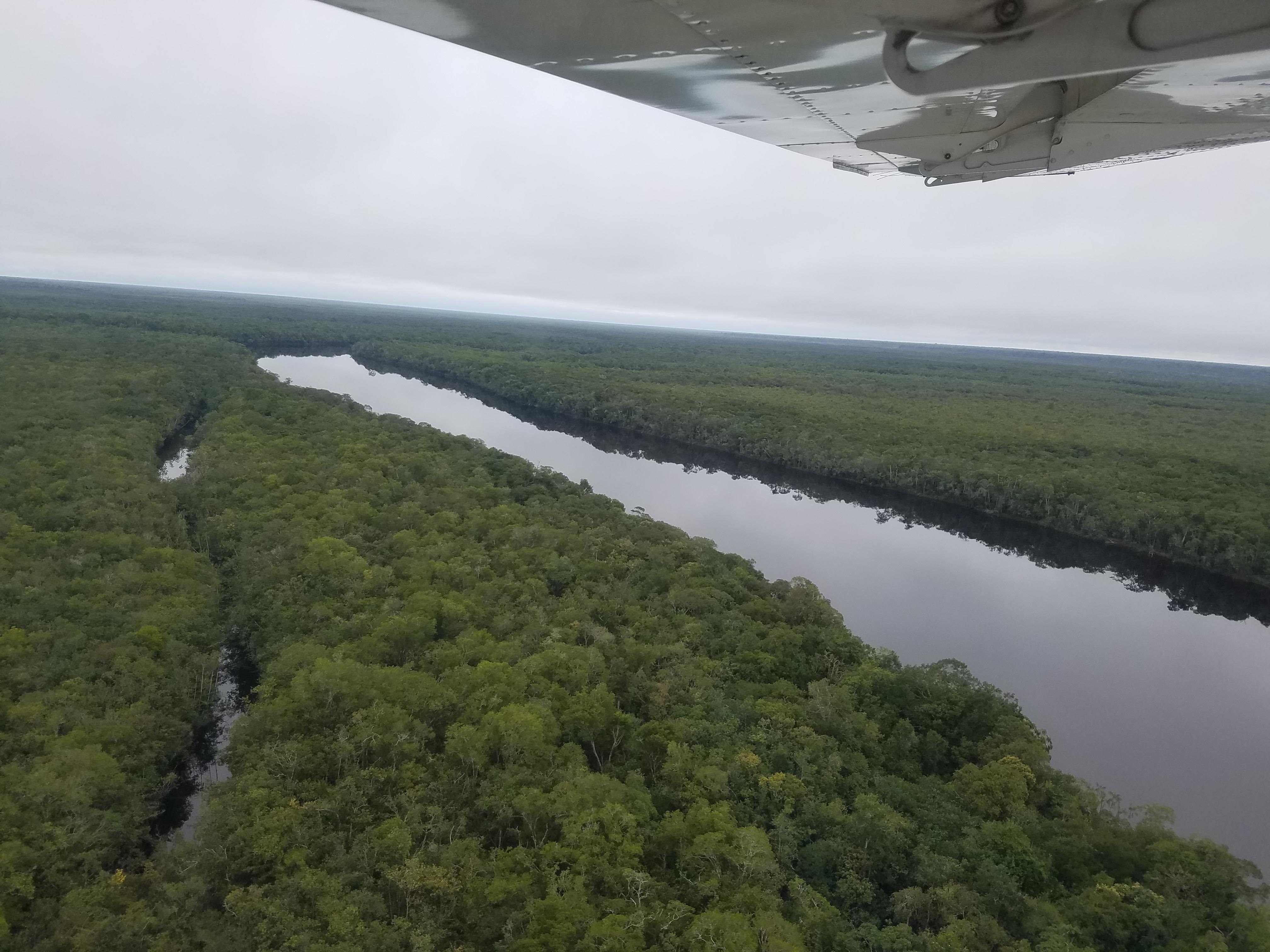 So much water! So many trees! It was hard for us to wrap our "extended-drought" minds around it. Two hours later, the pilots put the plane down in the river in front of the bungalow community. We were met by two fishing boats: one boat took us passengers, and the other our luggage.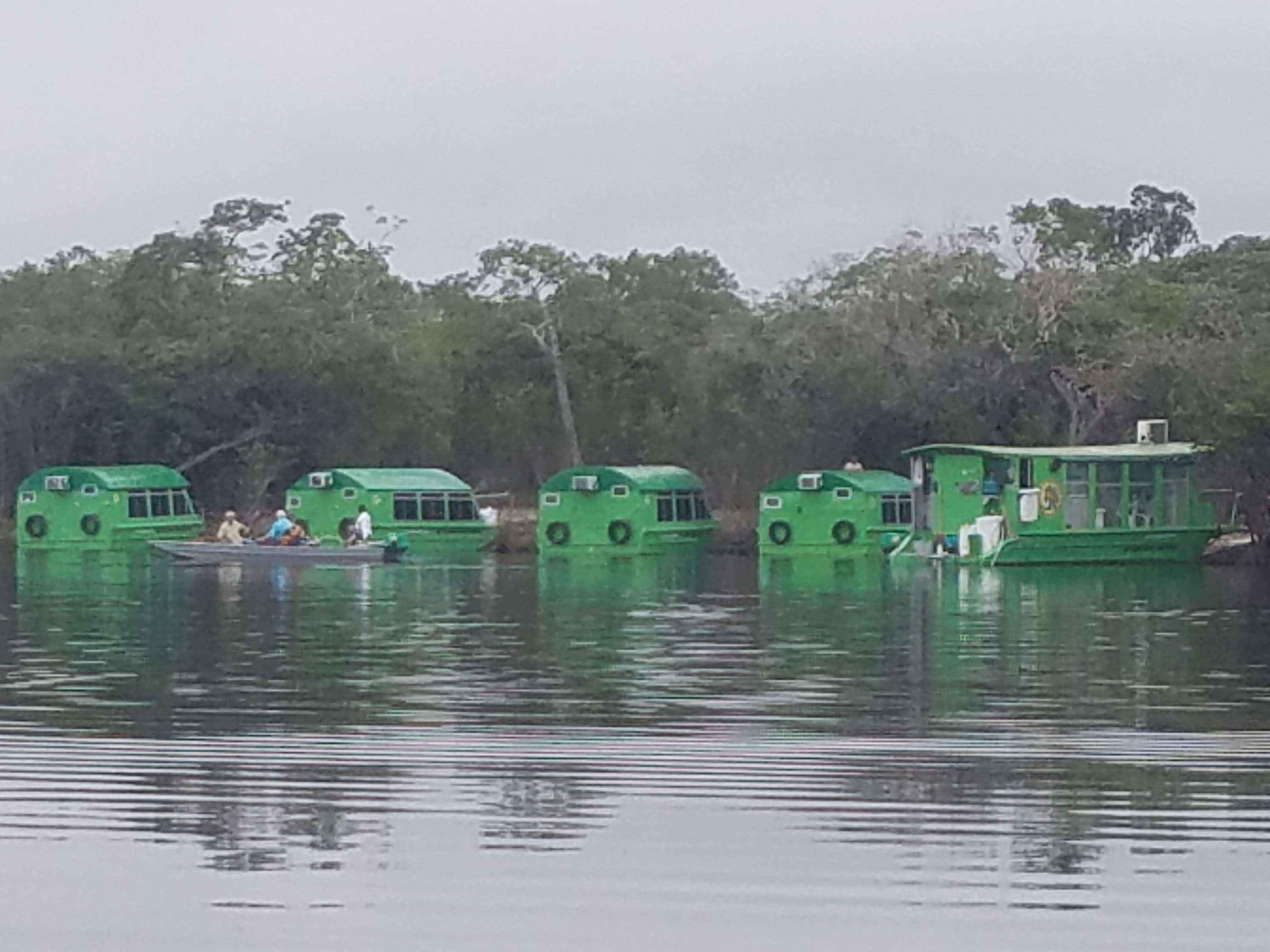 Waiting on shore was the resident manager, Heraldo Regis. We checked out our individual bungalows, and then all met in the dining/cooking facility – the larger bungalow on the right. There we found a table for eight and a smaller kitchen than we have in our RV. We met Ruth, our Chef, had a bite to eat, and were briefed on what to expect from life at the floating bungalow community.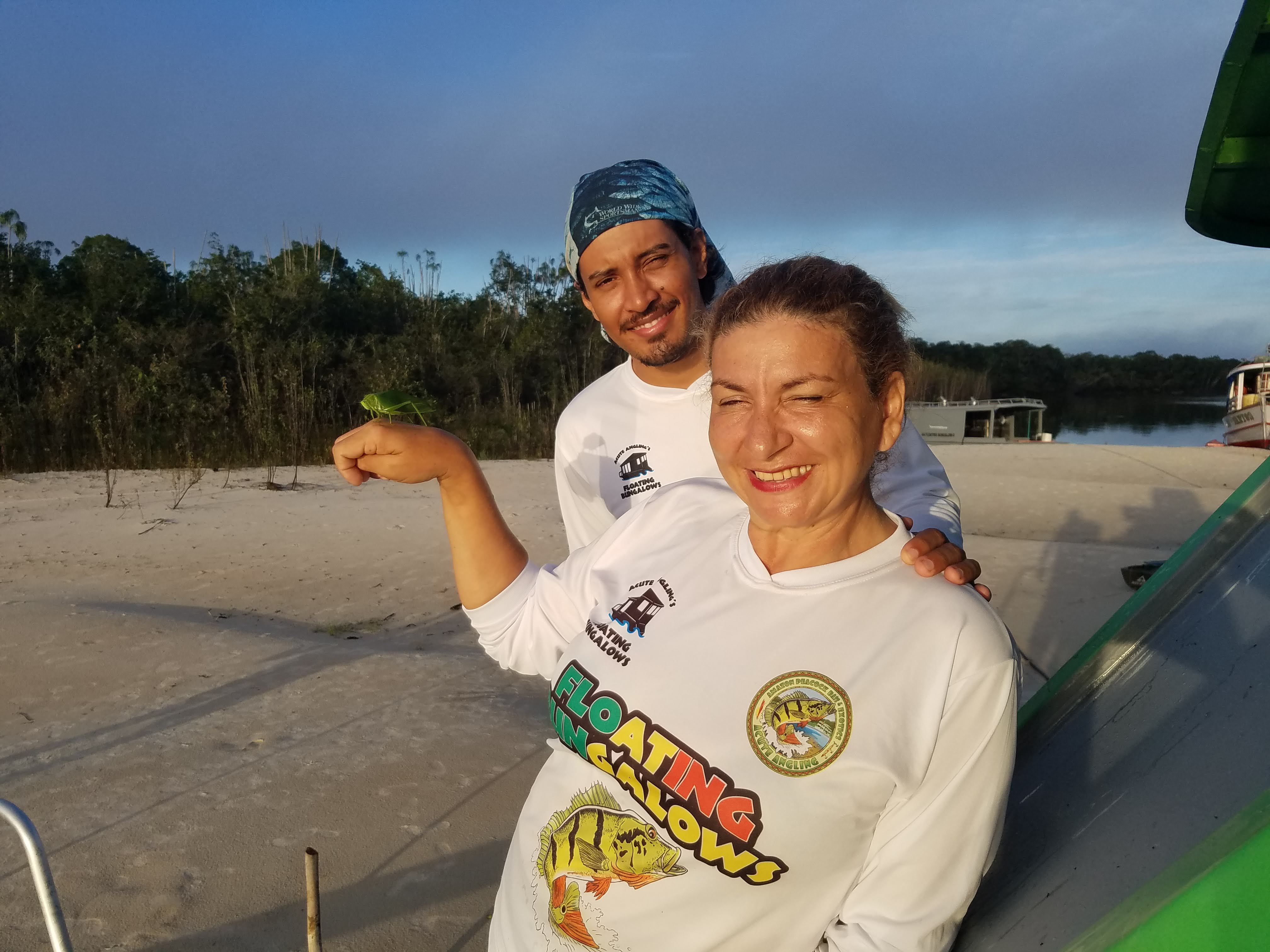 There was also a large boat (reminiscent of "African Queen"), the staff sleeping accommodations, and a laundry boat.
We met our guide and went fishing! Seriously, a couple of hours after leaving Manaus, we were with our guide, Brahma, Peacock Bass fishing!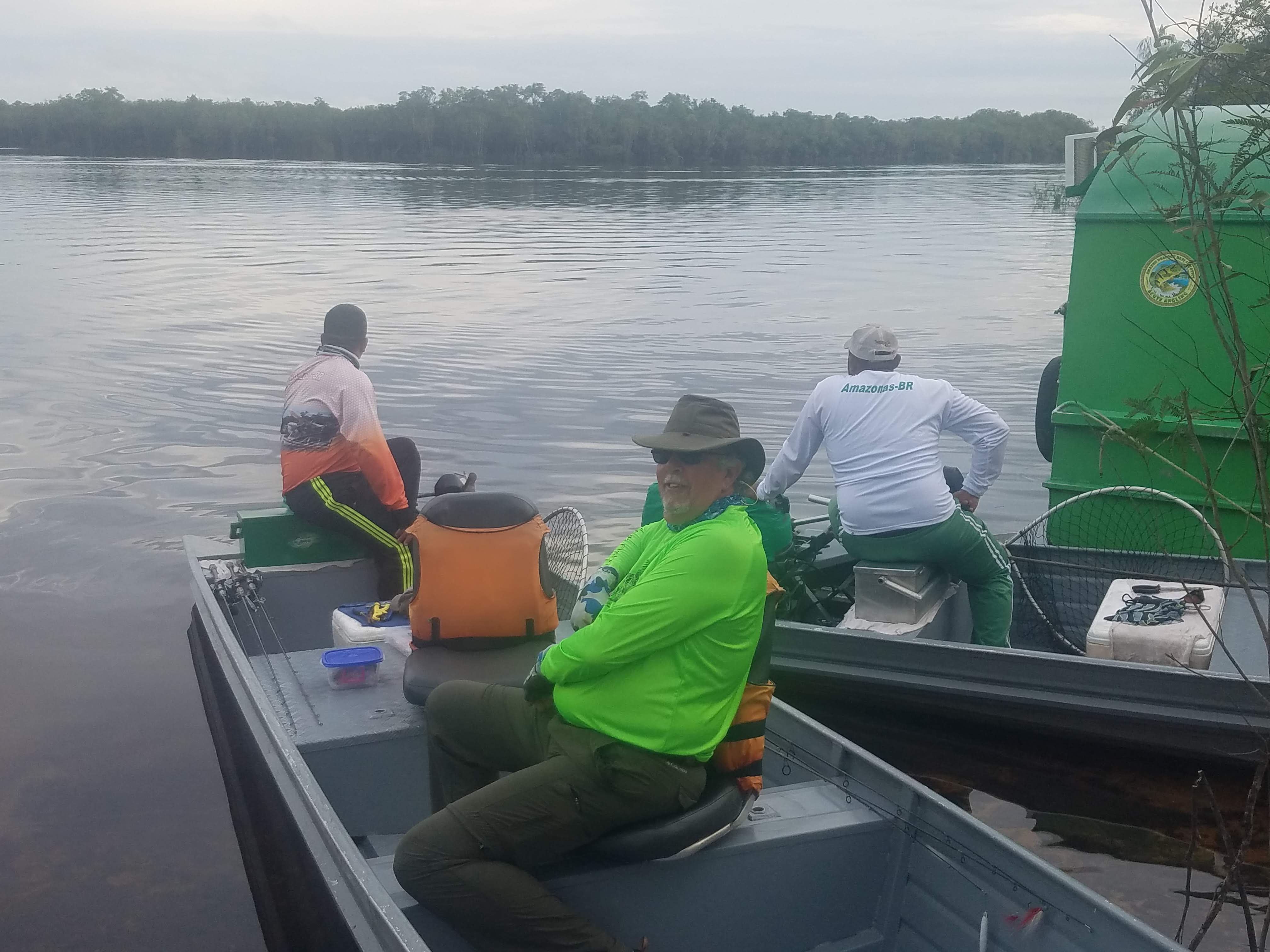 We learned there are 15 Peacock Bass color variations. The first afternoon, we caught one paca and one butterfly.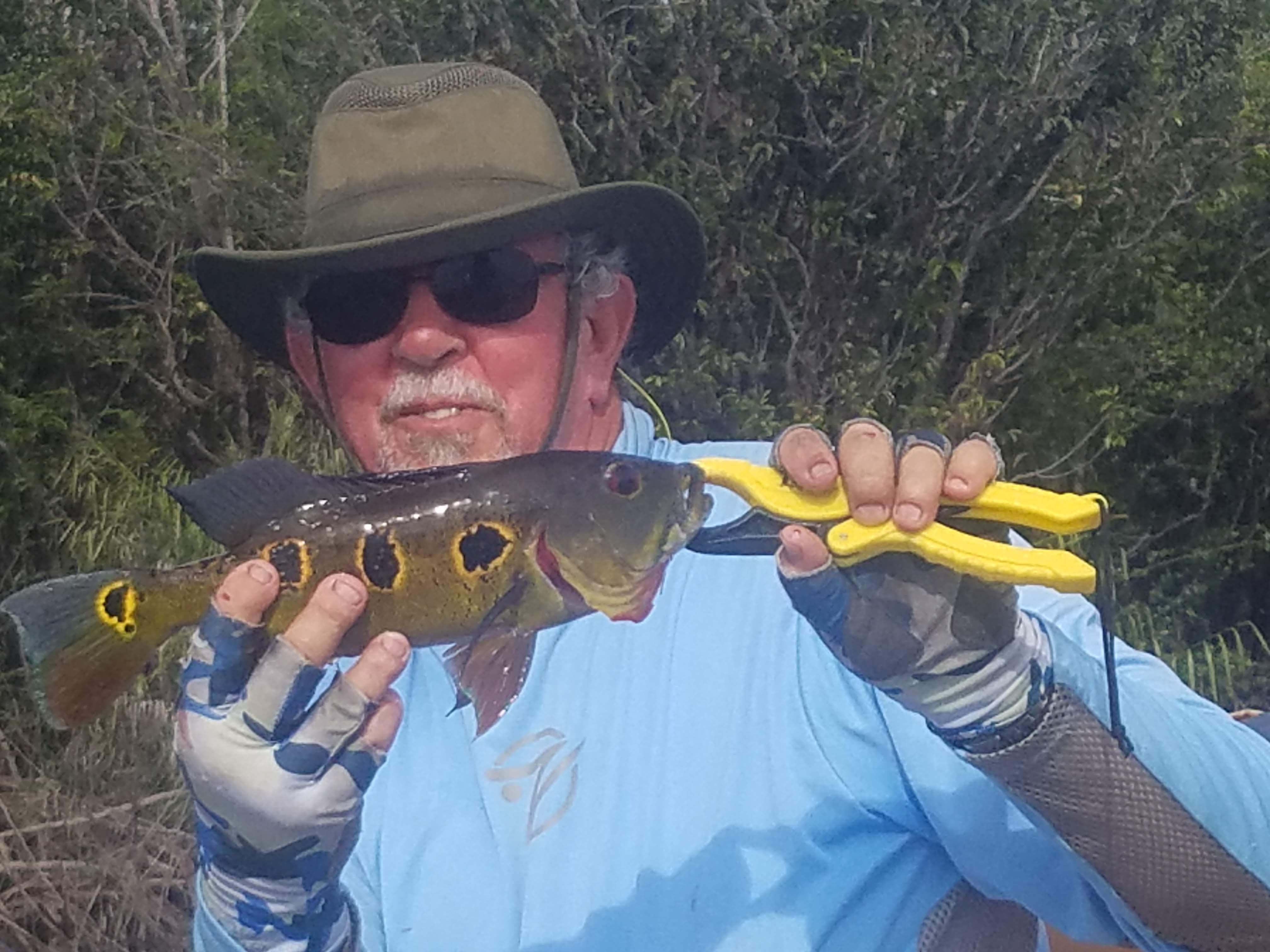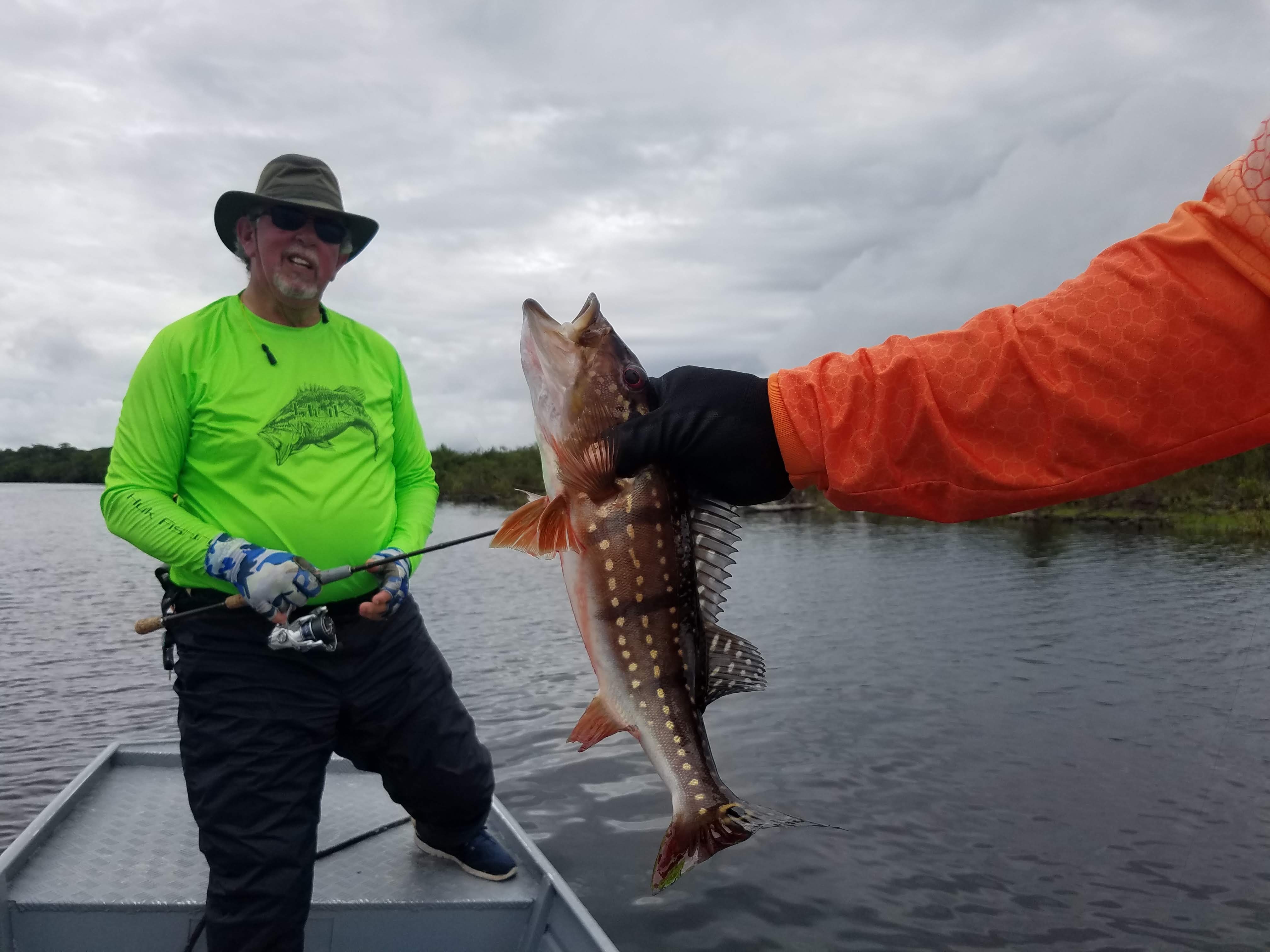 They are gorgeous! The fishery is on the Rio Negro and is strictly catch-and-release, unless the fish is injured.
Happily, we learned there are no mosquitoes in this fishery because the water is tannic. As vegetation decays, tannins leach into the water making a transparent, acidic water that is darkly stained, resembling tea – hence the name "Black River." Mosquitos don't like it.
A visit to a local village
The second morning we visited Ponte de Terra, a village of about 25 people, five families, about 20 minutes from the floating bungalows. Acute Angling helps support numerous villages in the fishery. At Ponte de Terra, they have provided a generator and diesel fuel, satellite TV, and lots of items for the children.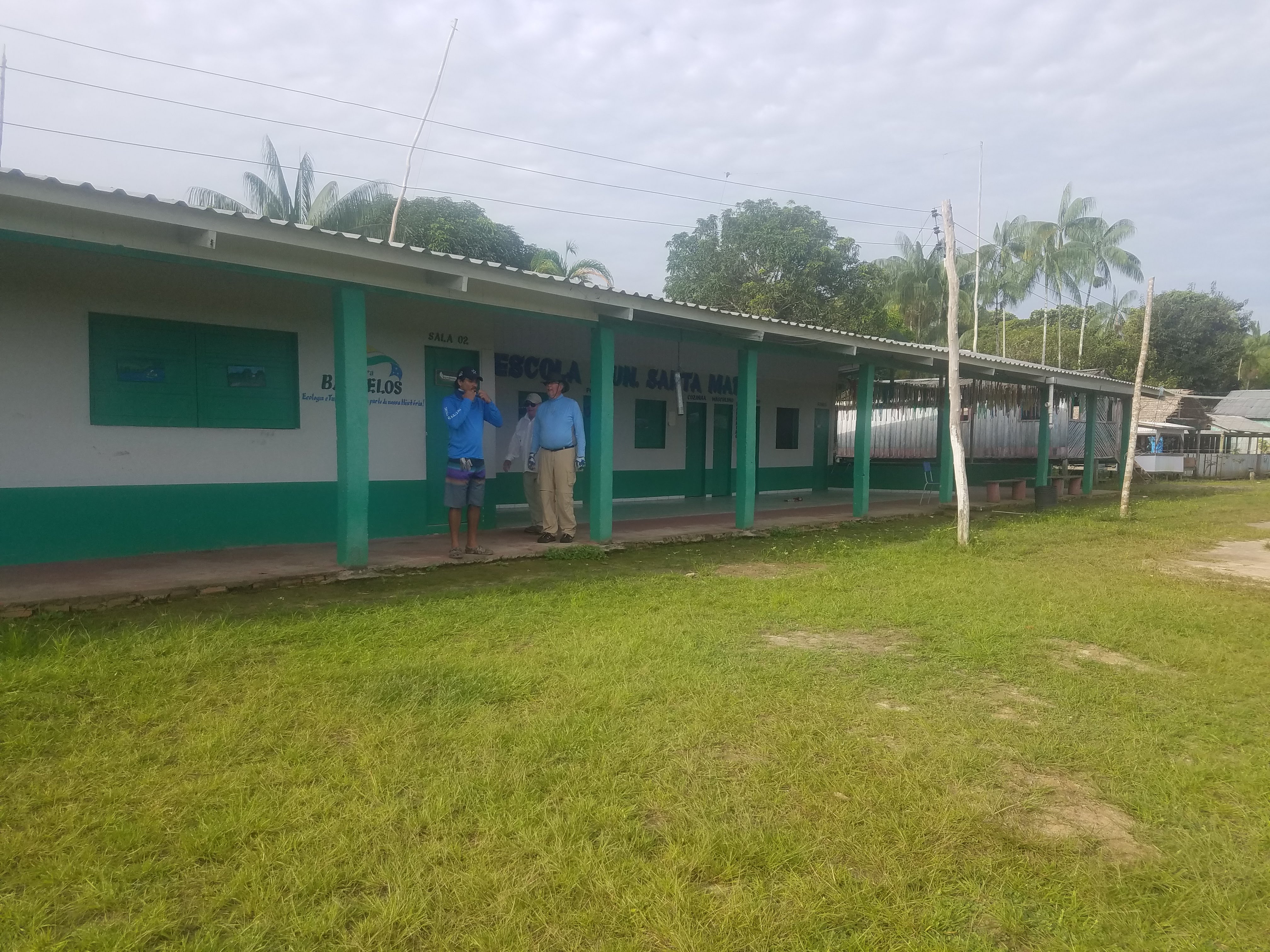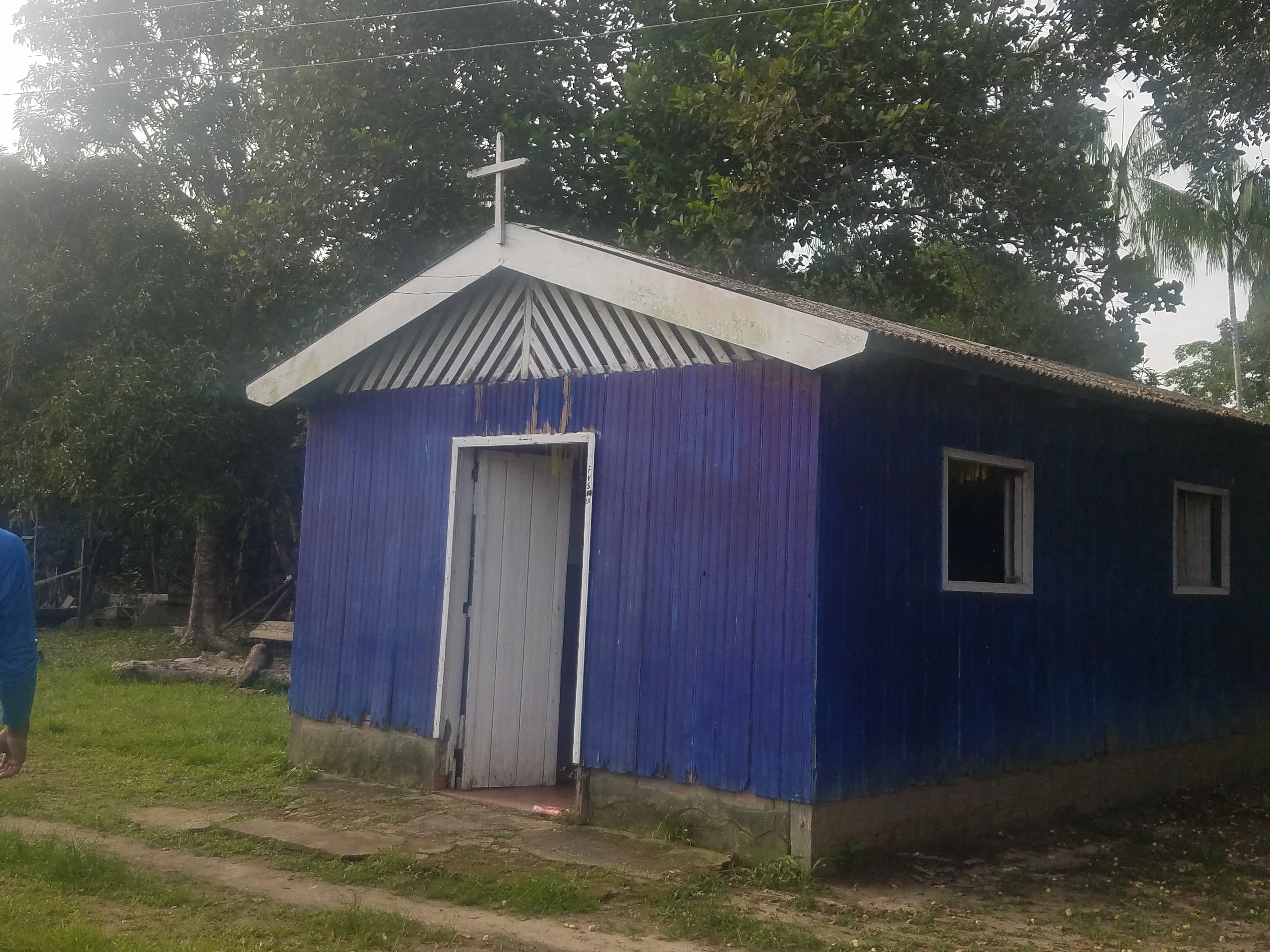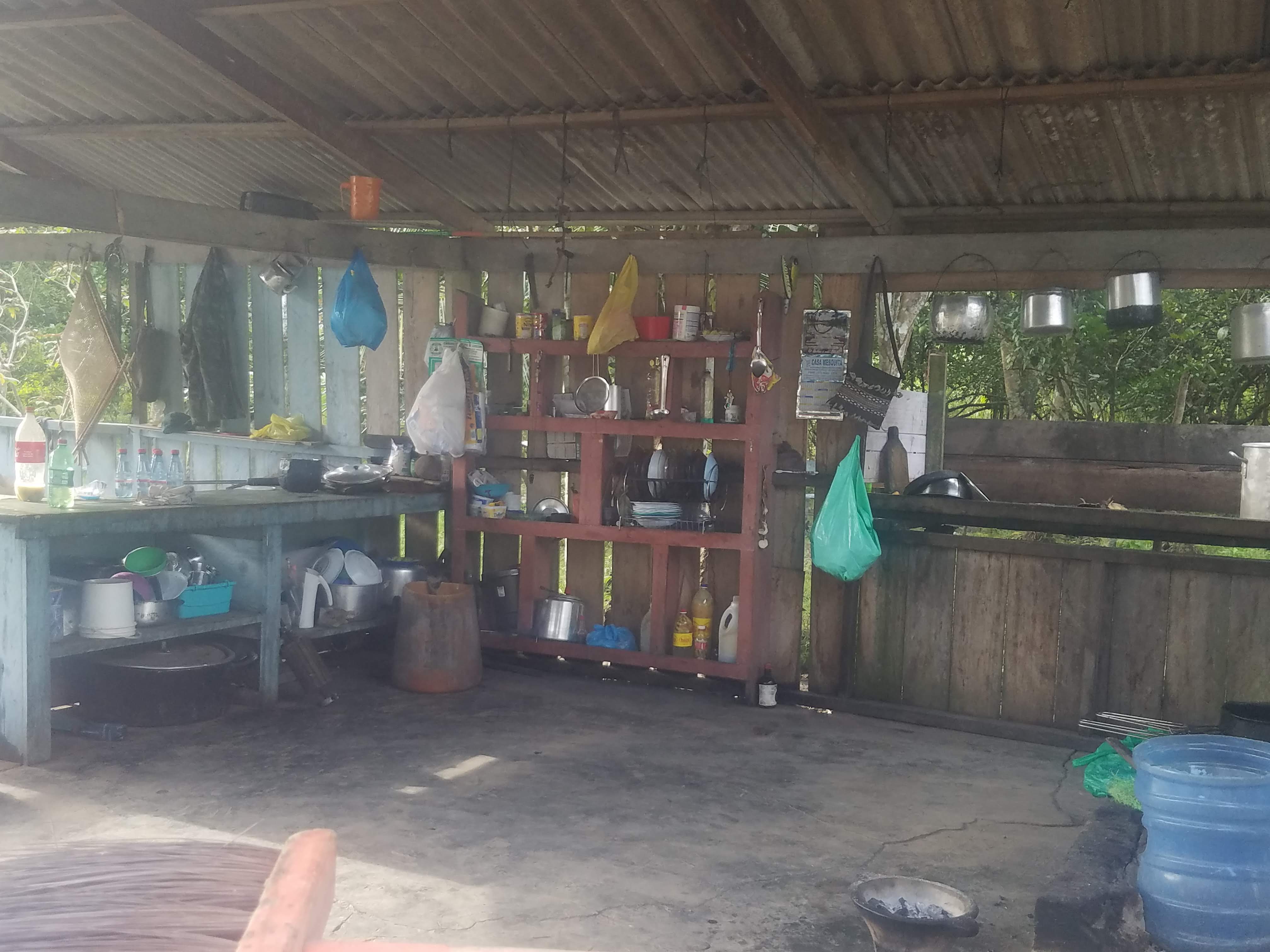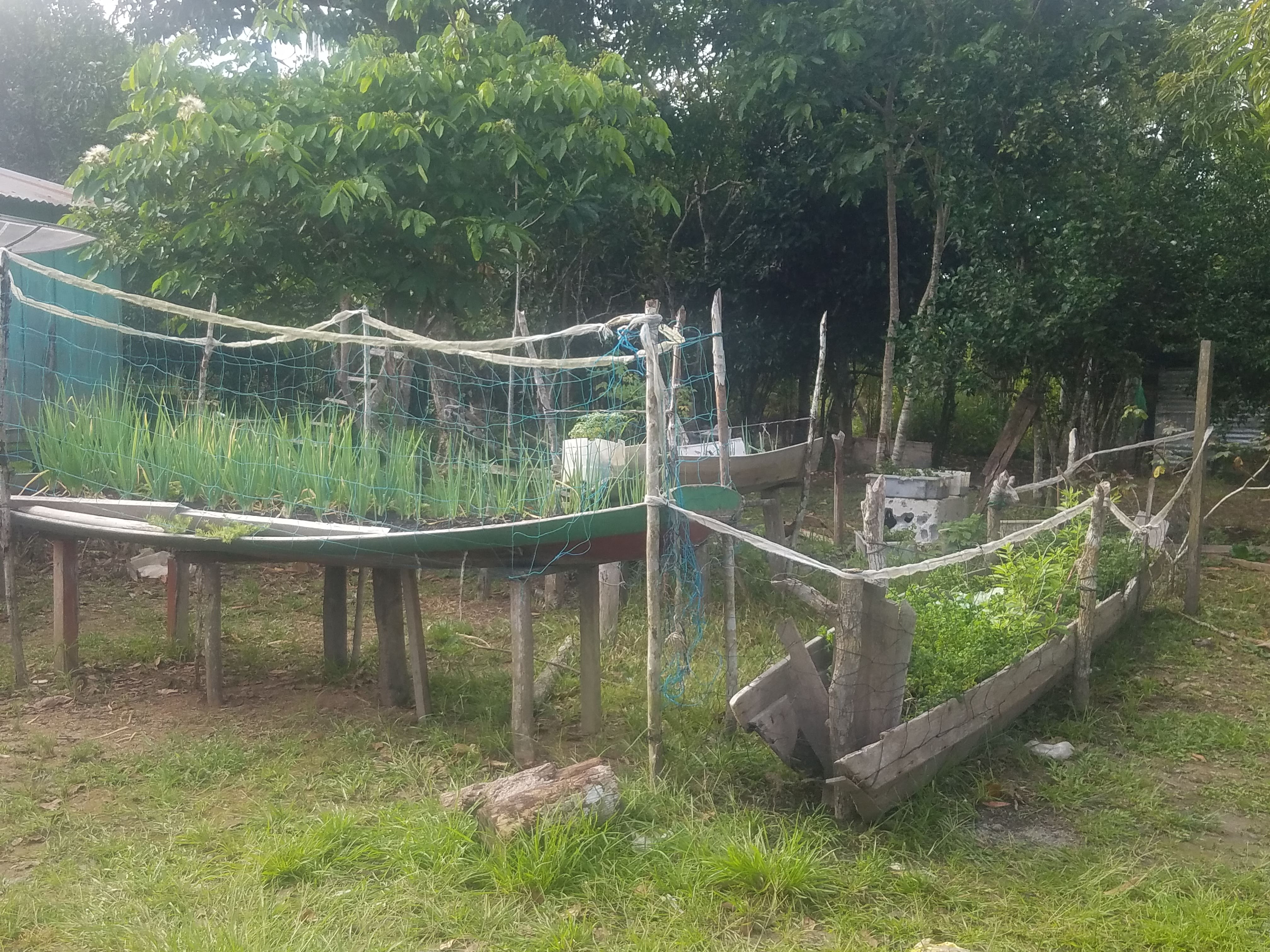 About a mile and a half trek from the village is their manitowoc farm – a crop used in farina and a local hot sauce. While there, we tasted Brazil nuts right off the tree and wild pineapple right off the bush. The Brazil nut pods fall from the very tall trees, just to be picked up and enjoyed (unless you happen to be hit by one!). I had no idea we would be walking so far and didn't bring my water from the boat. It was really hot! Fortunately, Brahma surprised me with a bottle of water.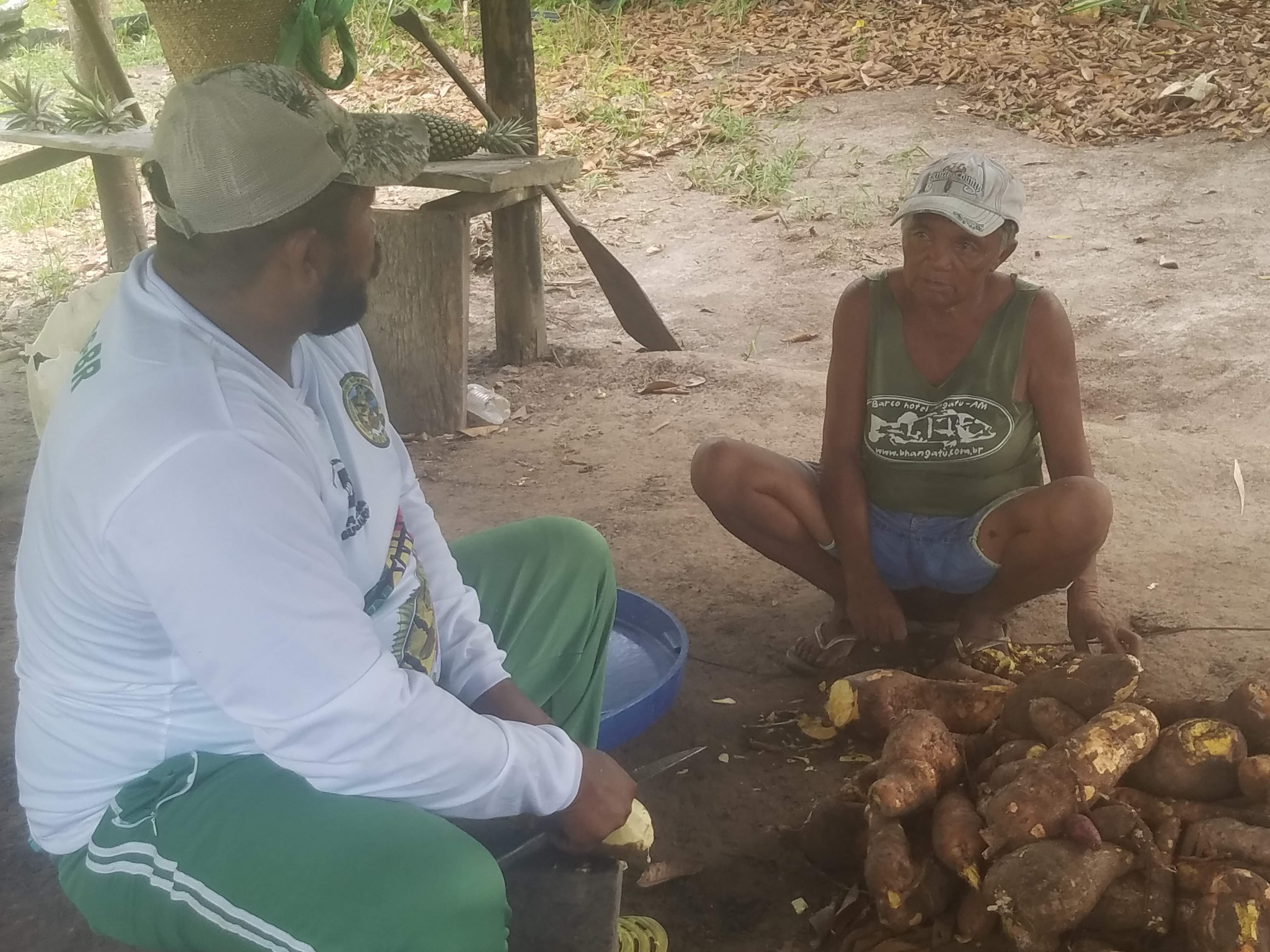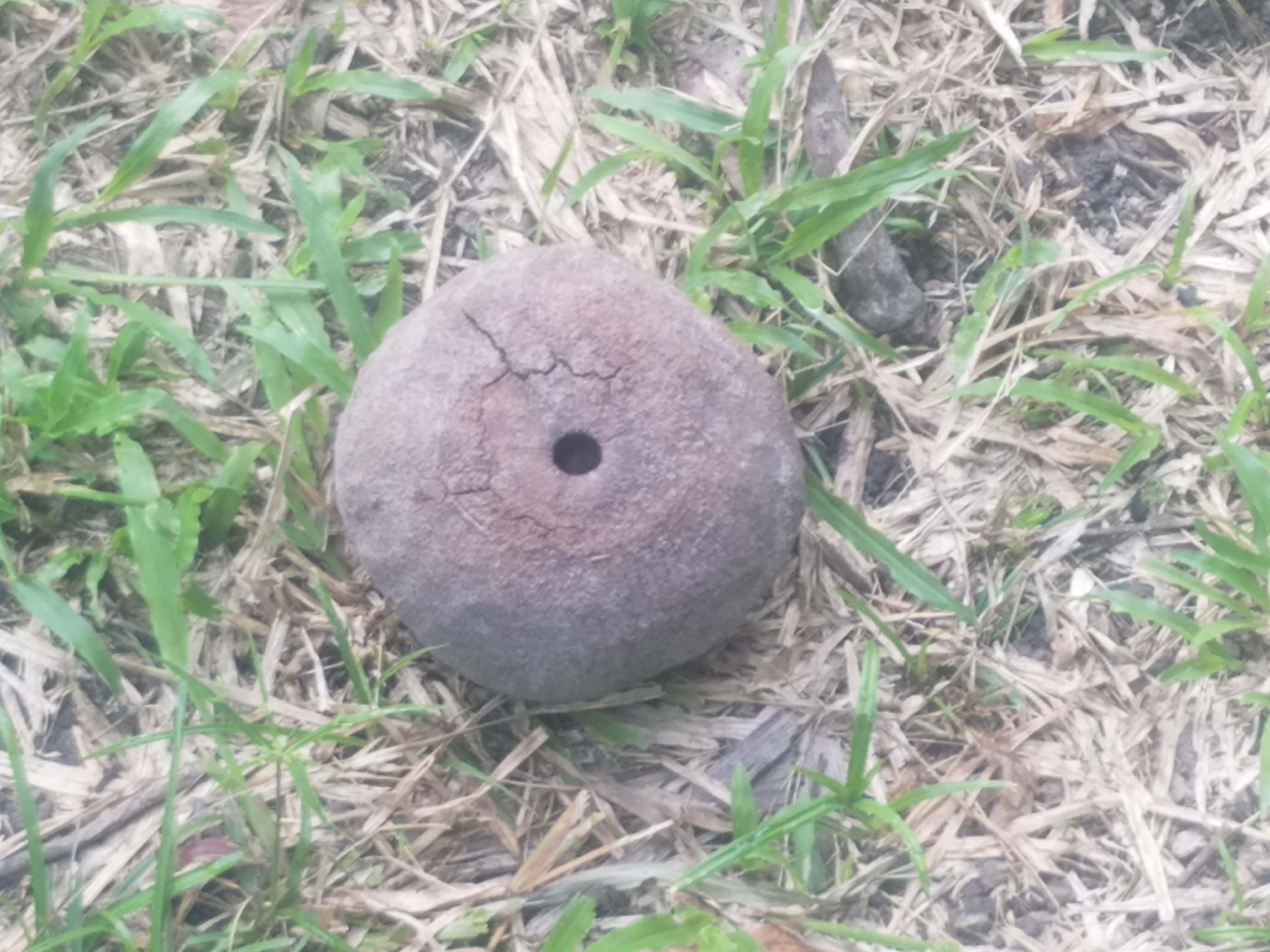 As we prepared to leave the village, two fishing boats approached with the guys who had missed the plane: Don from Utah and Bill from Michigan. It was time to fish!
When the fishing is not good or slow at a particular spot, they move the whole camp to a different location. Heraldo also said they occasionally seek new places for the floating bungalow community to camp, but it's a very expensive process with paying for permits, gasoline, and all the associated expenses. Nonetheless, this is how they find the villages they later support. 
The second day we saw terns, night hawks, green herons, and a raptor that was too far away to identify.

Our third day was one of those days they decided to move the whole camp. I decided to stay in to see the process and give D.A. the opportunity to work more closely with our guide. Fascinating! A fishing boat led, tethered to the dining boat, the staff boat, the laundry boat, then the four floating bungalows.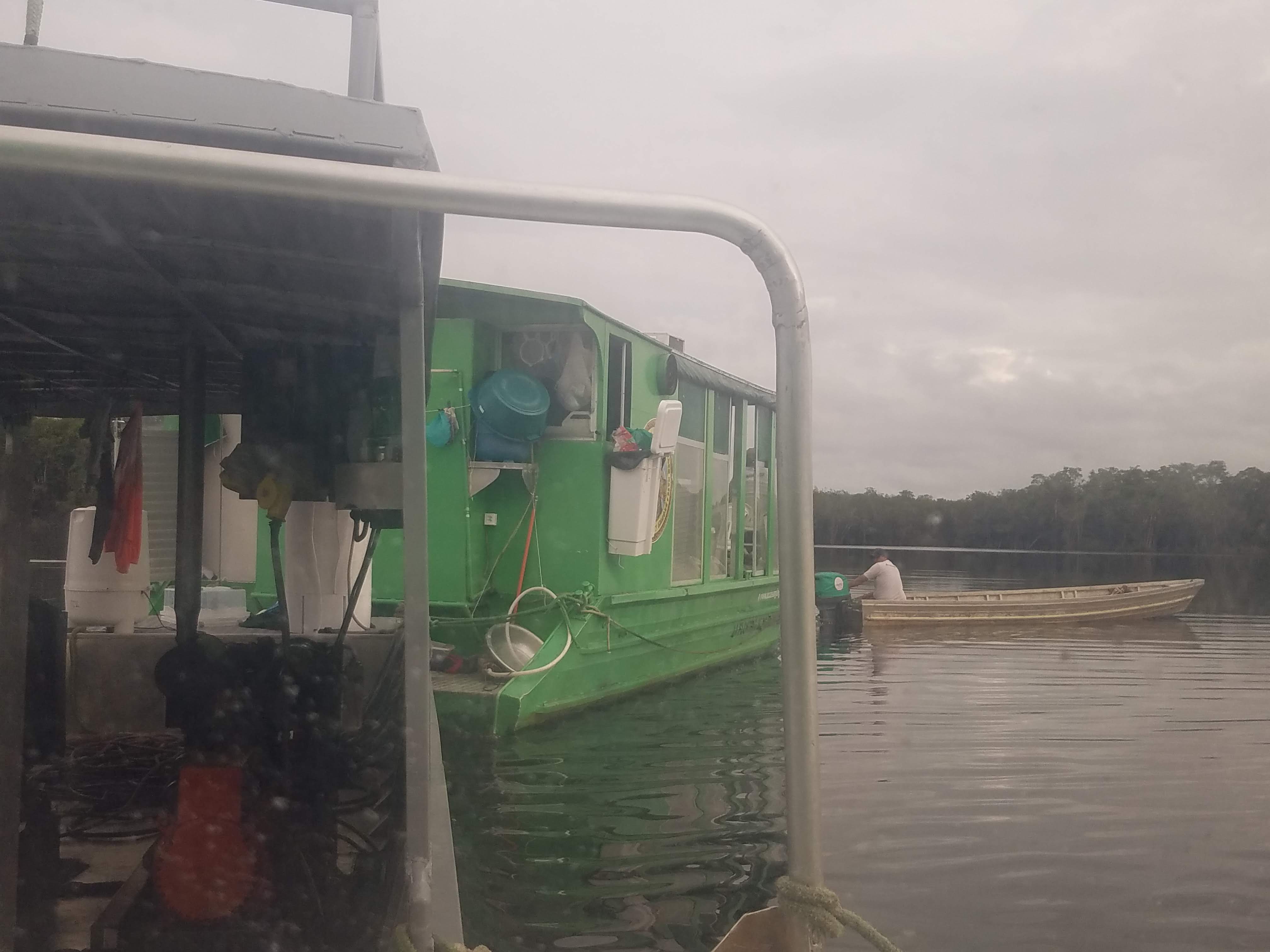 This has to be a wildly expensive and time-consuming operation, so I wondered why they would bother to move. I was amazed by Heraldo's answer: The Rio Negro is the largest tributary in the world at 1,400 miles. It is tributary to the Amazon River, the largest river in the world at 4,000 miles. At the point the rivers converge, both are moving so fast, the Rio Negro cannot penetrate the Amazon. It creates a "water dam" that causes the Rio Negro to back up and flood its tributaries. As the water rises, the fish move back into the tributaries and become harder to catch. In order to keep the clients on the fish, sometimes they have to move several times in a week!
It rained most of the day. I'm feeling so fortunate I chose this day to stay at home.
Speaking of home, here's the interior of our's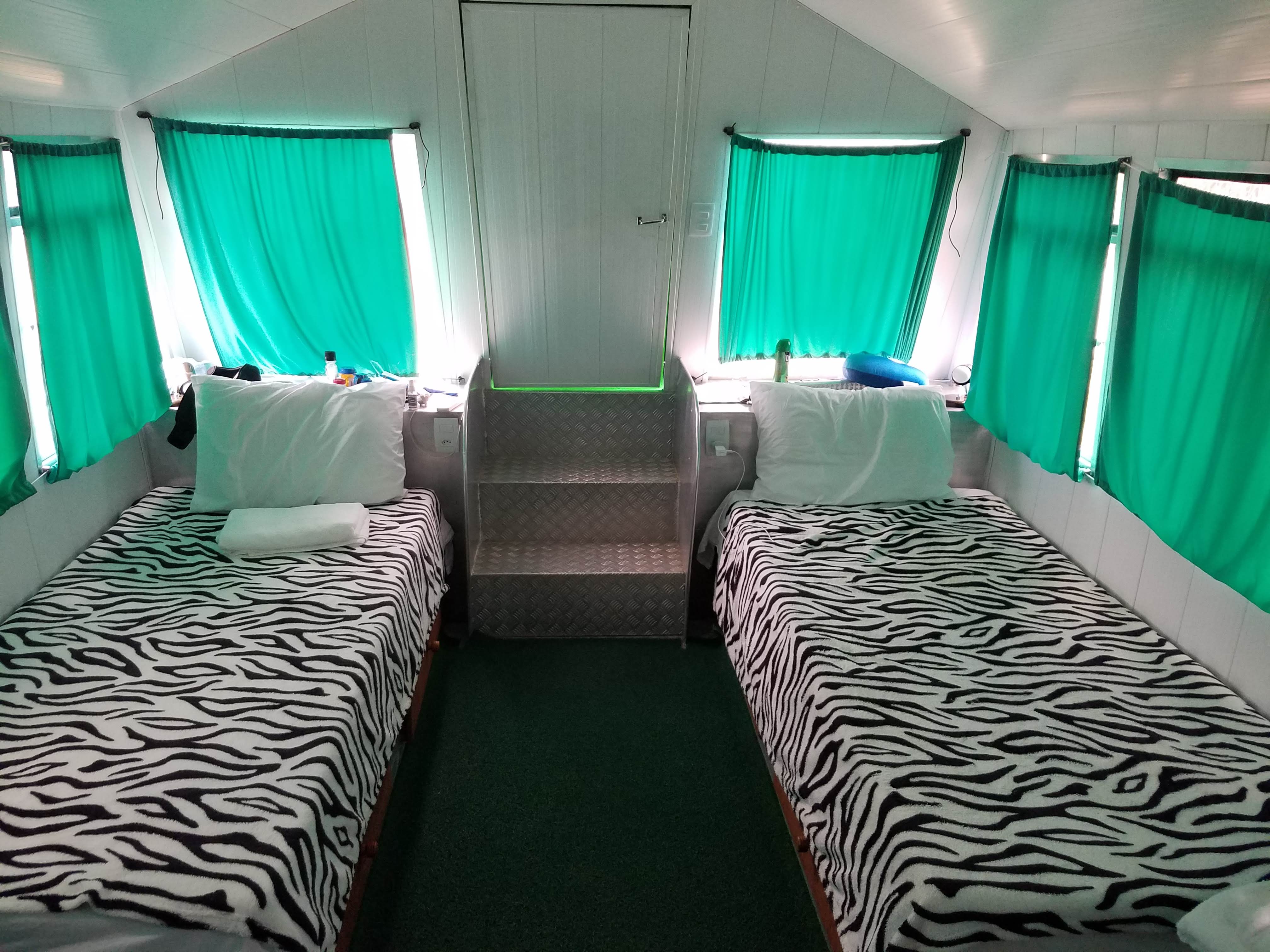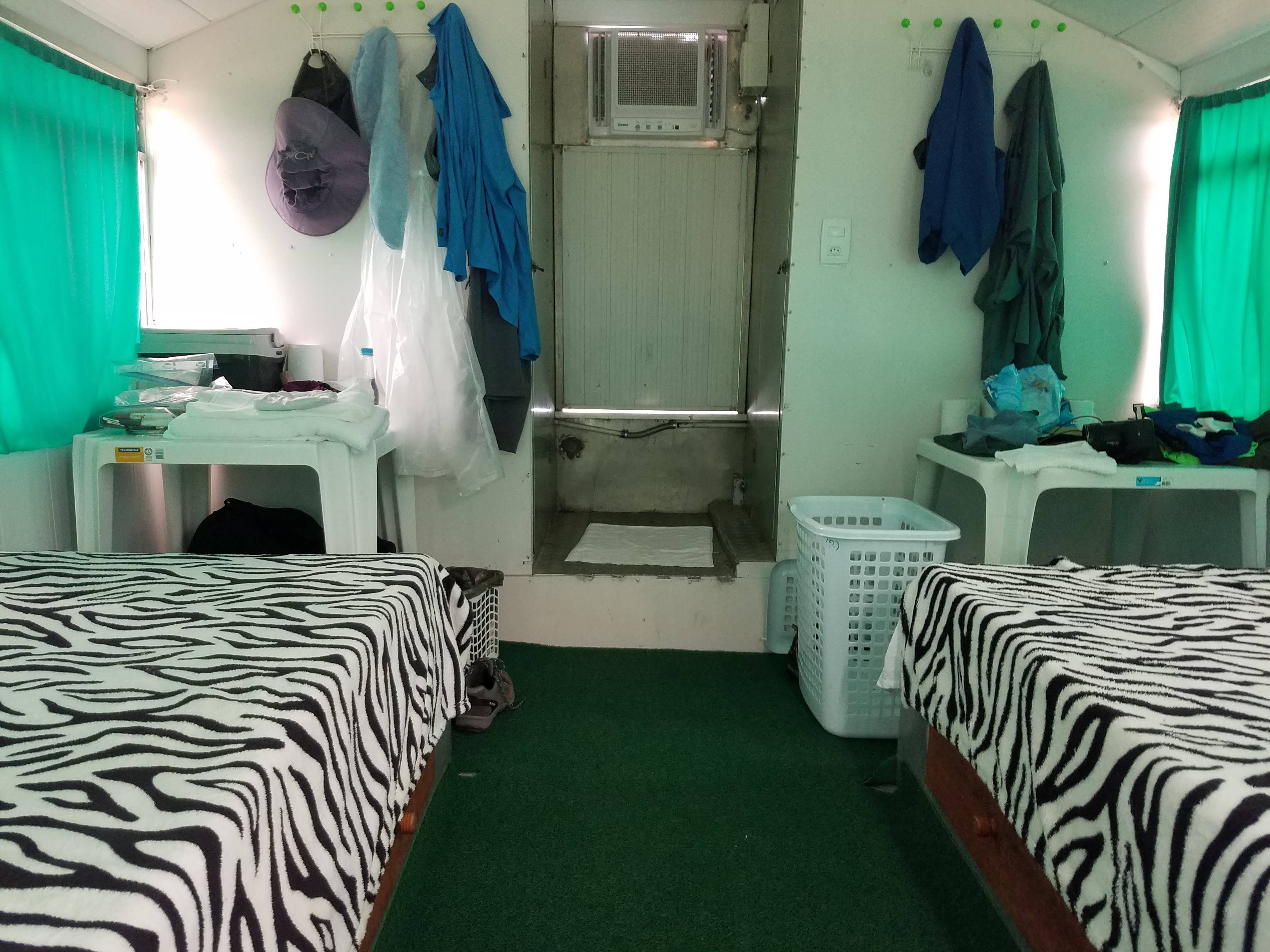 A typical day:
Heraldo wakes us up each morning at 6AM with coffee delivered to the bungalow.
At 6:30AM, breakfast is served in the dining/cooking bungalow. 
Ruth prepares huge meals. For breakfast, there would be pancakes or french toast plus two other homemade breads, bacon, chicken wings, pineapple and papaya juice, sliced pineapple, papaya, and watermelon. She would make eggs to order. All this comes with bottomless coffee with hot milk and honey. (ohmy!)  
As the meal ends, Ruth and Heraldo bring trays of meat and cheeses to make sandwiches to take along while fishing.  Often there was leftover meat or bacon, and always fresh cookies and brownies. You choose what you want for lunch, put it into a plastic container, and give it to your guide to keep in the cooler along with the soda, water and beer that is freshly stocked every morning.
By 7:30AM, we're headed out fishing.
Lunch happens out in the fishery. Sometimes we ate with our guide, sometimes we'd meet up with others from our party. And don't get the impression the river is full of guides and boats because we only saw one boat from another guide service the whole time we were there. 
The fishery is catch and release but occasionally a fish will be injured, and if so, the guides bring it back to camp. So, a couple of days while there, we had the opportunity to taste Peacock Bass.
Dinner is served at 6:30PM and always starts with soup. One night we had carrot curry soup, ginger-breaded peacock bass, pot roast, salad with gorgonzola and apples, mashed potatoes, and a rice and beans combo, followed by a frozen creamy chocolate or fruit dessert. There is a ton of food, invariably delicious, and always plenty left over. I was happy to learn the staff eats after us.
Other notes about our stay
There is a pan of water outside each bungalow and dining area so you can rinse off sand and dirt from the bottom of your shoes before entering. What a great idea!!
Laundry (including towels) is washed, dried and returned every day. While it may seem like a luxury, there is a very good reasons: On the floatplane, you can only have 33 pounds checked luggage. They provide rods and reels, but you bring your own lures, which are heavy. Daily laundry means you can get by with fewer clothes!
The good news: There are no mosquitos.
The bad news: There are wasps.
Our neighbor, Jim, left his exterior light on last night. As we sat drinking coffee and awaiting breakfast, we saw him exit his bungalow, start swatting the air and then running for the dining bungalow. Heraldo realized quickly what happened and rushed out to help him. He had six or seven stings around his face and we watched – our growing concern and his growing lip – as it became more and more swollen as he tried to eat.
Ruth is a great chef with a first aid specialty, so she brought him dressings, ointment and benadryl. He rested in his bungalow for a time, and was doing much better when we saw him later.
During one of those camp moves, Harold hurt his foot. A stick he stepped on without seeing went right through his Croc and into his foot.. All this is said to tell you that if you need to buy a pair of Crocs locally, you will spend $100. And gas is $10 a gallon in this remote locale. 
Catch. Release. Repeat.
Peacock bass were caught by all fishers every day, many times up to 20 each.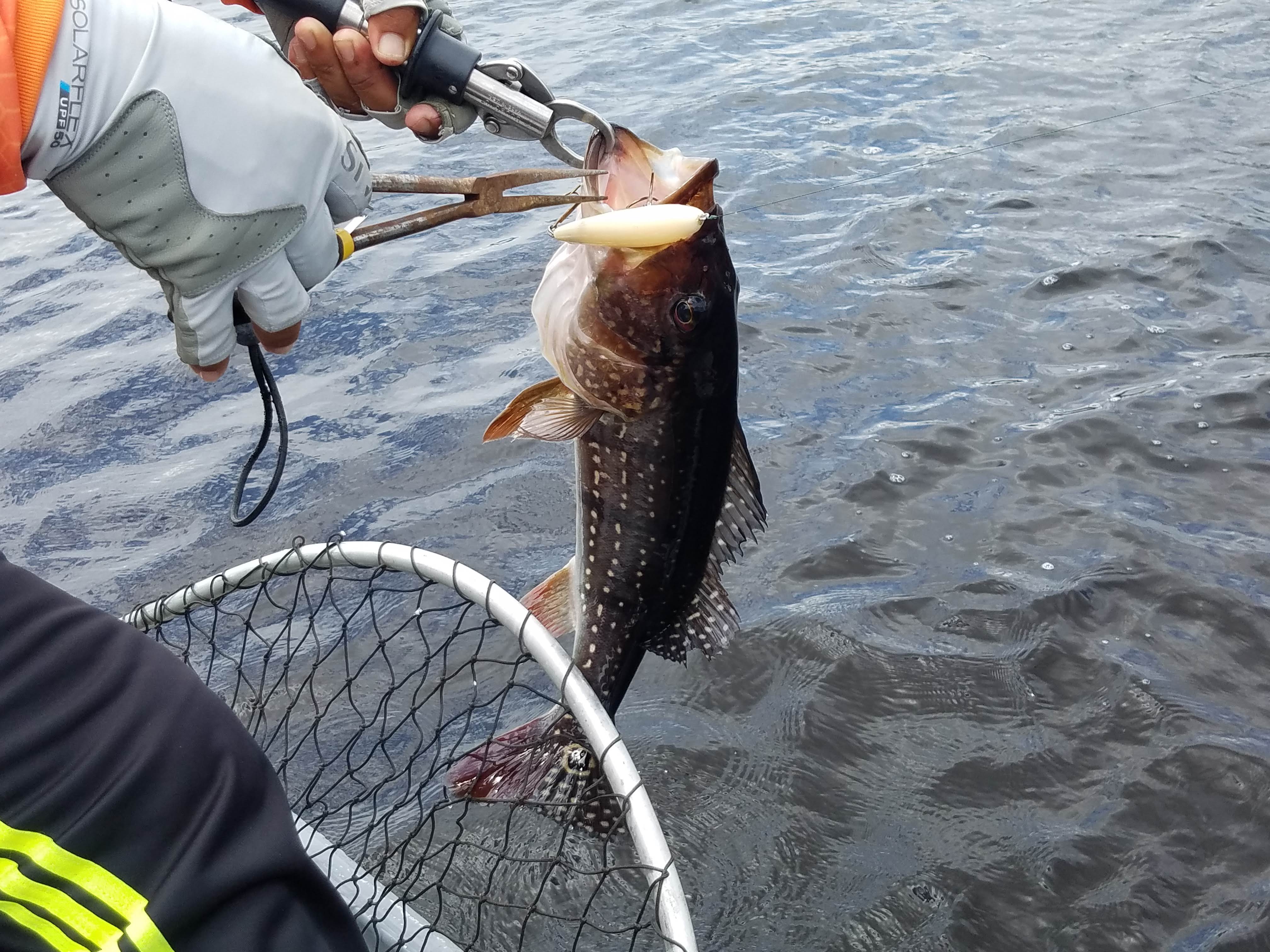 The guides were impressive with their "catching" strategies and most of all, patient with their clients. Of course, D.A. is an expert, but me? We can leave it at "lots to learn."

One day we moved the boat to clear a snag in really shallow water. As we did, peacock bass were scurrying in all directions, then a big stingray zoomed past. The rivers are full of caimen, but you mainly see them (their eyes) at night.  

Another day, we'd had rain showers all day and I finally donned my rain gear because it looked like heavier rain was coming.
We repositioned the boat again and sure enough, it started to rain harder. I requested return to the bungalow and of course it stopped as we arrived. Nonetheless, I called it a day and went in for a shower and a nap.
After the guys dropped me off, they went back out fishing nearby. D.A. casted and the wind carried his lure far up into a tree. The guides all had cool tools for extracting lures: long tree limbs with a "v" notch at the end. Worked like magic! As they approached the tree with D.A.'s lure, Brahma voiced an alarm.  D.A. feared a snake was on the tree, so he froze and the Brahma said "Bees!" D.A. turned his attention to where the guide was looking, and then he could see a large nest with wasps flying all around. Brahma held a finger to his lips for silence and said "Just a minute." He shut off the trolling motor to let the bees calm, and then he started whistling, mimicking a bird. After a few moments, he moved closer, all the time whistling softly as he retrieved the lure with his face about three feet from the nest. He continued to whistle as he backed out a safe distance and D.A. started clapping. He had never seen such a performance!
A couple hours later it started to rain much harder and D.A. and Brahma returned to camp. Within five minutes we had a downpour the likes of which we've never seen, and we hoped our fishing buddies were safely in. (Of course they were not!) 
We went in Brazil's summer season. Prime Peacock Bass fishing is from September through March, and we were there the first week of February. It's rained every day and the water is rising which makes fishing poor. Last night Heraldo said they may have to cancel upcoming trips. 
The largest town nearby is Barcelos, the place from where they ship tropical fish all over the world. It's about two hours by boat (and about 250 miles from Manaus). It can only be reached by boat or sporadic flights from Manaus. This is the only city in the central Brazil Amazon, and this is where the young people like those that lived in the village we visited find work. 
I know the fishermen who come are dedicated to the sport and would probably like nothing better than ten to twelve hours of fishing every day, but from a woman's perspective (and I know there are plenty who would love to fish all day, every day), so I should say MY perspective… five hours a day fishing would be plenty. Of course you can return to camp at any time and if you chose not to go out, staff will do all within their power to make you comfortable.
So thinking what would make this a better experience from my perspective, I had a couple of thoughts: (1) I would love to have a kayak to use on the days I don't go fishing, (2) A bird and botany list would be wonderful. Our guide gives us names, but he doesn't know them in English. Heraldo has been in the area for some time, so maybe he could give the newbies a talk one evening early in their trip. 

The next morning I stayed home, so they set me up on the water's edge with a lounge chair, table and umbrella. It was raining softly, warm but not hot, and it felt like a little piece of heaven.
After a while, I looked up from my book and our darling chef, Ruth, is crossing the river in a kayak. A kayak!! She shouted, "Piranha," so I'm guessing piranha will be soup or entree for dinner.  In the next 30 minutes or so, I saw her catch a couple.

I'm instantly back to thinking how much I would like to be out there in a kayak. I'm not unaware of the liabilities you would take on by having kayaks available to guests, but I surely would love the opportunity.

Later I noticed Ruth wasn't across the river any longer, so I went to the side of the dining boat to see how many fish she caught. When she saw me, she thought I wanted the kayak and brought it to me! I hopped in – no sunscreen, no water, hat or gloves – and of course no phone camera. As I passed the boat a little later, Ruth and her helper were cleaning fish. Ruth held up seven fingers and I asked, "Soup?" and she nodded affirmatively. We'll see!

I made a little trip past the other side of camp and returned to a great Tern ruckus. About eight or ten were attracted by the fish cleaning. I ventured back to where I had turned the first time and when I started back, some big carpenter-like bees joined me. They don't sting, I didn't think, but I returned to camp. Ruth came out to meet me and said they have another kayak in case my "esposo" wanted to join me sometime.
The piranha soup was great. The meals have been amazing. Last night's soup was followed by lasagne and chicken stroganoff, and then desert was chocolate cake with coconut, creme, caramel and a touch of liquor!
Before we knew it, it was time to go
We go out in the morning, and other anglers will take our places. D.A. is contemplating an identity theft if any of the new guys look like him. He would stay a month in a heartbeat.

But on our last morning, probably on D.A.'s second cast, up came a large Paku and then he dove into some submerged logs.
D.A. tried his best to get him loose, and then Brahma stripped down and jumped in the river! He was gone for a long time but finally came up for a breath, and then it took two more dives to free the fish and bring it to the surface.

We caught 13 before I left the boat in mid-afternoon – and they caught a total of 20 for the day.

Returning to camp, staff was busy setting up for a party on the beach – which included a huge bonfire.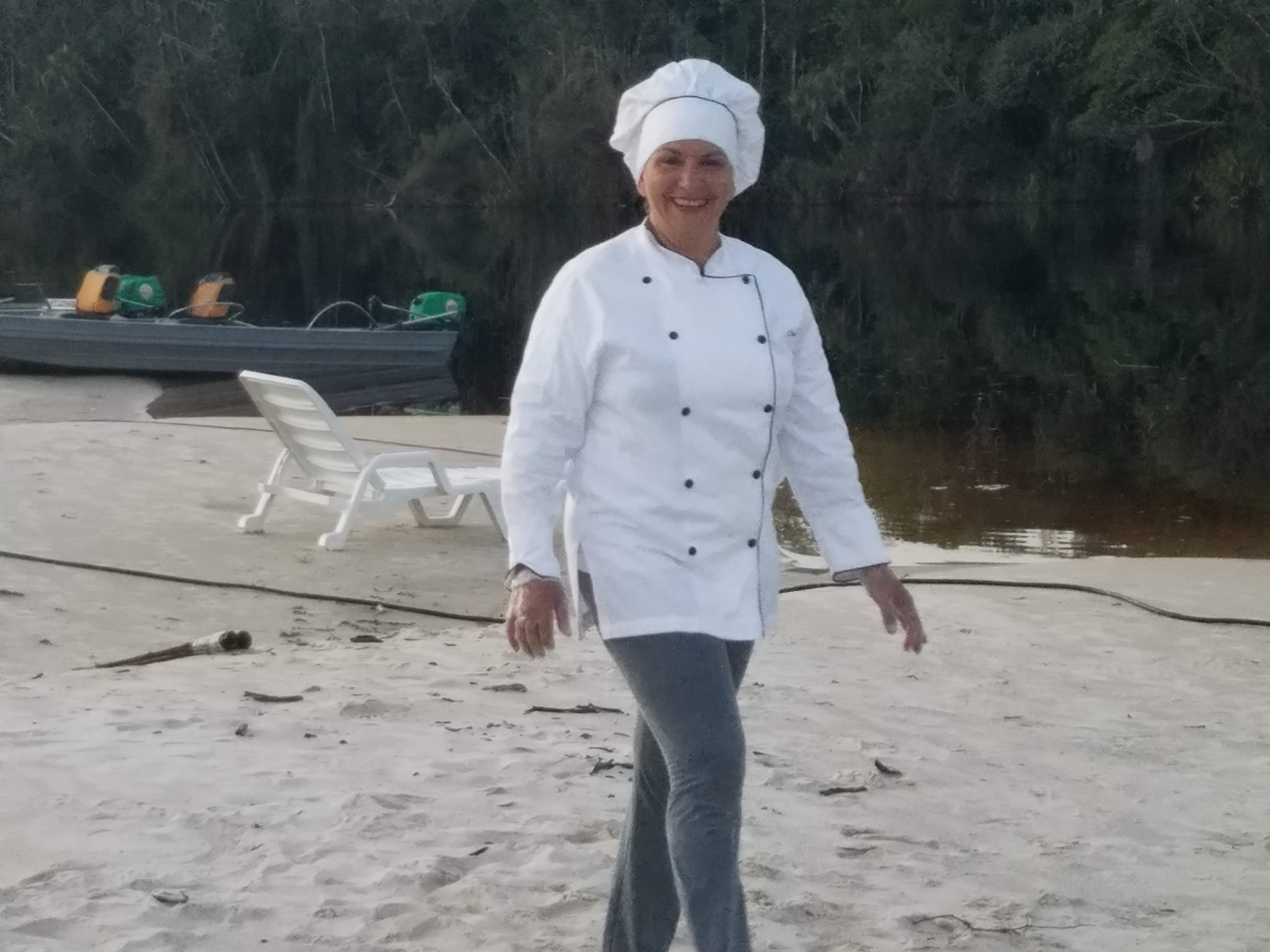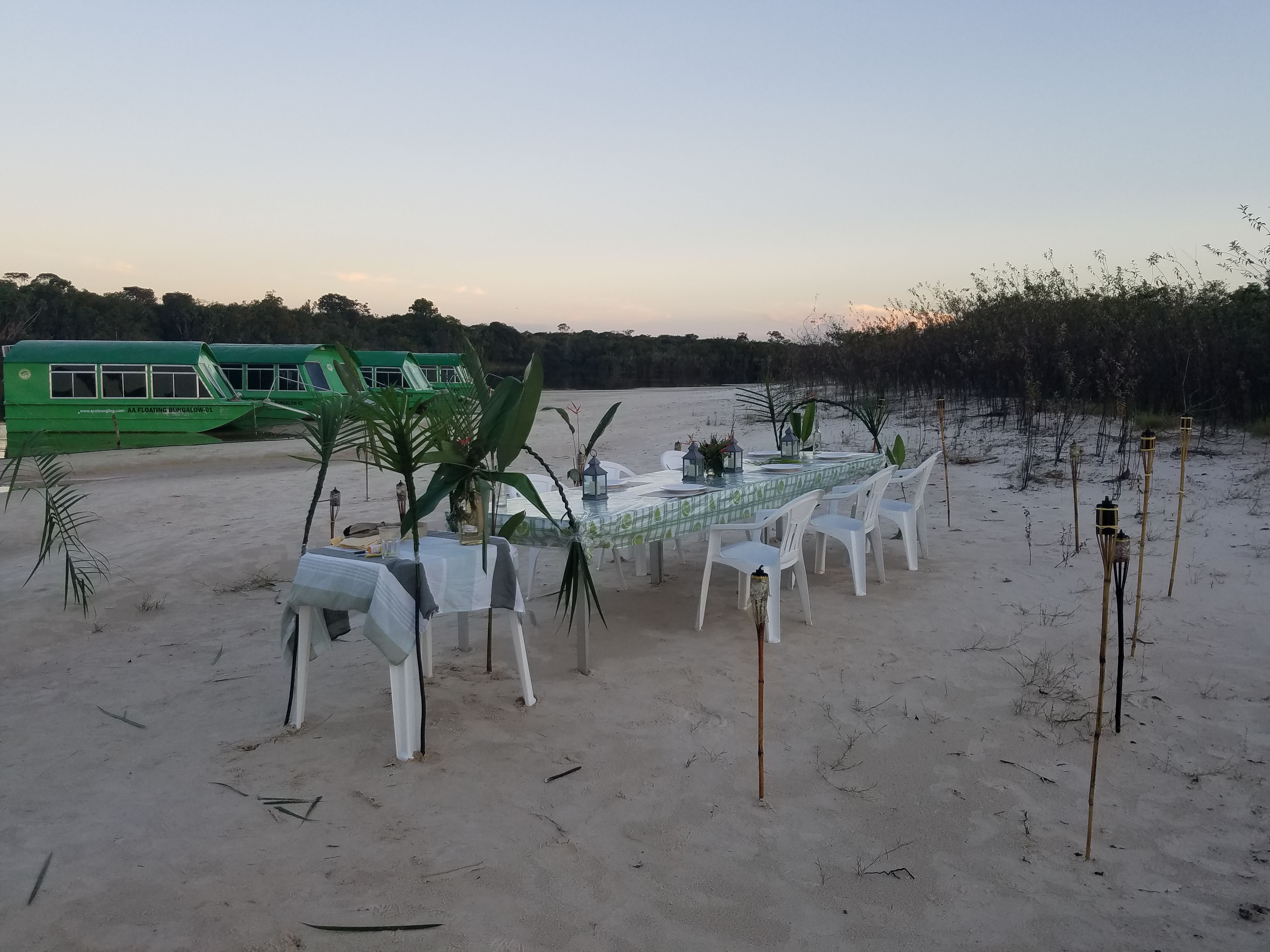 Sure enough, next morning a different plane with different pilots arrived bringing new guests. Shortly after takeoff, our pilot took out an automotive sun shade and covered the windshield! I mean really, the whole windshield. He returned us to Manaus using a phone app!

Our flight back to Miami departed at midnight, so we took a sightseeing tour of Manaus, the capital of the state of Amazonia, home to more than two million people.
Manaus is located in the middle of the Amazon rainforest, and access to the city is primarily by boat or airplane. This isolation helped preserve both the natural environment as well as the culture of the city. The culture of Manaus, more than in any other urban area of Brazil, preserves the habits of Native Brazilian tribes. The city is the main access point for visiting the fauna and flora of the Brazilian Amazon. 
Manaus was at the center of the Amazon region's rubber boom during the late 19th century. For a time, it was "one of the gaudiest cities of the world".  Historian Robin Furneaux wrote of this period, "No extravagance, however absurd, deterred" the rubber barons." The city built a grand opera house, with vast domes and gilded balconies, and using marble, glass, and crystal, from around Europe. The opera house cost ten million (public-funded) dollars. In one season, half the members of one visiting opera troupe died of yellow fever. The opera house, called the Teatro Amazonas, was effectively closed for most of the 20th Century. After a gap of almost 90 years, it reopened to produce live opera in 1997 and is now attracting performers from all over the world.
When the seeds of the rubber tree were smuggled out of the Amazon region to be cultivated on plantations in Southeast Asia, Brazil and Peru lost their monopoly on the product. The rubber boom ended abruptly, many people left its major cities, and Manaus fell into poverty. The rubber boom had made possible electrification of the city before it was installed on many European cities, but the end of the rubber boom made the generators too expensive to run. The city was not able to generate electricity again for years.
The 1960's (during the establishment of the military dictatorship in Brazil) was a time of introducing numerous projects in the interior of the country, especially in the Amazon region. With the introduction of the Manaus free trade zone in 1967, and with the opening of new roads within the region, the city had a wide period of investments in financial and economic capital. This resulted in enormous growth and Manaus became one of the most populous cities in Brazil.
Another dream trip, into the bucket…
This was D.A.'s dream, so I asked him to sum up our time in Brazil. "Spine-tingling adventure in the Amazon wilderness where you expected something spectacular at any given moment. And that is exactly what happened!"
---