Havasu Net Em – Your Fishing Guide Service for Lake Havasu
My name is Don Allen; I go by "D.A." I am the most experienced guide on Lake Havasu, having guided nearly 10,000 hours. I am also the only guide who specializes in catching the World Famous Red Ear. We fish for them in March through April and into May. (More info below on "What I Offer.")
Contact us at 888-290-2284 or email [email protected]
Customer Testimonial

Jump Links
Thanks for another wonderful season!! We are out of the area until October 1st. You can check our Fall 2023 / Spring 2024 availability here.
News for the upcoming 2023-24 Season:
Because of demand from Redear aficionados, we have extended our Redear fishing season to include May. Check available dates below as they will fill quickly.
Redear fishing books a year ahead. If the date you want is not available, here are some options:
To get on our Red Ear April & May 2024 waiting list, give us a call, 888-290-2284. May dates are wide open right now because of the extension to the Redear season.

Or, book a date in April or May 2025.
All trips are private. No one is booked with you that you don't know.
Where We Fish
There are two major fishing areas on Lake Havasu: the "Site Six" area, on the island near Lake Havasu City, and the Lower Basin near the Parker Dam. Site Six is the most heavily fished area, but I fish the Lower Basin from Havasu Springs Resort. It is the deepest water on Lake Havasu being near the dam that butts up against the fertile productive delta of the Bill Williams River. Due to its distance from the city, it has much less fishing pressure. The lower basin experiences less recreational boating intrusions to the fishing day as the lower Bill Williams River is wake free for all motor boats and jet skis — plus it is an excellent fishery that has the habitat for all game fish species on Lake Havasu.
Weather permitting, come join me for a wonderful day of guided fishing on the Lower Basin from Havasu Springs Resort. Havasu Springs is located near Parker Dam – half way between Lake Havasu City and Parker, AZ. Driving directions are here. You will experience a quiet day fishing while enjoying some of the best fishing the lake has to offer. I am licensed by Arizona Game & Fish Department and the U.S. Coast Guard.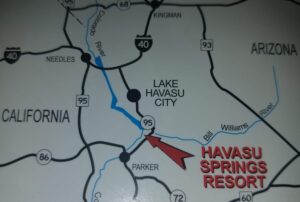 A Powerful Fishing Vessel
We fish from an almost 20 foot 2020 Targa Tracker Combo with upgraded seating, electric trolling motor and a 200 HP Mercury outboard partnered with a 9.9 kicker motor. We fish four guests comfortably, five possibly (with good attitudes). This boat is a powerful fishing vessel and easily fishes all Havasu game species.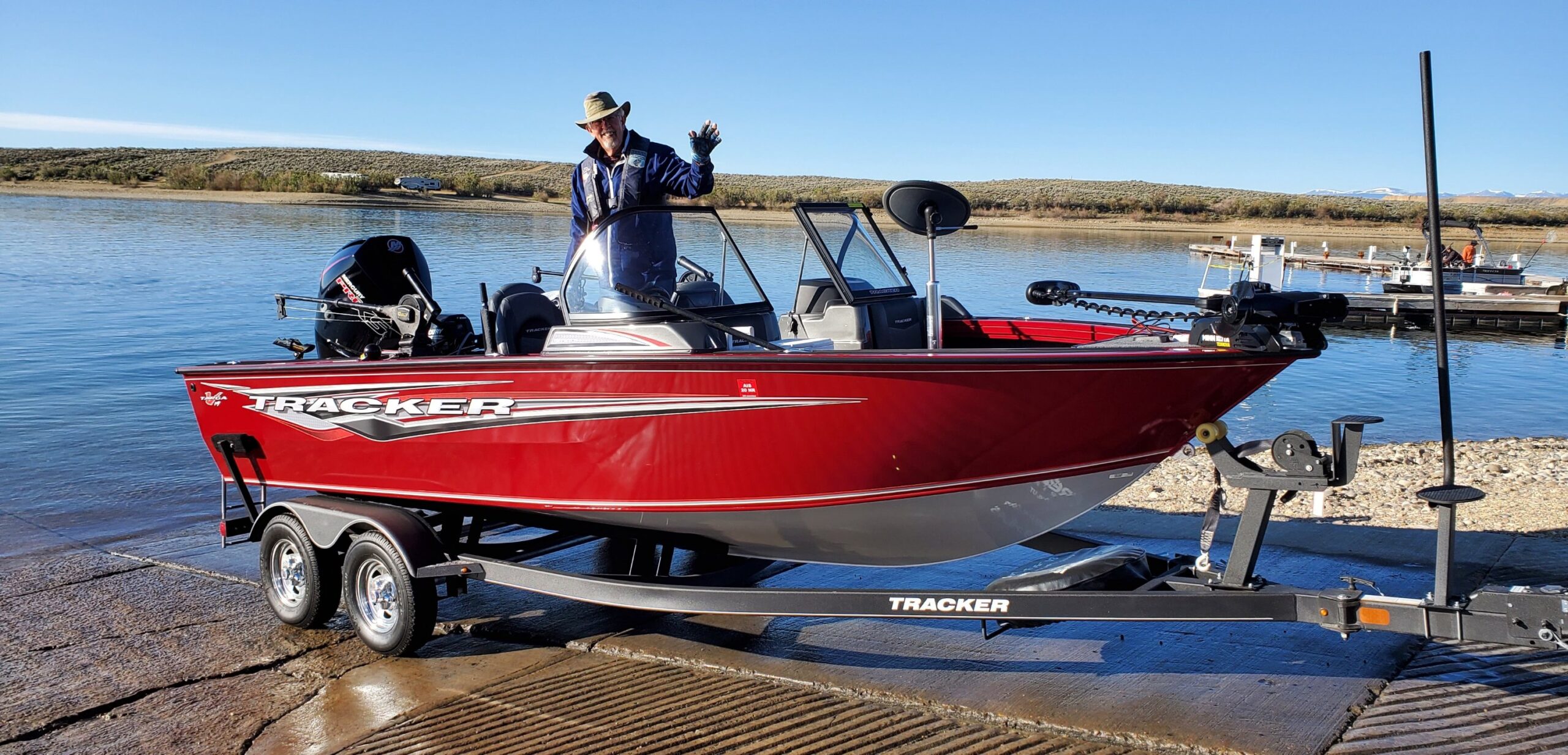 Havasu Net Em is ready to supply knowledge, techniques and fun!
Here is what I offer
Fall and winter are the active times for Stripers. We offer half days, full or split days.
Spring is the active time for Red Ear, Large and Smallmouth Bass. April and May are devoted to Red Ear fishing, and we only offer full or split days (no half days).
Split Days are limited to one or two persons and give you the opportunity to fish morning and afternoon with a nice lunch at Havasu Springs Dining on us. This allows you to take advantage of morning and afternoon feeding opportunities. No split days in May.
All trip options are available to the fly fisherman. We speak flyfishing with 50 years of experience. We are knowledgeable about fly patterns, retrieves, and rod weights. We offer tender service to float tubers, keeping them in the prime fishing spots. Our flyfishing trips are on the Bill Williams River Delta, which is a shallow striper feeding area, but more importantly, a "no wake" area. This makes it ideal for the fly fisherman during the "striper boil" season. Contact us for more details.
Current Rates
1 or 2 Persons
3 Persons
4 Persons
5 Persons
Half Day (7AM* or 1PM Start, 4½ hours)

$300

 $450

$600

$750

Full Day (7AM* Start, 7½ hours)
$450
$675
$900
$1125
Split Day (7 AM* Start, 8 hours fishing)
$600 (1 or 2 persons only. Fish in the morning, have lunch on us, fish in the afternoon. Ideal for fly fishing.)
Gratuity not included, but always appreciated! 
We require a nonrefundable deposit of $50 and a $2 booking fee per person and date booked.
Deposits are non-refundable but are transferable to another date within one year. 

Balances are autocollected three days before your trip.

Customer cancellations within 72 hours of a scheduled trip time are non-refundable unless we are able to reschedule. 

Should we need to cancel due to weather or other unforeseen circumstances, we will do our best to reschedule as quickly as possible. If we are unable to reschedule, all fees paid will be refunded. 
Please note: If you are booking more than one trip and more than one month apart (example – one trip in December, one trip in March), book those trips as separate reservations. Otherwise the booking software will attempt to autocollect balances due for both trips three days before your first trip. Call or email us with any concerns.
What I provide
Rods, tackle, water, soda, light snacks. We clean and bag your fish.
What you provide
Bring anything else you would like to eat or drink, plus layers of clothing – hat, gloves, sunscreen – and a fishing license.
Where to get your fishing license
You can use either a California or Arizona license. In Lake Havasu City, you can buy an AZ license at Walmart or an AZ or CA license at Bass Tackle Master. In Parker, you can buy an AZ license at Walmart.
You can buy an Arizona license online at https://www.azgfd.com/License/.
All trips are private. No one is booked with you that you don't know.
Contact us at 888-290-2284 or email

[email protected]
Yes, we have Gift Certificates! Click "Check Availability" box!!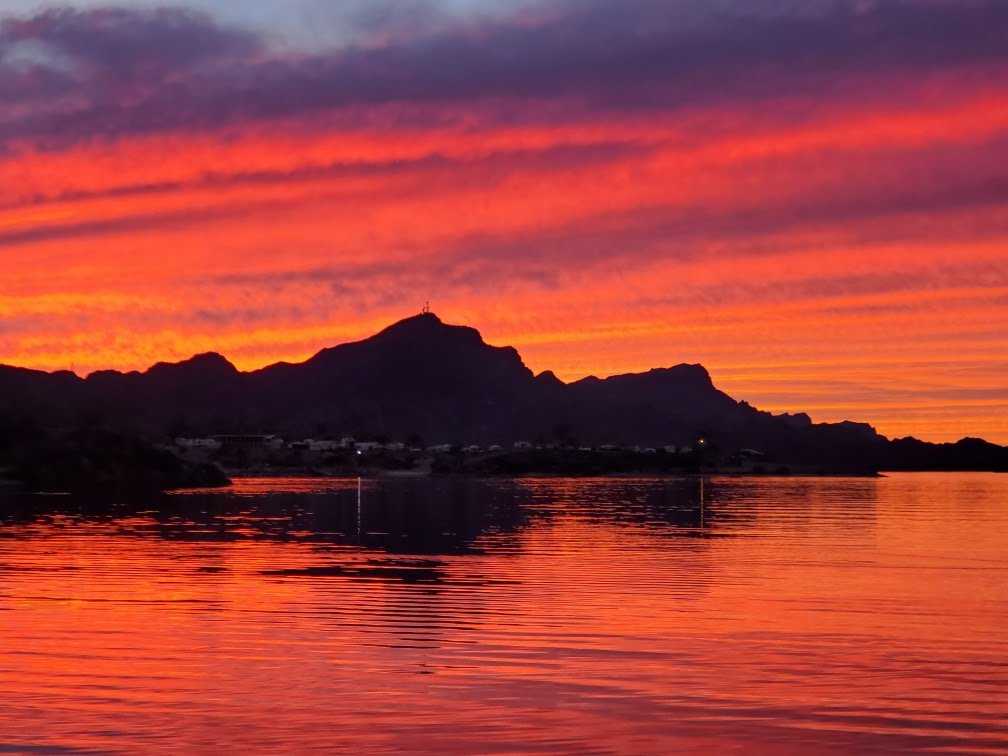 What Clients Are Saying
We are on Facebook and Yelp and your honest opinions and recommendations are welcomed!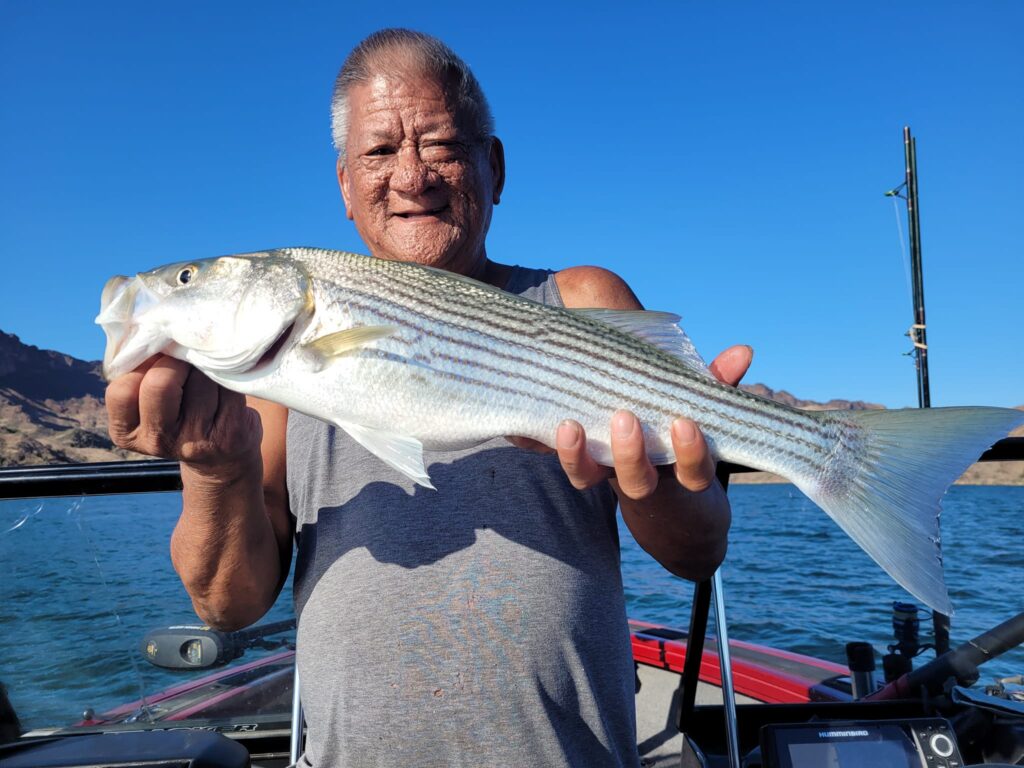 "If you are looking to catch fish and more importantly LEARN how to catch fish, where to look for them, how to catch them, and about them, Don is the guide to go with. This was our first time out with him and even though I have been fishing for stripers for the past 5 years in Lake Havasu, I walked away with a lot of new knowledge about fishing for them. Give him a call and book a trip. One last thing he is not only knowledgeable but he is a pleasure to talk to and fish with. Thanks Don!!" Chris Lee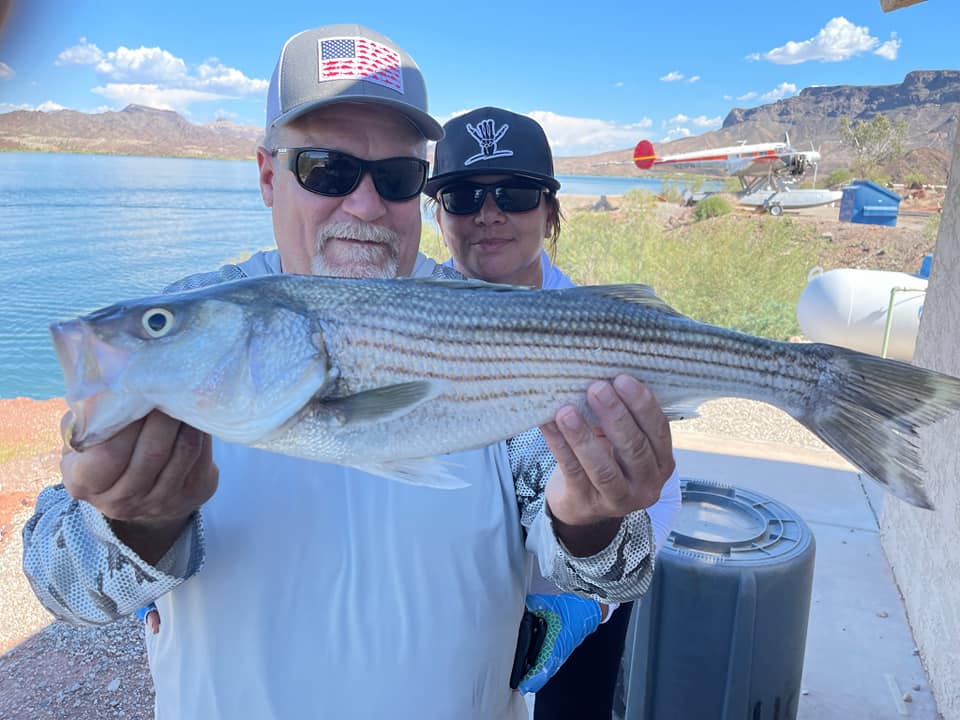 "What Do We Recommend About HavasuNetEm? Everything! And "net 'em" we did! Multiple doubles all day.
D.A., Thank you for one of the most educational and productive guided  fishing experiences we have ever had.
We had a great time listening to you and learning and catching Stripers with you and we cannot express our gratitude on how much we have learned and will take away in such a short time fishing with you. We do fish and have fished with other guides for stripers, and they did not even come close. One thing that "caught" my attention – from the moment we started dropping lines in the water is that D.A. has the confidence and experience to go out and fish Havasu with one lure on all lines AND catch fish. There was no second guessing his own choice and rig setup, and his ability to explain the reasoning behind his techniques was beyond exceptional. The gift he has is to teach and explain it, so that even the most inexperienced fisherman or fisherwoman would be able to walk away with confidence to duplicate his way of fishing and catch fish on Havasu. 
It was an amazing time we had! Great fun conversations along with lots of laughs and a laid back and on point guide and instructor made for a very enjoyable time. Oh, and did I mention we caught a lot of fish?
Thanks Again D.A. for sharing your tips and techniques with us. Hard to put a price on what we walked away with on this one, we smiled all the way back home. I don't think you can go wrong reserving and booking a date with D.A. and Havasu Net Em. Thank you."
John and Armida McAlister
"Thanks again D.A. You made our Christmas the best.
He put us on the fish again, yes, I said again (lol) and we will be back again for sure. Best Guide Ever!"
Mike Klemmetsen 
"I'd like to tell you about my friend, Don (D.A.) Allen. I've known D.A. the last 25 years, and he and I have done a ton of fishing and hunting together. In the late 90's, I was looking to advance my knowledge of catching bass. He assured me that wouldn't be a problem. I joined the federation, and the next thing I knew D.A. was personally teaching me how to catch bass. The knowledge this man has about catching fish doesn't stop with bass; he's probably forgotten more about fishing than most people ever know in a lifetime. He is constantly pushing himself to become a better fisherman with all the new baits and techniques imaginable. I've never seen him give up on techniques until he masters every angle possible. He's also the most genuine person I've ever met in my entire life. I'm very proud to call D.A. my friend. I know he will succeed in any venture his heart desires; he's just that kind of guy." -Bill, Wyoming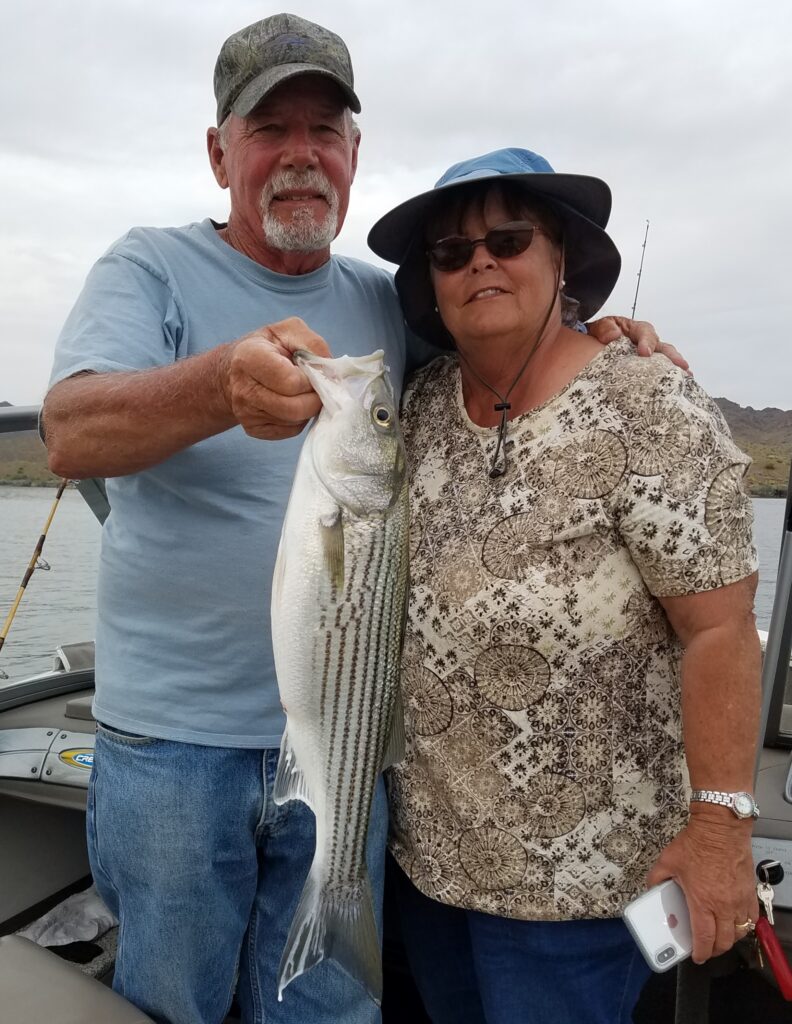 Our friends, Gail & Don Whisnand, sent separate reviews because Gail wanted to encourage women anglers:
"A bit of encouragement for women who want to take a guided fishing trip. The day I went out with D.A., we began trolling for stripers and would stop and cast when they began boiling. D.A. is very knowledgeable about boats, the Havasu area, and the fish. He is also a wildlife photographer, so he's a wonderful source of information about all the wildlife near Lake Havasu and the Bill Williams River delta. We had a GREAT day and caught several stripers. I was comfortable with him and he showed me how to cast more effectively. I learned a lot that day and wouldn't hesitate to book him again. I highly recommend him. I not only hired a fishing guide, but made a friend. Thanks for the great fishing D.A." -Gail
"I have fished with D.A. several times. He is very knowledgeable about Lake Havasu. He always puts me on fish and we've had great, fun days. He brings a lot of knowledge to the table and has taught me a great deal. When you go out with D.A., you always catch fish and have fun. I can't wait to fish with him again!" -Don
    *     *     *     *     *
Many more stories and photos on Facebook!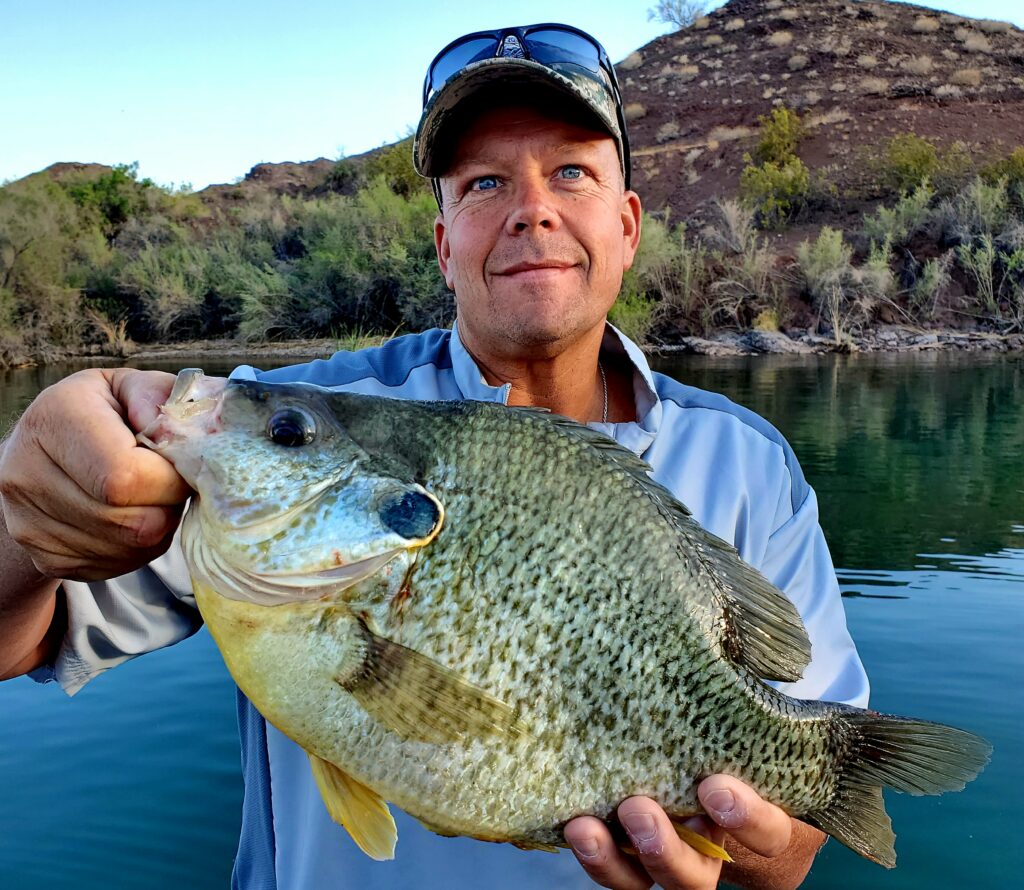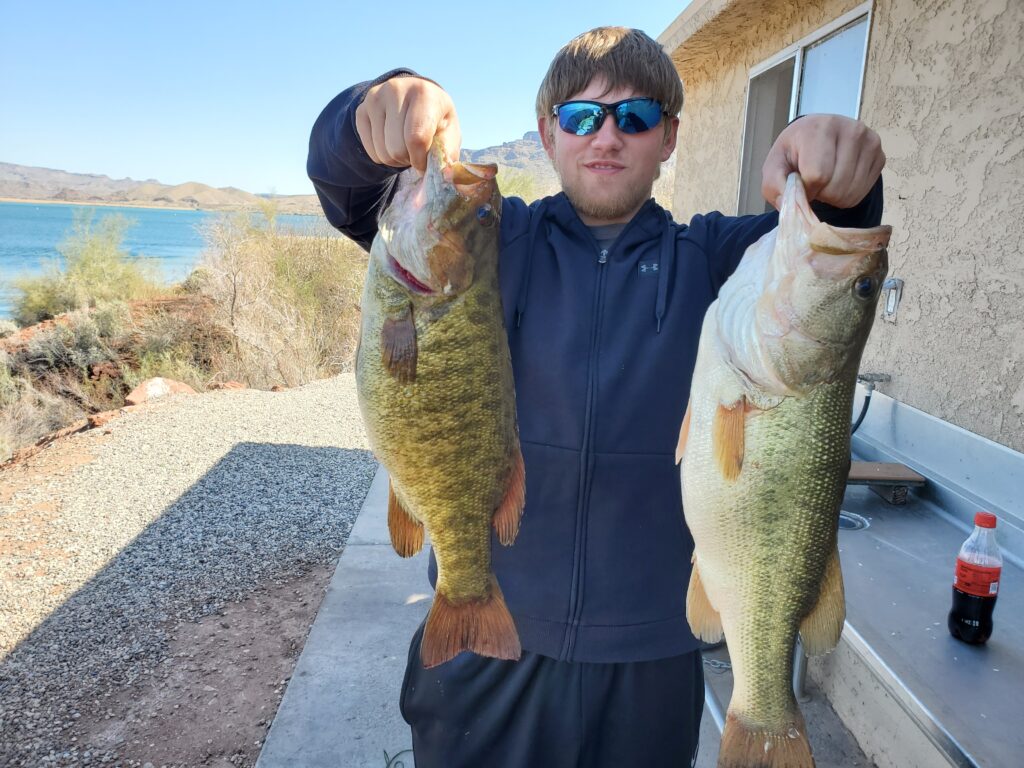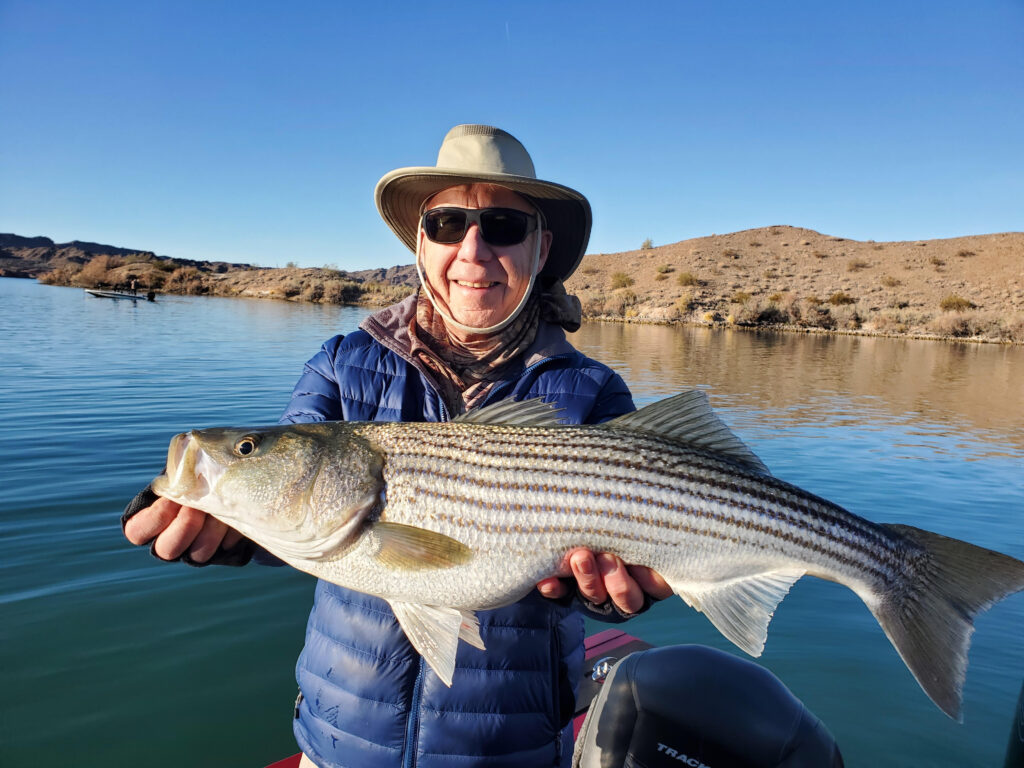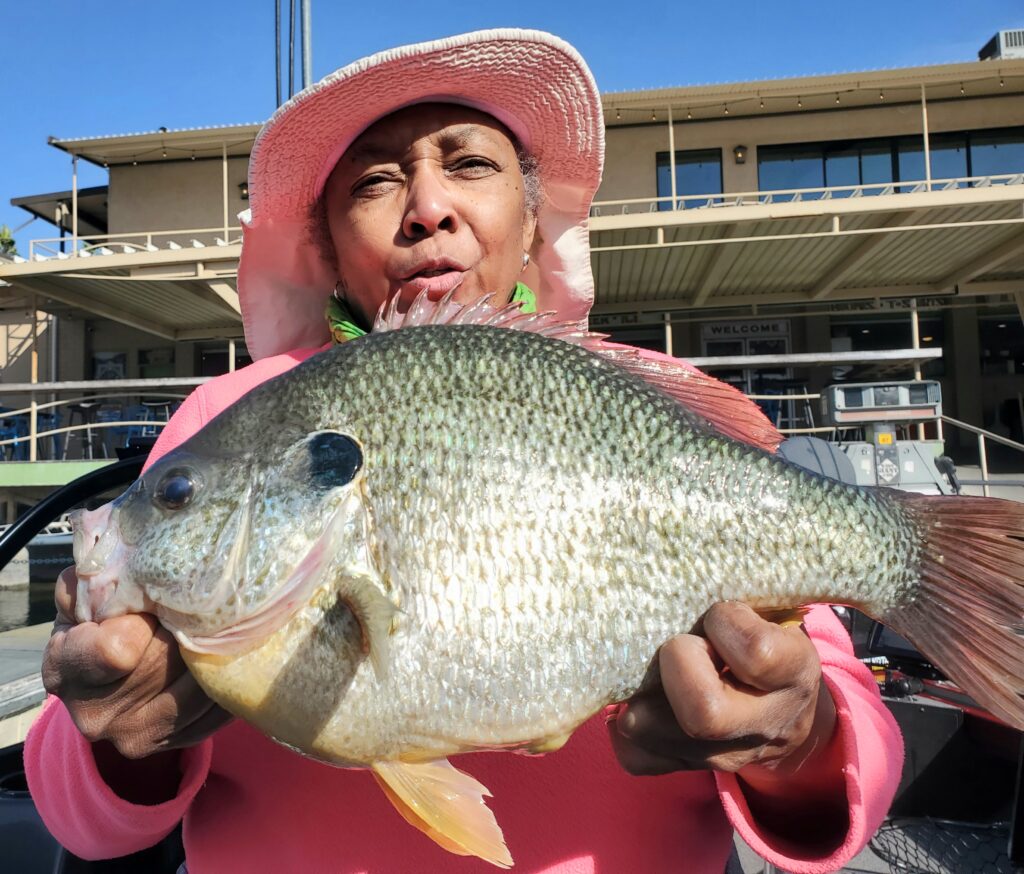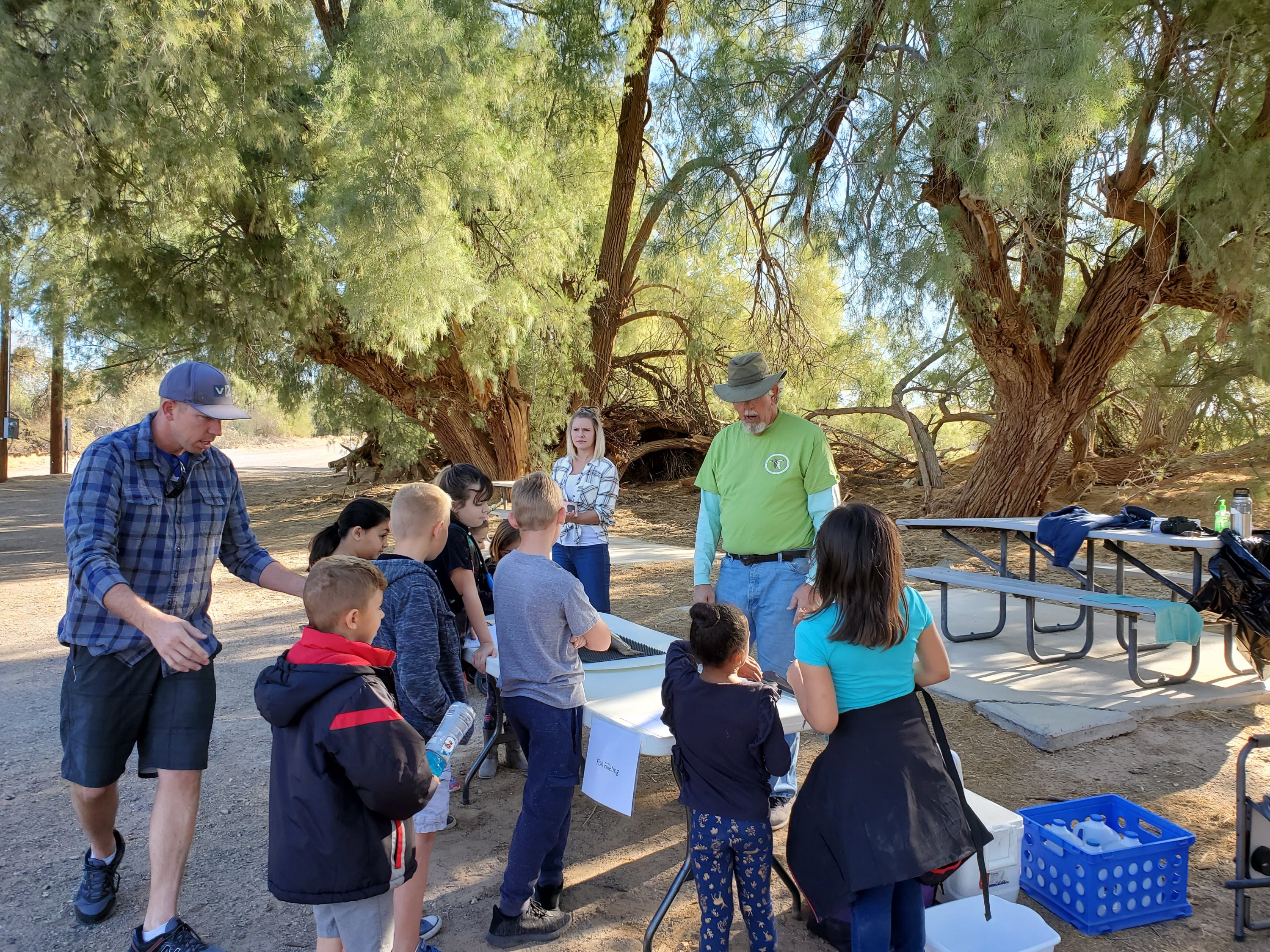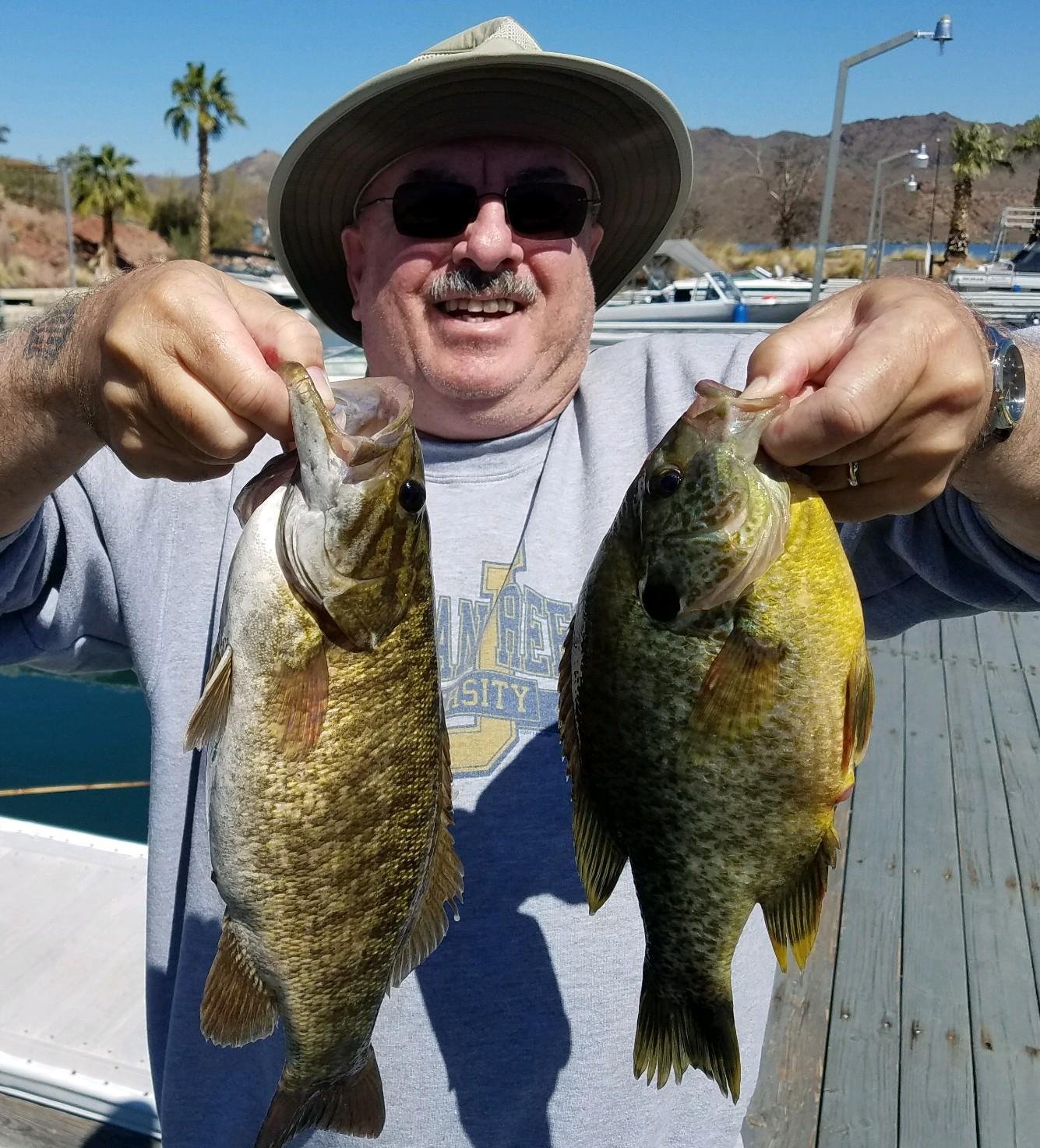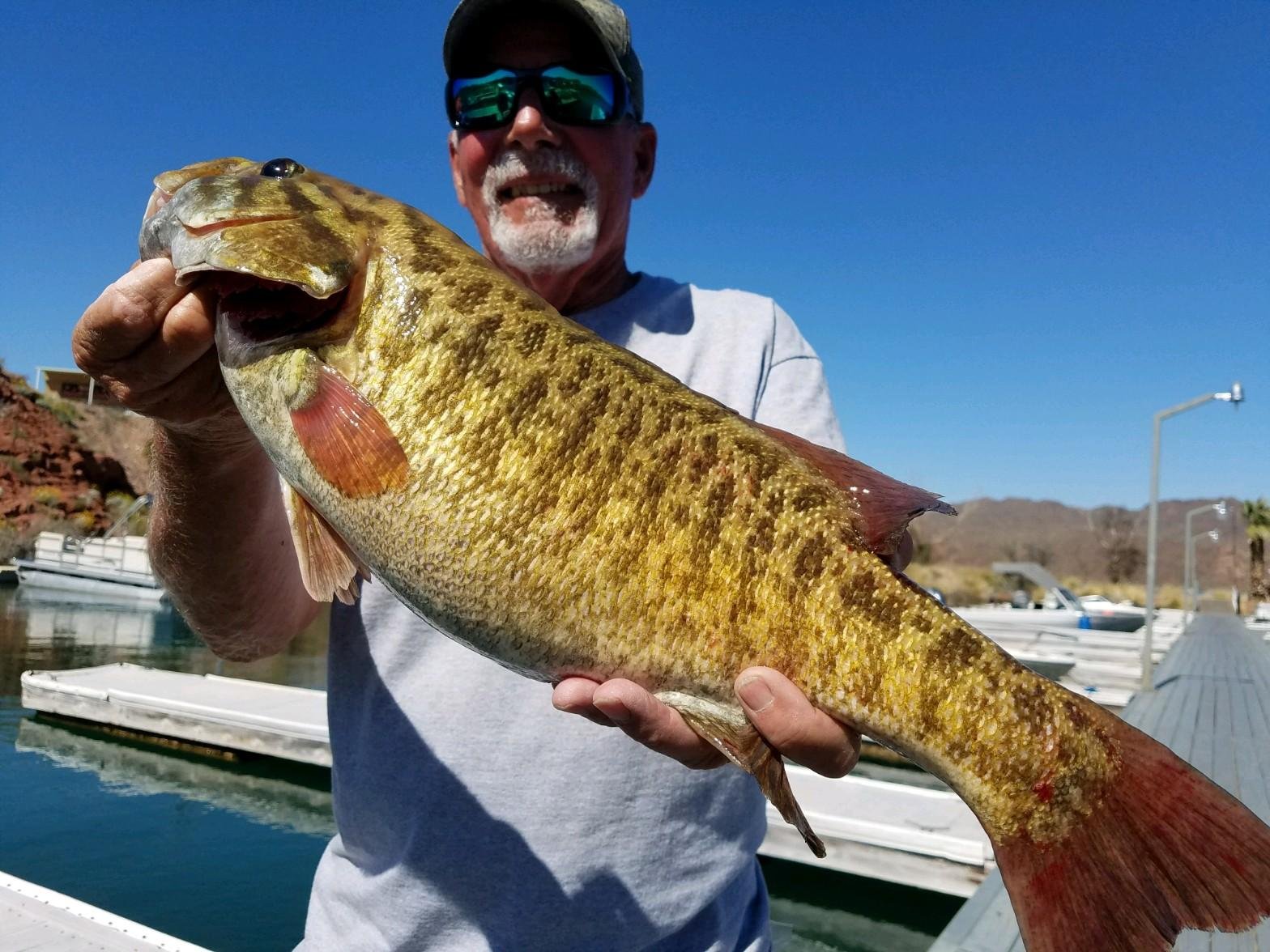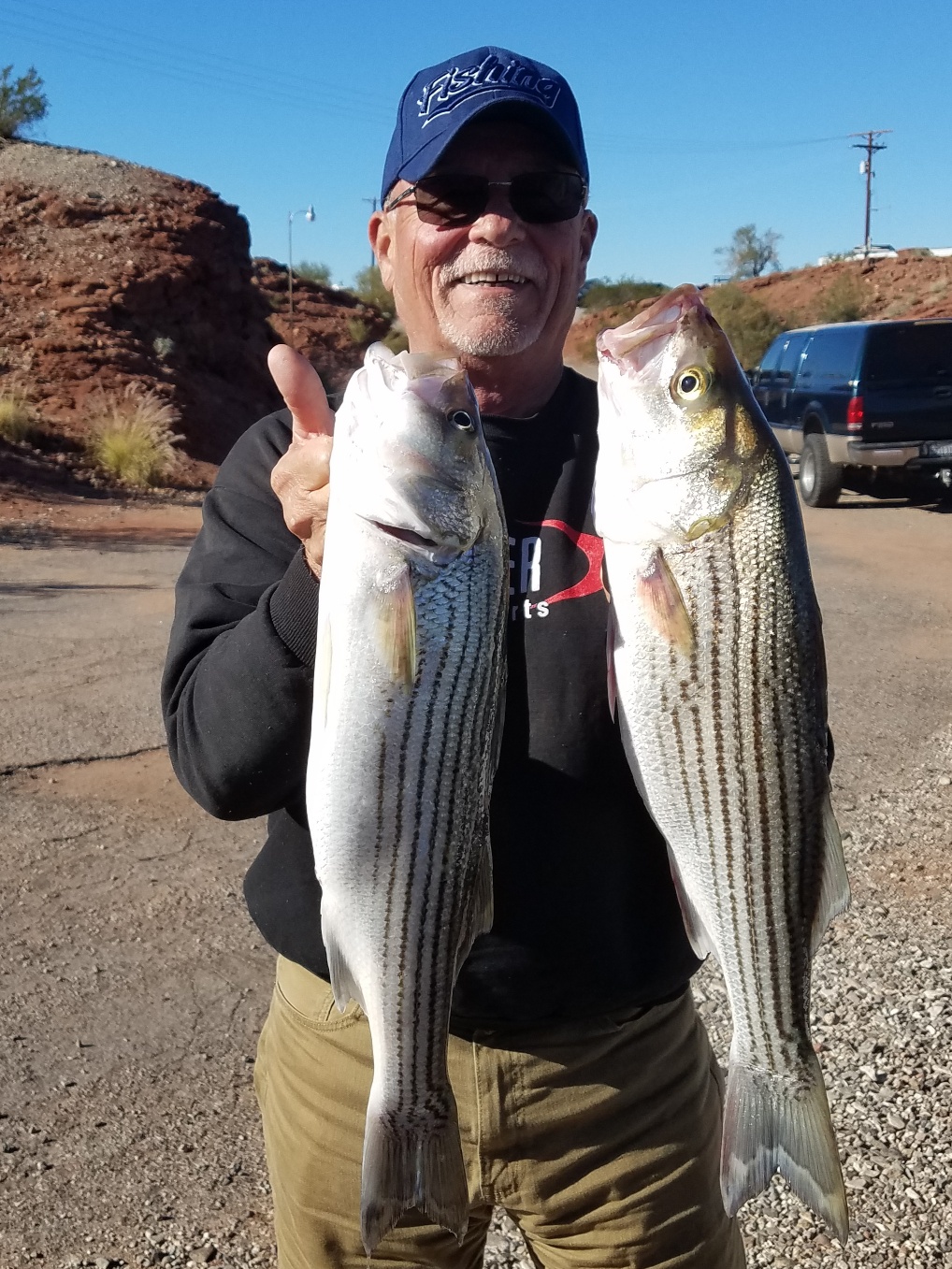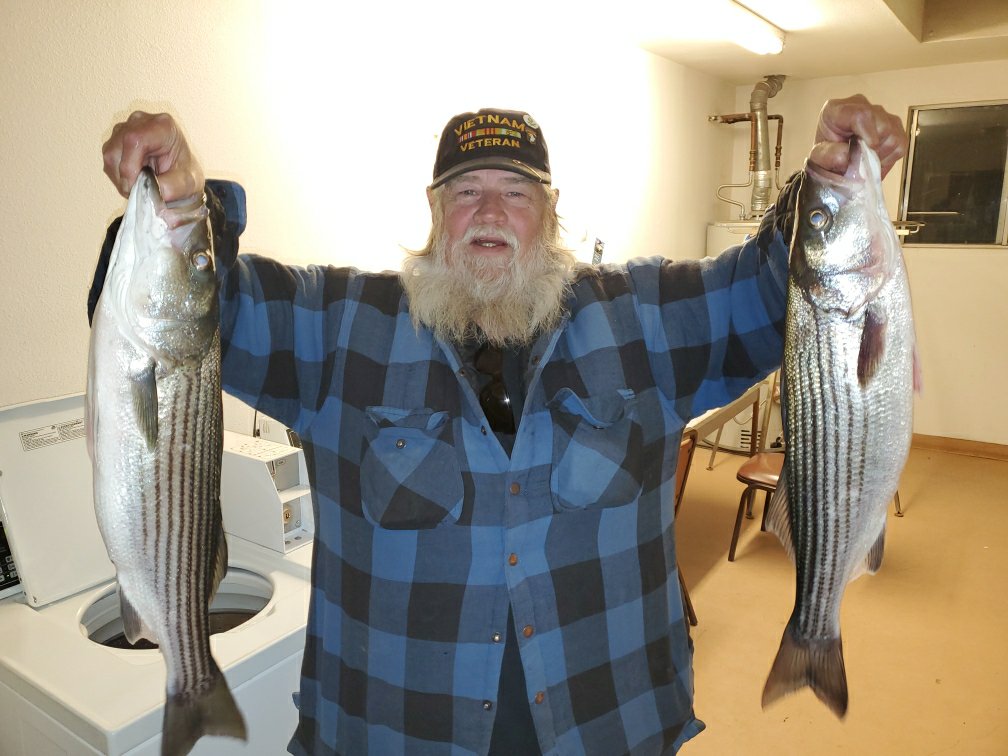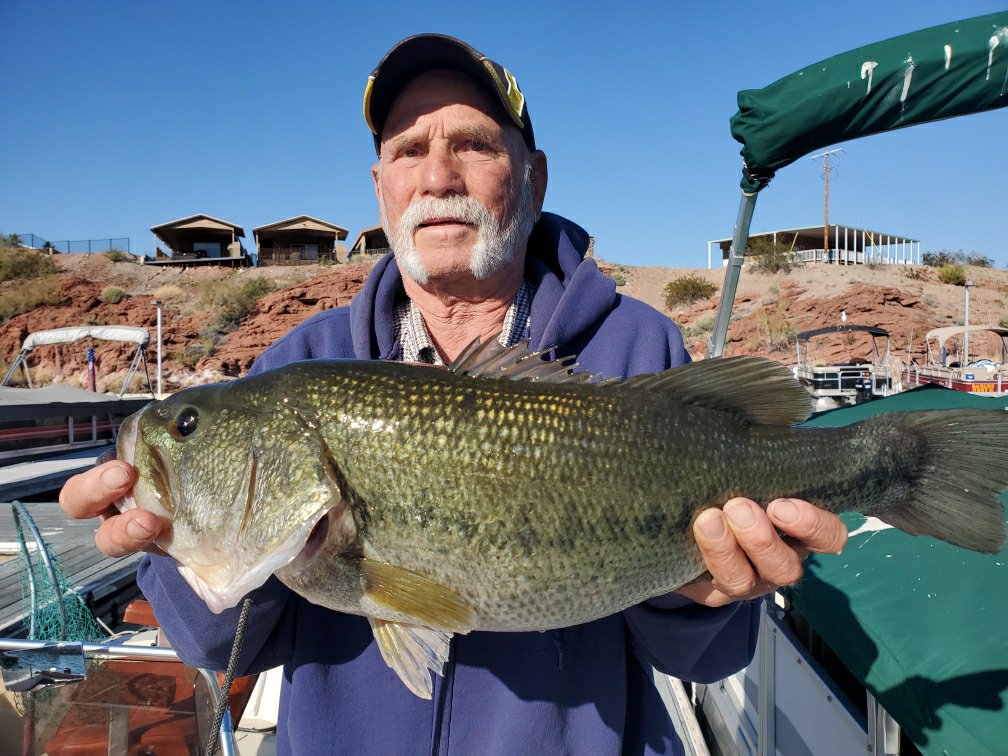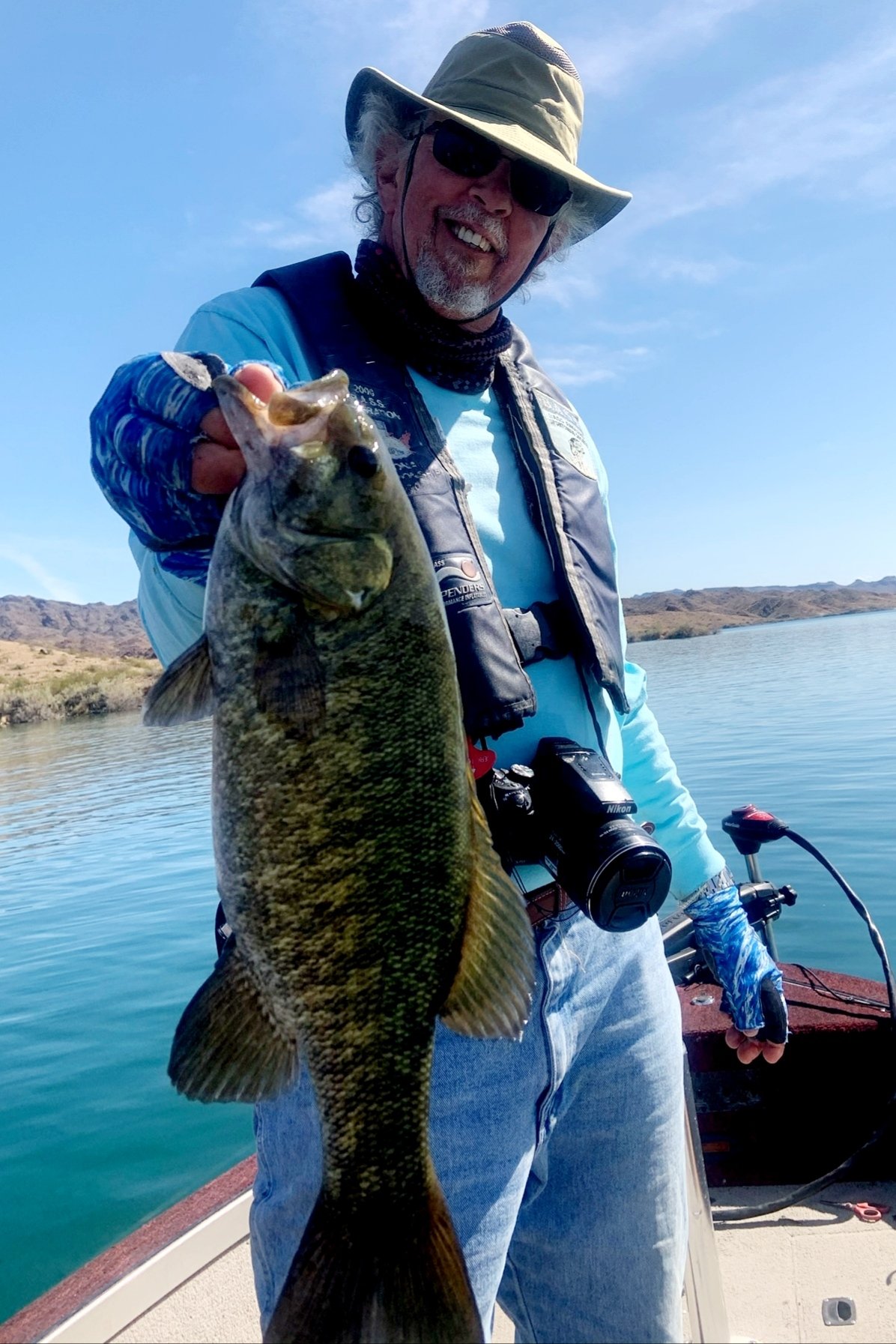 Thank you for your interest. Let's get you out there catching fish and makin' memories on Lake Havasu!!