On top of the world in a sea of sage…
It was early July when we arrived at Buckboard Marina on Flaming Gorge, Wyoming. This is a full-hookup campground in Ashley National Forest. There is a large NFS campground (Buckboard Crossing) nearby, mostly without hookups, and many areas where you can camp on your own. It's gorgeous with huge skies and expansive views of the Gorge and Uintas.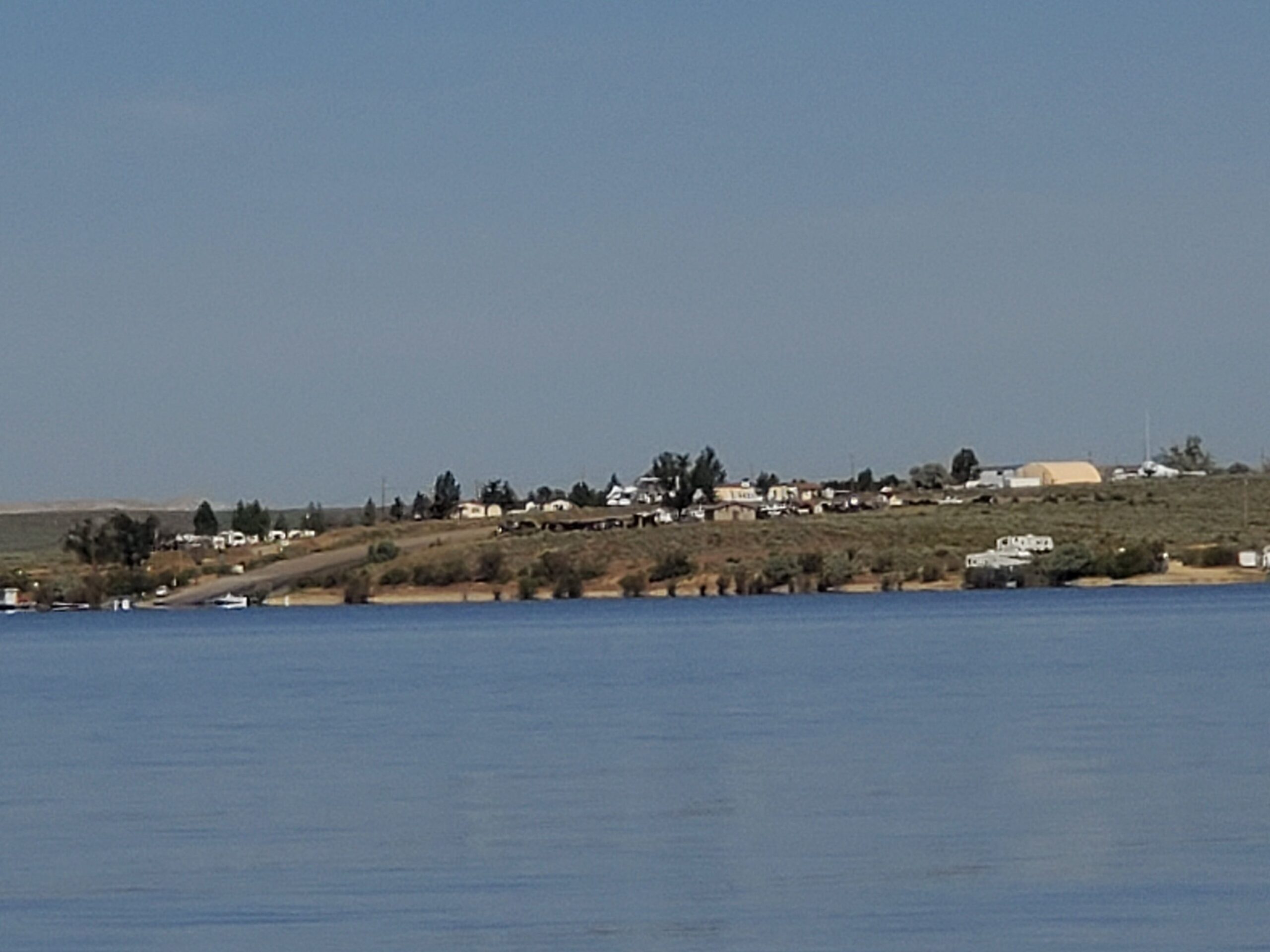 And wrapped in a blanket of stars…
I hope to add a short video of D.A.'s "star track," but as I write this, the camera is in the shop for repair.  Flaming Gorge is filled with cool places that have zero light pollution and low humidity, making for prime star gazing conditions.
We fished a lot and caught Kokanee Salmon (and a few Lake Trout) that we thoroughly enjoyed eating. Arriving at the fish-cleaning station after a morning fishing was always exciting where we would learn how the other fisherpersons had done. They mostly caught more and larger fish than ours, but they were using downriggers and we were using leadcore. The fish we were seeking were going deeper the whole time we were there, so it was hard for us to reach them. Nonetheless, we were very happy with the ones we caught.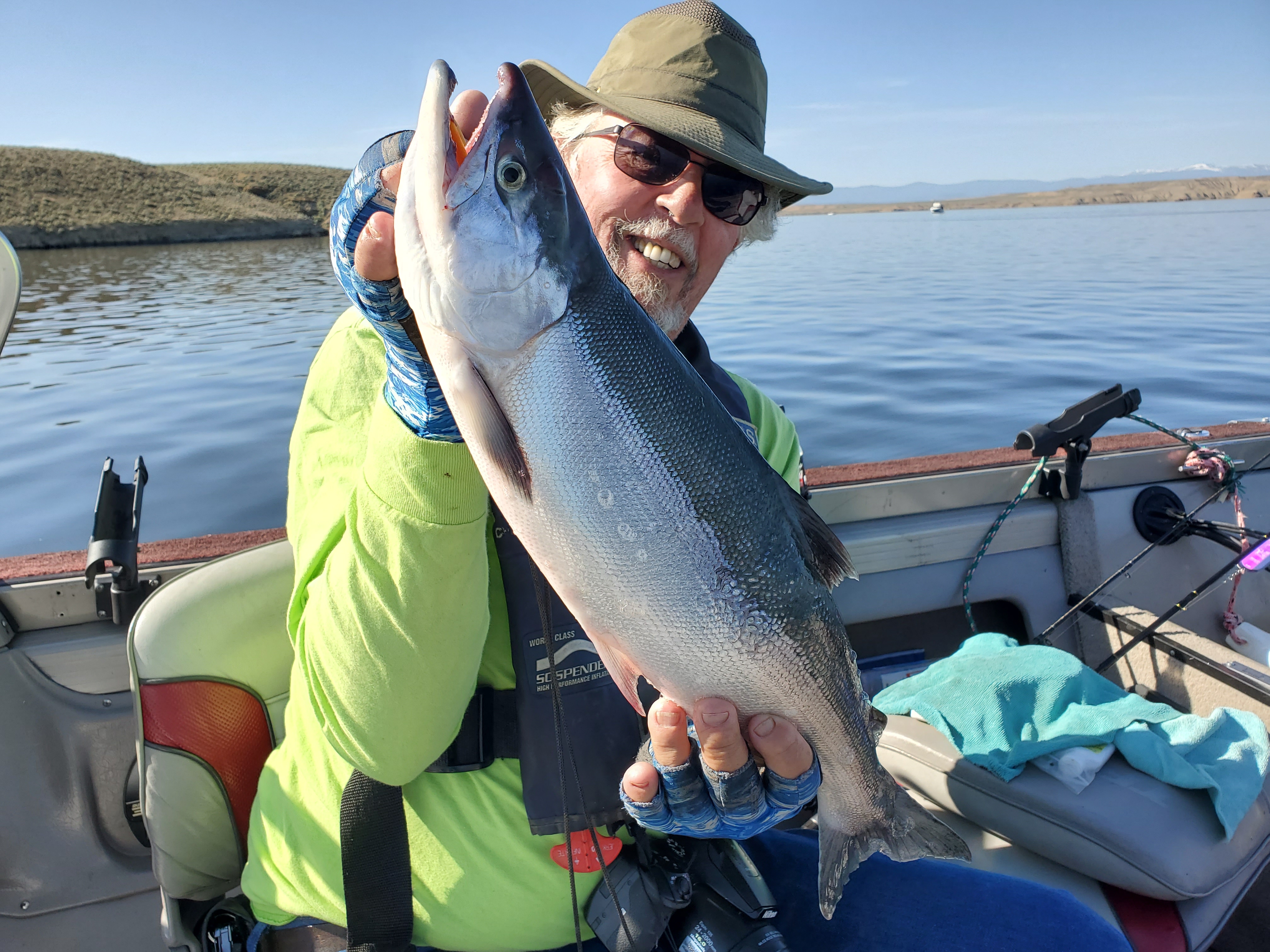 Buckboard Marina is about halfway between the town of Manila, Utah, and Green River, Wyoming (about 20 miles either direction). No facilities except a small store, but from now on when I think of "getting away from it all," I will be thinking about our time at Buckboard.
We stayed a month and had several excursions to local attractions.
One day we took a ride out of Rock Springs (about 20 miles from Green River) to visit the "Firehole" area. The pinnacles and mesas are the remains of prehistoric volcanic activity. It is breathtakingly beautiful.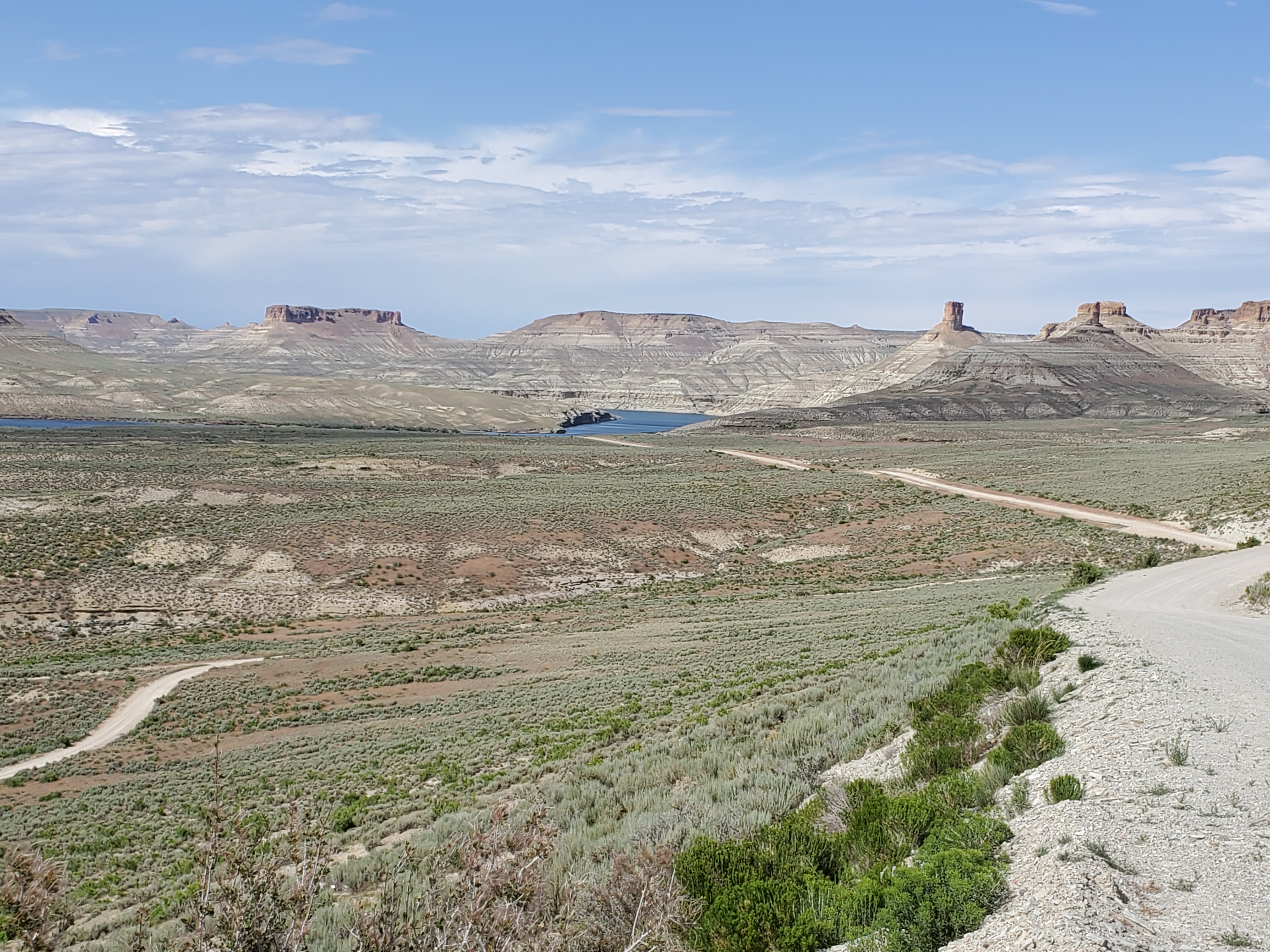 On two Saturday mornings, we found ourselves at Farson Mercantile, reputed to have the best ice cream in Wyoming. Who knows if it's best, it certainly IS the most generous servings I've ever seen! The first visit, I ordered a single, which was bigger than what you would expect from a double. The second visit, I ordered a Baby Scoop, which was about perfect. Actually, this is a great stop for ice cream and interesting shopping – no matter it's kind of in the middle of nowhere (which I think could be said for most attractions in that part of Wyoming). And P.S., we no longer eat ice cream for breakfast!
Farson is about 40 miles north of Green River on Highway 191, which happens to be one of our favorite highways. If you ever get the chance to take Highway 191 from southern AZ to Canada, DO IT!!
On the road to Seedskadee National Wildlife Refuge we found the sign that heads this post. It gets my vote for innovation. It makes you laugh and it makes you think. Here's another one: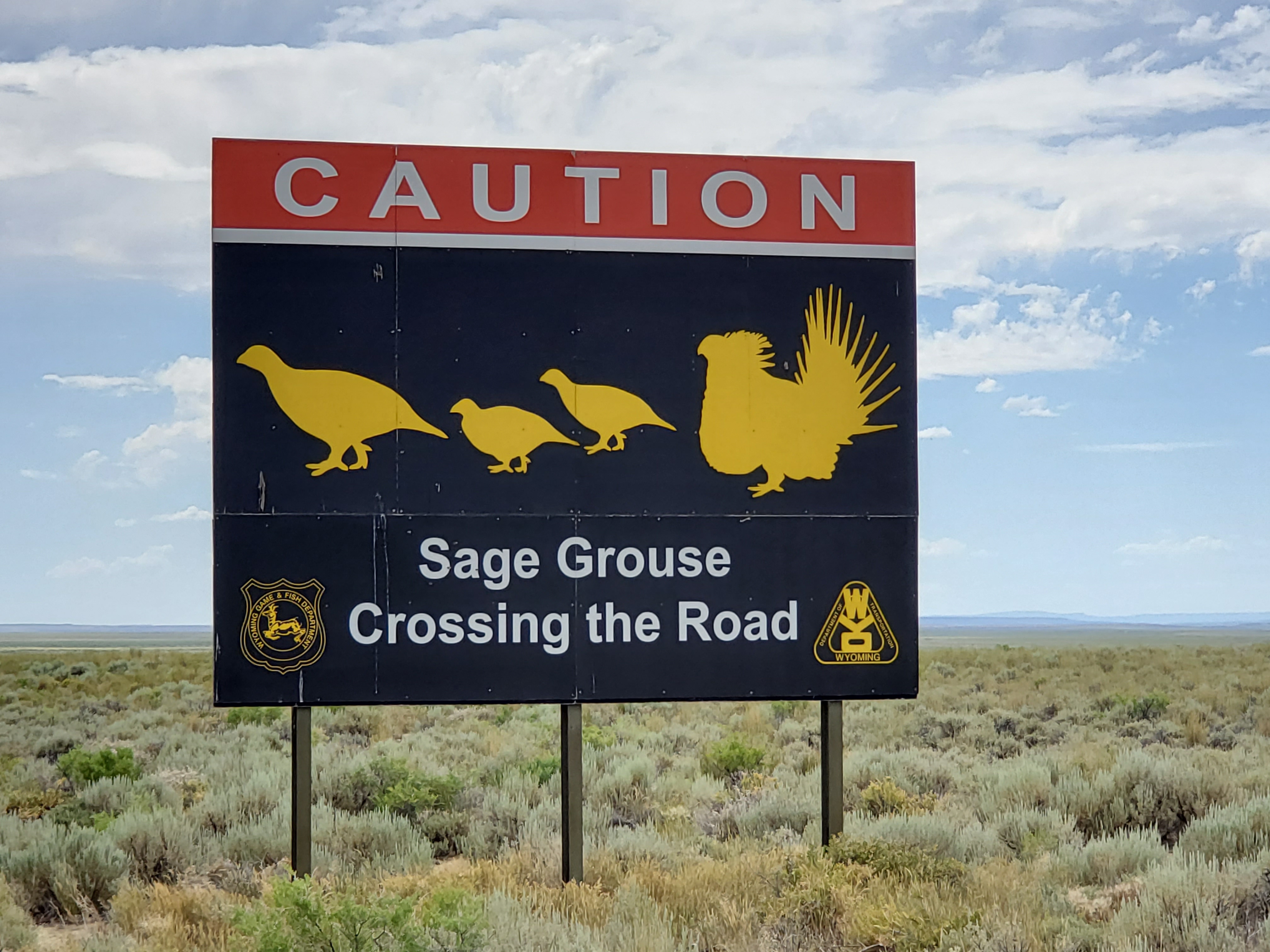 Seedskadee NWR runs along the Green River about 40 miles north of the town of Green River and is an oasis for wildlife. Thousands of waterfowl, shorebirds, raptors, and songbirds migrate through the Refuge each year and some, like trumpeter swans and bald eagles, nest here. We saw Sandhill Cranes the day we visited.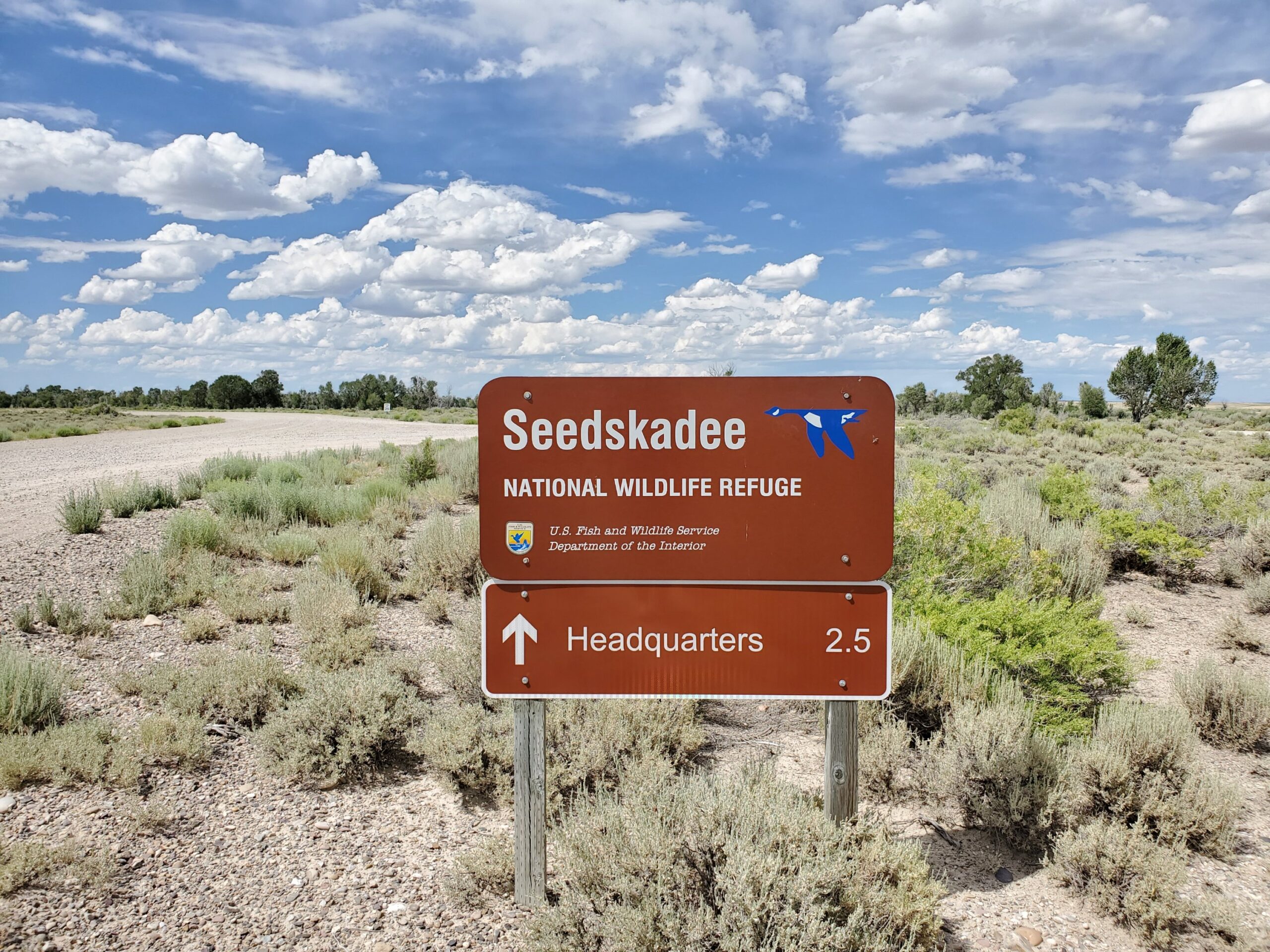 One of our last and favorite excursions was to the Red Canyon Visitor Center in Flaming Gorge National Recreation Area. A long-time summer resident at Buckboard Marina told us it was a "must see" in the area and we couldn't agree more. The site offers paths and commanding views of the 700′ wide and 1,400′ deep Red Canyon that frames the Flaming Gorge Reservoir. The red canyons we were used to in other places were more orange than red. These were more purple than red.  Green river, purple mountains – stunning!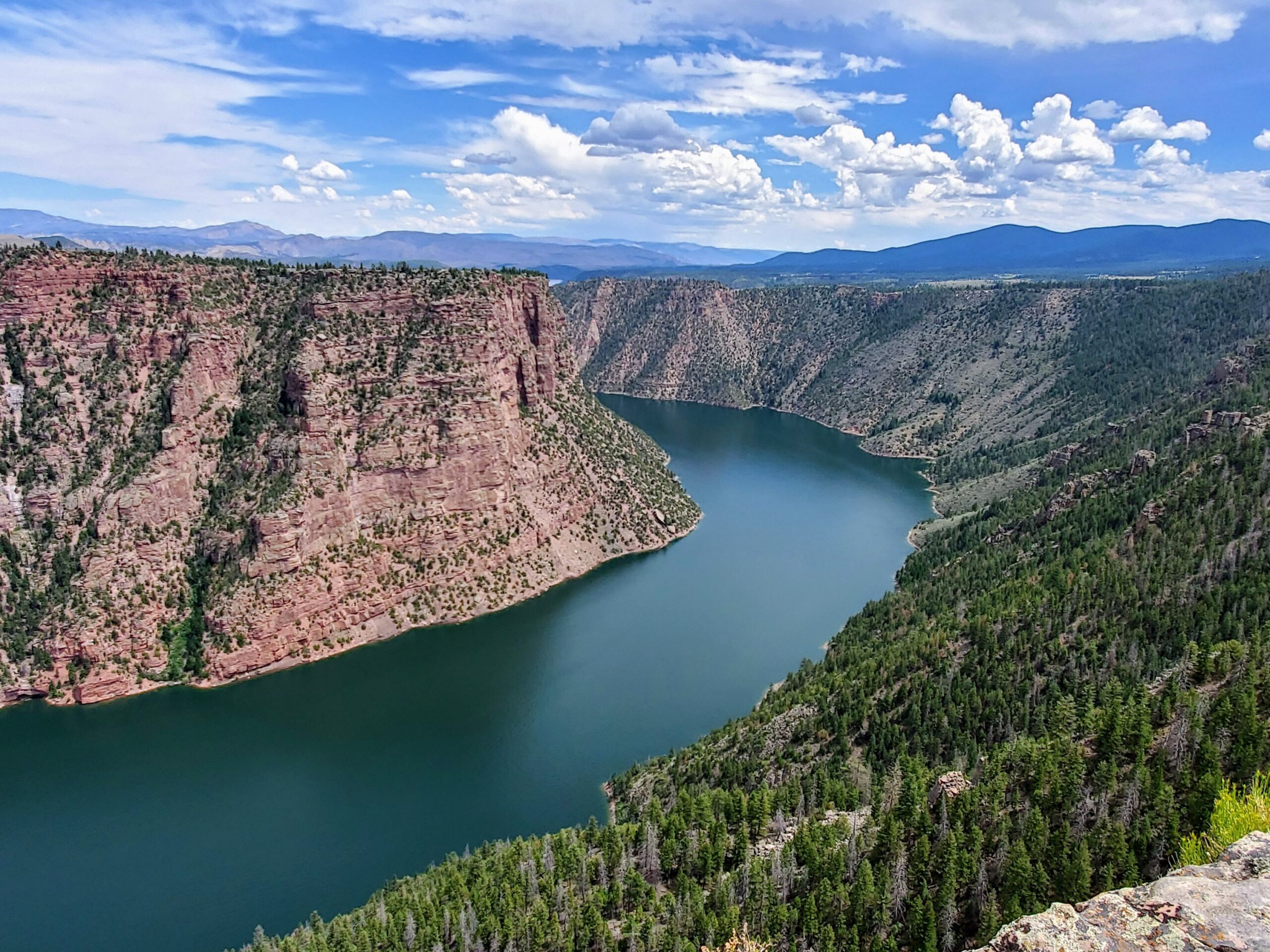 "We name it Flaming Gorge"
"John Wesley Powell may not have been the first to navigate the Green River corridor but he was the first scientific explorer to journey down and document his findings along the Green and Colorado rivers. In May of 1869, he left Green River, Wyoming and entered the Uinta Mountains. The Green River, he said, 'enters the range by a flaring brilliant red gorge. We name it Flaming Gorge.'" (From a sign  on the road to the Red Canyon Visitor Center.)
 Attractions in Casper
We were visiting friends in Casper and I was anxious to see a few attractions I missed the last time we visited.
First on my list was the National Historic Trails Interpretive Center which commemorates Native American history, early explorers, and the travel corridor of the Oregon, Mormon, California, and Pony Express trails. There are many hands-on, interactive exhibits, and at the end I saw the 18-minute multi-media program. This was the perfect way to visit in my estimation because the program at the end brought to life all the exhibits.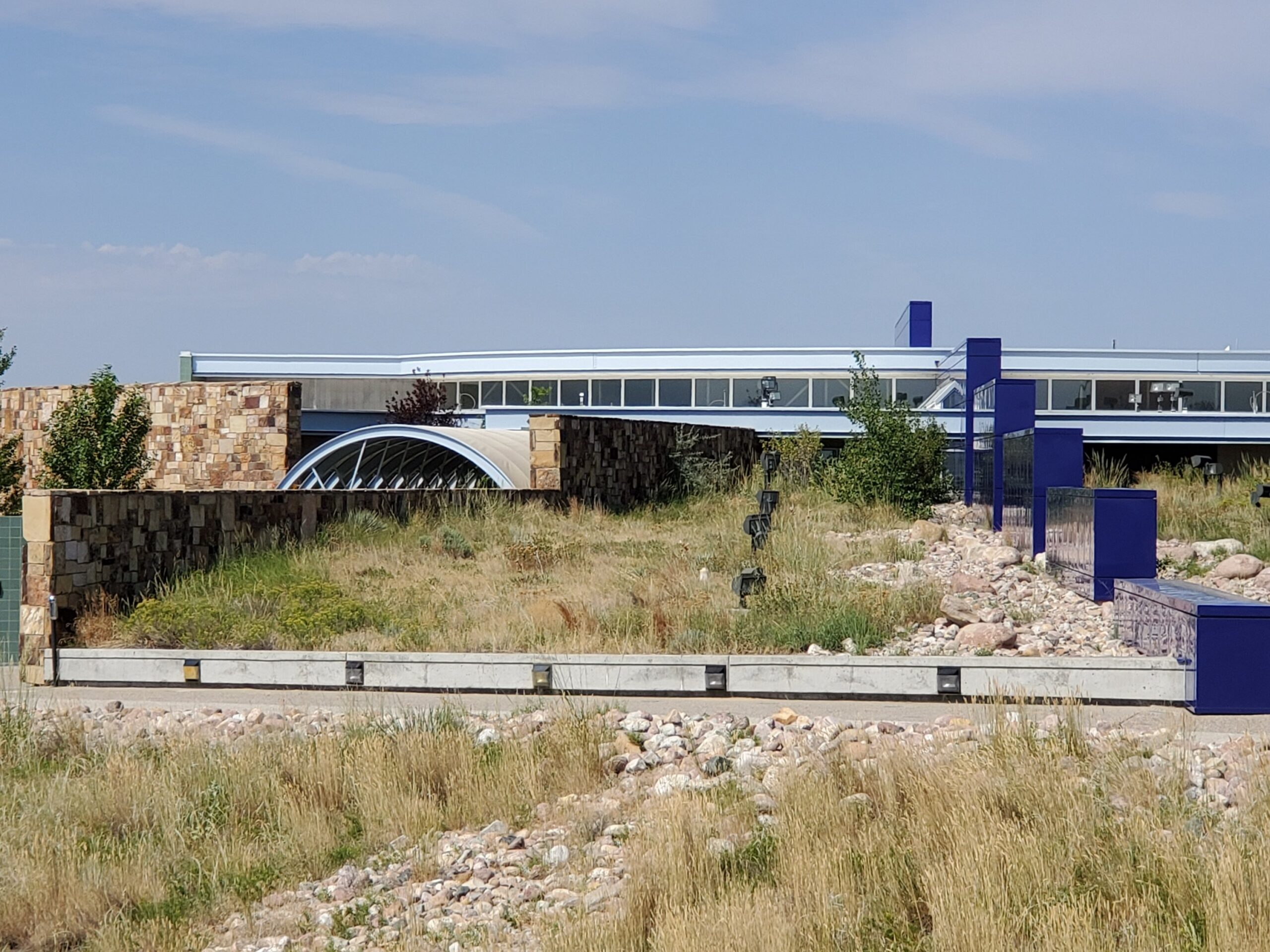 Another day I hiked all around the Garden Creek Waterfall at Rotary Park on Casper Mountain. There are over five miles of trails at an elevation of about 8500 feet. The park is gorgeous and the views spectacular.
Later, I stopped at the Tate Geological Museum at Casper College and met Dee, an 11,600 year-old Columbian mammoth. I was also introduced to a large number of prehistoric amphibians, and many dinosaur-types I had never heard of.
Can you imagine? All these attractions were free!
Home of Kool-Aid
We spent a few days in Hastings, Nebraska, to attend a wedding. Now, we were there for the romantic event, but guess what? Hastings, NE, is the official birthplace of Kool-Aid, and it also happened to be the "22nd Annual Kool-Aid Days!" We went to the Saturday morning parade. This year the theme was "Jamaican Me Smile!" Floats and and participants were decorated in brilliant colors with prominent palm trees, flamingos – you get the idea. Great fun, so I won't even mention the heat and humidity…
A visit with the good sheriff from Absaroka County
When we checked friends' availability in Centennial, WY (on the edge of the Snowy Range), they were going to be in town on the day specified, but they were involved in a fundraiser for the local library. I said, "Good, sign us up." And that is how we came to meet Craig Johnson, the author of the Longmire series. It was a lovely event and Craig Johnson is a great entertainer. He told us how the book (and then the TV series) came to be and what his life has been like since.
Craig loves public libraries and does his best to support them. He's actually spoken at all the libraries in Wyoming (four times in Centennial), and his honorarium is always a six-pack of Rainier beer! What a hero!!
What a state! It's just possible we may be spending future summers here.