The Mothership, the Blue Spruce Goose and the Meal Ticket set off from Boise. One of the best benefits of full-time RVing is finally seeing those places you've been thinking about for months or years.
The flip side is this visit to Walla Walla was unplanned. It was simply half way between Boise and Entiat – our destination near the Lake Chelan National Recreation Area on the eastern side of the Cascades. We were talking about visiting Washington and our friend, Ben Parkhurst, told us it was a favorite of his.
We stayed at Blue Valley RV Park which is a little out of town.  Our first impressions of the city seemed a little rough around the edges, but we later learned that we were wrong in that assessment.
On our second day, I went to the Visitor Center to decide our best options for sightseeing. The Center was closed but there was a kiosk outside with lots of local info. The downtown area was very much alive and thriving and I parked a couple of blocks away, so I could walk and get a feel for the area. There are 11 colleges within 80 miles of Walla Walla, so that adds to the vibe, and I was totally enchanted.
I gathered up info that interested me and started back to the truck, but walked a couple of blocks further just because it was a lovely day. And then I saw (drum roll in background) Earthlight Books. Used bookstores and ice cream shops are always at the top of my list of "find-these."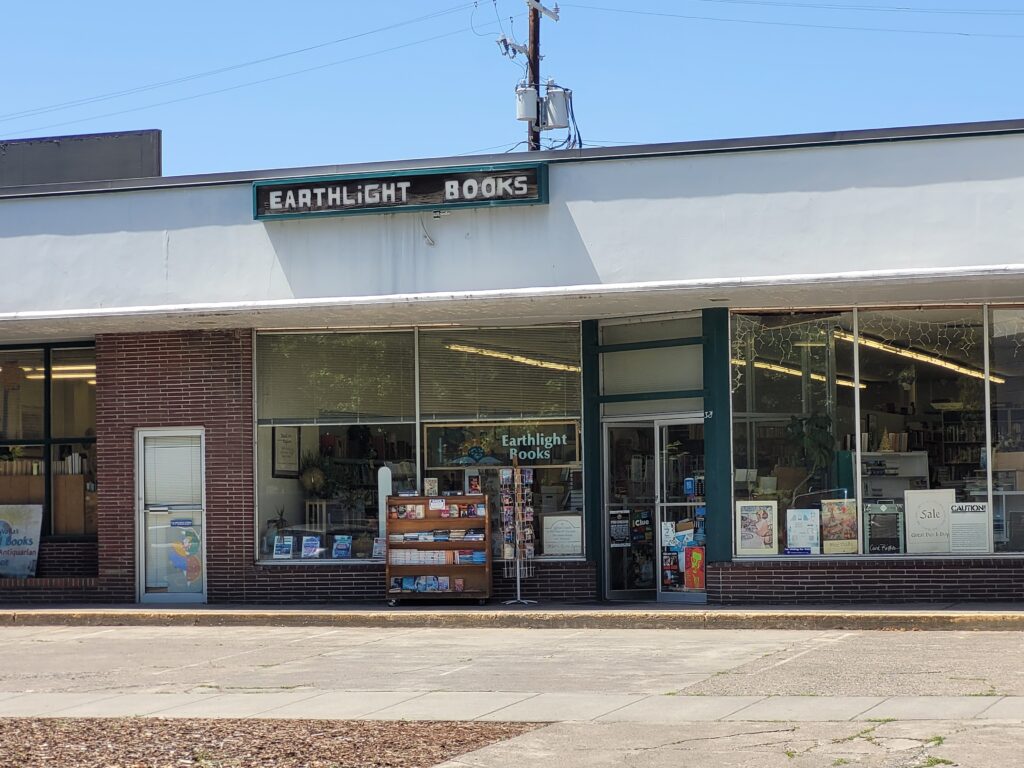 Chatting with the owner, I told him we were full-time RVers who spend winters at Lake Havasu and summers anywhere else. This summer we planned to see as much of Washington state that we could. His response, "That is about as opposite a life from mine that I've ever heard!" I said, "Okay, tell me about your life," and he put his arms out, turning around, and said, "…This…" The family-operated store opened on April 1, 1973, and he's been there ever since. But what a great place it was to visit (and of course I bought a stack of books to read and leave at RV parks along our tour route). I didn't mention I have always wanted to own a bookstore.
(My two favorite books so far this season are Demon Copperhead by Barbara Kingsolver — just won the 2023 Nobel Prize for fiction and is about addiction in Appalachia, and Regeneration – Ending the Climate Crisis in One Generation by Paul Hawken — unlikely, but so very inspiring.)
The Walla Walla Valley has the highest concentration of wineries and tasting rooms in Washington. It has more than 120, including many of Washington's founding wineries. So this surely adds to the upscale ambiance of the City.
The next morning, D.A. was finishing up a few things to ready the boat for the water so I thought I would take a walk around the park. The RV park is very clean with nice landscaping. We would stay there again. The park is divided into two sections and what I didn't realize when we pulled in was those sections were separated by the Blue Mountain Humane Society building and grounds. One side of the park is for short-term stays (numbered 1-35) and the other for long-term stays (numbered 36-60) and though you would expect a lot of barking noise with a dog pound so close, that was not the case.
As I was walking, I started visiting with another walker, Priscilla, who turned out to be a fount of information. She and her family have lived on the eastern side of the Cascades all their lives. When I asked her the question I always ask locals – "What is the one attraction I must see here today" – she replied, "Palouse Falls," a site not on my list. Bingo!! I love when that happens.
Our first stop usually involves birding
Shortly afterward we were on our way to the Pioneer Park Aviary. Administered and owned by the city of Walla Walla, the Pioneer Park Aviary provides an exhibit of over 170 species of waterfowl and land-dwelling birds. (This is also where I found the Blue Spruce tree above.) There were really exotic birds like the Golden Pheasant and various peafowl and quite a huge variety of ducks.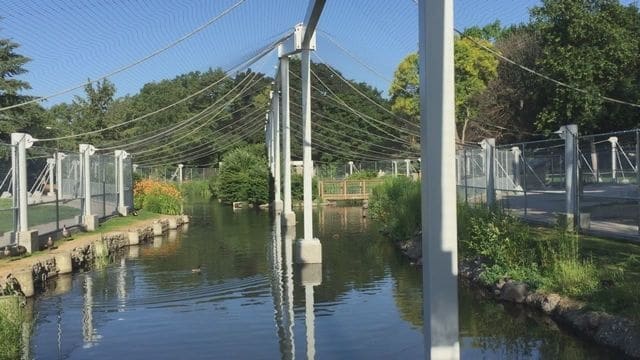 The Ice Cream Tour Continues
No day touring is complete for us without an ice cream stop. Since our other destinations were some distance from town, we had an early stop at the Pine Cone Creamery.
The owners have a lovely story of opening a breakfast spot in Walla Walla but always wanting an ice cream shop. Finally, in 2020, they did it and in spite of Covid, their hand-crafted, small batch creamery has become a big success.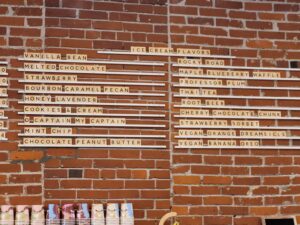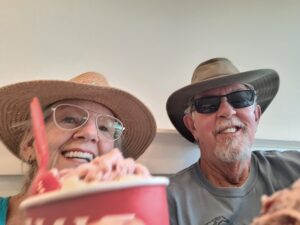 Whitman Mission
You see the name "Whitman" on lots of things in Walla Walla, so our first afternoon stop was the Whitman Mission National Historic Site. D.A. helped build a tipi and then we learned the dark history of this place.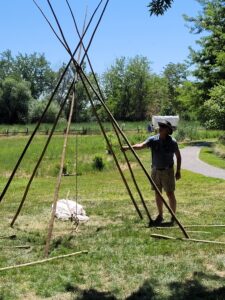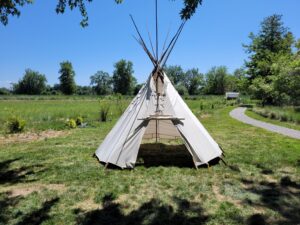 From time immemorial, the Cayuse have lived in the valley and considered each plant and animal family. They managed the forest and grassland to provide their foods. They roamed the region gathering berries and balsamroot, fishing for salmon, and hunting for elk and deer.
Inspired by the religious zeal of the time, called The Second Great Awakening, it was not enough to be "saved." You must also "save" others. So inspired, Marcus and Narcissa Whitman left their New York home in 1936. They traveled with another couple to open a Christian mission among the Cayuse.  The Whitman's introduced the idea of staying in one place and tending fields and livestock. Over time, this undermined Cayuse spiritual beliefs and began to destabilize their society. Interest in the new lifestyle and religion waxed and waned. Only a few converted to Christianity.
As waves of immigrants came, the Cayuse were alarmed and feared for the sovereignty of their lands. A measles epidemic ensued in 1847, killing 30 of the 50 Cayuse within six weeks. It seemed Marcus, a doctor, could heal the whites (who had natural immunity) but not the Cayuse. They wondered if his failure to cure them was so the missionaries could acquire their land. Survivors questioned if Whitman was poisoning them. They started to believe he had intentionally introduced the disease.
Later that year, a small group of Cayuse met near the mission to discuss options to halt the spread of death. They determined Whitman was responsible. The next day, Whitman was warned a small group of Cayuse intended to kill him, but he took no action. By the end of the day, Marcus and Narcissa were dead. Within days, eleven others were killed and 47 other people, including children, were held hostage for almost a month.
In 1848, immigrant settlers organized a militia to seek revenge. The Cayuse tried to defend themselves, but the militia cut them off from their way of life and caused them to face famine. To preserve a future for their people, the Cayuse surrendered five of their men. They were tried, hanged, and buried in an unmarked grave.
A treaty was negotiated in 1855, ensuring the Cayuse could keep some of their most sacred lands. Their homeland became part of the United States. The Cayuse today are part of the Confederated Tribes of the Umatilla Indian Reservation.
Marcus Whitman wrote, in a letter to Narcissa's parents in 1844: "It does not concern me so much what is to become of any particular set of Indians… I have no doubt our greatest work is to aid the white settlement of this country and help to found its religious institutions. The Indians have in no case obeyed the command to multiply and replenish the earth, and they cannot stay in the way of others."
It  was about an hour's drive to the Falls through rolling hills of wheat – honestly, wheat-as-far-as-you-could-see-in-every-direction. And then the wheat was gone and we were driving deep into a ravine that crossed the Snake River at Lions Ferry State Park. Up the equally steep mountains on the other side, we arrived at Palouse Falls State Park.
Who knew there was an Ice Age Floods National Geologic Trail – a driving route that leads you 3,380 miles through Montana, Idaho, Washington, and Oregon? Palouse Falls is stop 9 of 13.
About 18,000 years ago an advancing glacial lobe blocked the Clark Fork River in current-day northern Idaho. We visited last year (post entitled "We Made It To the Beartooth Highway"). Behind this giant ice dam, water rose 2,000 feet, filling the valleys to the east, creating Glacial Lake Missoula. As the ice lobe retreated, pressure from the lake caused the ice dam to fail, releasing up to 600 cubic miles of water (the volume of Lake Ontario and Lake Erie combined), in as little as two days. This wall of water, ice, and debris hundreds of feet tall raced westward over 16,000 square miles through present-day Montana, Idaho, Washington and Oregon.
Over the course of the next 3,000 years, the glacial lobe continued the cycle of advancing, blocking the Clark For River, filling Glacial Lake Missoula, and then failing, releasing the water across the landscape. Over time, dozens of floods left a lasting change on the natural environment and human habitation in the region.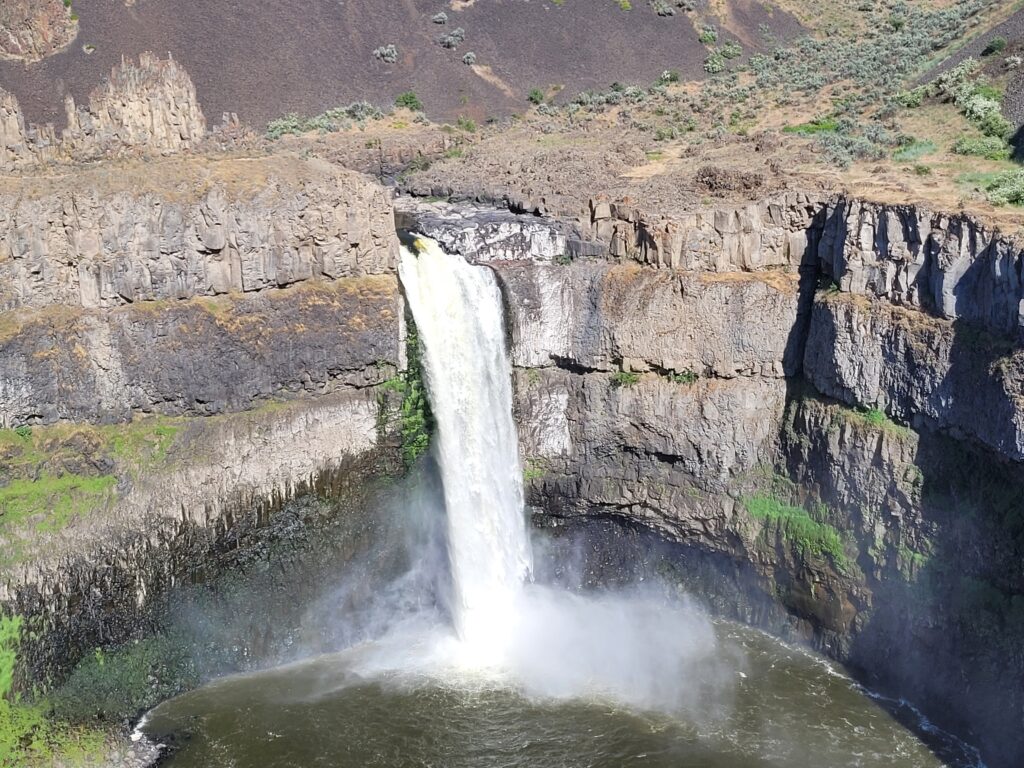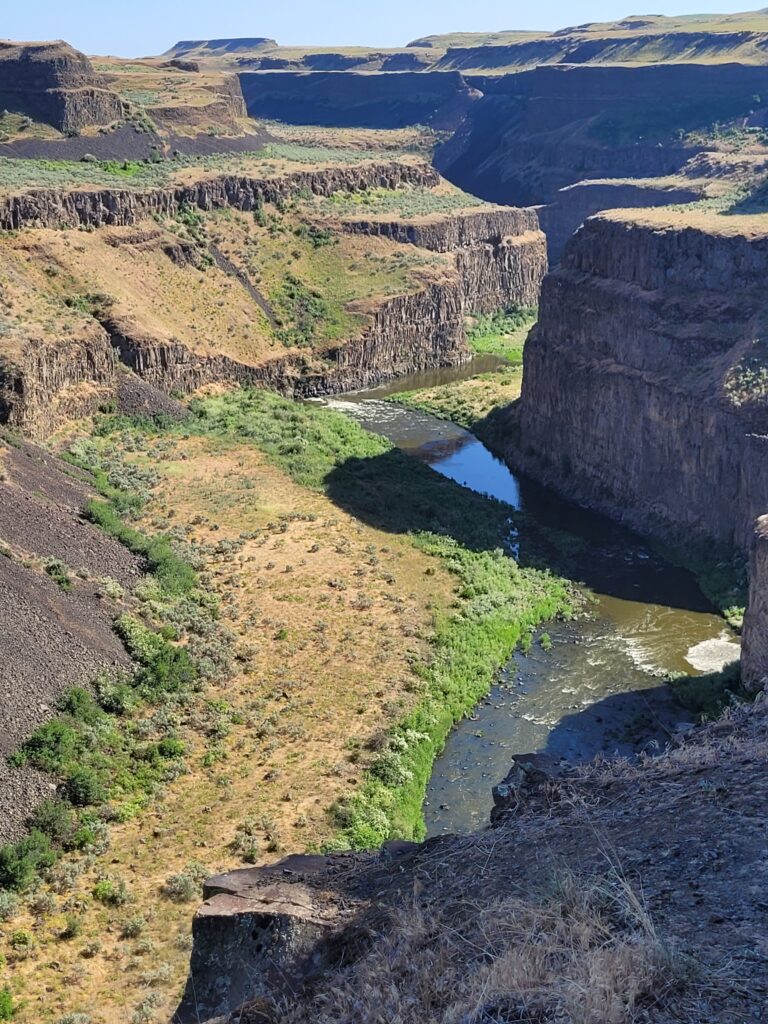 This flood path showcases an active waterfall. Palouse Falls was created when floodwaters rerouted the ancestral Palouse River from flowing into the Columbia River and into its current course towards the Snake River. The Palouse River drops 200 feet over a sheer cliff into a roiling bowl, then zigzags six miles through the 300-foot coulee cliffs of the Palouse River Canyon before flowing into the Snake River.
Now, here's my favorite part of the story: It took a high school teacher turned geology professor, J. Harlen Bretz, 1882-1981, to determine how it all happened. During the 1920s-40s, geologists debated the origin of eastern Washington's Channeled Scabland (interconnected relict -primitive form- and dry flood channels) was made by slow erosion by glaciers and streams. Geologic evidence didn't fit with this idea, so Bretz hypothesized that it was formed by a catastrophic flood. He was ridiculed at first but validated in the 1970s when new technologies like satellite photography provided supporting evidence!
Thus ends a remarkable day we never intended to have. The places you  think about may be calling, but there are many others you may stumble upon on your way,  equally beneficial, maybe even humbling like this one.
We are off to Entiat!