Joseph is a tiny town in northeast Oregon named for Chief Joseph of the Nez Perce. Originally named Silver Lake and Lake City, the city formally named itself in 1880 for Chief Joseph of the Nez Perce people. When faced with settlement by whites of tribal lands in Oregon, Chief Joseph led his followers in a dramatic effort to escape to Canada.
At least 700 men, women, and children led by Joseph and other Nez Perce chiefs were pursued by the U.S. Army in a 1,170-mile (1,900 km) fighting retreat known as the Nez Perce War. The skill with which the Nez Perce fought and the manner in which they conducted themselves in the face of incredible adversity earned them widespread admiration from their military opponents and the American public, and coverage of the war in U.S. newspapers led to popular recognition of Chief Joseph and the Nez Perce.
The Wallowas are majestic mountains (known as the American Alps or Little Switzerland) located above Joseph. From traveloregon.com: "In the Wallowas, you can look down from an alpine summit and see the high desert of Indian country roll out in front of you in one direction, and then turn around and see past Hells Canyon into the next state, and some say all the way past it to the next one after that."
A dream deferred.
A few years ago, I was volunteering in the Visitor Center at the Bill Williams River National Wildlife Refuge, which happens to be located next door to our winter home, Havasu Springs Resort (half way between Parker and Lake Havasu City, AZ).
We were going to spend summer in Oregon that year, and I always asked refuge visitors where they were from. If they said Oregon, I'd say, "Good, we are going there this summer. Can you tell me just one thing I must see or do while I'm in Oregon?" And so when we left, we had a list of 15 attractions that those visitors rated number one.
Over the summer, we visited all but one: Joseph and the Wallowas. It was just far enough out of the way that we never got there. But it stayed on my bucket list.
During the winter of 2020, I was out filling up our bird feeders one day when a woman came toward me walking her dog. I said, "I remember you," and she said she remembered me too. As we visited, we recalled we had walked together with a group a few times a couple of years earlier. I recalled the wonderful stories she told of her childhood.
We chatted and Karen asked where we were going this summer and I told her Flaming Gorge, Wyoming, but we would visit Idaho on the way. She asked where in Idaho and I started explaining, but then added – not really having a clue why I was doing so – "Where I really want to go is in Oregon. I think it may be easier to get there from Idaho than from Oregon."
She asked where specifically just as I remembered she was from Oregon! I said, "Wait! Where do you live," and we both said, "Joseph" together!!! She added, "And if you come, I'll show you around."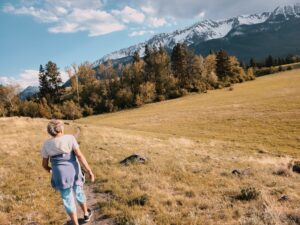 Quite a coincidence, wouldn't you say? But there's more.
A friend from California sent me a note saying, "Aren't you planning to go to Joseph, OR, this summer? There's an article about it this month in Smithsonian Magazine." We were near Salt Lake City at the time, so I jumped in the truck, went to Barnes & Noble and bought a copy. I mean, really, what are the chances?