It's true – we never budgeted for  $5 a gallon gas
Soaring gas prices never raised the question of "go" or "not go," if the alternative was staying in record heat in Arizona. We committed to reallocating our expenses up to but not including less ice cream. Ice Cream Diary should have been the name of our site.
Anxious to get back to catching and eating Kokanee from Flaming Gorge and planning some fun trips truck-camping, we set off. As for camping, knowing next summer we will resume our summer travels elsewhere, we decided to explore scenic byways.
Back to Buckboard
We came to Buckboard Marina three years ago as a great place to hang out and wait for Covid to pass. Little did we know that Covid will be part of our lives forevermore. There were new owners that year, Jen & Tony, and they have worked ceaselessly since they arrived. The improvements are significant and appreciated!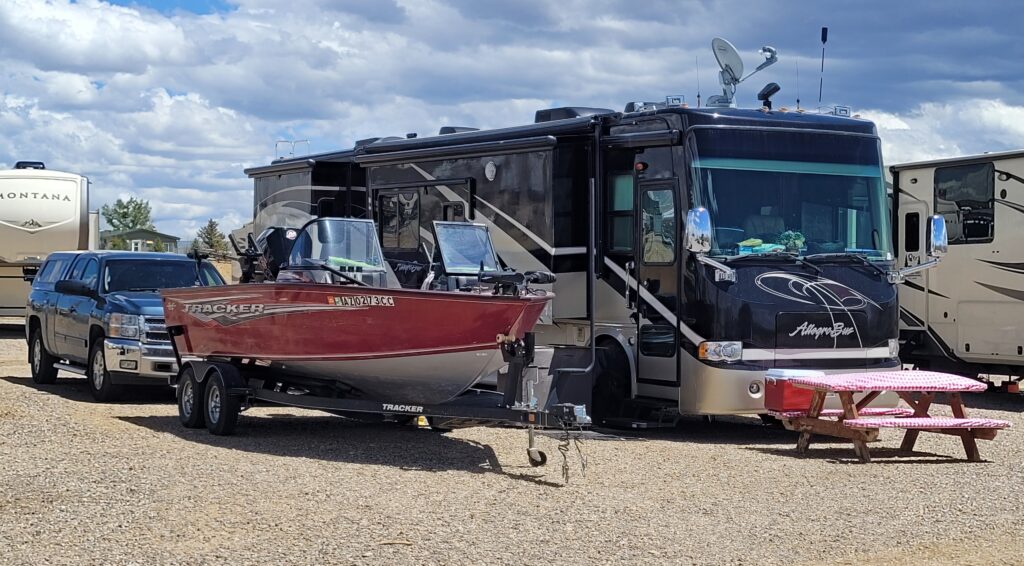 Driving the Beartooth Highway in Montana has been on our agenda for the last three summers, so that was easily our first choice.  Charles Kuralt, long ago roving correspondent for CBS, named it "Americas Most Beautiful Drive." It runs 68 miles from the town of Red Lodge over a scenic pass that towers 11,000 feet, then across the Wyoming state line to Yellowstone National Park. Unfortunately, even before the highway opened for summer travel this year, it sustained intense rainfall and flooding which damaged at least many part of the roadway. As we were making plans to see it, the road was closed for extensive repairs.
Snowy Range Scenic Byway, "The Great Sky Road"
Returning from Denver in early June after the graduation of a grandchild, we visited our friends, Lynette and Ben, in Centennial, WY, about 30 miles west of Laramie. The live in an amazing community called North Fork. Most of the properties have private fishing ponds and access to the North Fork of the Platte River.
Centennial is the gateway to the Snowy Range and is home to 300 residents. The town was born in 1875 when gold was discovered.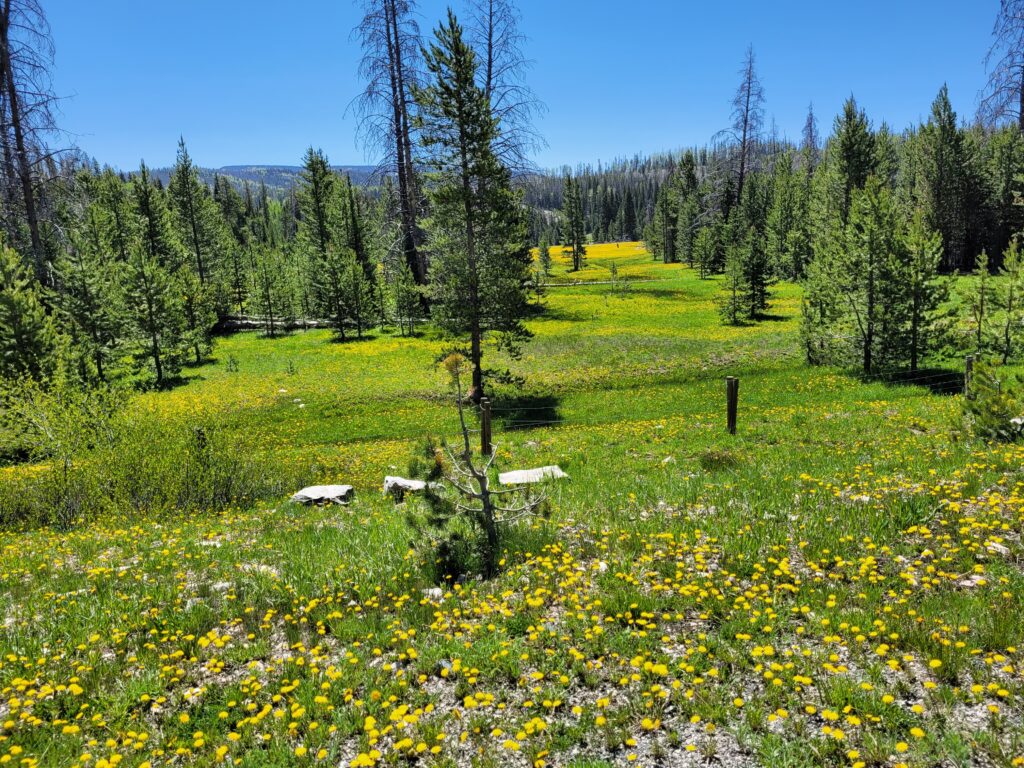 The scenic byway runs about 30 miles on Highway 130 through the Medicine Bow National Forest between Centennial and Ryan Park. Originally a wagon road built in the 1870's, paved in the 1930's, then designated the nation's second Scenic Byway in 1988. At 10,000 feet above sea level, Libby Flats is the highest point on the Byway. From there, you can see mountain ranges in most directions.
All along the Byway there are numerous opportunities for outdoor adventures. It's a land of many lakes, carpets of wildflowers, and deer and birds, oh my! There are numerous places to stop and enjoy the scenery. The Byway is closed in winter. We saw a lot of snow, but none on the roadway.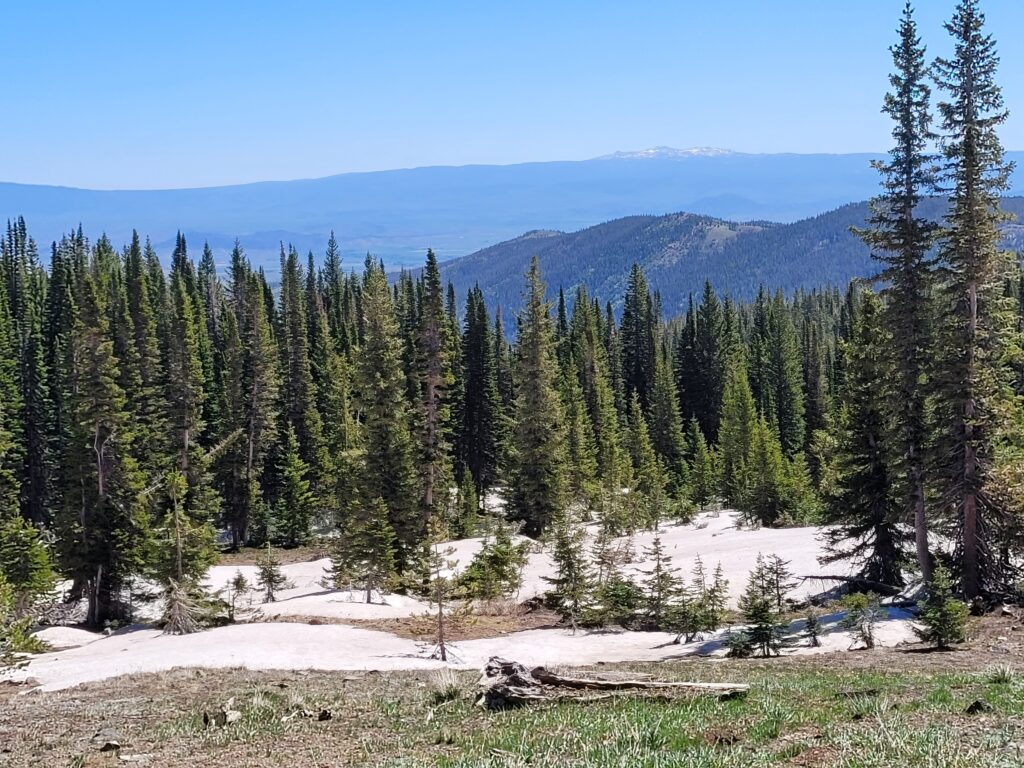 Wind River Canyon Scenic Byway
We have admired the Wind River Range many times on various trips, but at the end of June we headed off to see the Wind River Canyon Scenic Byway, which begins in the town of Shoshoni at milepost 100. Following U.S. 20 north through Wind River Canyon and the Wind River Indian Reservation, the route ends just north of the city of Thermopolis at milepost 134.
While we had traveled the road to Riverton in a past summer, it is very scenic and historic, so we were happy to do it again – especially as it would give us the opportunity to eat ice cream at Farson Mercantile!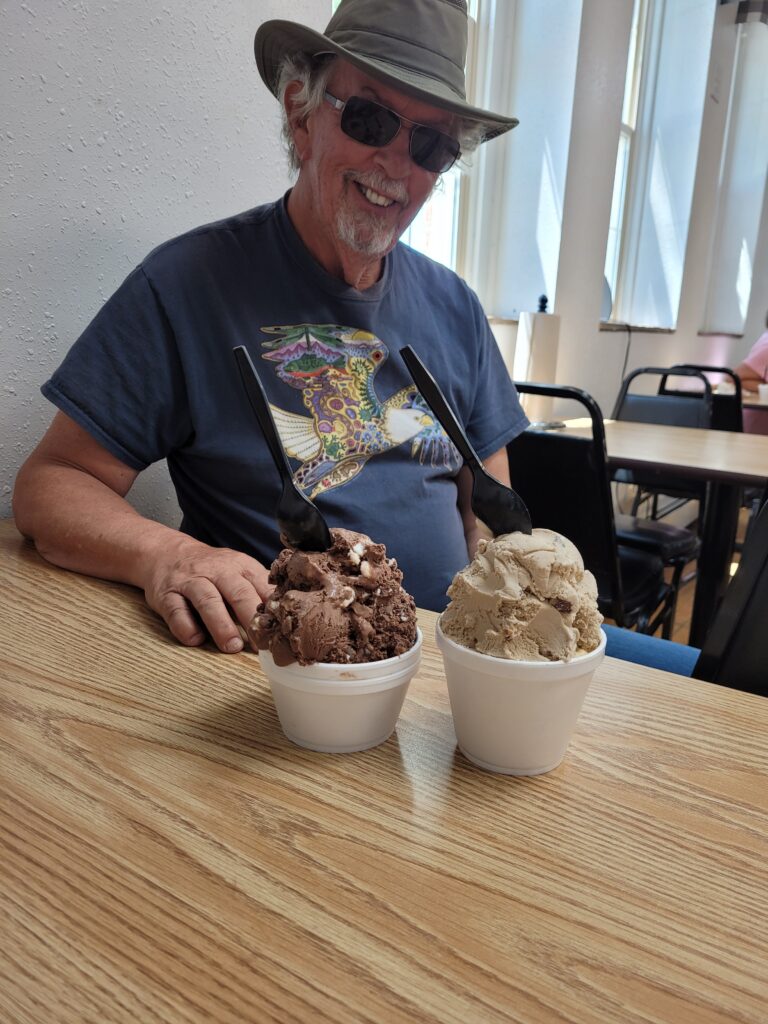 Setting off east on Highway 28 from Farson, we crossed the Oregon Trail and the Continental Divide. This is gorgeous country with rock snow fences that provide an idea of what it must be like in winter.
There are ghost towns of South Pass City and Atlantic City to explore and then you come to Red Canyon, with its breathtaking vistas, and start your descent into the heart of Wind River Country. At Lander, we took Highway 789 towards Riverton and Shoshoni.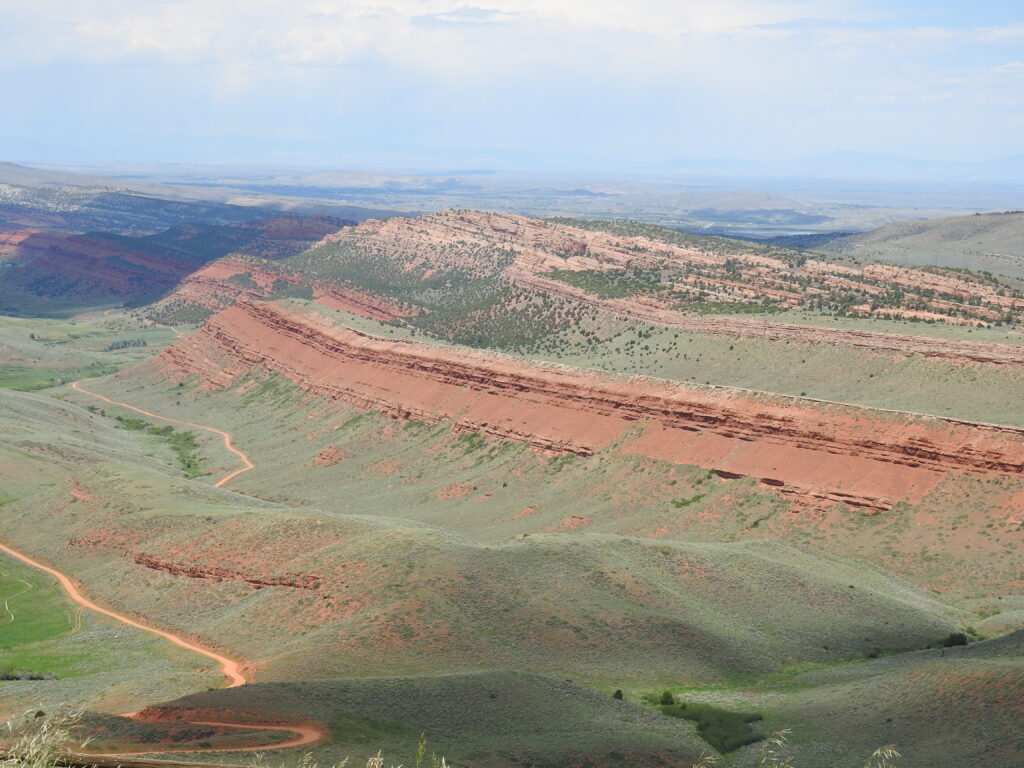 Boysen State Park
When we planned this trip, D.A. remembered that Bob, a friend from Minnesota, loved the area and should be able to recommend a campground. Sure enough, he suggested Upper Wind River Campground in Boysen State Park, not far north of Shoshoni. The park is named for Asmus Boysen who built the original dam and power plant in 1908.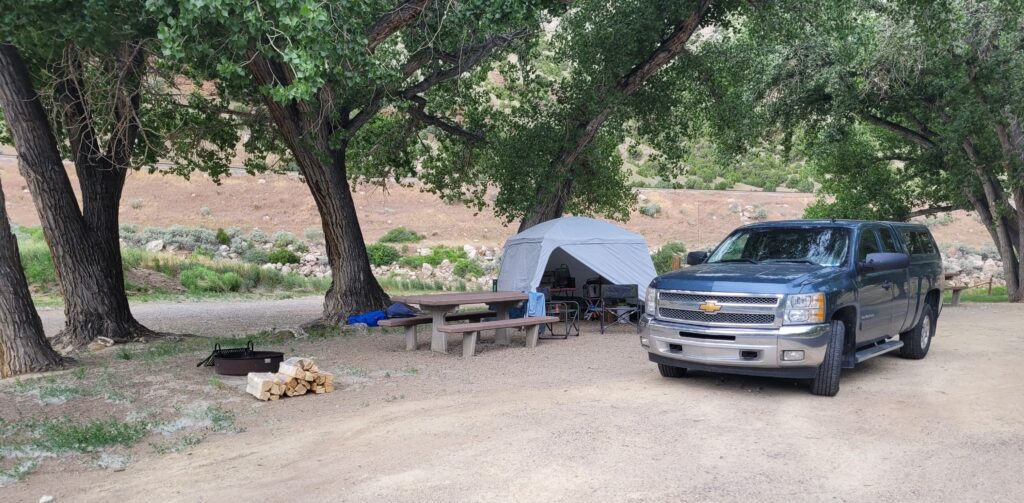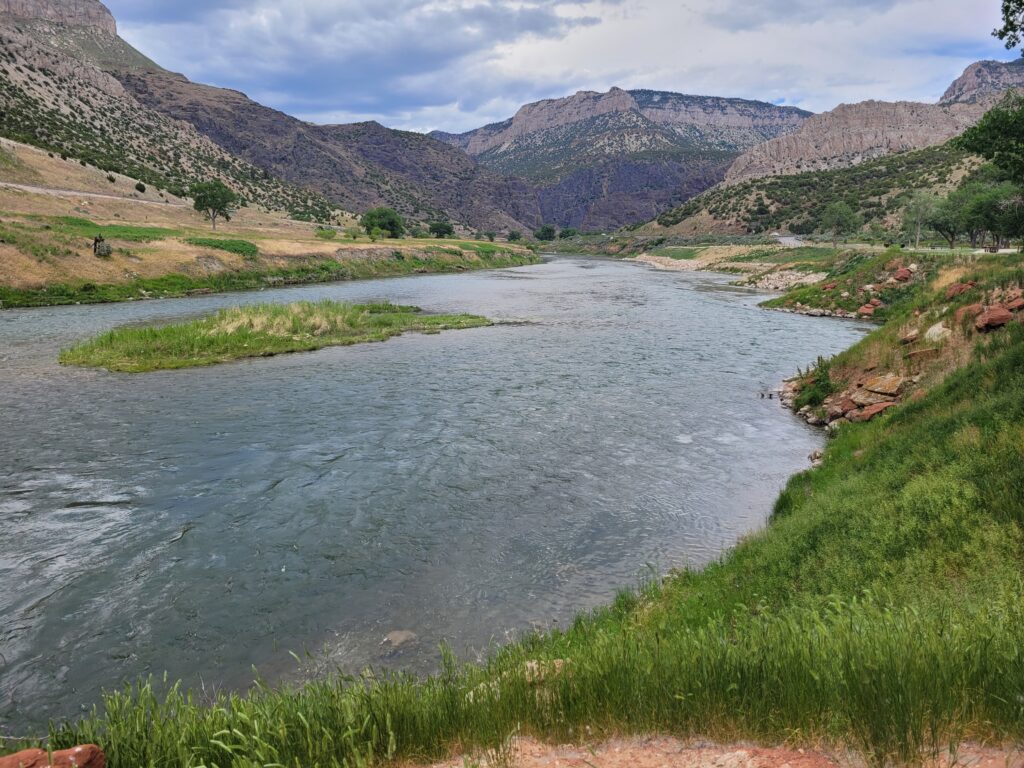 After setting up camp, we hopped back in the truck for the scenic drive. By then it was late afternoon and we couldn't have chosen a more perfect time to see this canyon with rock walls that rise 2,500 vertical feet on either side. These are some of the oldest rock formations in the world, dating back to the Precambrian period (more than 2.9 billion years ago).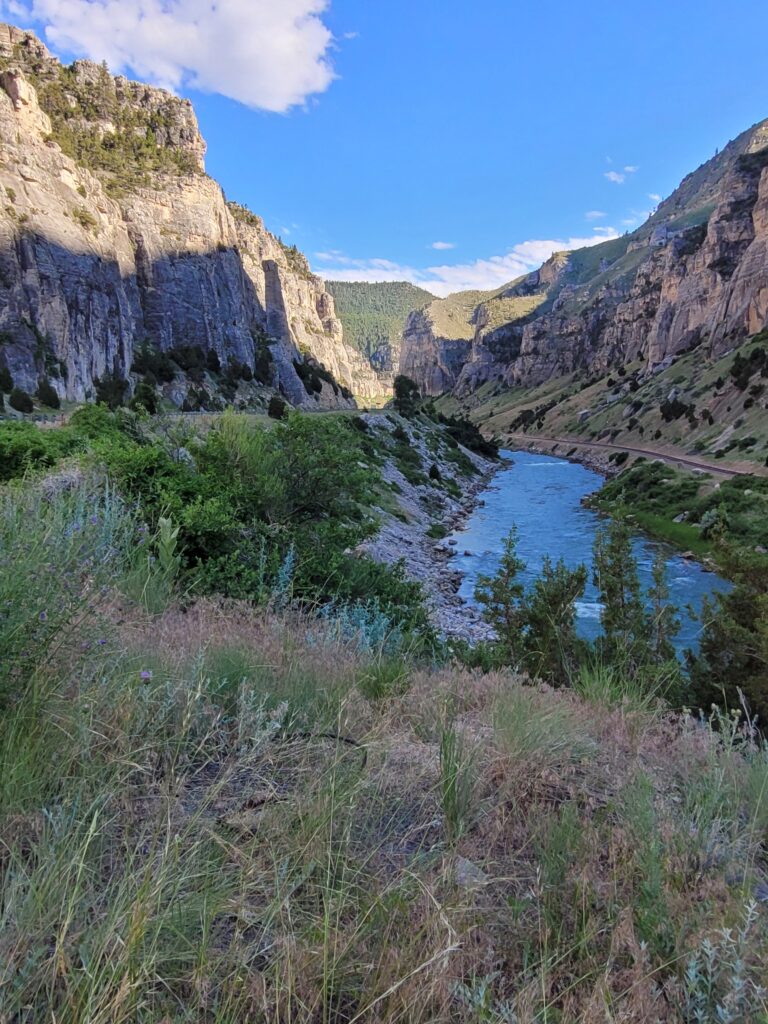 Amazingly, the Wind River flows north through the canyon. Before it leaves the canyon, the river changes names. At the "Wedding of the Waters," the Wind River becomes the Rocky Mountain Bighorn River. The Bighorn River is the largest tributary of the Yellowstone River.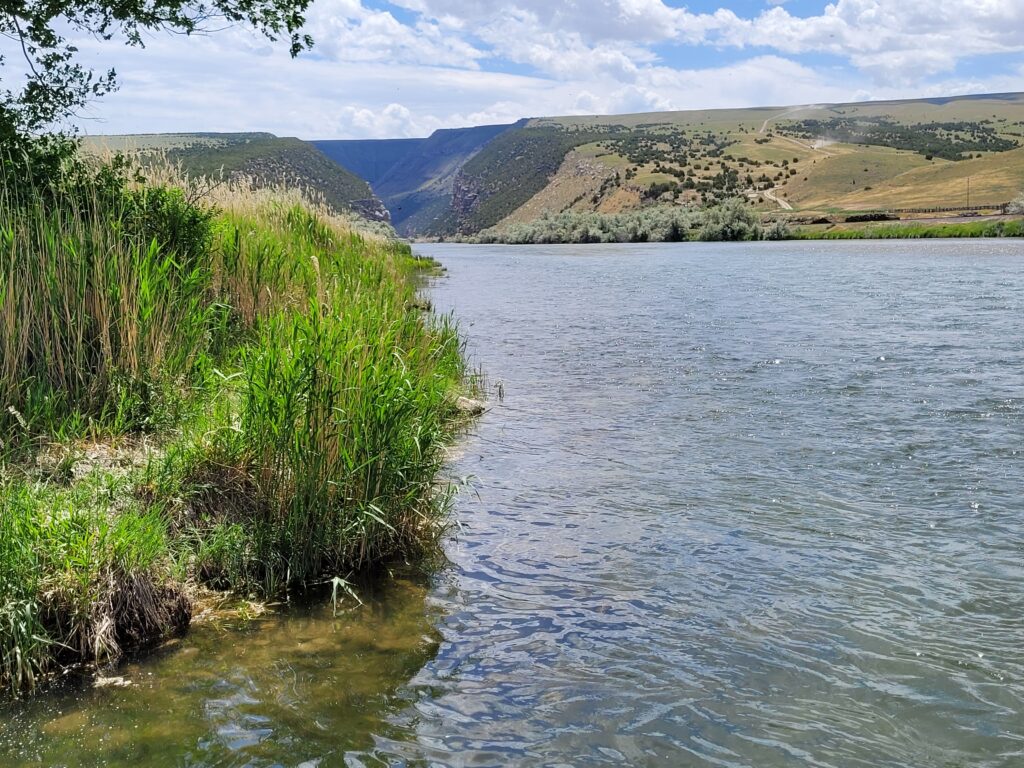 We had a quick drive through Thermopolis locating attractions since we planned to return the next day.
Hell's Half Acre
Next morning we were up and out early to see something D.A. remembered from his youth on a school athletic trip. Returning to Shoshoni, we went about 50 miles east toward Casper. Hell's Half Acre is barely off the highway, seemingly in the middle of nowhere. D.A.'s group arrived at a reception area and a guide took them by elevator down into the ravine and showed them around.
When we arrived, there was a parking area and a high chain link fence to prevent you from falling into the abyss.
Wikipedia describes it as a large "scarp."  A scarp is a a steep slope or cliff found at the margin of a flat or gently sloping area, usually against the dip of the rocks. Knowing that description did not do justice to what we were seeing, we excerpted the following info from the Geology Wyoming website. There simply were no words we knew to explain what we were seeing.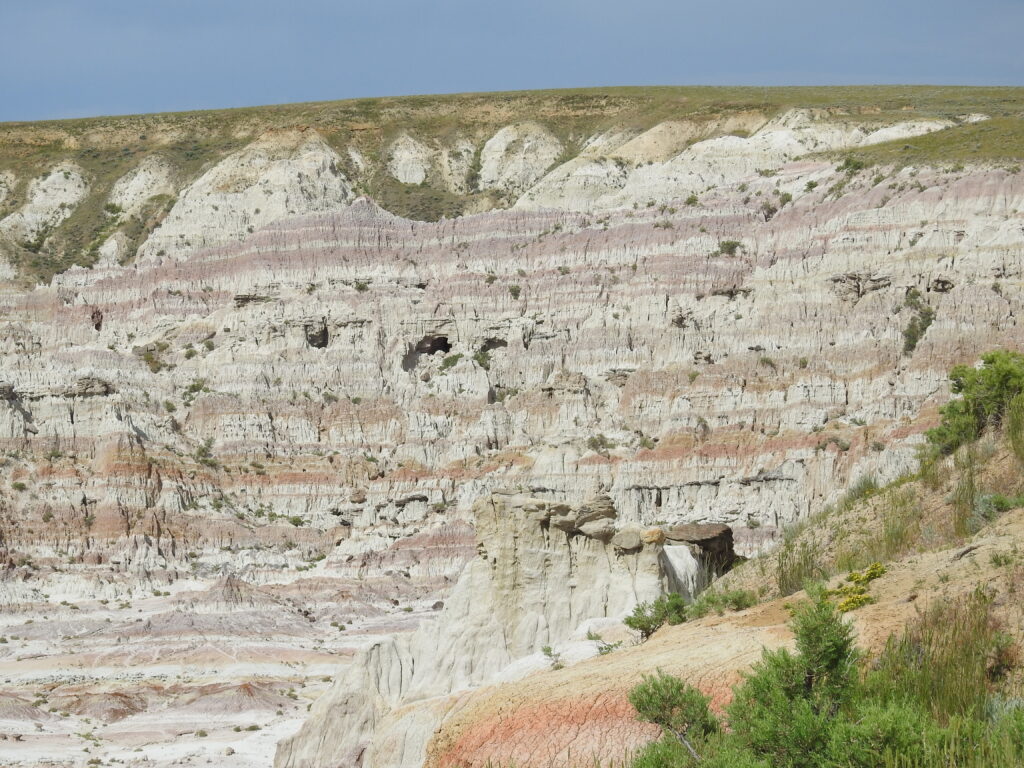 "Forty miles northwest of Casper lies an other worldly badland landscape so eerie it was used for the 1997 movie "Starship Troopers" as the set for planet Klendathu, the home of a species of hostile Arachnids. These fictional aliens were colonizing new worlds and were at war with humans for survival.  The location set was at a place called "Hells Half Acre" on the south side of U.S. Highways 20/26.
The badlands encompass an area of 320 acres along the western toe of the Casper Arch. The land was donated by the Federal Government to Natrona County as part of a 960-acre grant in 1924. [It was privately-run when D.A. visited.] The Casper Arch is one of the major structures elevated during the Laramide Orogeny (70-55 million years ago). The name Hells Half Acre came from an advertising campaign by boosters in Casper wanting to bring more tourists to the area with a roadside attraction. They ordered thousands of picture postcards with the name "Devil's Kitchen," but they arrived with the name Hells Half Acre. Not wanting to lose money, the cards were used, and the name changed.
Native Americans often used local topography in their hunting strategy. The fall of 180 feet off the rim of Hells Half Acre was a good spot for herding bison over and they used the area as a bison kill site. Bison falling over the rim or trapped in the ravines could be easily slaughtered. A 2006 archaeological investigation by John Albanese found bison bones and spear points dated as 3,000 to 1,200-years-old.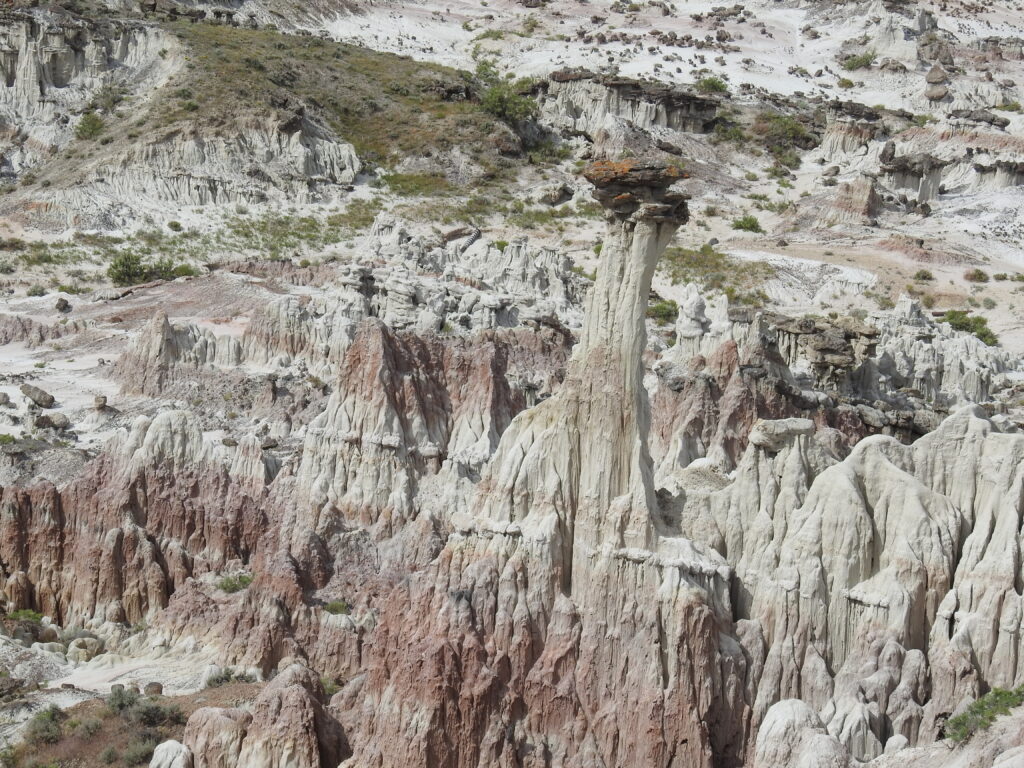 Geology – ​The badlands at Hells Half Acre are developed in the Lysite Member of the Wind River Formation. The 150-foot-deep gorge, and the badland features were created through differential erosion by wind, gravity and intermittent streams flowing south into South Fork of Powder River. Lithologies of Lysite Member strata are red, purple, gray, greenish-gray, and white siltstone and claystone interbedded with white, gray, and buff lenticular sandstones. These beds have a pronounced angular unconformity with the underlying Paleocene Fort Union Formation and Cretaceous Lance Formations. An angular unconformity is an erosion surface where the underlying older beds dip at a different angle than the overlying younger beds. This contact relationship and the presence of Precambrian clasts in the Wind River Formation shows the relative timing of major movement on the Casper Arch thrust fault."
See what I mean? But it's true, "angular unconformity" is a perfect descriptor.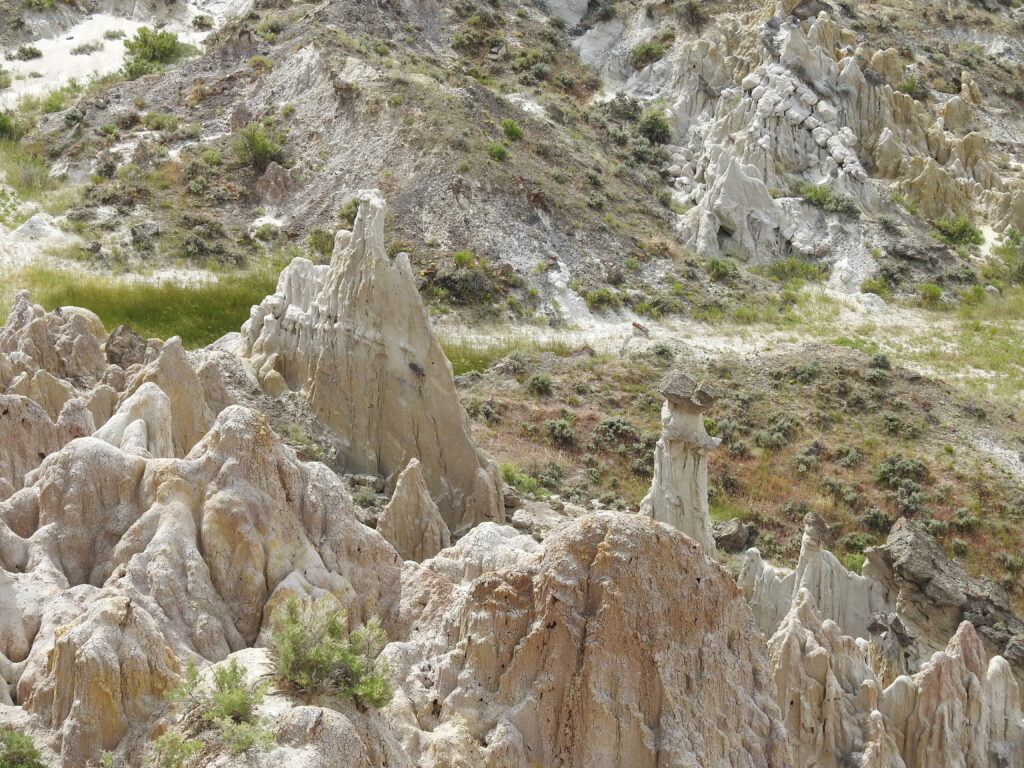 Thermopolis
Driving back, we saw a small green sign on the side of the highway, "Castle Gardens" 28 miles. We made a note to look it up. Once back at camp, we grabbed our swimming gear and headed to the Star Plunge at Hot Springs State Park in Thermopolis. Good choice!
Over a hundred years ago, the first Star Plunge was a canvas-topped hole in the formation. It was sometimes drained for boxing matches, speeches, and church services. Currently there are pools, water slides and a vapor cave. As promised, our visit soothed us beautifully, body and soul.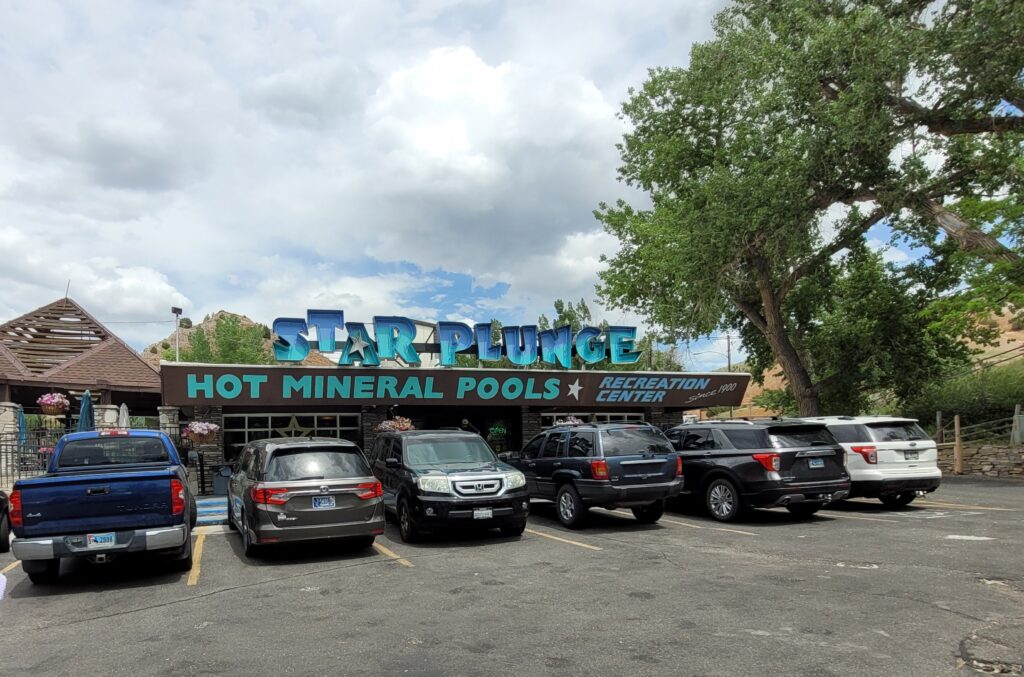 We rounded out the day with a visit to the Wyoming Dinosaur Center which houses one of the largest and unique fossil collections in the world. Unbelievably, most of the fossils were found within a ten minute drive of the Center.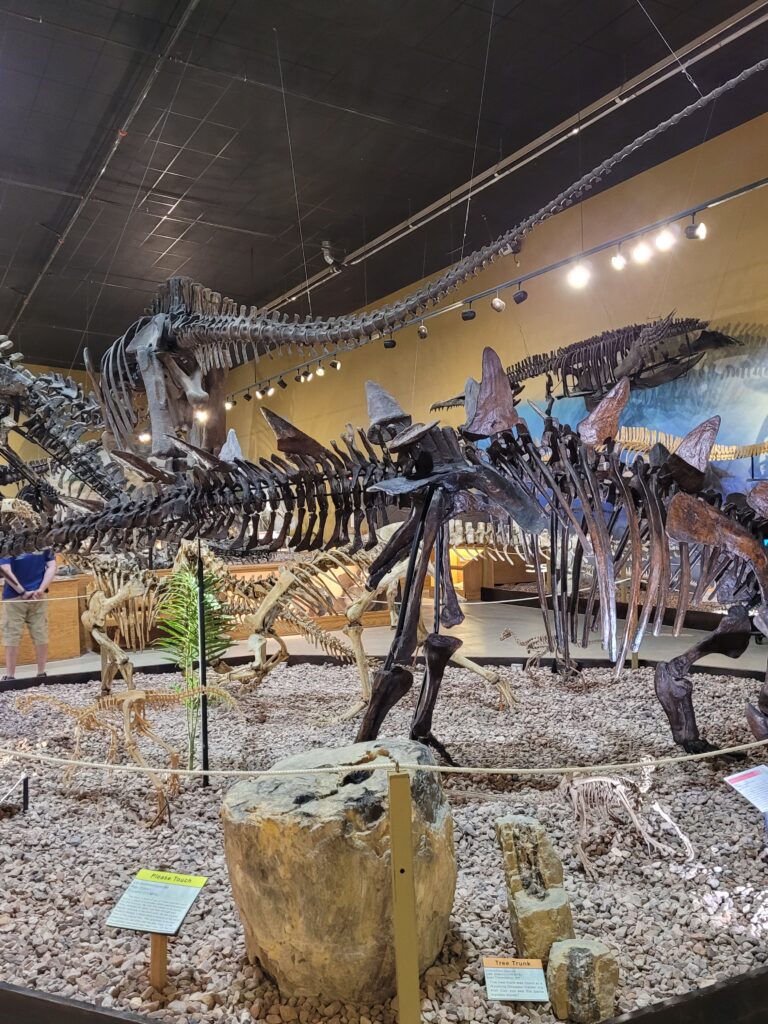 165 million years ago, Thermopolis, Wyoming was covered in a shallow ocean called the Sundance Sea. This was a shallow, inland sea that extended across parts of the North American Continent during the Middle to Late Jurassic Period. Evidence suggests that this deposit was created by a series of events that caused the ocean to progress and regress repeatedly across the continent.
Above the Sundance Formation lies the Morrison Formation, deposited roughly 150 million years ago. This distinctive sequence of sedimentary rocks has been among the most fertile sources of dinosaur fossils in the entire world. It is within this formation that the Wyoming Dinosaur Center staff focuses their search for fossils. Finding new places to dig is the first step in the paleontological process and it takes both keen observational skills and patience. One thing out there to help them is erosion which exposes new material every year. Over the past 24 years, WDC field technicians have found and identified over 130 dig sites on the Warm Spring Ranch.
Leaving Thermopolis, we looked up Castle Gardens while we had cell and Wi-Fi. It looked great, so we made a plan to see it if possible.
The wind had picked up by the time we returned to camp, and we were grateful to have our stuff stowed in our Decathlon shelter. We sleep comfortably on a mountain of memory foam in the back of the truck, but we got the tent so we could stow our stuff in case of inclement weather – and isn't there always inclement weather when you camp?
Eventually the wind calmed, so after dinner we built a fire and talked to neighbors (there were only three including the camp host!) as they walked their dogs. No sooner had we slipped into our sleeping bags when the wind picked up again and never let up all night.
We didn't sleep well that night and decided when the wind was still howling as we got up and started our day, that we would pack up, head for Shoshoni where we would have Wi-Fi to get a weather check. Sure enough, it was going to be very windy all day, so we decided to head home – via Castle Gardens.
Castle Gardens
We followed the small green signs on unpaved roads for many miles through the most typical Wyoming high prairie – rolling hills, red dirt, sage, antelope and cattle, then there was a turn to the left that led about six miles to a parking area, a gate and signage. This is a petroglyph site. The name of the area comes from the outcropping of sandstone which the wind has eroded into fanciful shapes resembling the turrets and towers of castle. This unusual formation has been luring visitors for thousands of years, and many of them left their mark in the soft sandstone–the area holds a treasure of Native American rock art, or petroglyphs.
As strange and other-worldly as Hells Half Acre was, here we found the exact opposite. It felt sacred, it felt like home. We were awestruck and humbled as we walked the one-mile path. We were the only visitors at the time we were there.
A consensus of researchers is that the figures were carved by Athabaskans related to the Navajo and Apache, some time between 1000 AD and 1250 AD.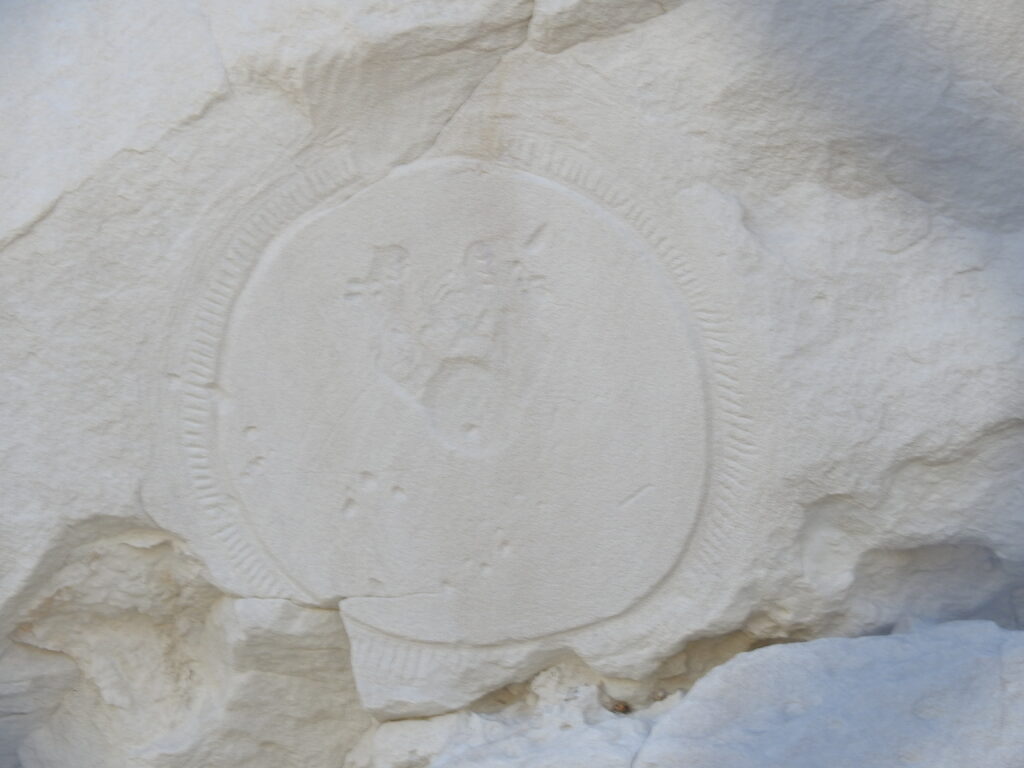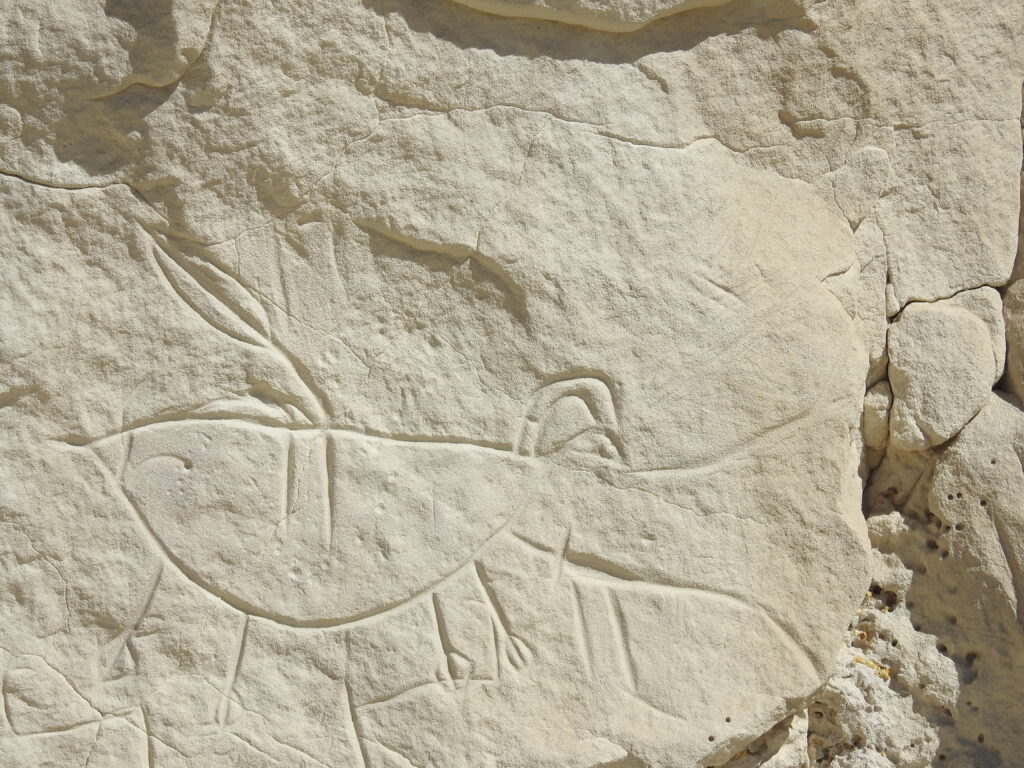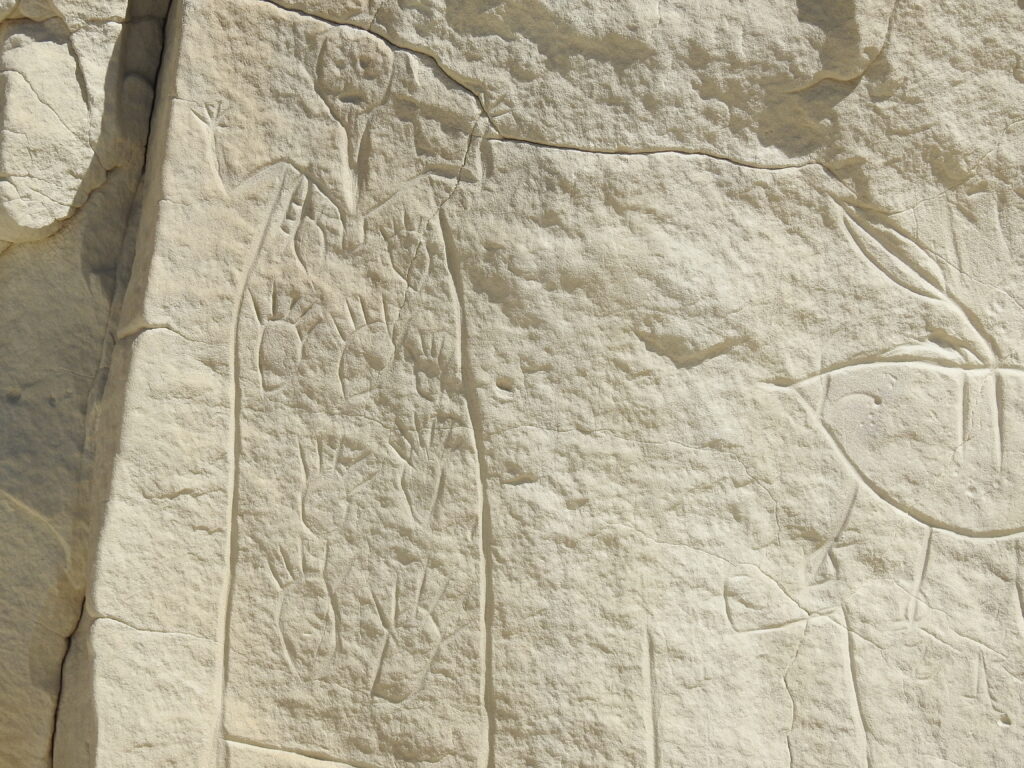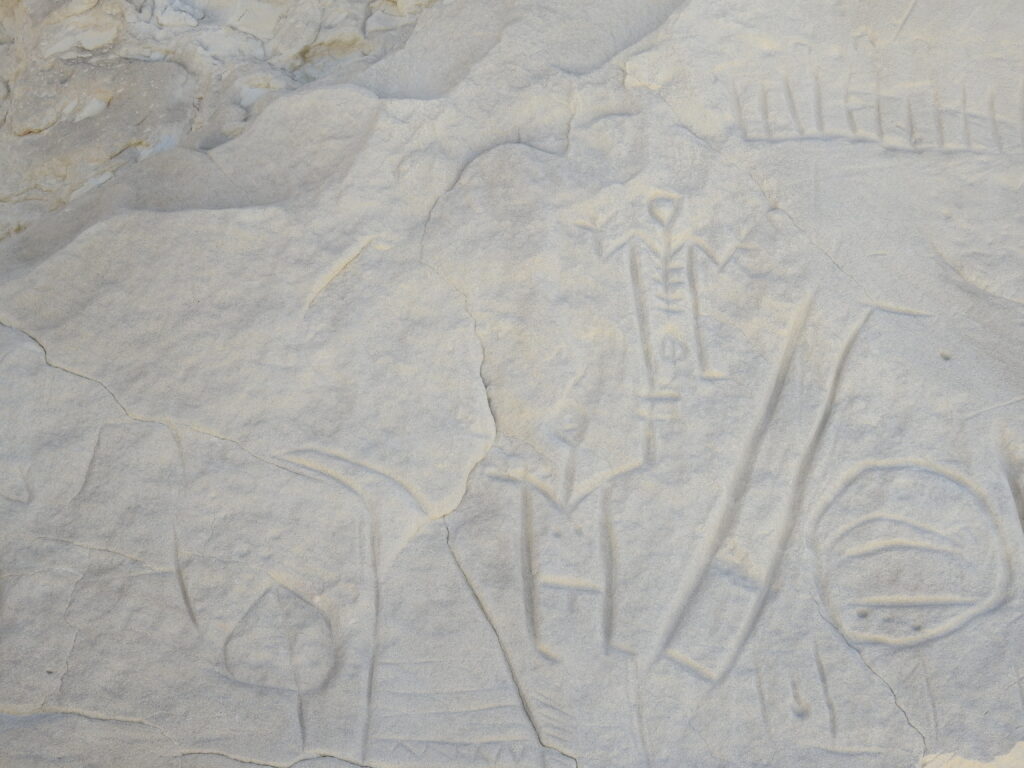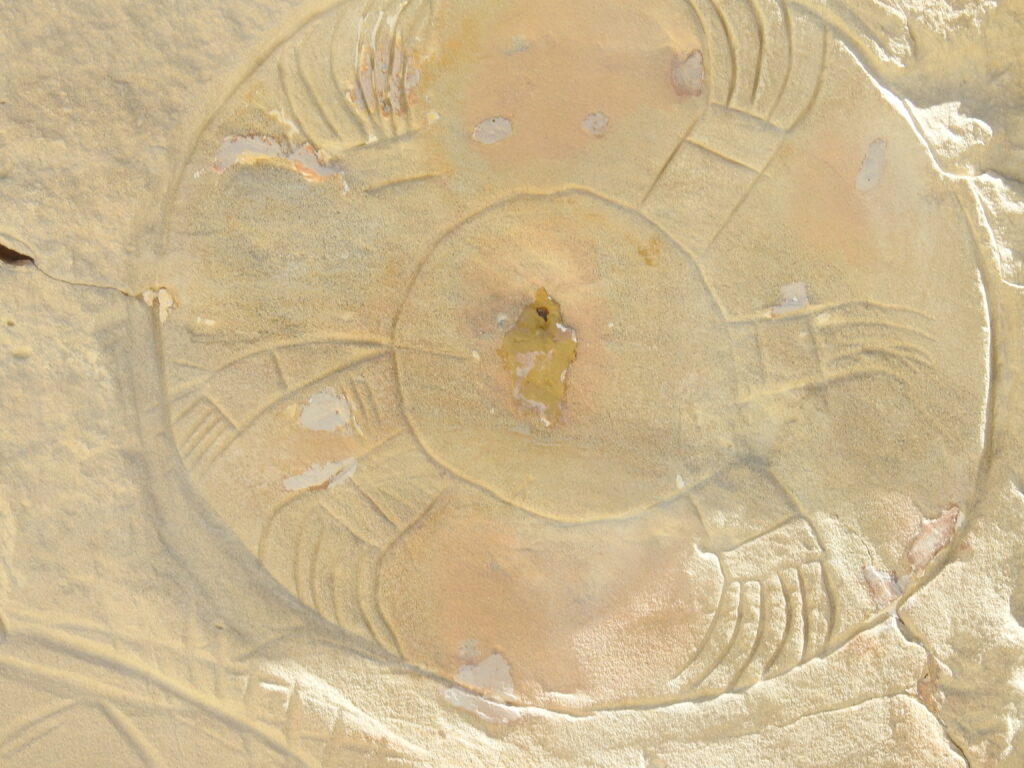 From Historic Wyoming:  "The most famous petroglyphs were done in the Castle Gardens Shield Style, the oldest recognizable example of the shield-bearing warrior figure type. It is described as "elaborate and carefully made figures," and it "combines several different manufacturing techniques that serve to distinguish the type as unique in the Bighorn and Wind River Basins. The style is also unique in that it depicts shields alone as well as shield-bearing warriors."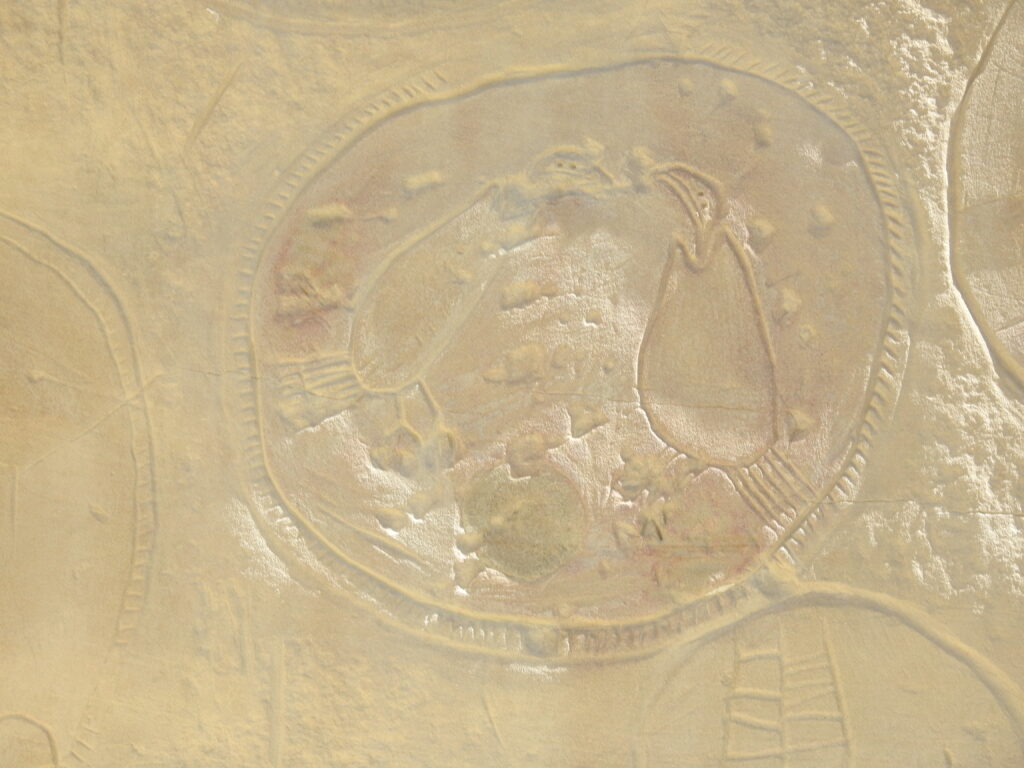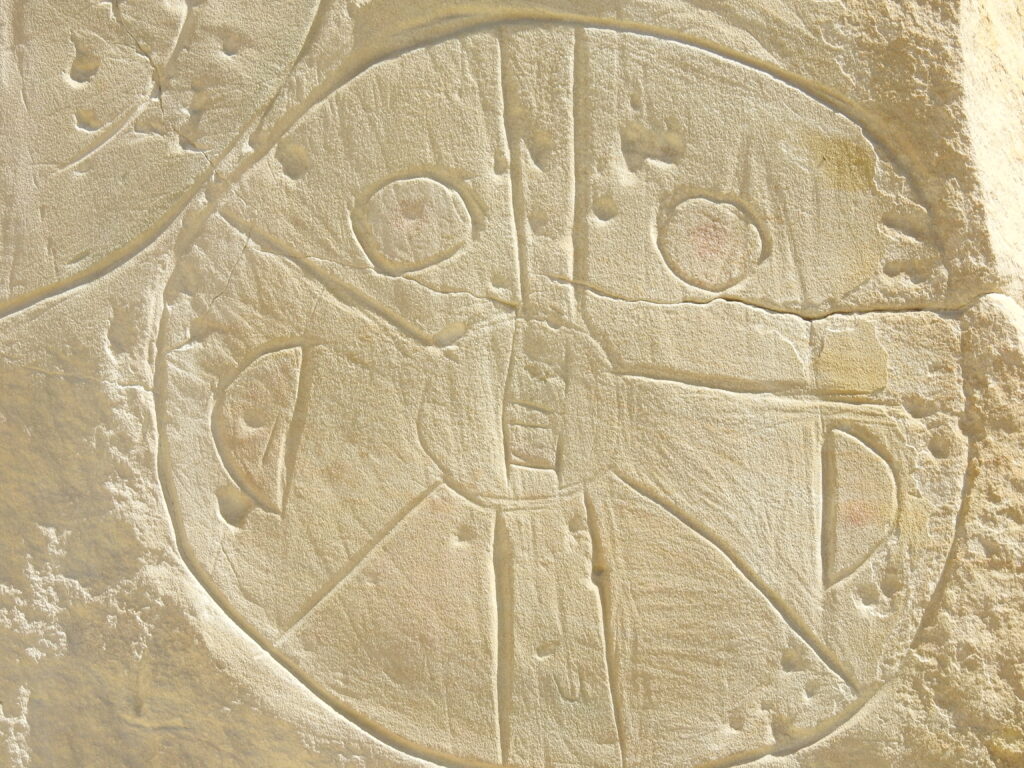 The BLM site explains: "Improvements to the site have been made over the past several years to enhance the experience and to better protect the petroglyphs. A fine crushed gravel walking trail exists throughout the site, with foot bridges to ease the crossing of deep drainages and a new parking area."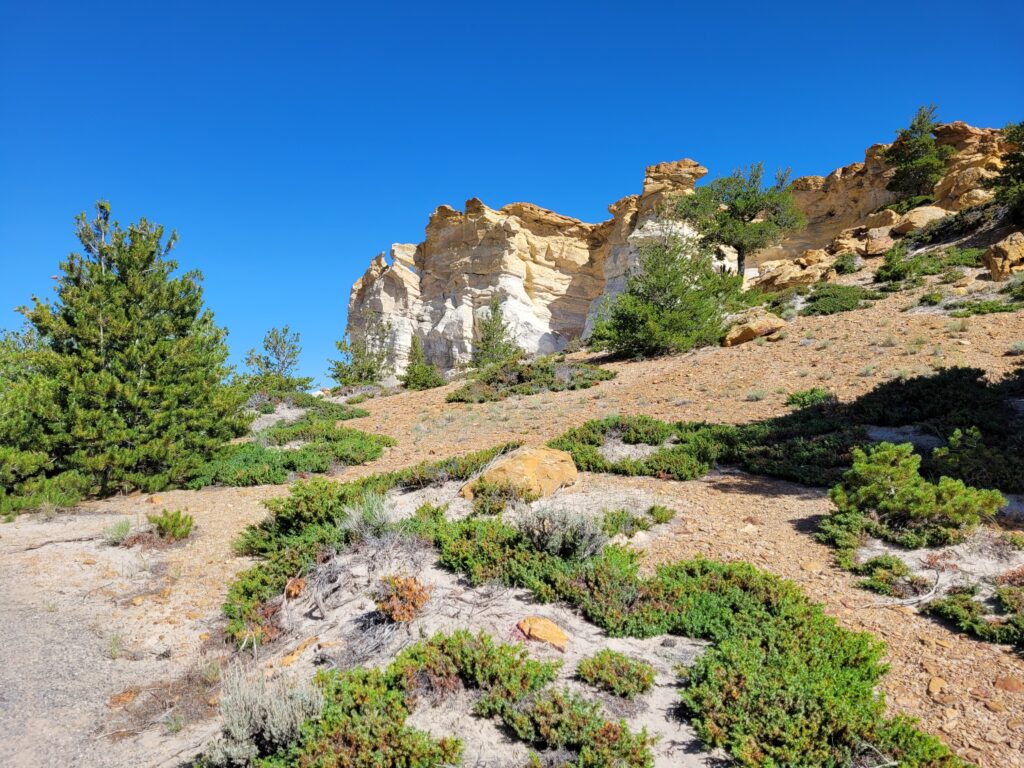 Even though it remained windy, we were completely enchanted and grateful for the opportunity to spend time there. If you find yourself in the area, this is a "must see."
We returned to the main road, turned left, and in a few miles came to Highway 136. Forty minutes later we were back in Riverton.
This needs a few tweaks and there are more pics to load, but gotta run! A couple of days ago we learned the Beartooth Highway has reopened and we just decided we're going – first thing in the morning!!