Checking off the bucket list!
It was a year ago we had the conversation. If it's true that we're not getting younger or healthier, are there places we still want to go? For me it was Costa Rica and Alaska. For D.A. it was Peacock Bass fishing in the Amazon. Actually, our lists are endless, but these topped our lists.
Logistics…
So today, Wednesday, January 23, 2019, starts the adventure: Southwest Airlines to San Jose, C.R., with a layover in Houston to meet up with our darling traveling companion and daughter-in-law, Mandy.
We're flying from Las Vegas which has a few options for long-term parking other than the airport (we'll be away almost a month). There are several hotels that offer parking in their lots – just like any other guests – for a discounted rate from what you would pay at the airport. I found it at vegas-airport-parking. We chose the Hampton Inn. You put your name in the book at the registration desk and hop on the shuttle – at least that's how it happened for us. We gave ourselves plenty of extra time for delays we might encounter, so we encountered none!
I booked our trip through Anywhere because of their great reputation on the Internet and their intuitive website. You pick your dates, the type of trip you are planning, what you like to do, and they come up with a very flexible itinerary. The rep I heard from was Alfonso. I told him we were a three-person family interested in birding, wildlife, outdoor adventures and fishing, wanted private drivers or shared vans – no busses or rental cars – and looking to stay at moderately-priced hotels where at breakfast we would hear six languages. He laughed and said he could do that.
Arrival in "Fantasy Island"
We arrived in San Jose at 9PM. Once through Customs, we found our driver before he found us, and then we had a three hour drive by private van on very steep and foggy mountain roads to the Los Lagos Hotel near La Fortuna and Arenal Volcano. Even in the dark, we could tell the grounds were huge and gorgeous – a combination of Jurassic Park and Avatar movie sets – and we were not disappointed when we awoke in the morning.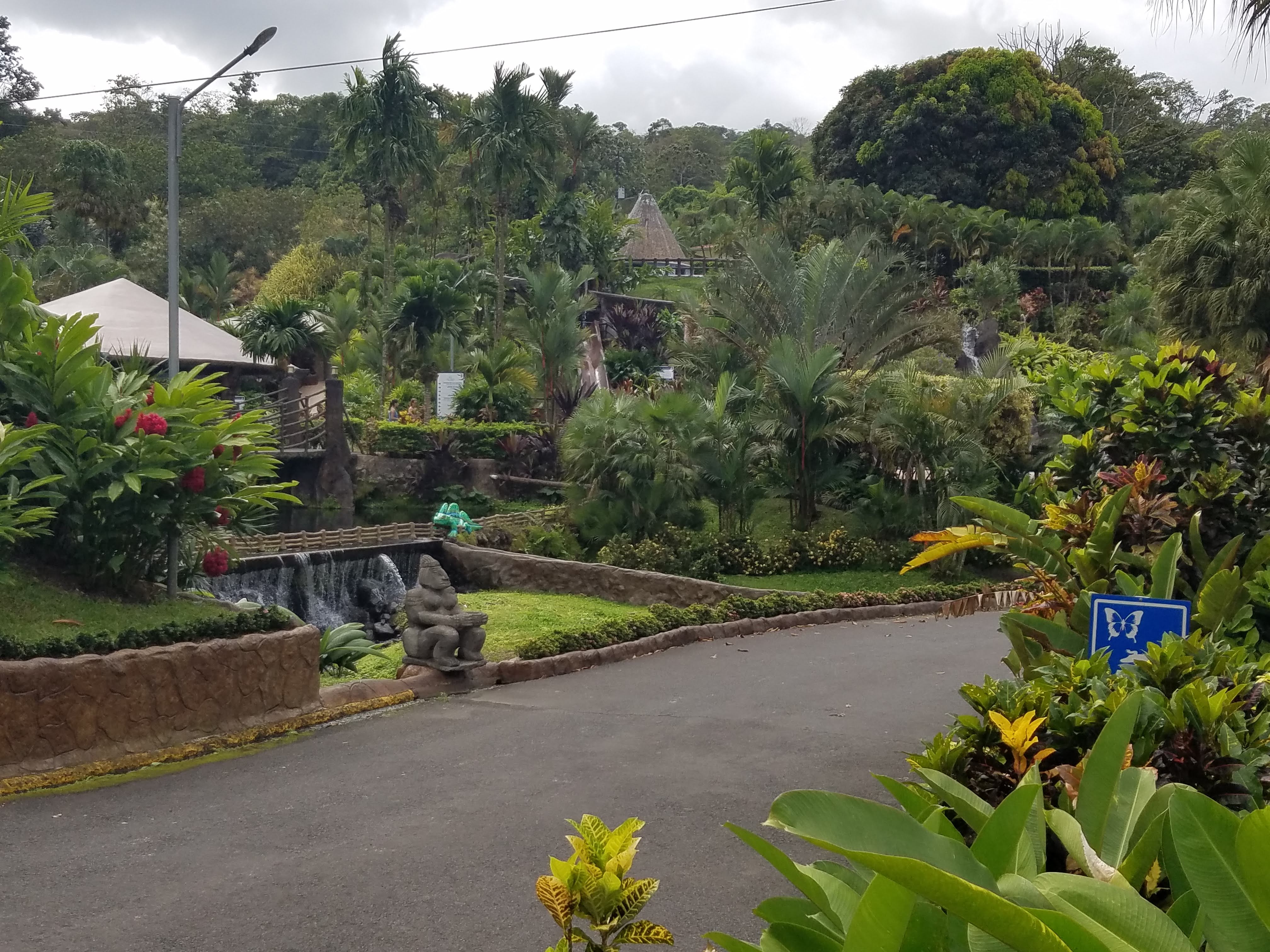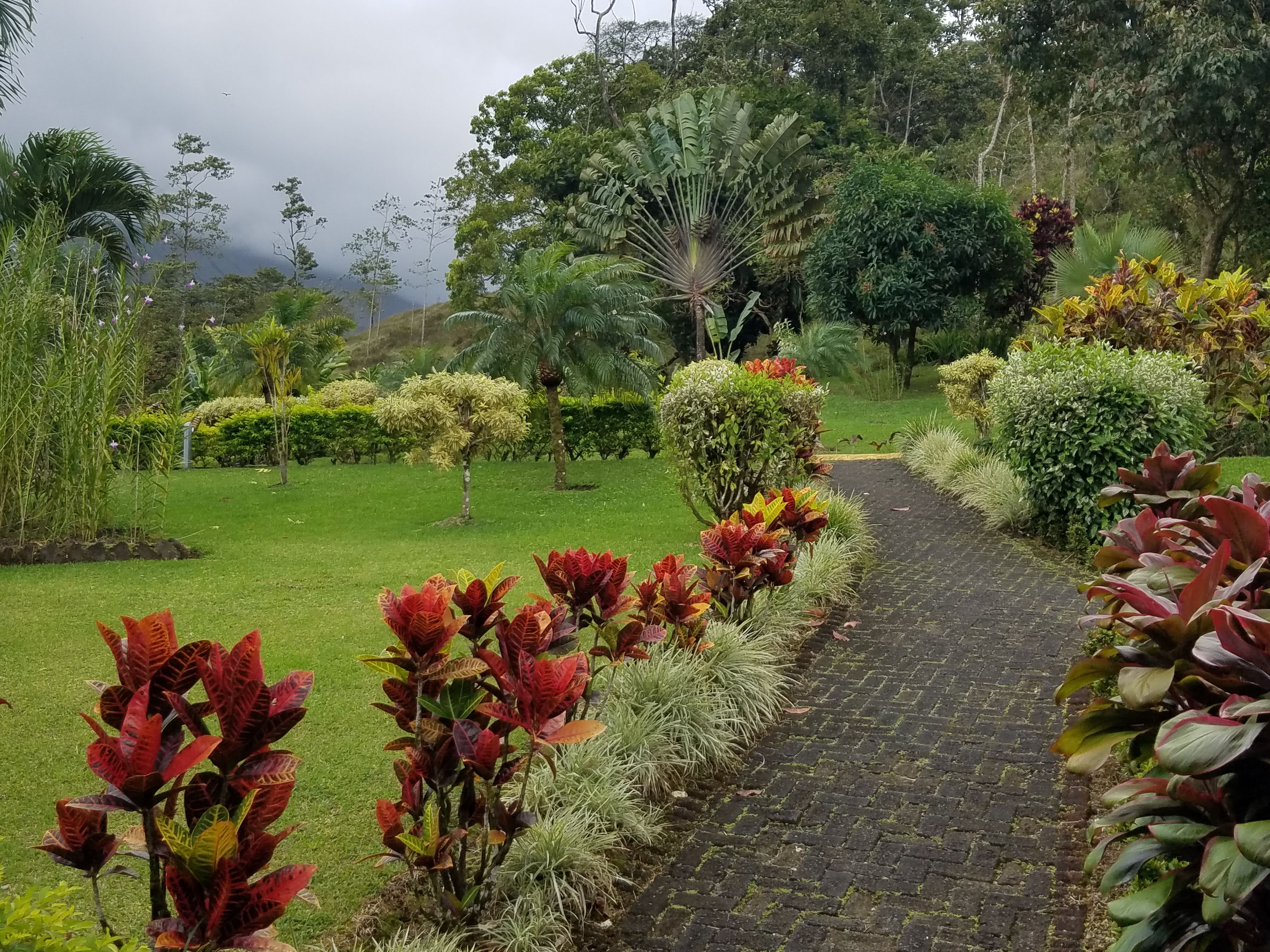 Day 2 Arenal Volcano Vicinity
We caught the hotel shuttle down the hill for a sumptuous buffet breakfast, followed by a quick walk to see the cocodrilos, mariposas and tortugas (oh my!). By then our driver was waiting for us for our first Tico adventure… a tour to the LaFortuna waterfall and a hike on Mt. Arenal. We spent the first half of the tour hiking DOWN to see the waterfall – then afterwards spent the balance of the tour hiking UP to see the volcano.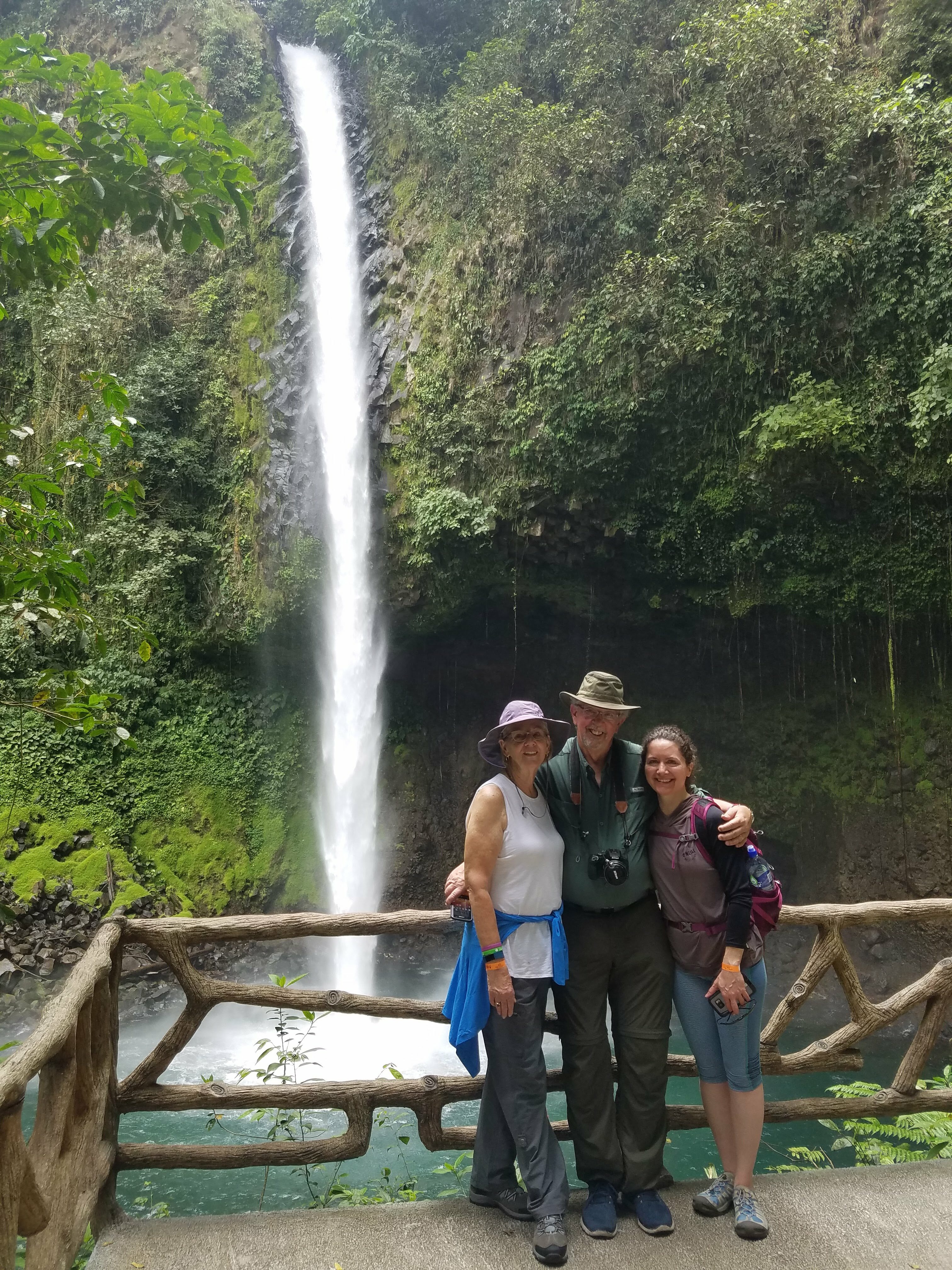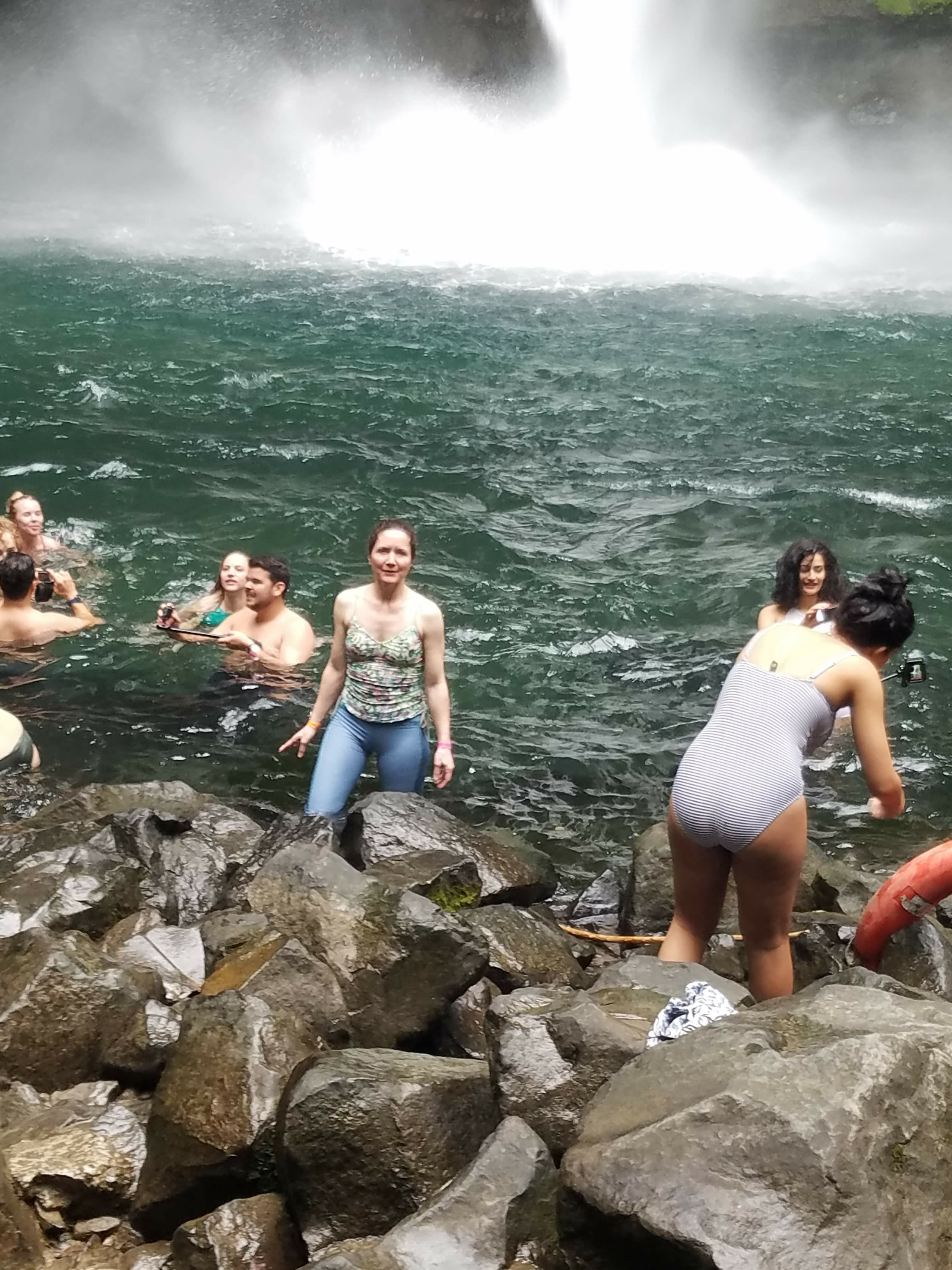 Our guide, Hansel from Rain Forest Explorers, was bright, funny and very knowledgeable of the area's history, geology, flora and fauna (not to mention pharmaceutical research on arachnids!). We saw and photographed a yellow-throated toucan, 3-toed sloth, many butterflies and flowers, bats, and even had an amazing discussion about the hybrid dairy cows that were from Brahma, Jersey and Holstein stock. He told us the skinny cows were the best milk producers because they converted all their fat into their milk.
We saw our first sloth!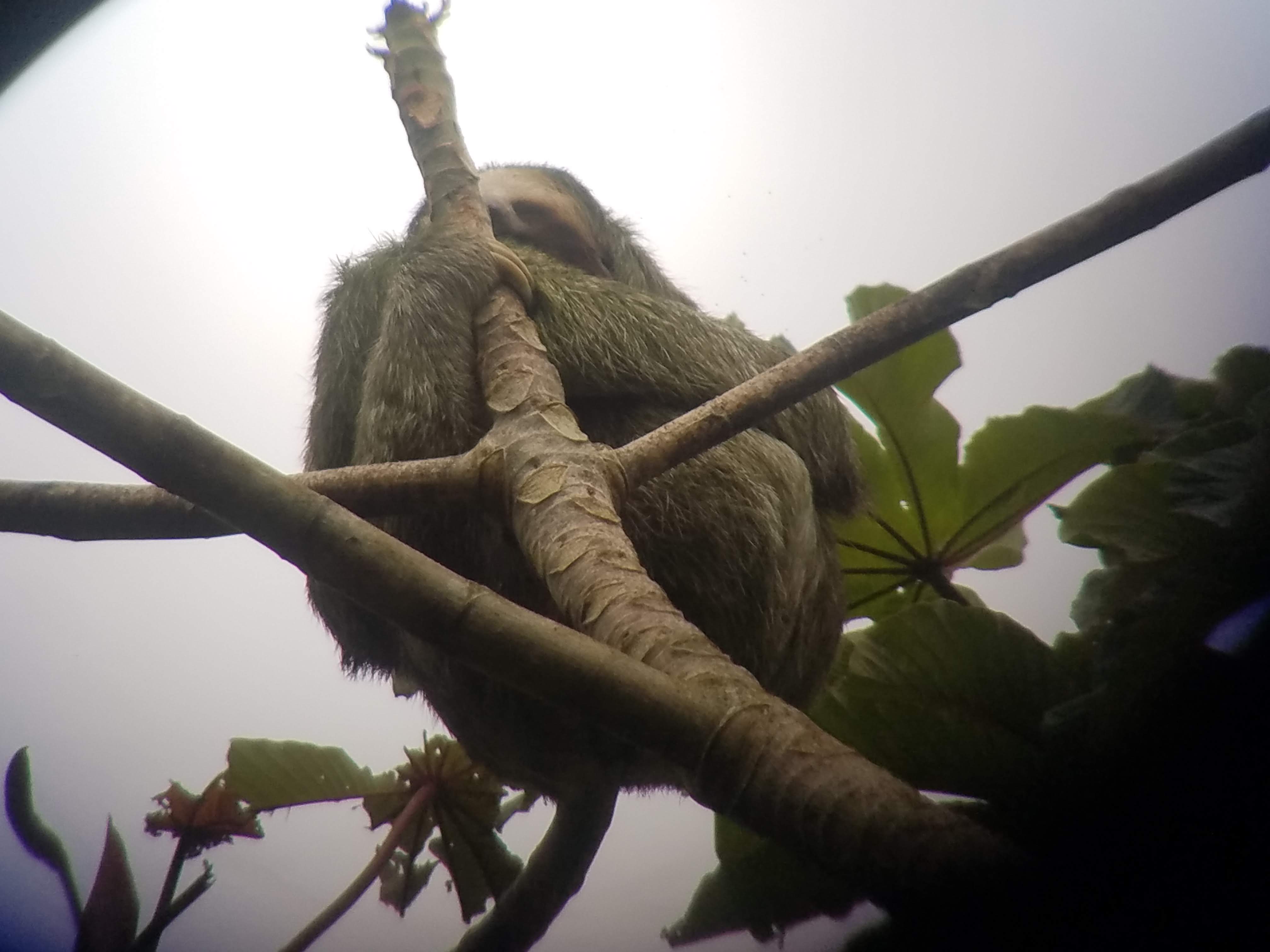 Hansel said that before Lake Arenal was created in the 1970s, the area had been cattle ranches and farms, which all went under water when the valley was flooded. Many people lost their homes and property and were not paid for the land and that is why – to this day – those ranchers and their heirs bring their cattle to graze in the national park.
Returning to the van from our hike, our driver, Minor, had prepared a fruit treat for us, pineapple and watermelon, which attracted a family of coati. Hansel told us how careful they were to clean up and leave no trace, but we were a little sorry to disappoint the coati family.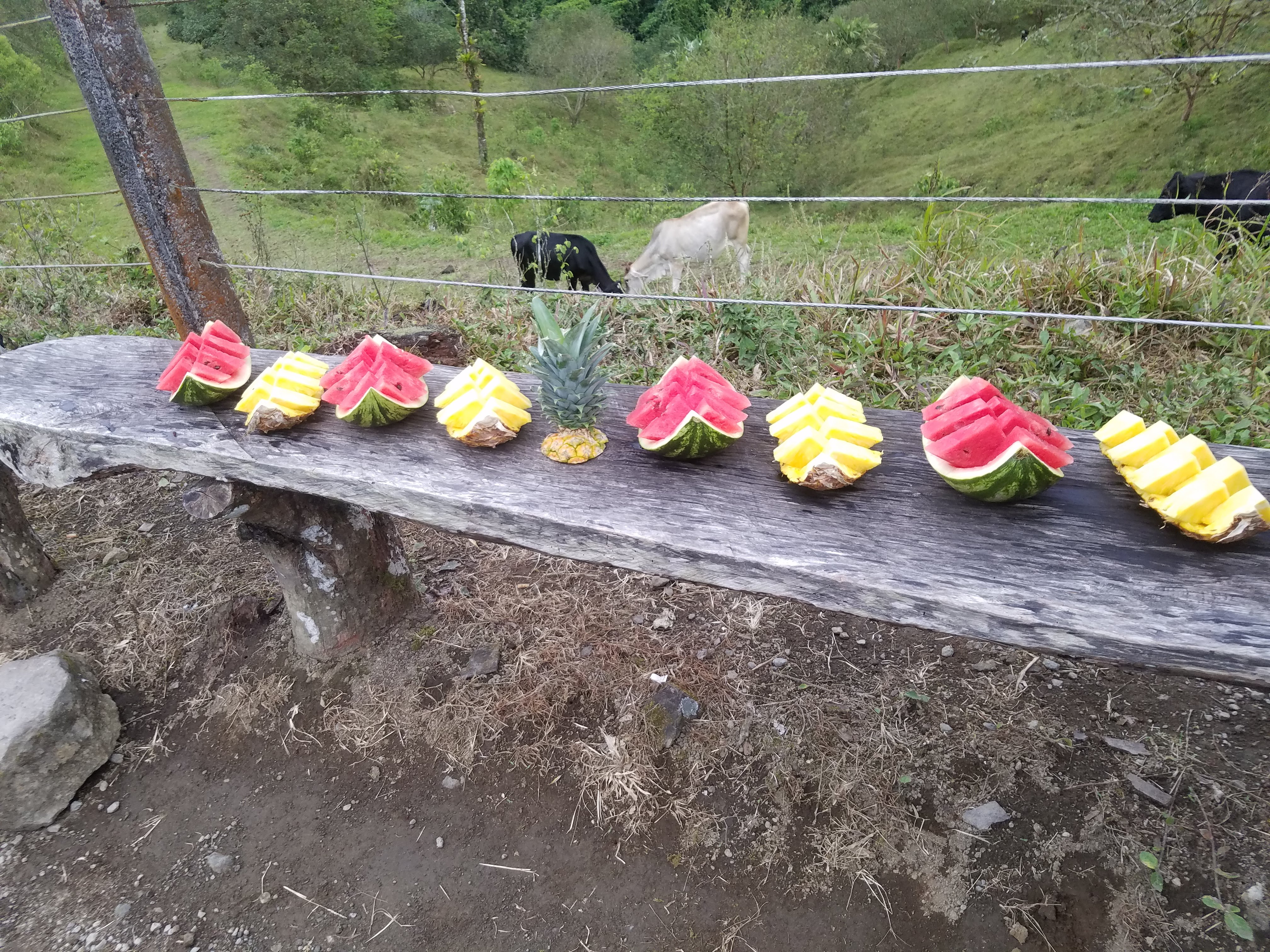 Day 3 Lake Arenal
The following morning was our sportfishing adventure. We were picked up and delivered to Lake Arenal where Antonio awaited. We departed on his homemade fiberglass fishing boat. He took us to some shallow, weedy coves and Mandy, D.A., and Antonio caught Rainbow bass. We had a cup of delicious coffee and I asked Antonio if his family was from the area. He said yes, so I asked if they had been there when the valley was flooded to create the lake. He said yes again and that it was very sad. His family was paid $35 for their home and land, and then they were sold a new house for $250 – which they lost 10 years later when they no longer could afford to pay for it! Because of the valley being flooded, they lost their family home twice!!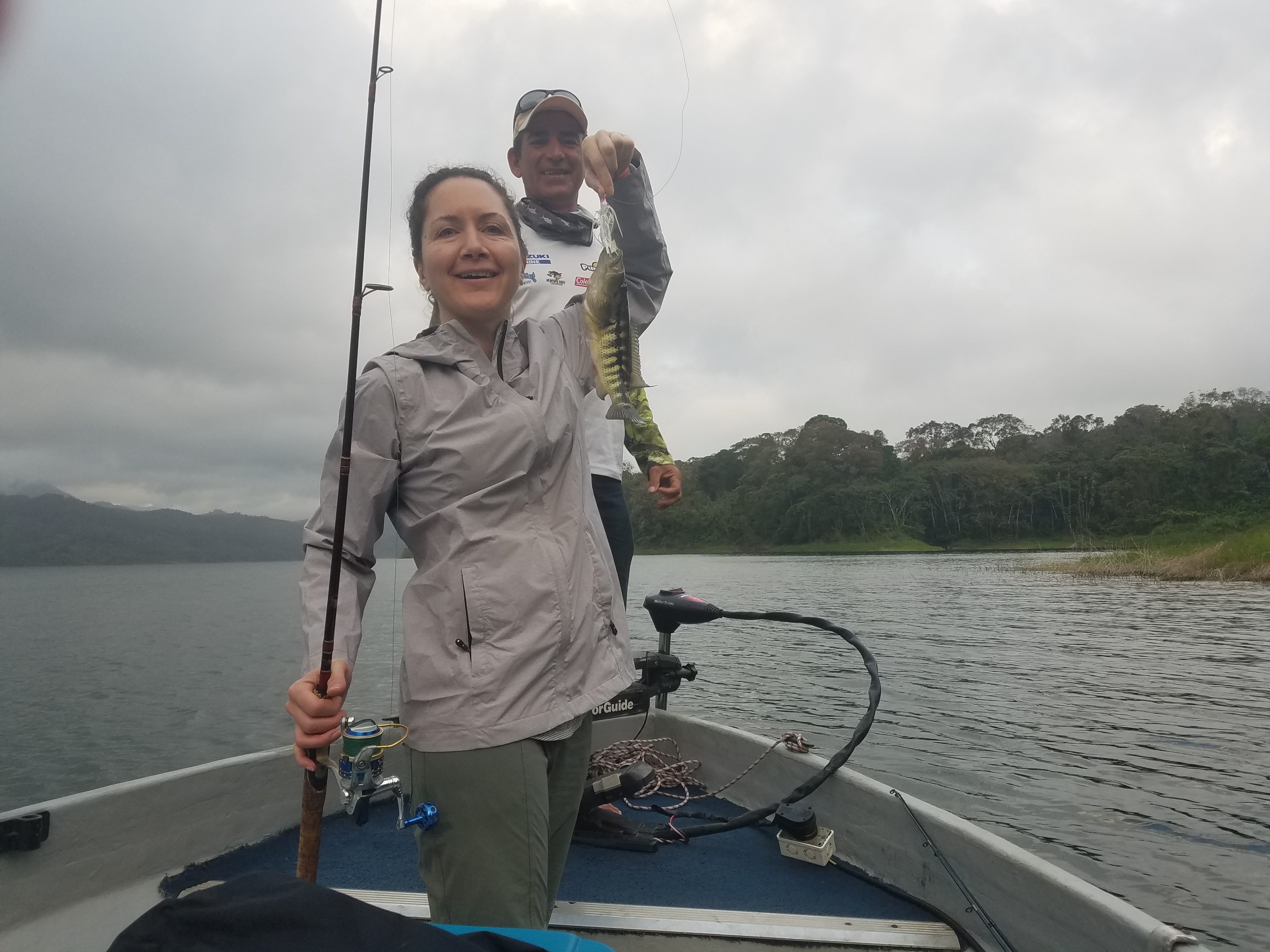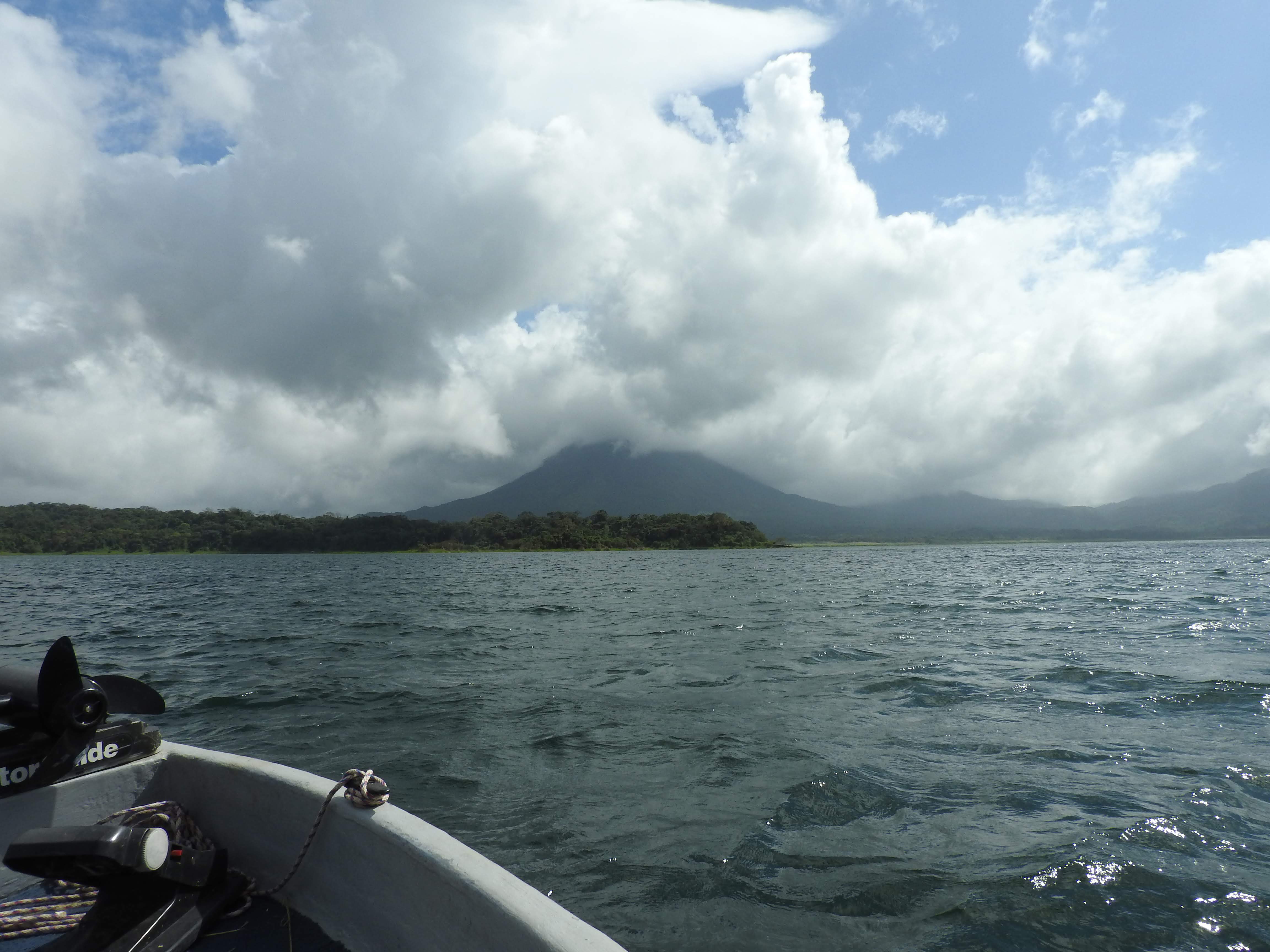 Day 4 Lake Arenal Crossing, Transport to Monteverde
We were actually creating two itineraries at once as we will be going to Brazil following this trip, so while I looked over the itinerary and tweaked until I thought it was fine, I didn't really pay too much attention to fine details. So, the following morning we checked out of Los Lagos and met our driver who surprised us with the news that we were going back to Lake Arenal for a boat crossing(!) and then would be met by another driver for the trip up to Monteverde – the cloud forest. Once on the boat he told us that the boats always traveled on one side of the lake because the other side had "murder winds." Also, that the road on the far side of the lake was unpaved for about 18 miles, so to consider it a complimentary Costa Rica chair massage. No joke! Unpaved, rocky, steep… you get the idea.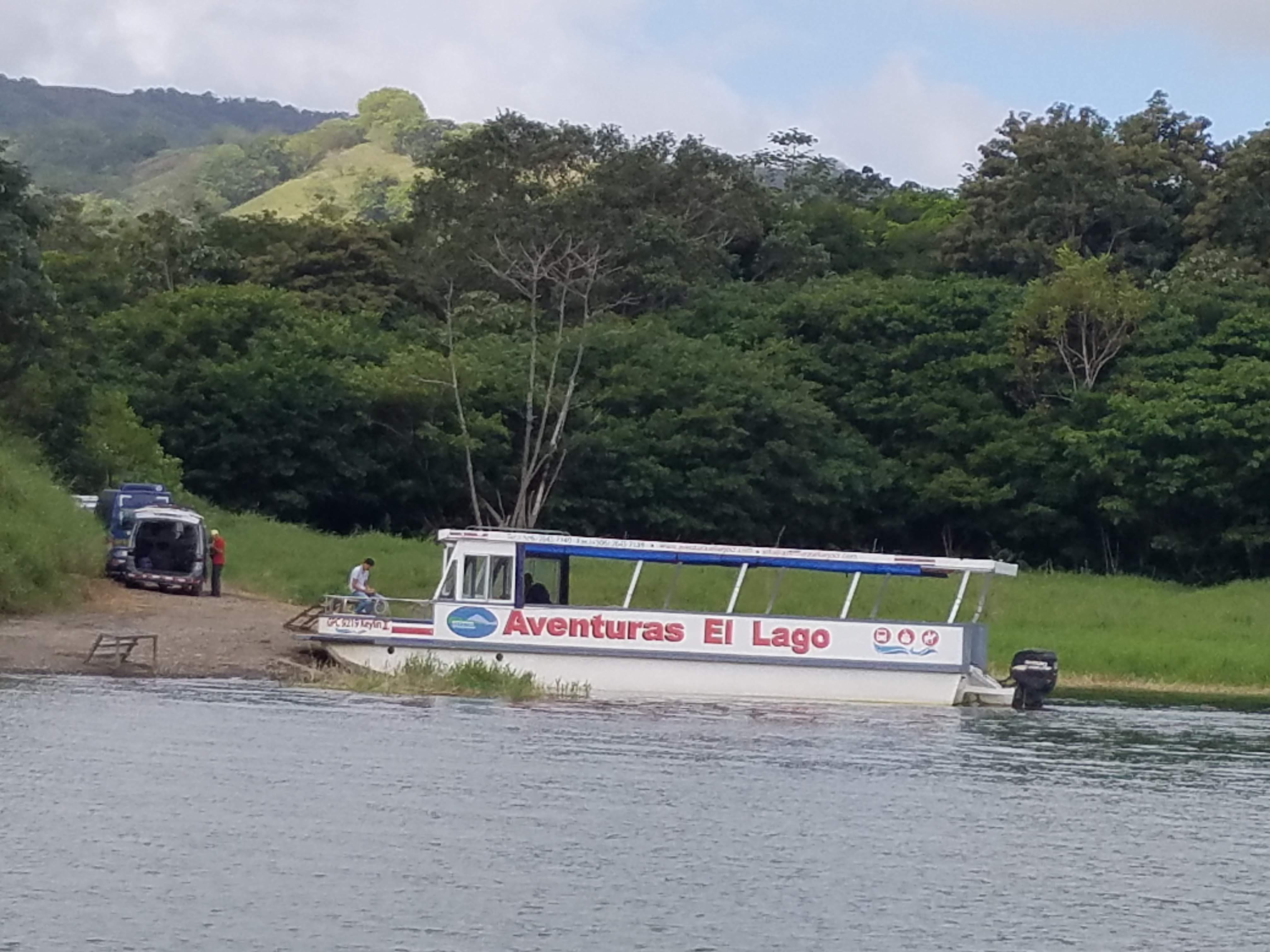 Arriving at Hotel Poco a Poco, we knew we were in for another treat. If the Las Lagos was awesome, Poco a Poco was spectacular. A small and beautiful hotel with sustainable practices and a great restaurant surrounded by lovely amenities and a huge garden. Already we're saying we could have spent a month at each of the hotels we've visited so far.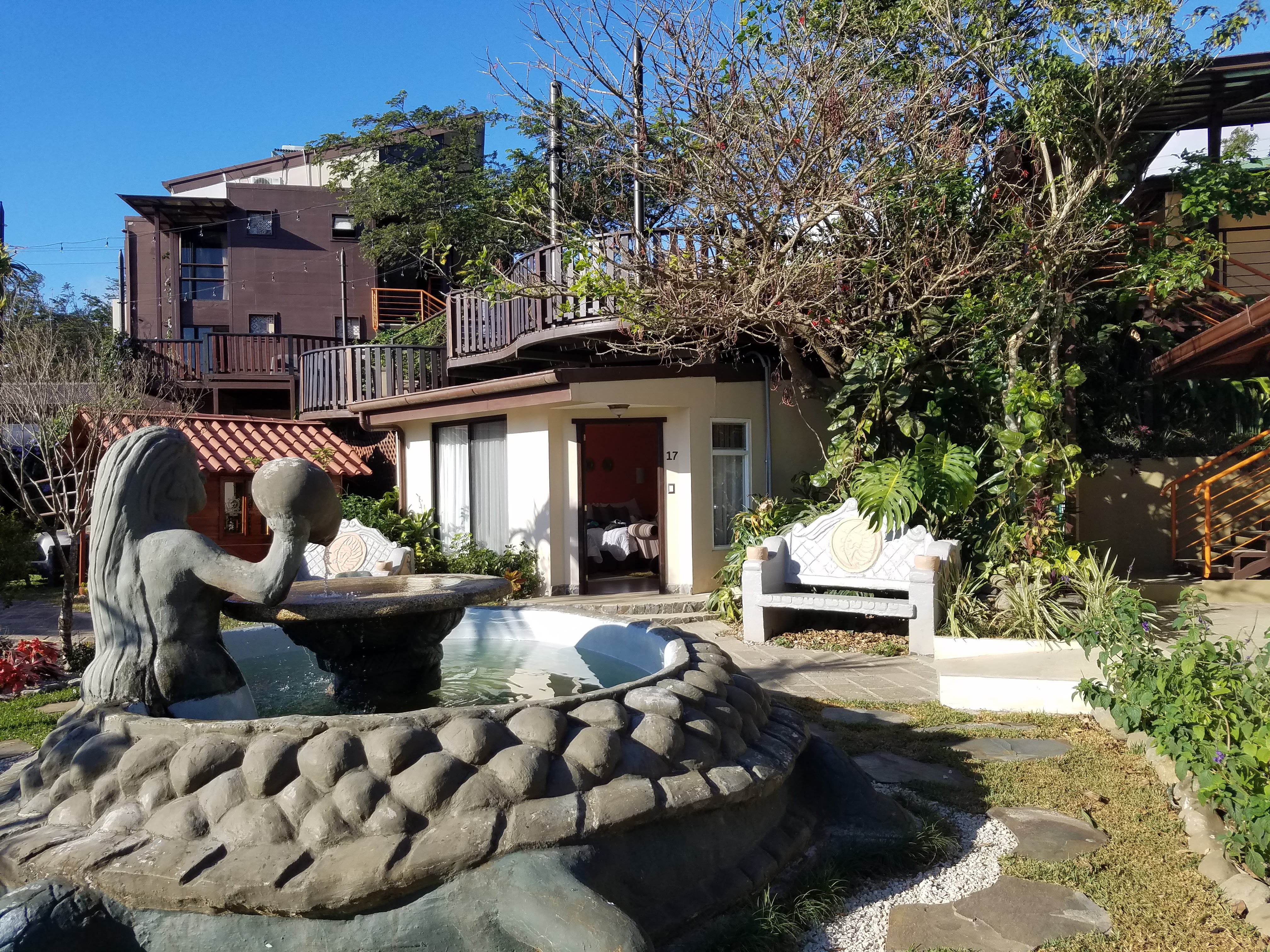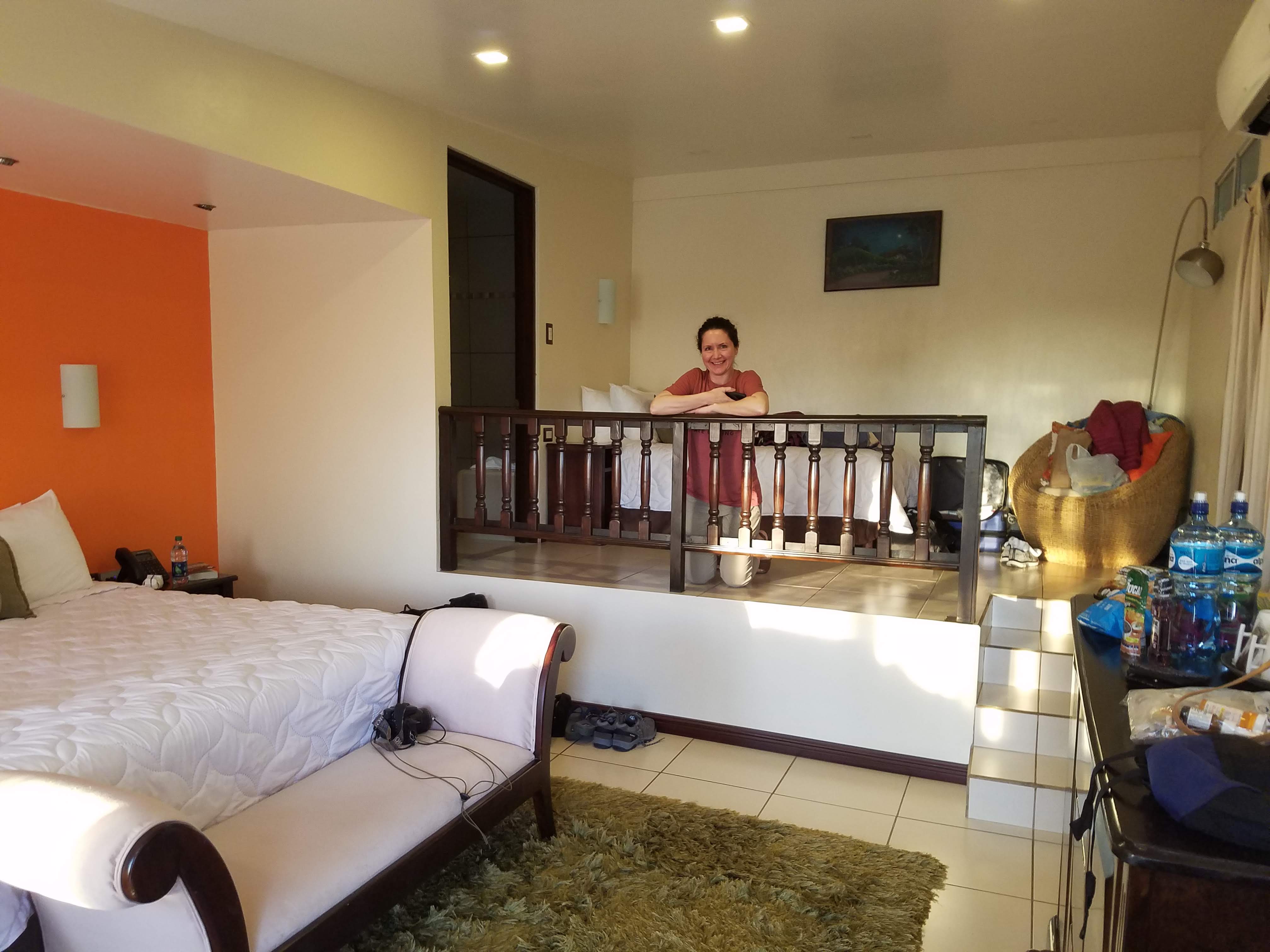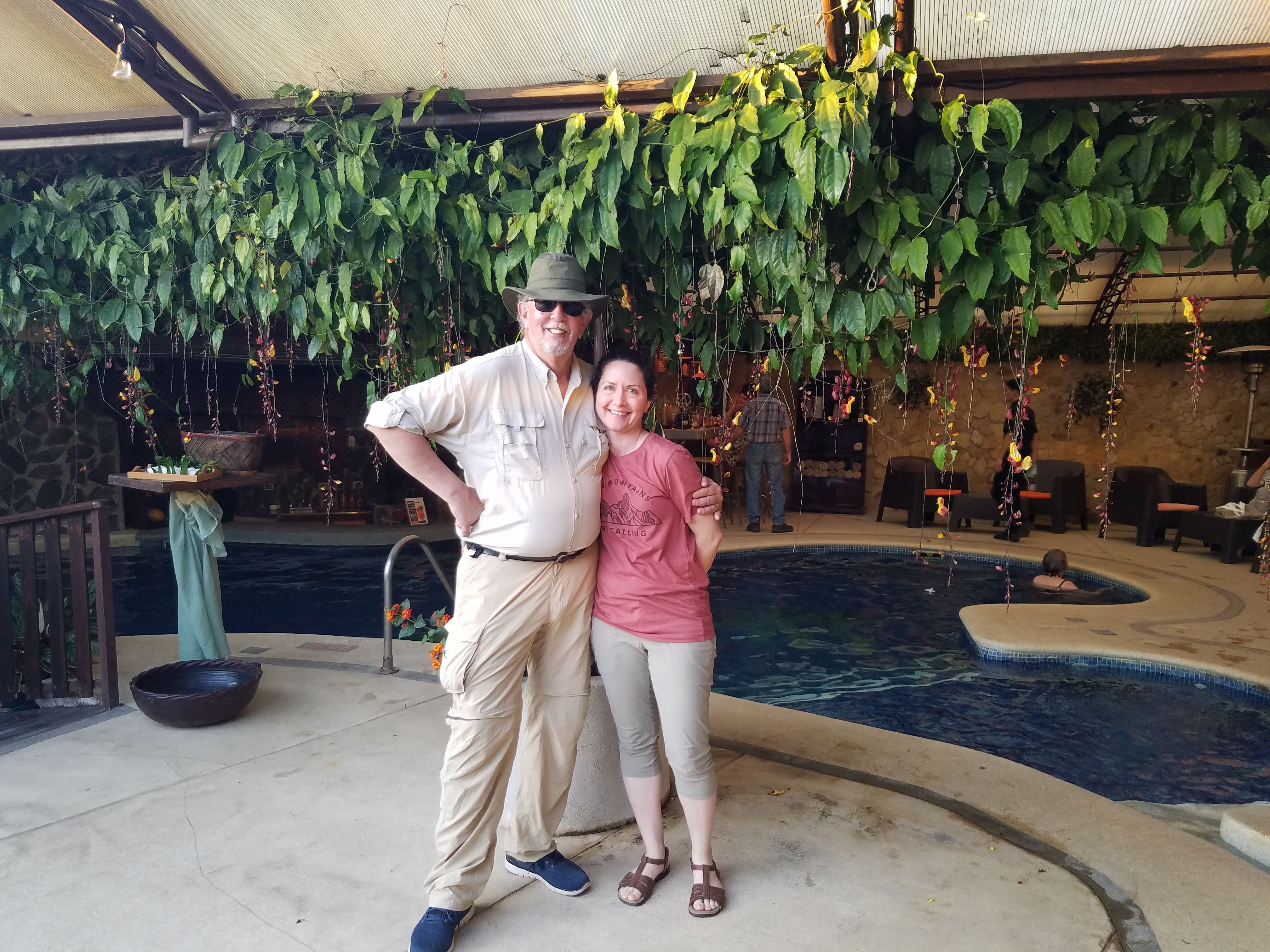 Somewhere along the way we heard about a popular 3-in-1 tour in Monteverde. The Don Juan Plantation tour included coffee, cacao and sugar cane. We called from Poco a Poco and they said we would be picked up in 30 minutes!
The tour with Alex was very informative as he told us the entire process of growing to roasting coffee. We learned about the migrant workers who come each year from Nicaragua and were welcomed because Ticos no longer wanted to pick coffee. What a novel idea BUT no politics here. Actually, when I asked Alex about Costa Rica politics, he said, "I'm sorry that's a different tour!!"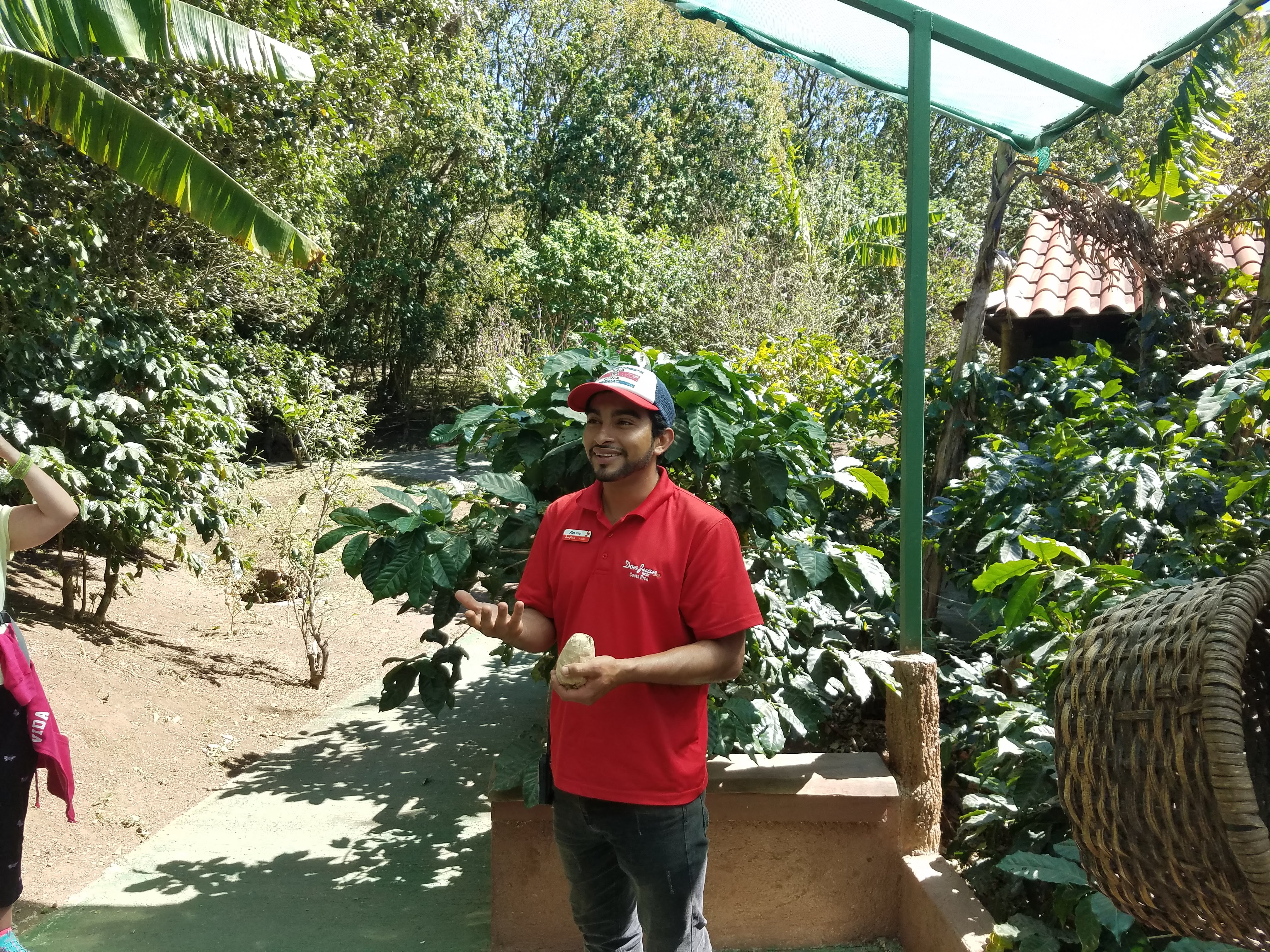 Beans are hand-picked – red beans only – from trees about 6-feet tall (tops are trimmed to keep them in reach). The beans are put into baskets with a leather strap that goes around the picker's waist to free both hands. A full basket weighs about 20 kilos. When the picker turns in the basket, the beans are put into water. Unripe ones float and they don't get paid for those. Alex walked us through the whole process including removing the outer layer, drying, putting into bags to age for a year, crushing to remove another layer, and ultimately roasting.
And then came my favorite part – chocolate! While the origin of roasting the coffee beans resulted from a fire in Ethiopia, no one knows how the cacao-to-chocolate process began. The cacao beans are fermented, roasted, cracked, crushed, ground into paste, conched (a device that mixes and mashes) and then tempered (heated, cooled, heated and cooled) multiple times. We were surprised to know these seeds only become chocolate when vanilla is added – it has nothing to do with sugar being added.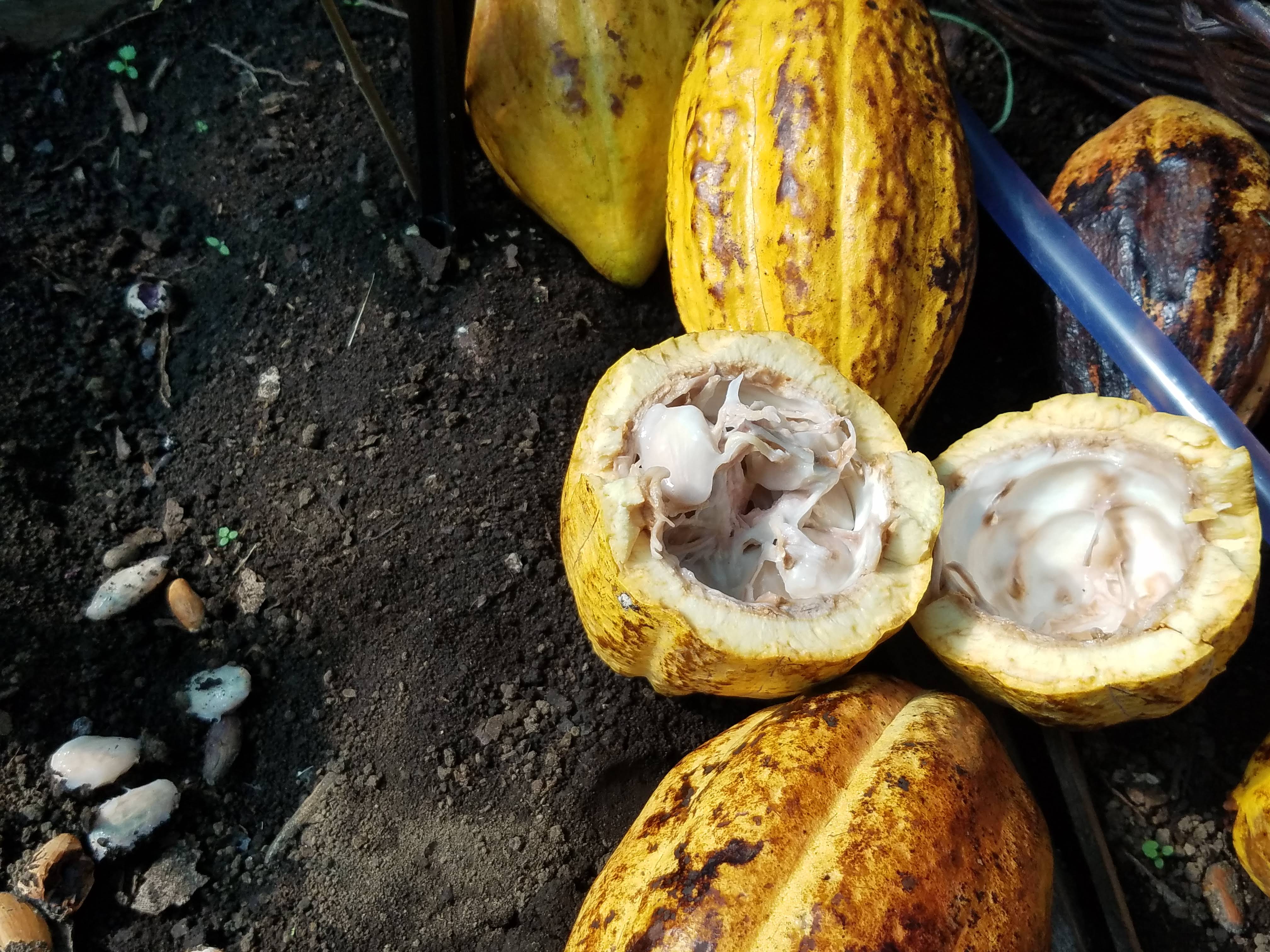 Moving on to sugar cane, when a frond appears at the top of the stalk, it is ready to harvest. The stalk grows about six 8″ segments in a few months. The segments lower to the ground are sweetest. We saw the juice extraction process and tasted fresh sugar cane juice mixed with lime (which is the only way you can drink it fresh because it starts to ferment immediately).
Day 5 Zipline and Suspension Bridges at Selvatura Park 
Next morning was our Canopy Tour at Selvatura Park, the only zipline built entirely within the cloud forest. The Canopy Tour features 13 cables (two of which must be ridden tandem to create enough weight to reach the long distance covered), including a 1-km cable, 15 platforms and one Tarzan Swing. There is a total of 2.2 miles of total cable length, and tons of uphill and downhill walking between ziplines. That portion of the tour lasted about 2-1/2 hours.
After a delicious lunch at the park restaurant, we met our guide, Jose, at the entrance to the suspension bridges path. He said, "Everybody goes this way. We are going to do it in reverse and you'll see, nobody else goes that way."
The Treetop Walkways Suspension Bridges Tour consists of 1.9 miles of trails with eight bridges of various lengths, ranging between 170 feet and 560 feet. Each bridge has a five-foot width and the largest capacity in Costa Rica of up to 80 people per bridge which make the treetop walkways at Selvatura Park not only the longest bridge system in Costa Rica but also the safest and strongest.
Jose was fun and informative. He said, "If the average year has 365 days, it rains here 500 and that's because many days it rains more than once." Fortunately for us, the weather couldn't have been better: Warm, blue skies, beautiful clouds. When we were riding the zipline, we could see hikers on the suspension bridges. Now we were on the suspension bridges watching the zipliners.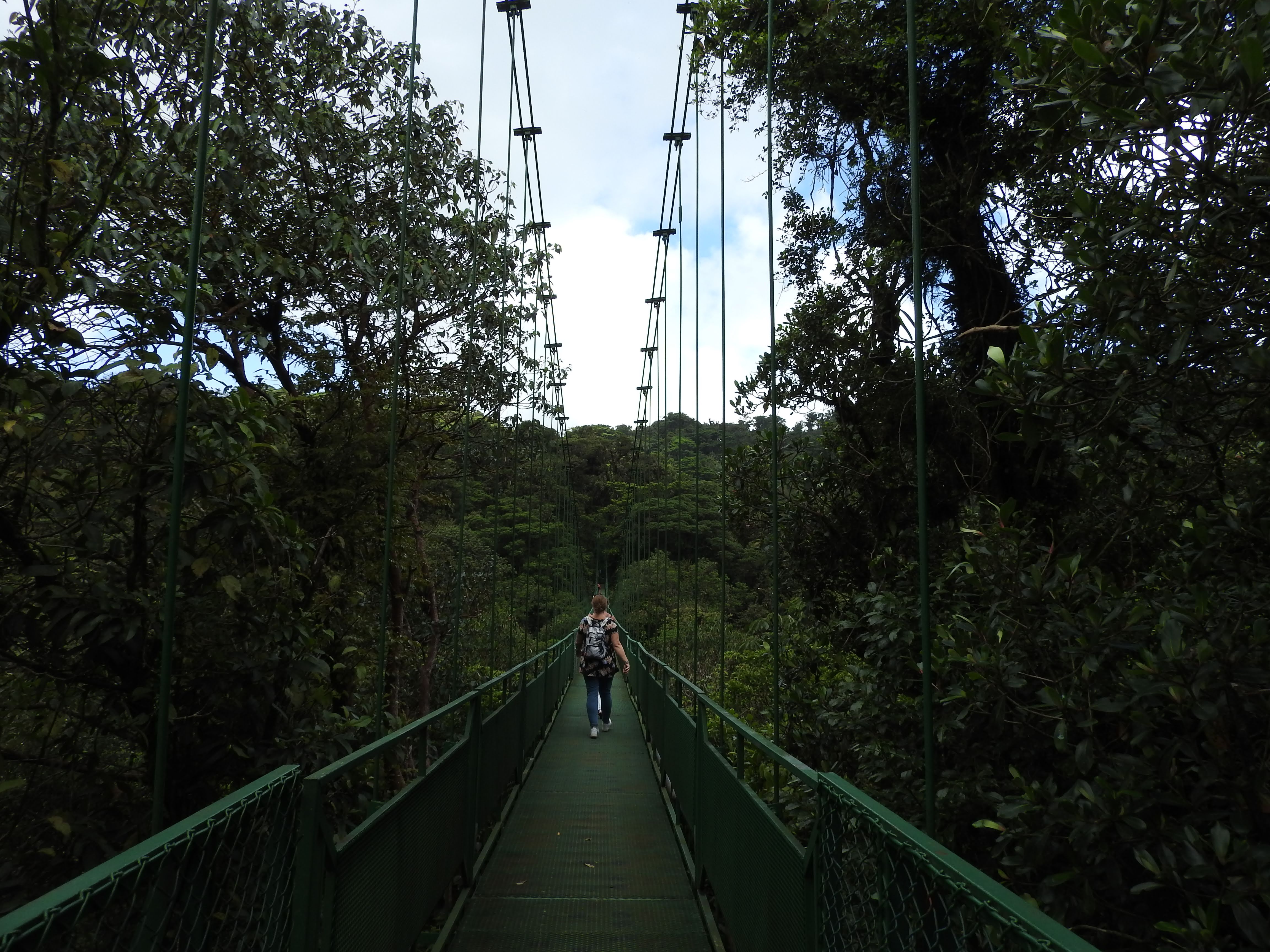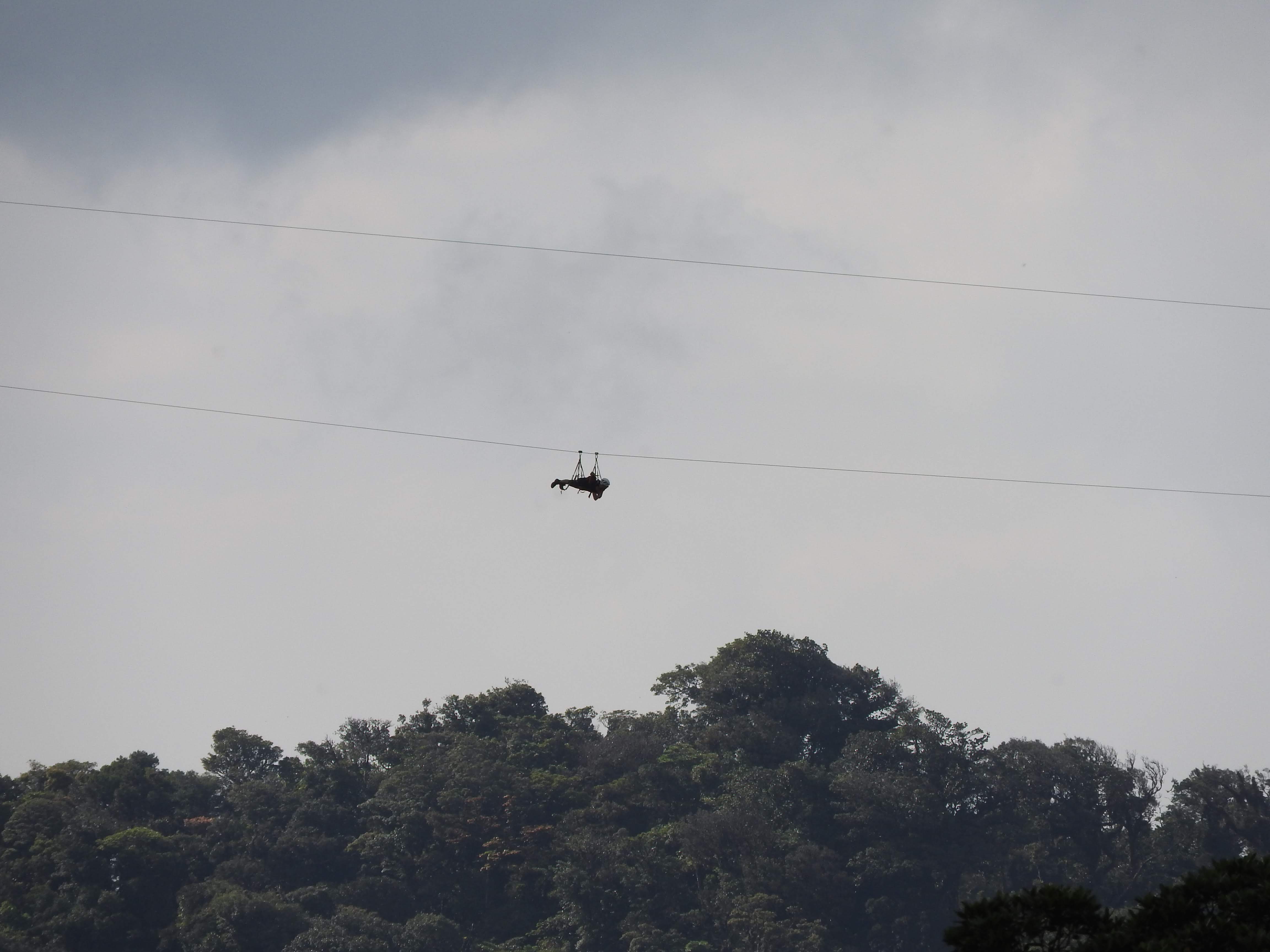 Jose told us there were Quetzels (Resplendent Quetzel, Trogon family, found from Chiapas, Mexico to western Panama) in the park and that they are endangered. The reason is they eat wild avocados which are growing scarce due to climate change. We were fortunate enough to see some Quetzels, but they were difficult to spot because their primary color is green in a huge forest of green colors. On the other hand, it was very easy to see the wild avocados because their leaves have a brown tint. Another 2-1/2 hours very well-spent! We were tired and ready to go back to the hotel, but there were other attractions we could have seen, an art gallery, butterfly and hummingbird gardens and a reptile exhibit.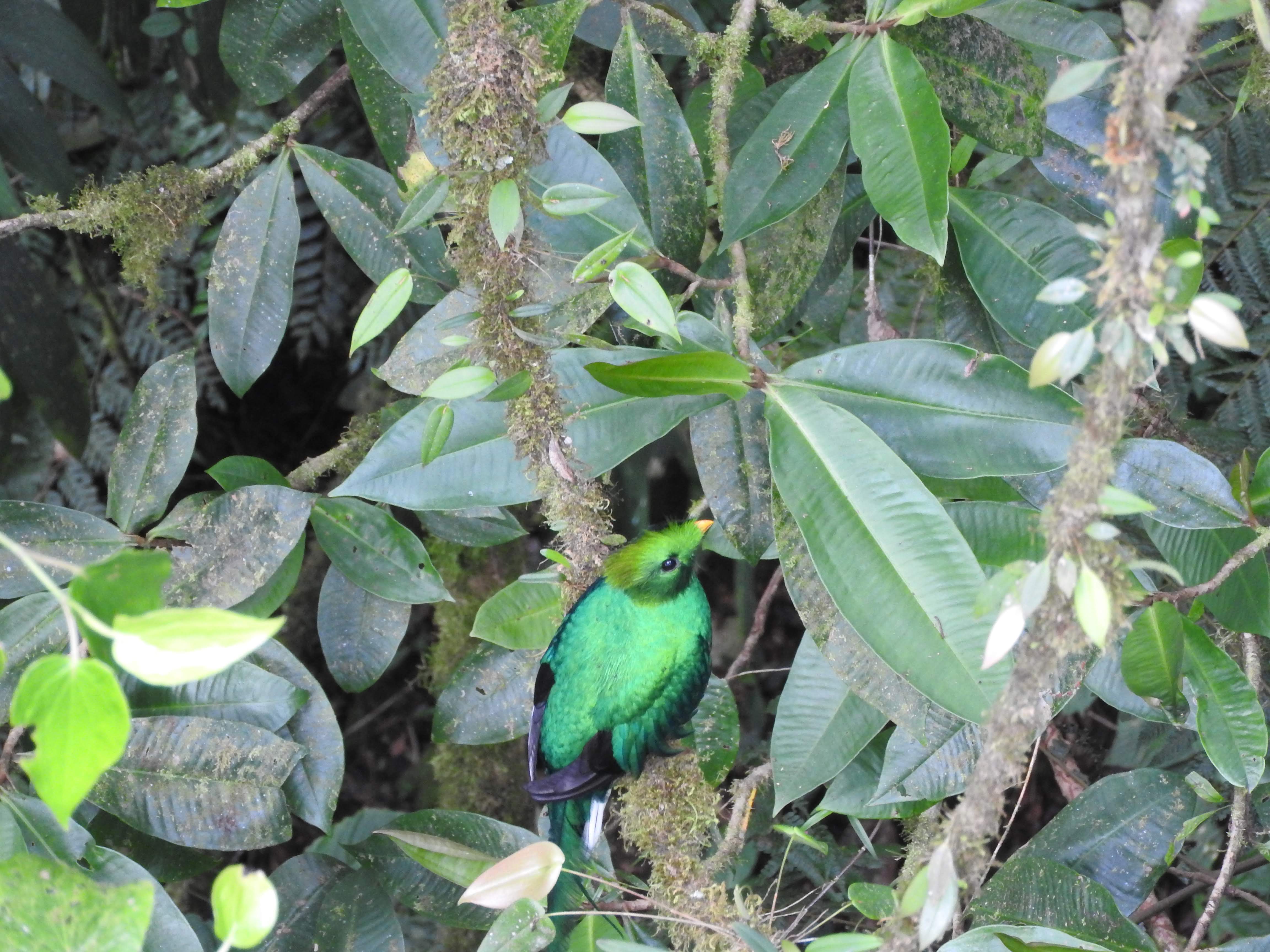 Day 6 Manual Antonio National Park
The following morning we were picked up to make our way down the mountains to Manual Antonio, a National Park on the Pacific side, in Quepos. Here we were in a van, trying to pass a van, when a third van passed on the left of a very narrow road. Be advised. Ha!
Along the way, we visited the "Crocodile Bridge" over the Rio Tarcoles. Which are logs and which are crocs? We were not about to find out.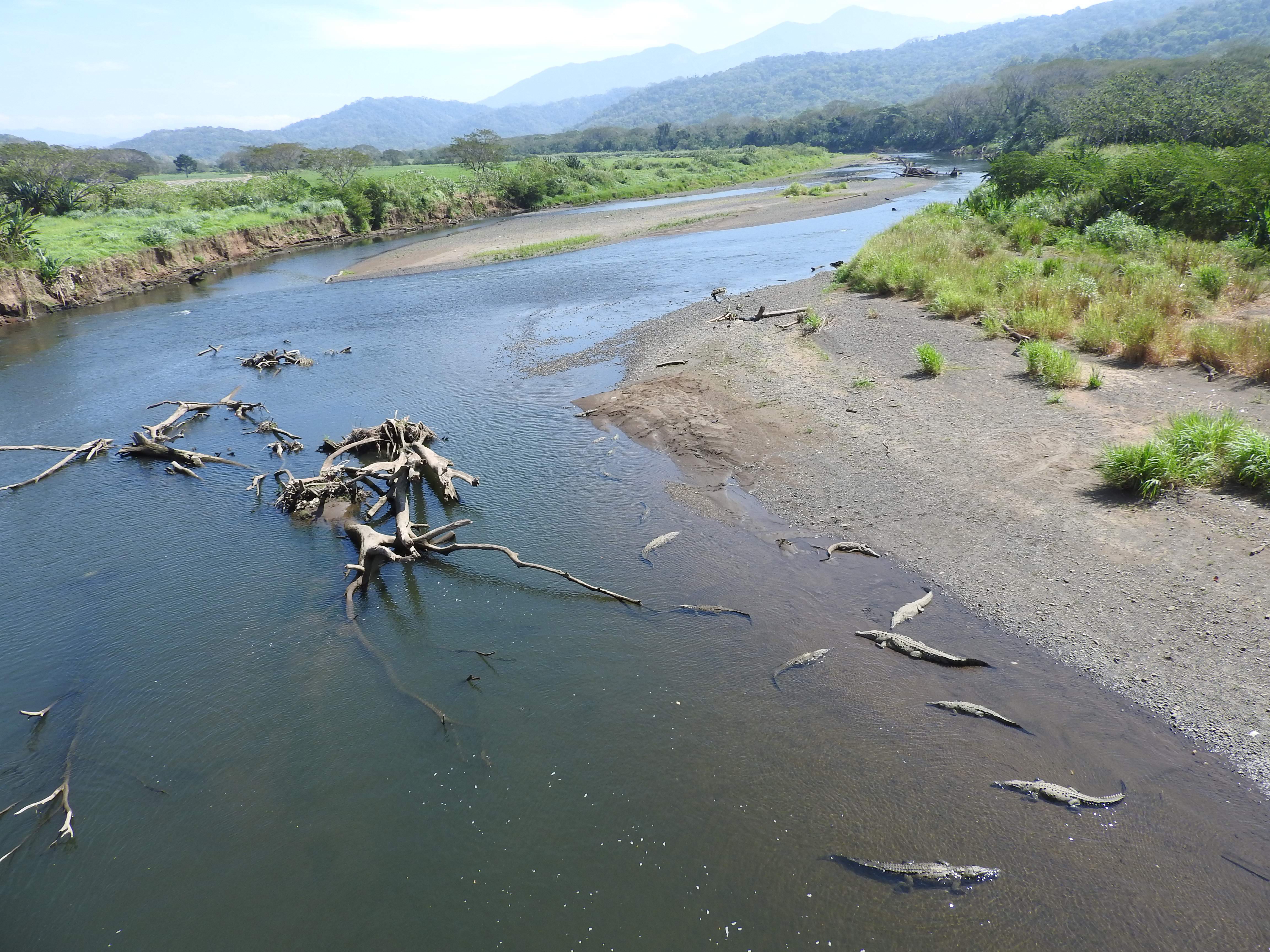 Hotel Plaza Yara, a beautiful hotel and gallery, backs up to Manual Antonio National Park. Sadly, we were only there for one night. We would have liked to stay longer.
In the pool area, we saw a orange iguana, and a blue rope that ran from behind the hotel, over the busy street to the other side – the monkey highway!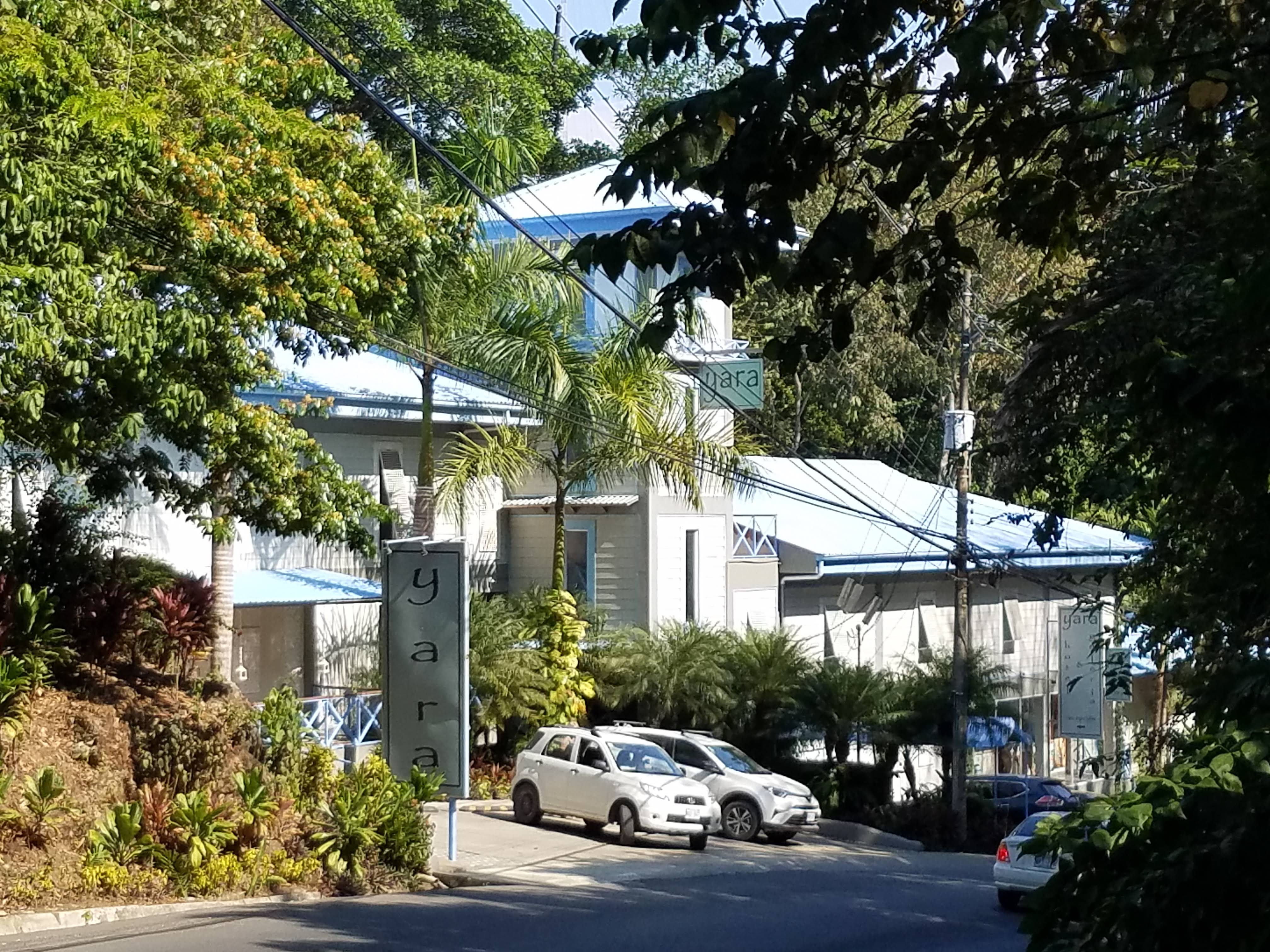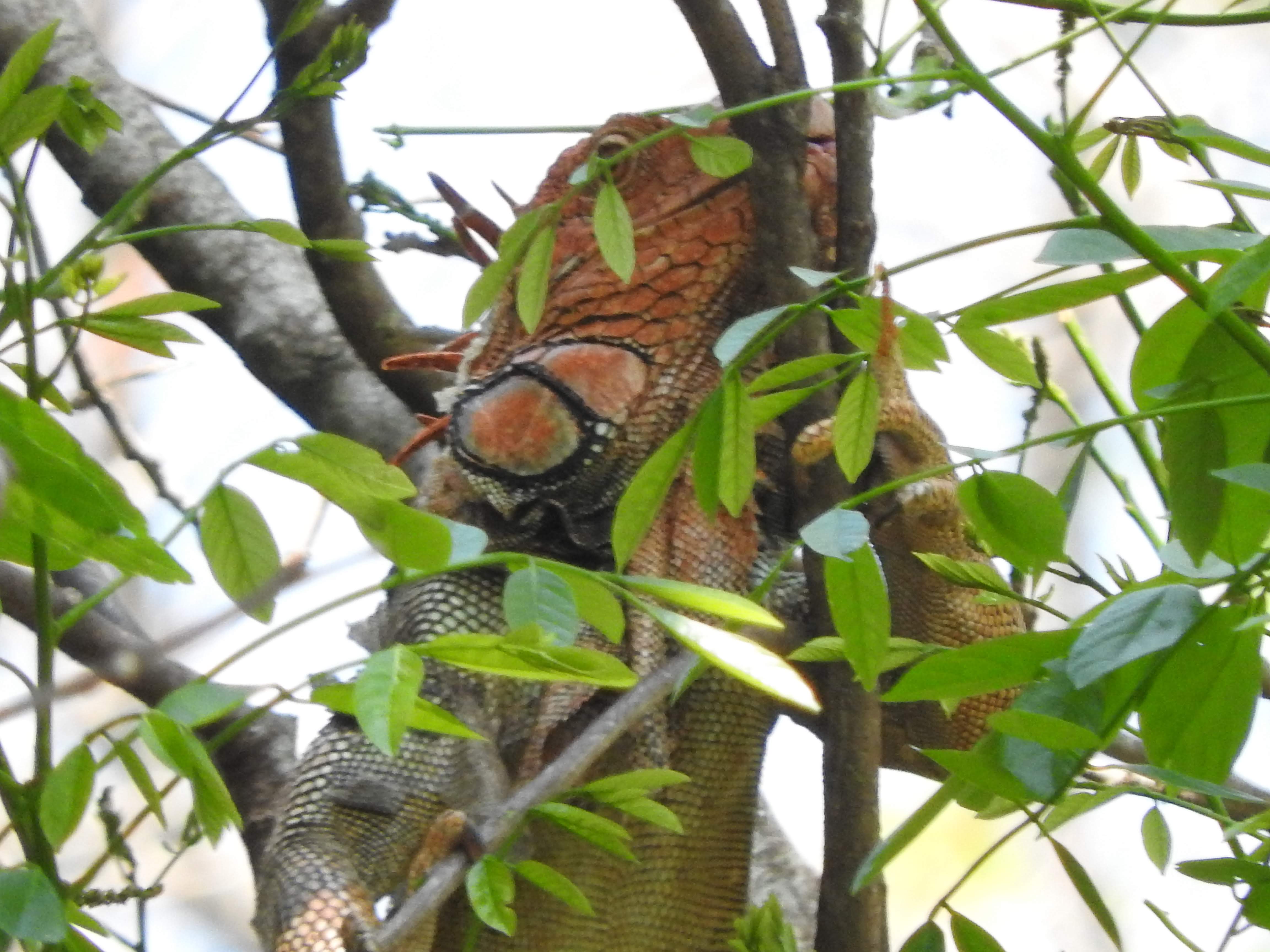 Day 7 Catamaran Tour and return to San Jose
The catamaran tour was one of our favorite days. Still working on story and photos – check back soon!
We spent our final night at the Adventure Inn near the international airport in San Jose. It was the perfect conclusion to the trip – unique and totally charming – and it made us miss Costa Rica even before we left!
In a nutshell… 7 Days is not nearly enough!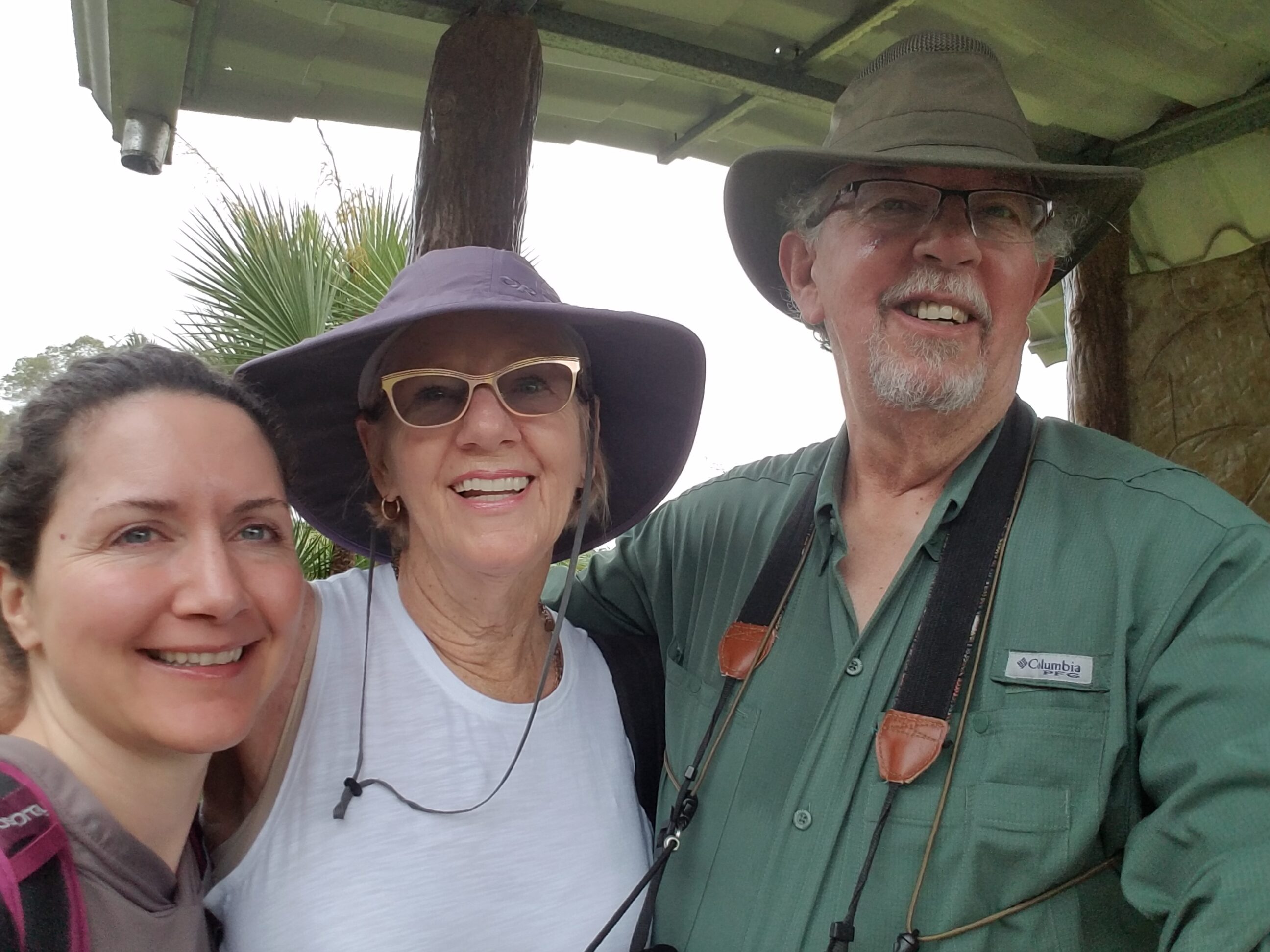 Random observations, sweet memories:
The living fences. Everywhere living fences were planted and could range in size from flowering plants, bushes, even trees. Gorgeous!
How many ways can you fry a banana?
There was no litter. I don't know where it went, but seriously, no litter.
Costa Rica is about the size of West Virginia. There are five million people (including about 50,000 U.S. citizens – a 67% increase since 2002). San Jose has a population of about 400,000.
Notes in case you go:
You can use dollars (often credit or debit cards) most everywhere. If you pay in dollars, you may get colones (or a combination) in change. Breaking bills for change can be difficult but you can often do it at point of purchase. In future, for a week, I would bring $50 in ones, and $50 in fives.
Breakfast was included at every hotel – great convenience.
The dry season, considered summer by Costa Ricans, is from mid-November to April. Flying insects are rare.
Private vans with drivers are certainly not required but such a blessing on a short trip like this. The drivers didn't speak much English (and it was okay since Mandy's Spanish is SO much better than mine), but were friendly and fun and went out of their way to assure our comfort. Anywhere Travel offers wifi hotspots in their vehicles (and they usually worked).
Speaking of wifi specifically and technology in general, wifi was excellent almost everywhere we visited. It was everywhere. Additionally, our cell service is provider is Verizon. We use TravelPass when we are out of the country. It's a great service costing $10 per day if you use it and it provides the same level of talk, text and data you would have at home.
Speaking in Spanish is always appreciated.
Water, fruit, and vegetables are all safe to consume. The only tummy trouble I had was the day after eating a cheese quesadilla for lunch. Absolutely delicious but there was a lot of cheese and I don't normally eat it. Short term effect, not terrible.
There are two international airports, San Jose (SJO) and Libera (LIR).
Last but not least, don't forget that the toilet paper ALWAYS goes in the trash bin, never flush.
Alfonso didn't let us down. We often heard six languages at breakfast. This trip could not have been better. And something else happened… Costa Rica moves off the list. Brazil next week. Alaska next year. But… the process evolves and now we are very sure we should be making one of these "once-in-a-lifetime" trips every year.
Leave a comment and tell me about travels on your bucket list.
Pura Vida!