A Family Get Together near Colorado Springs
We have a daughter-in-law in Albuquerque, Mandy, and a granddaughter, Haley, near Denver. We hoped to have a get-together near Colorado Springs but it turned out more difficult than expected. Mandy had a new tent she and Haley wanted to try out. I called a number of campgrounds and learned they were all old with tiny spaces and geared to RV camping, not tent camping. We extended our search and ended up at a National Forest Campground near Woodland Park, South Meadows. There were benefits to our choice: the campground had HUGE campsites and gorgeous walking paths behind the campground, and great proximity to Colorado Springs and local attractions.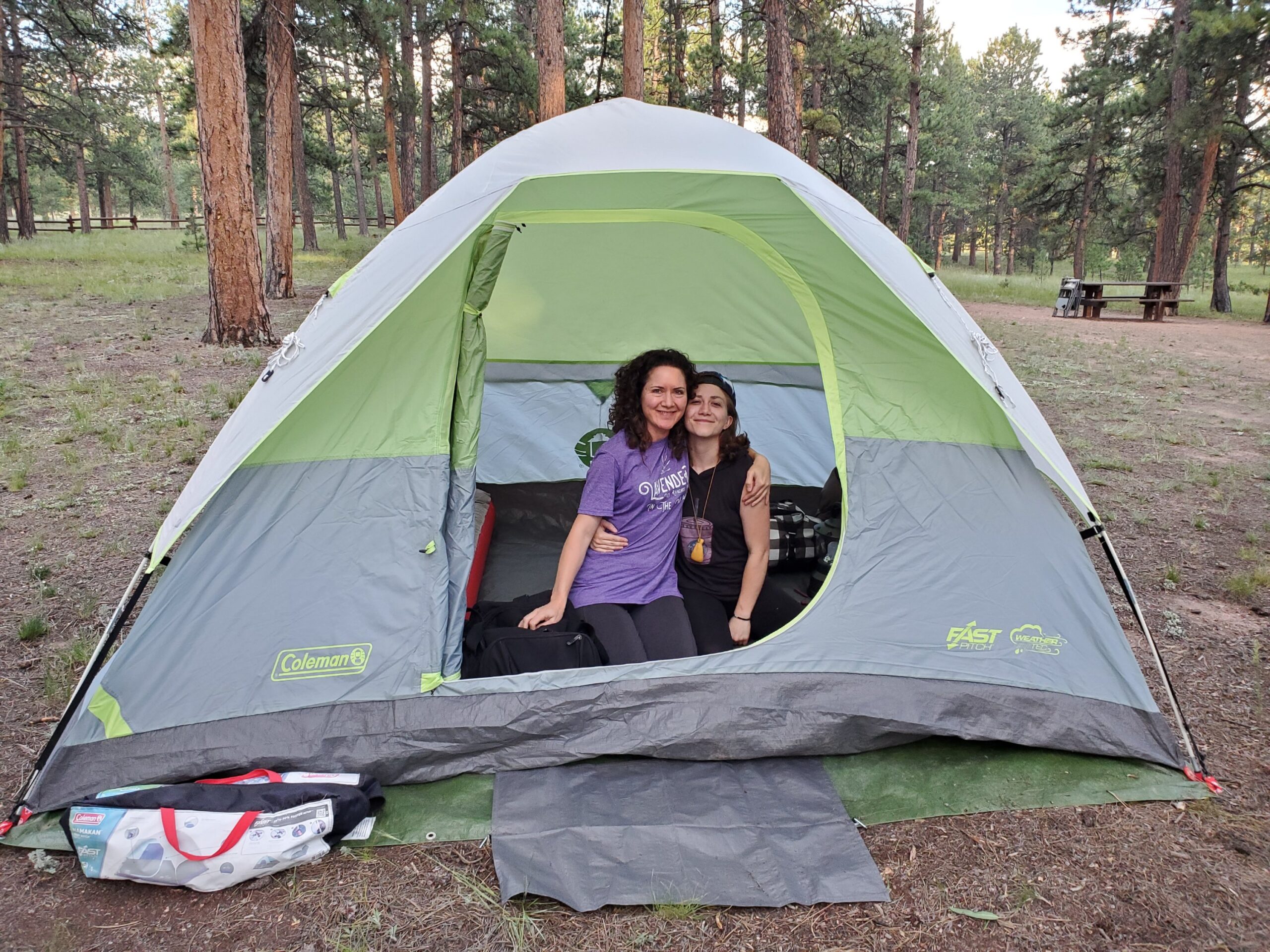 It was easy to decide our first full day should be spent at Garden of the Gods Park, a registered National Natural Landmark in Colorado Springs. It features dramatic views, 300′ towering sandstone rock formations against a backdrop of snow-capped Pikes Peak and brilliant blue skies. The world-class Visitor & Nature Center and museum is the most visited attraction in the region.
We hopped on the 1909 Trolley for a narrated tour and fantastic views of park attractions.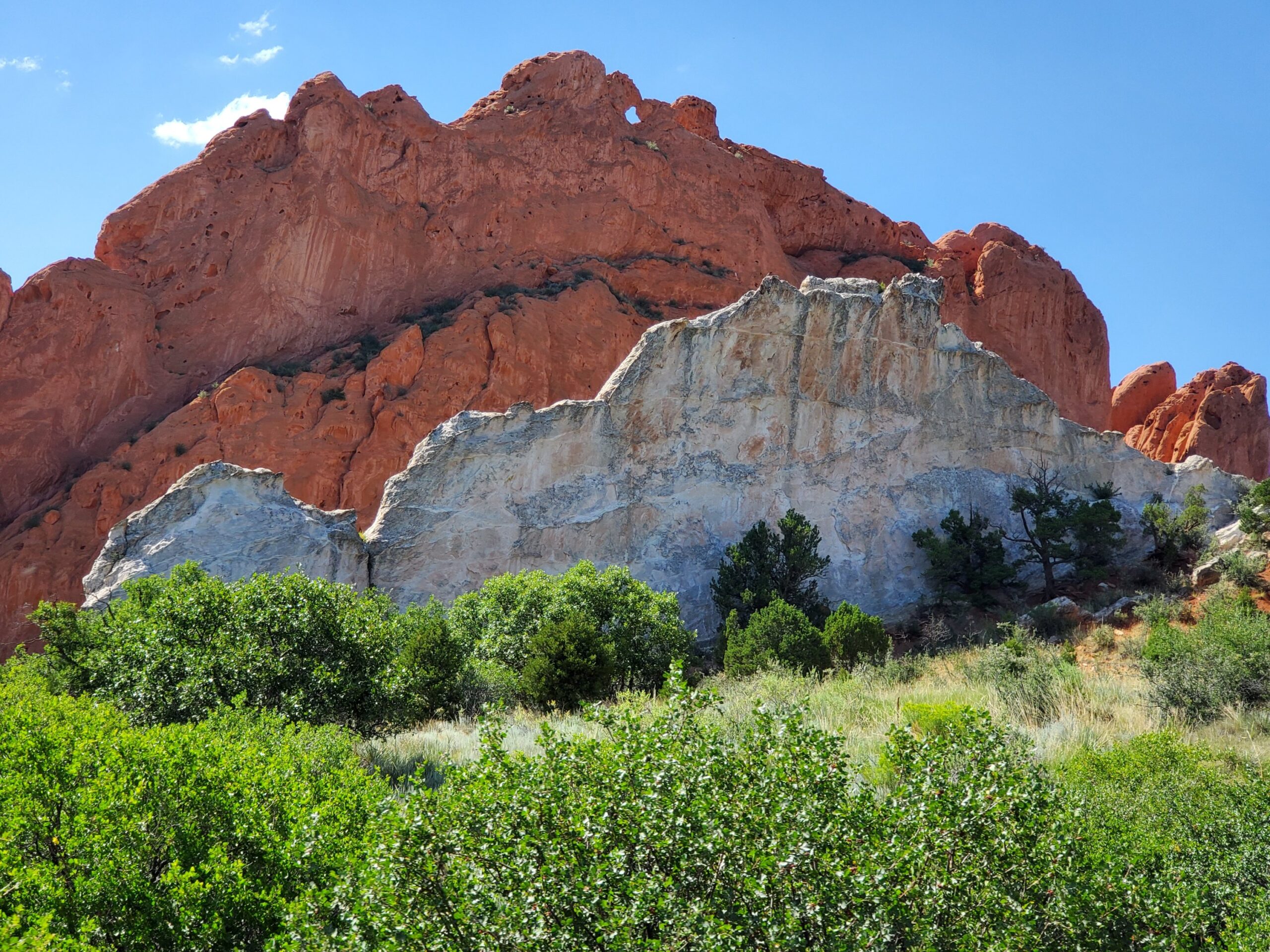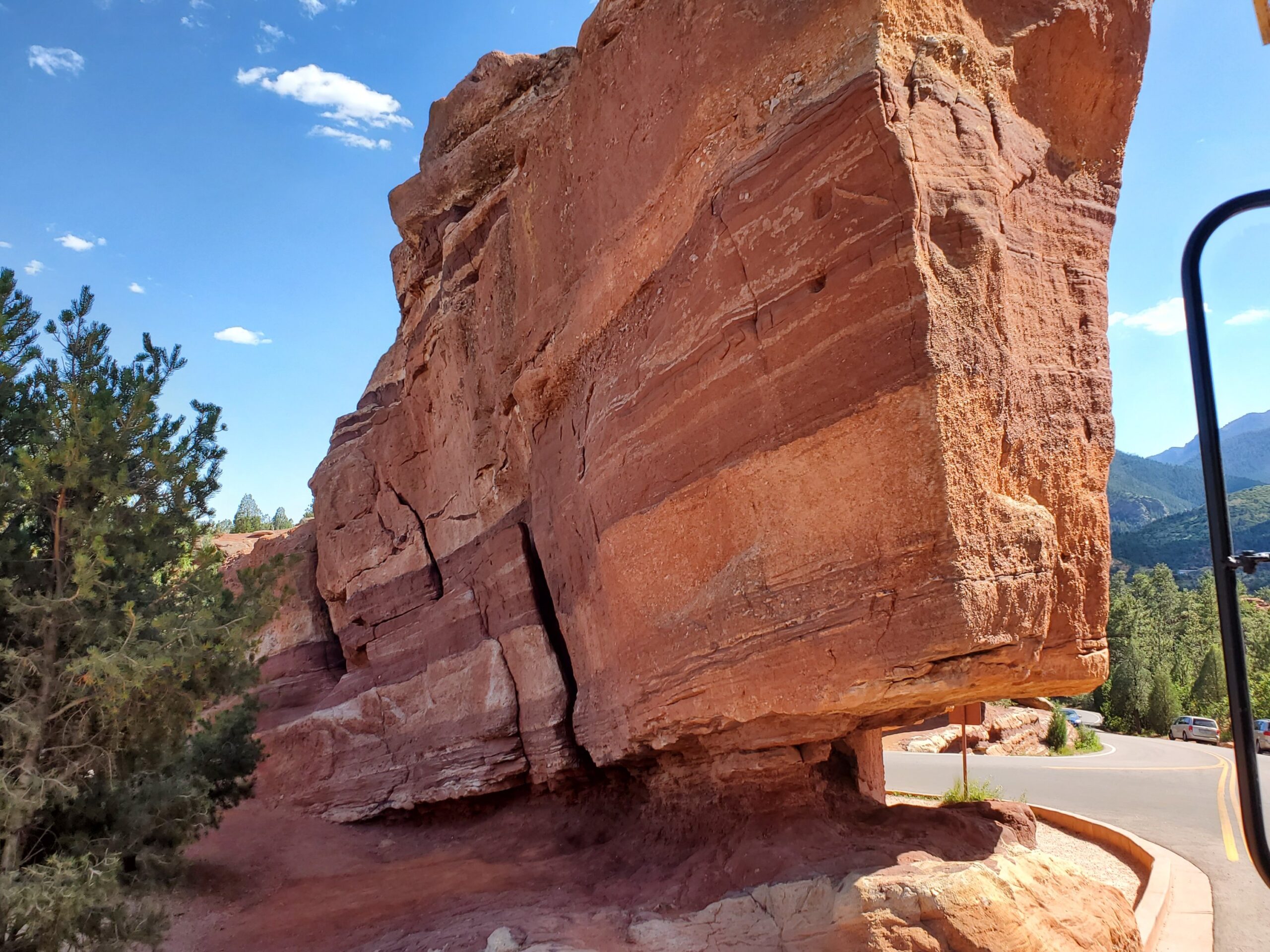 We spent another day in Manitou Springs, starting at the Manitou Cliff Dwellings, a drive around town, and lunch at the historic Cliff House at Pikes Peak, providing an atmosphere of Victorian romance and opulence dating back nearly 150 years. From its storied start as a stagecoach stop to its turn-of-the-century prominence as the area's premier mineral resort, it remains the crown jewel of Manitou Springs.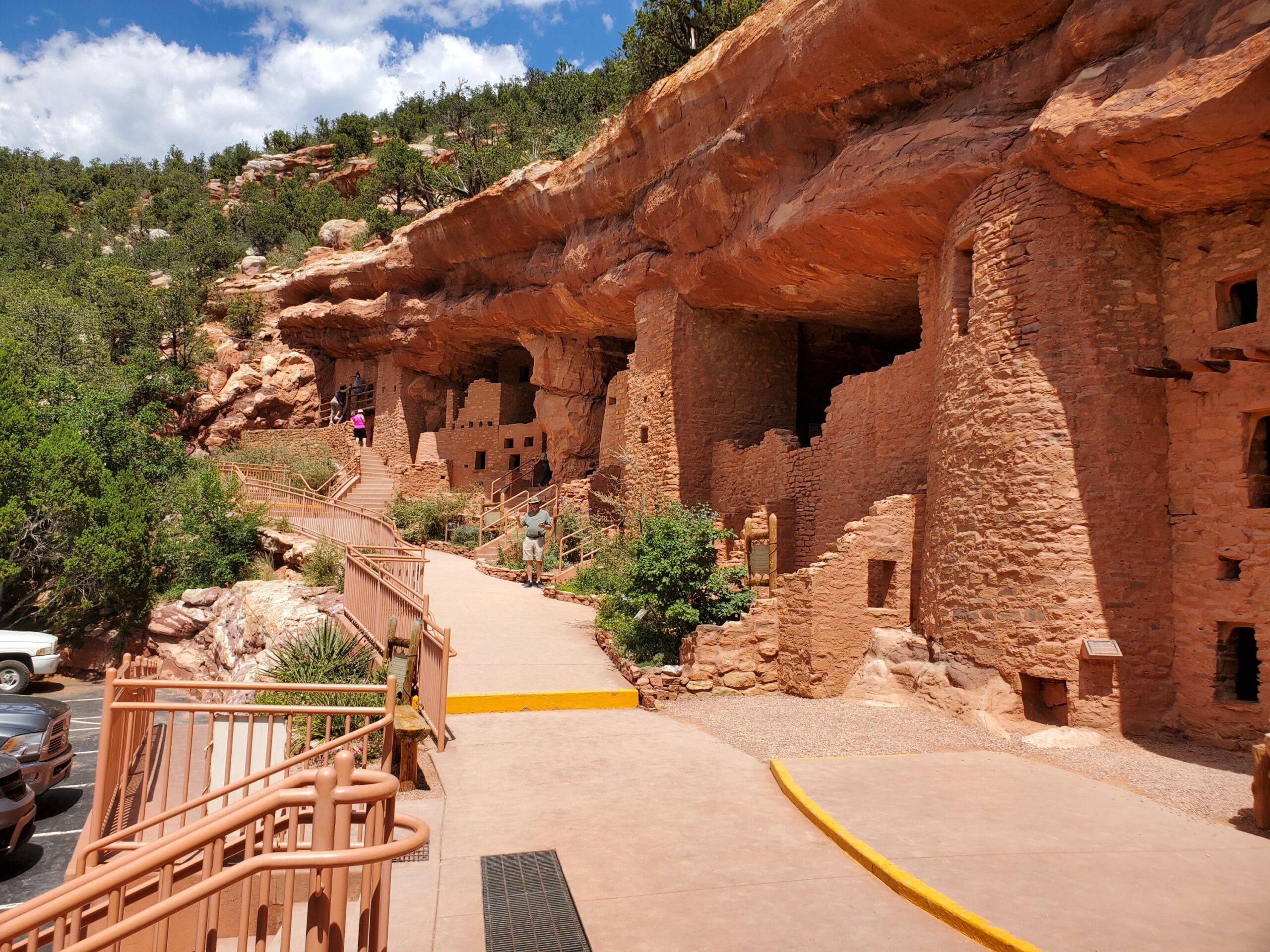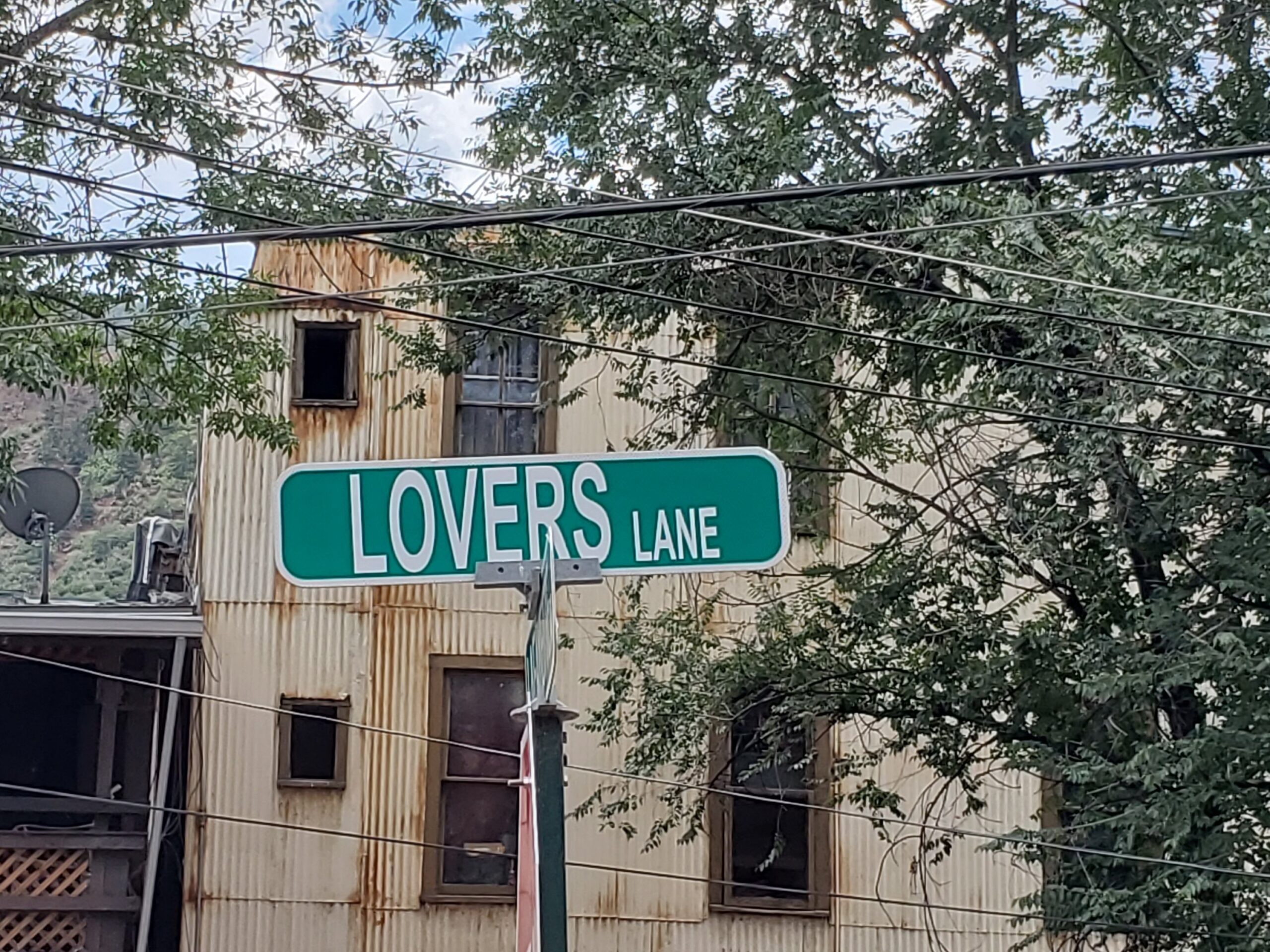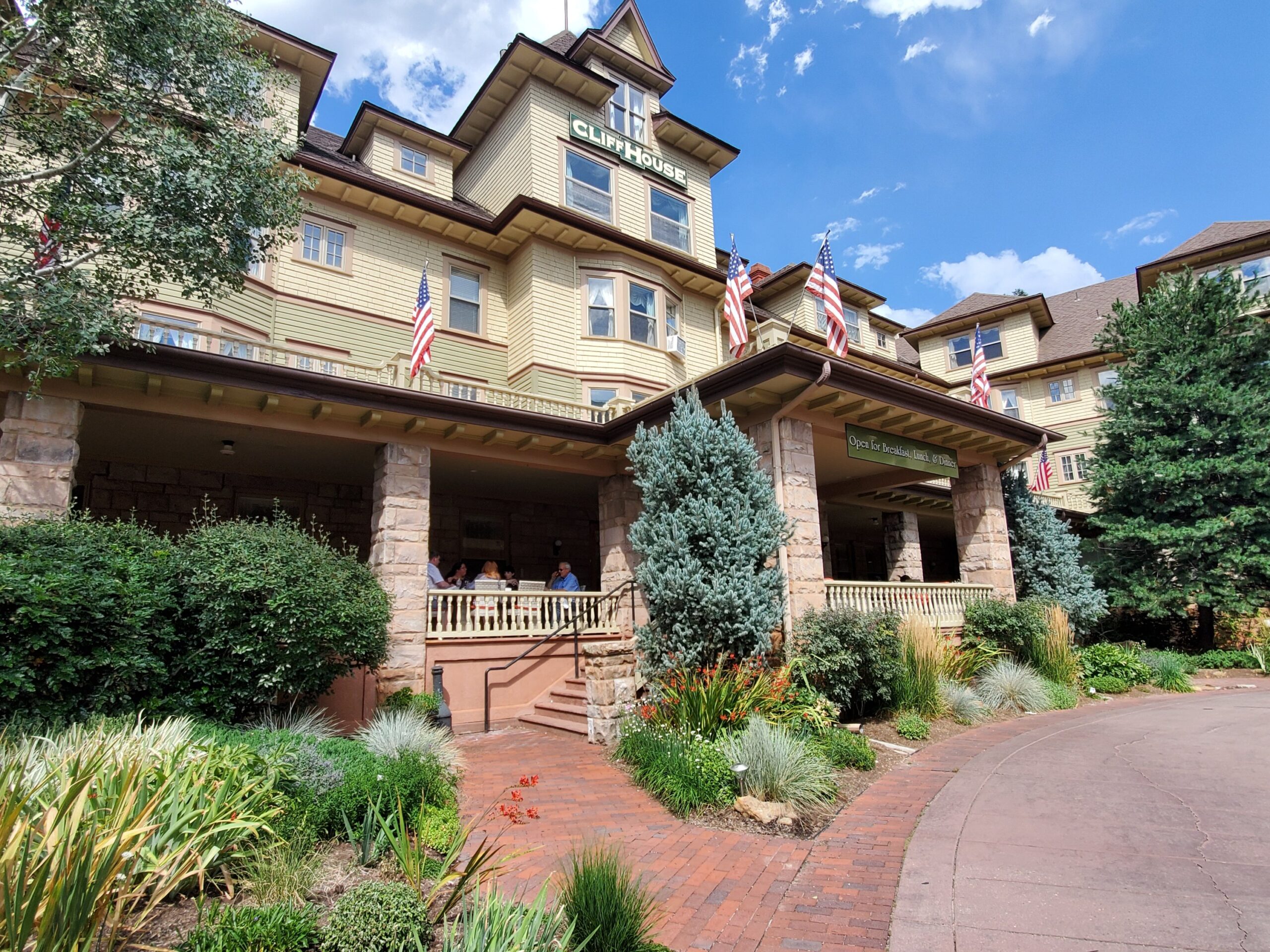 Blue Mesa
When we started full-time RVing in 2013, I came across this location in our Coast Resorts membership info and made a mental note I'd like to see the area sometime. Sometime came!
The drive from our camp near Colorado Springs was spectacular: through the heart of the Rockies on Highway 50, Pike and San Isabel National Forests and then over Monarch Pass, 11,321 feet! The pass is widely considered one of the most scenic in Colorado, offering a panoramic view of the southern end of the Sawatch Range from the summit.
The Sawatch Range is a high and extensive mountain range in central Colorado which includes eight of the twenty highest peaks in the Rocky Mountains, including Mount Elbert, at 14,440 feet elevation, the highest peak in the Rockies.
The road is excellent and I would recommend it to anyone with the opportunity to do it.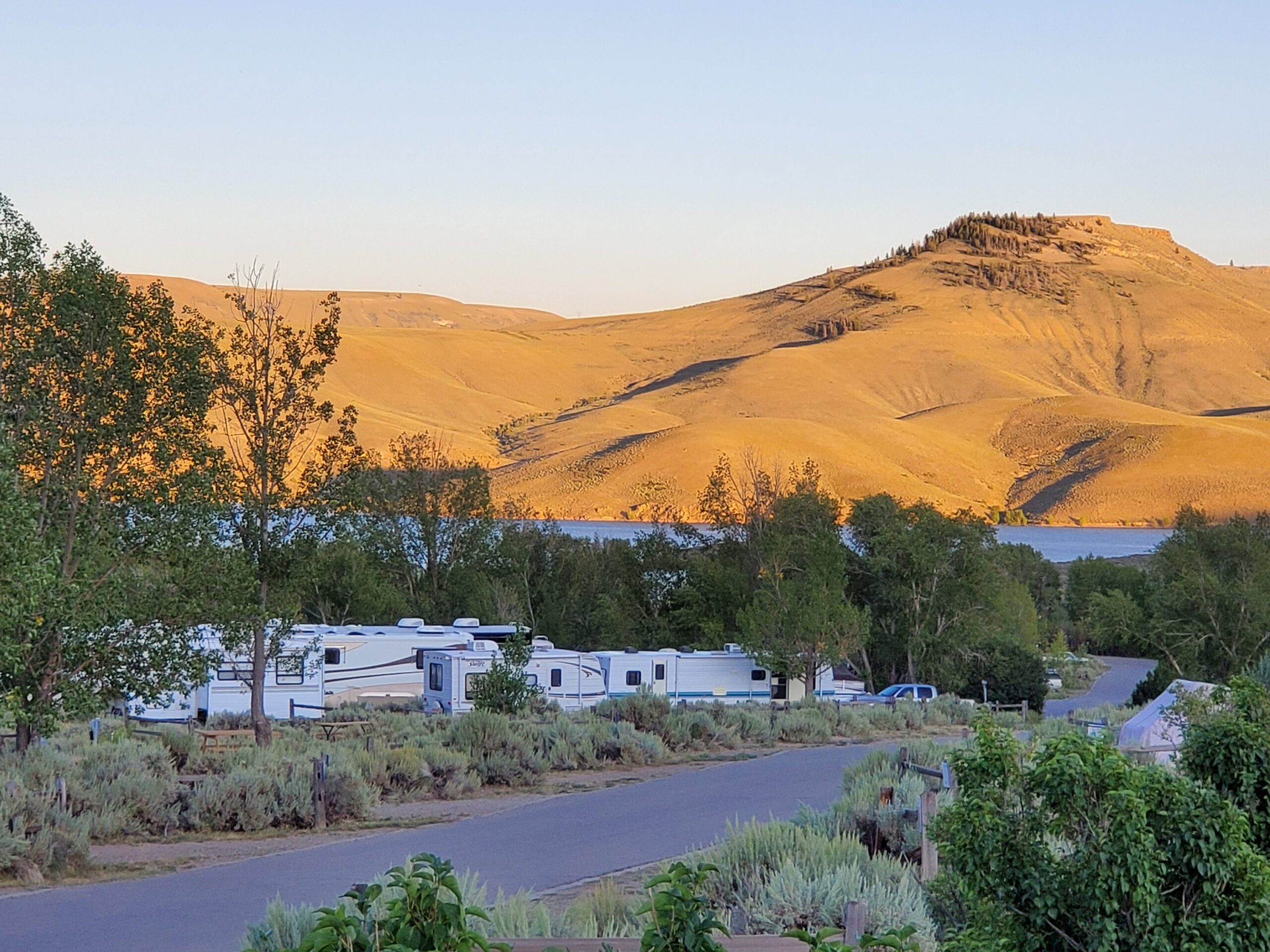 The Blue Mesa Reservoir runs 29 miles from Gunnison to Montrose, CO. The state's largest reservoir, the Blue Mesa is part of the Curecanti National Recreation Area. This is where the waters of the Gunnison River gather before carving through the steep walls of the Black Canyon of the Gunnison.
The Curecanti NRA Visitor Center was just a couple of miles from our site at Blue Mesa Recreational Ranch, which was also where we launched our boat to fish. Kokanee's here too, but smaller than Flaming Gorge. Delicious nonetheless.
At the Visitor Center we learned about the Morrow Point Boat Tour that runs between the Blue Mesa and Morrow Point Dams and into the famous Black Canyon of the Gunnison, giving us the opportunity to learn about geology, wildlife, early inhabitants, the narrow-gauge railroad, dams and reservoirs. It runs daily in the  summer.
It's a gorgeous hike to the boat from the parking area – 232 stairs, then onto the old narrow gauge railroad bed for about a half mile. The hour and a half trip is on a large pontoon boat with a captain and interpretative ranger.  Most places the cliffs are at least a thousand feet high.
It's very hard to imagine the railway that existed there in such a narrow canyon. "When the first Denver and Rio Grande train passed through the upper reaches of the Black Canyon of the Gunnison in August 1882, the passengers gazed with wonder at the steep walls above them, the cascading waterfalls and the towering granite point of Curecanti Needle. As the little train found its way out of the canyon and the passengers set their thoughts toward the open vistas ahead, few could imagine the human and monetary cost of constructing this "Scenic Line of the World" through some of the most rugged country in the West."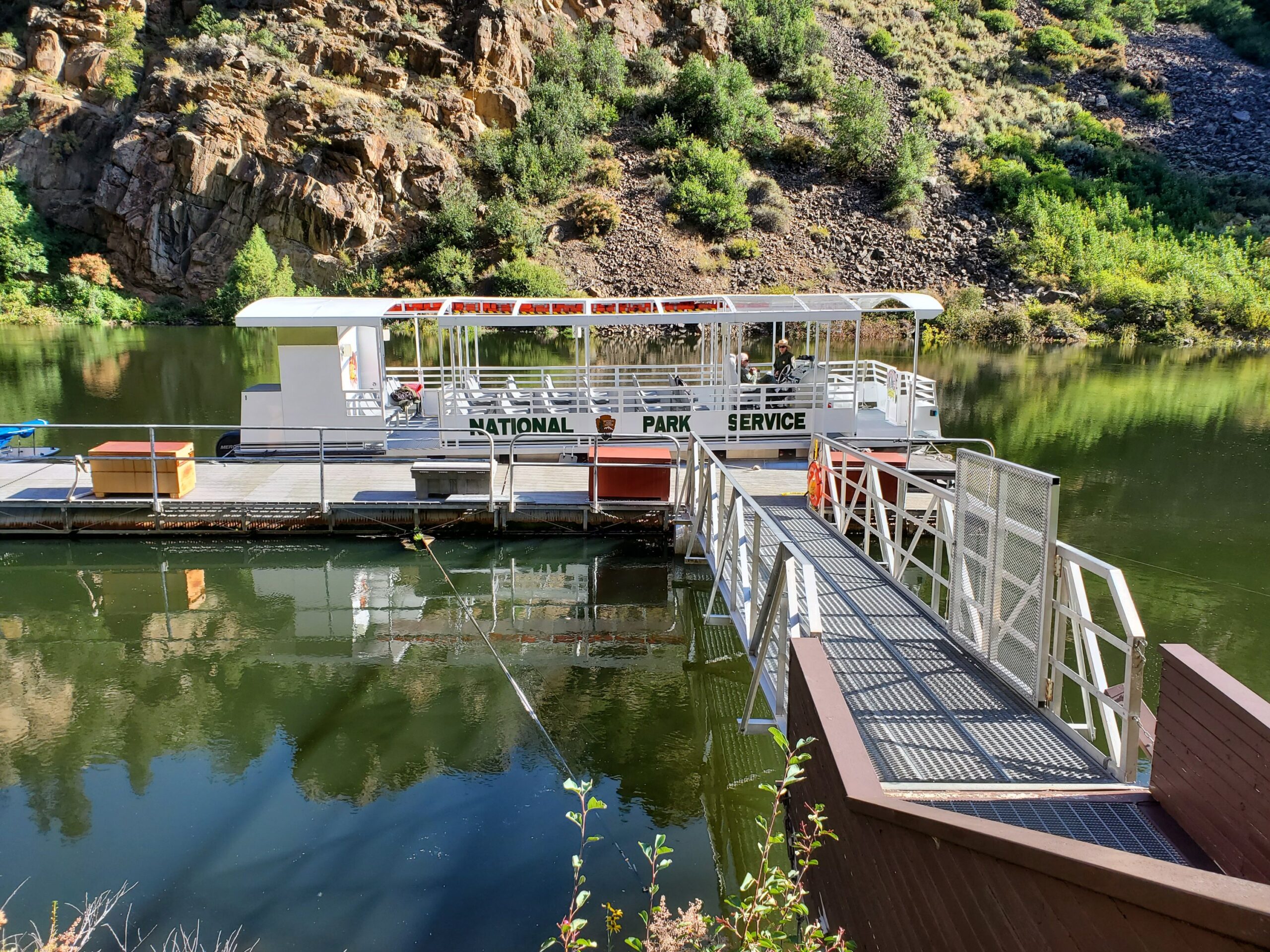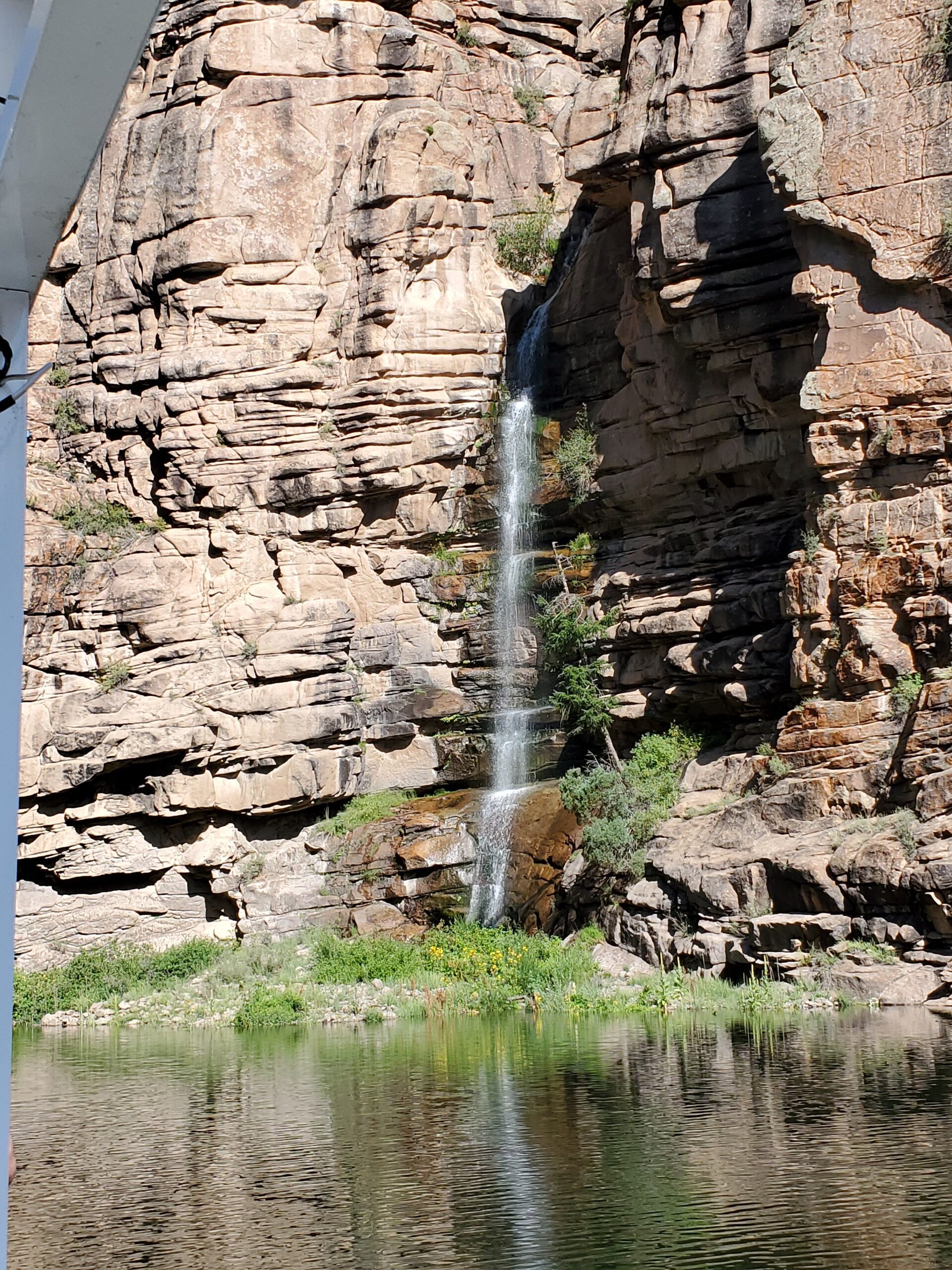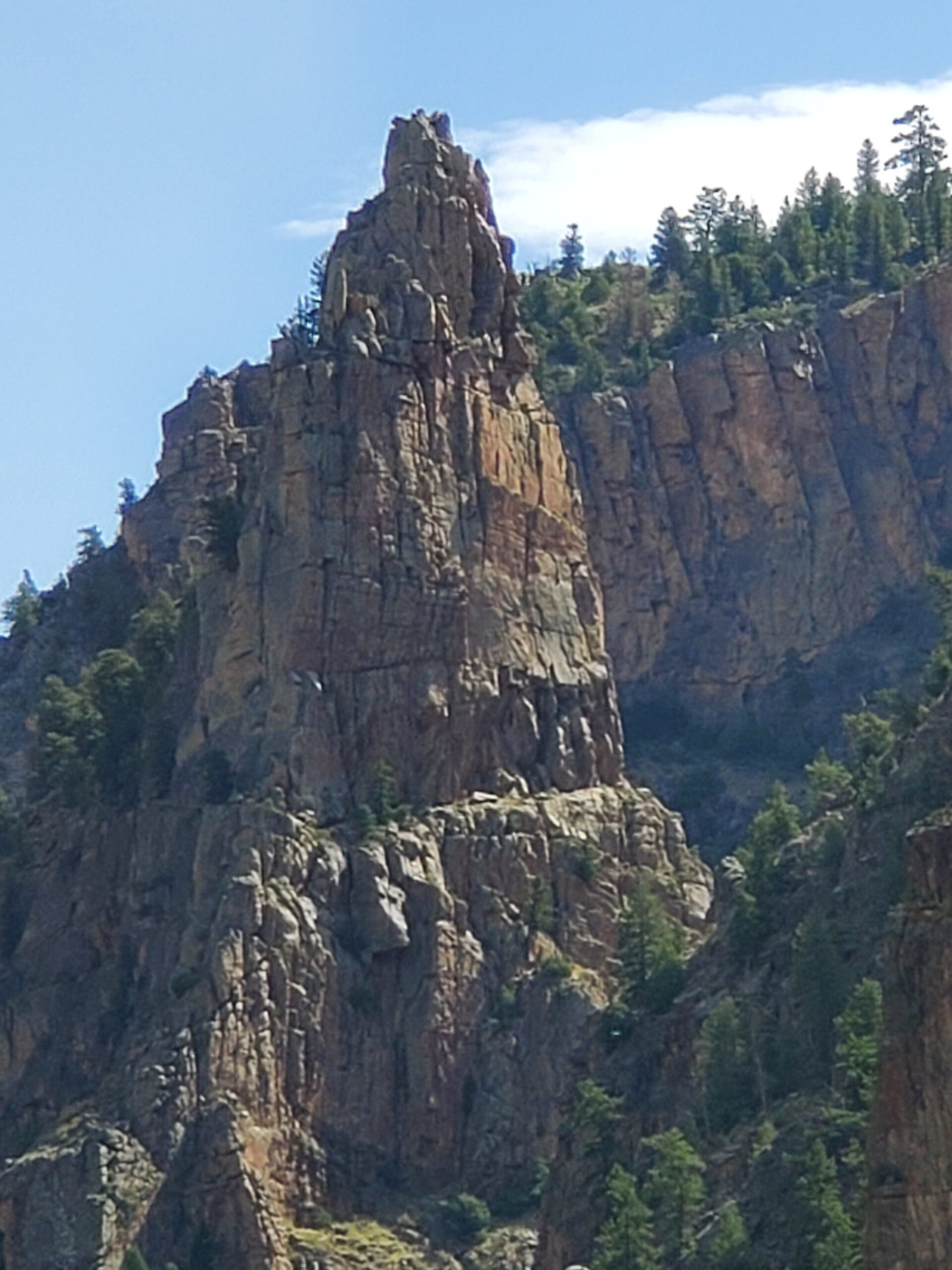 Our boat tour was in the morning, so later in the day we drove on to Black Canyon of the Gunnison National Park. Now we would see the river from the top of the cliffs.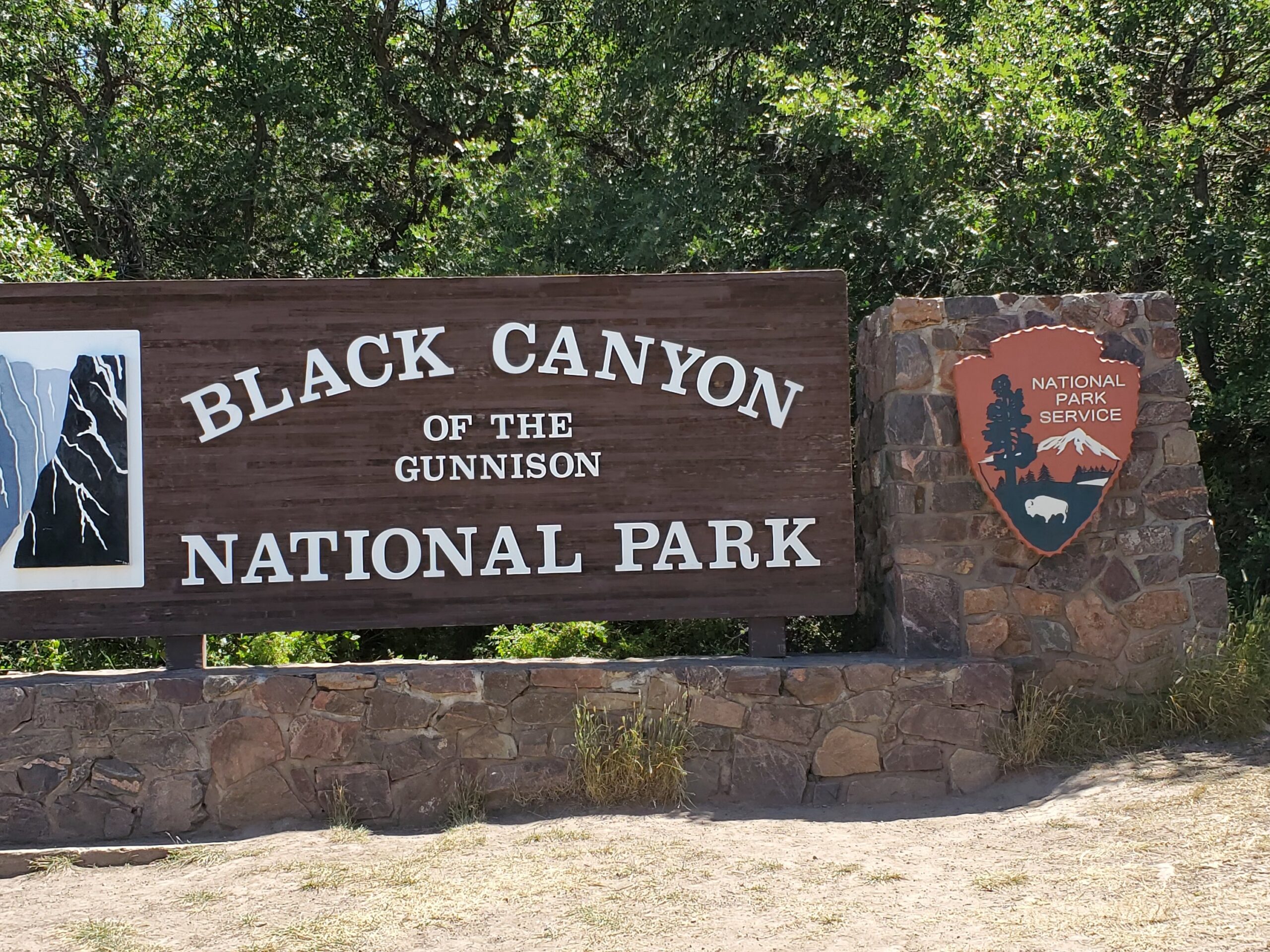 "…no other North American canyon combines the depth, narrowness, sheerness, and somber countenance of the Black Canyon." -Geologist Wallace R. Hansen
The walls of the canyon are 2,000 feet deep, rock walls are only 40 feet apart and plunge directly into the river. Choose your footwear accordingly!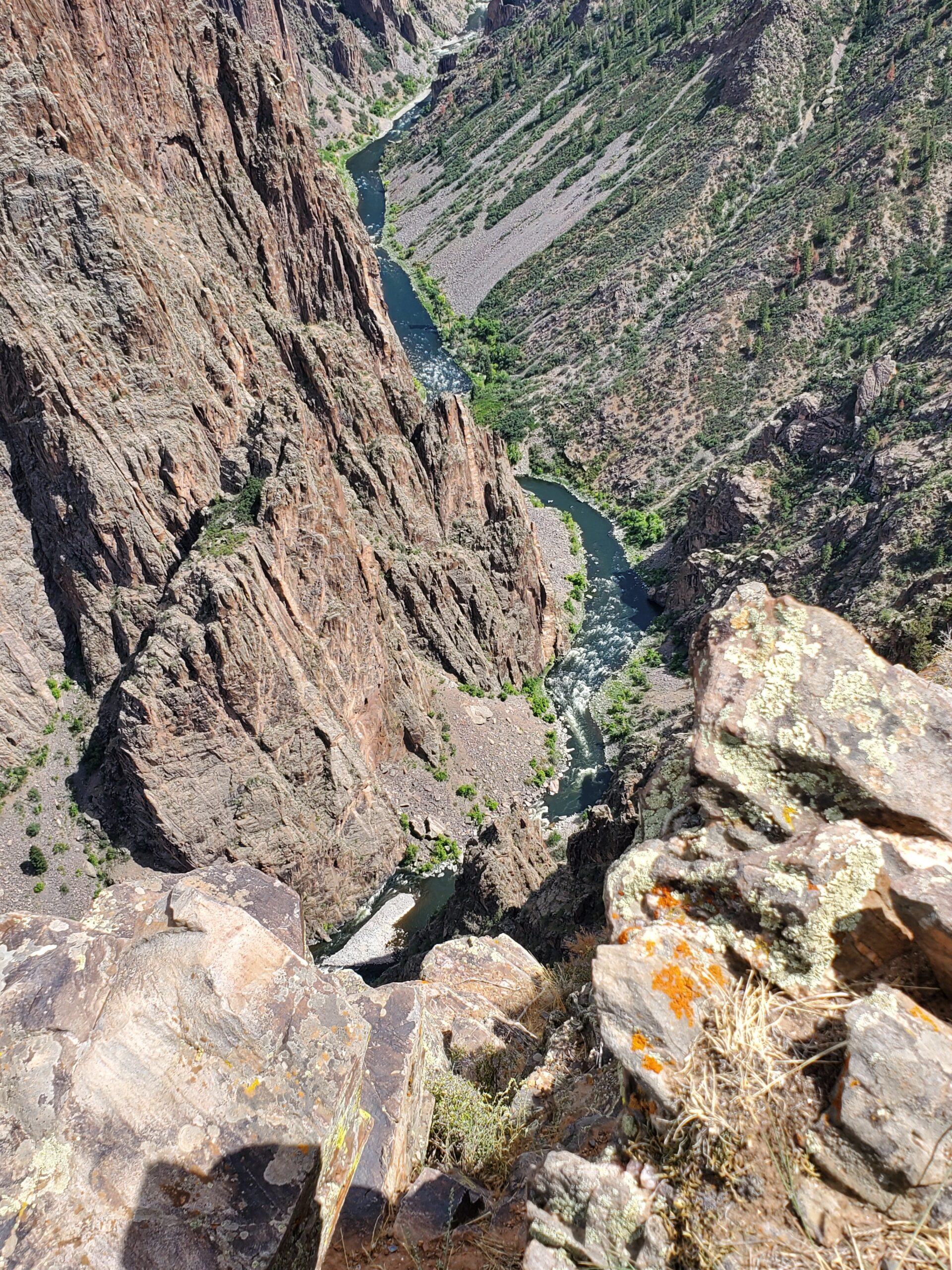 Fishing at Delores and a Visit to Mesa Verde
The Views RV Park  in Delores, Colorado, called to us because of its proximity to McPhee Reservoir (second largest in CO after Blue Mesa), Mesa Verde National Park (a World Heritage Site) and the Canyon of the Ancients.
The Views turned out to be our favorite RV park of the summer. Our huge spot, #10, overlooked a gorgeous valley and the park is located directly across the highway to the entrance to McPhee Reservoir.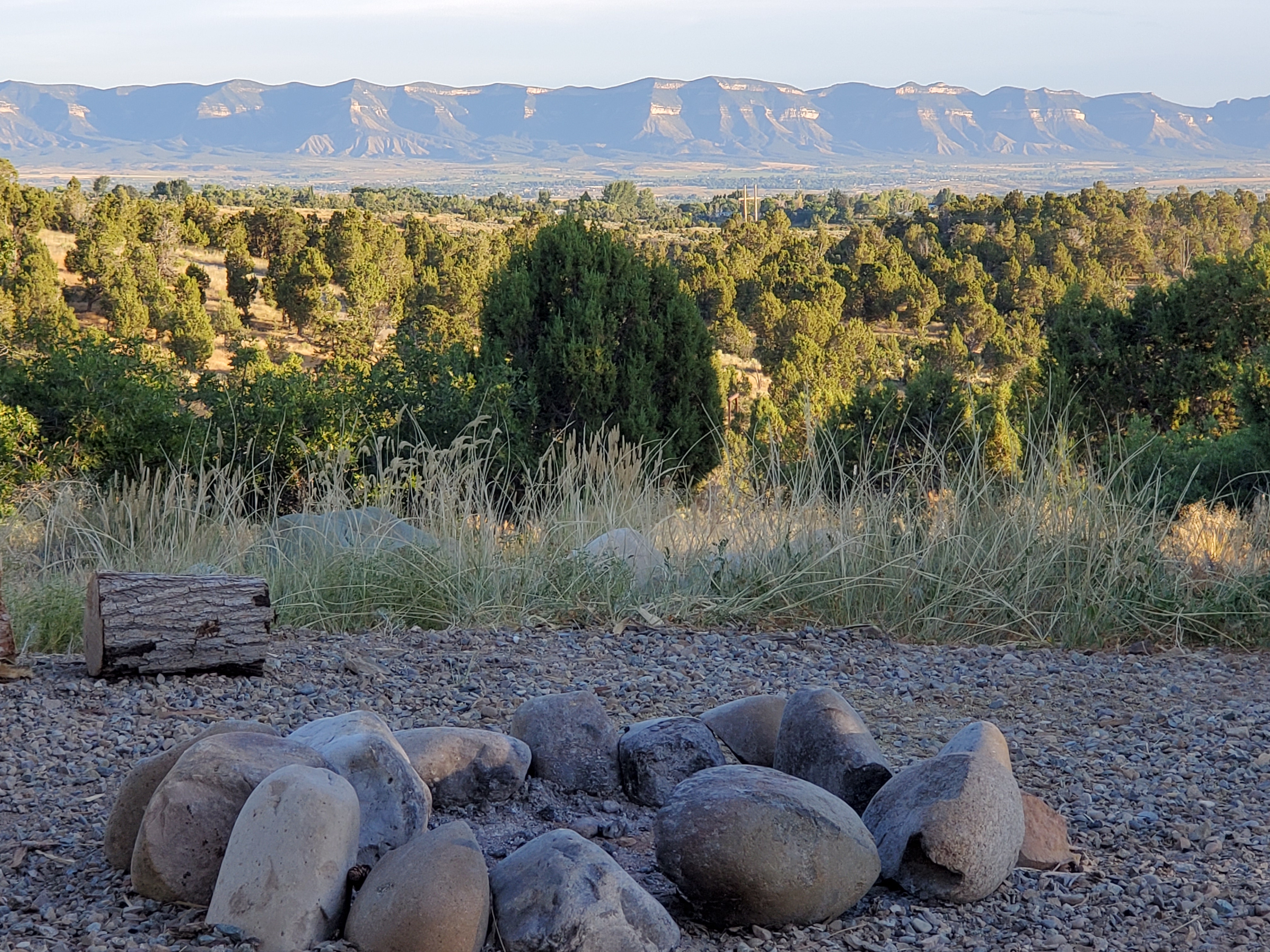 McPhee Reservoir
It's the largest lake in the San Juan National Forest, with a beautiful topography of piñon, juniper, and sagebrush trees. Things to do at the McPhee Recreation Area include boating, fishing, camping, hiking and biking.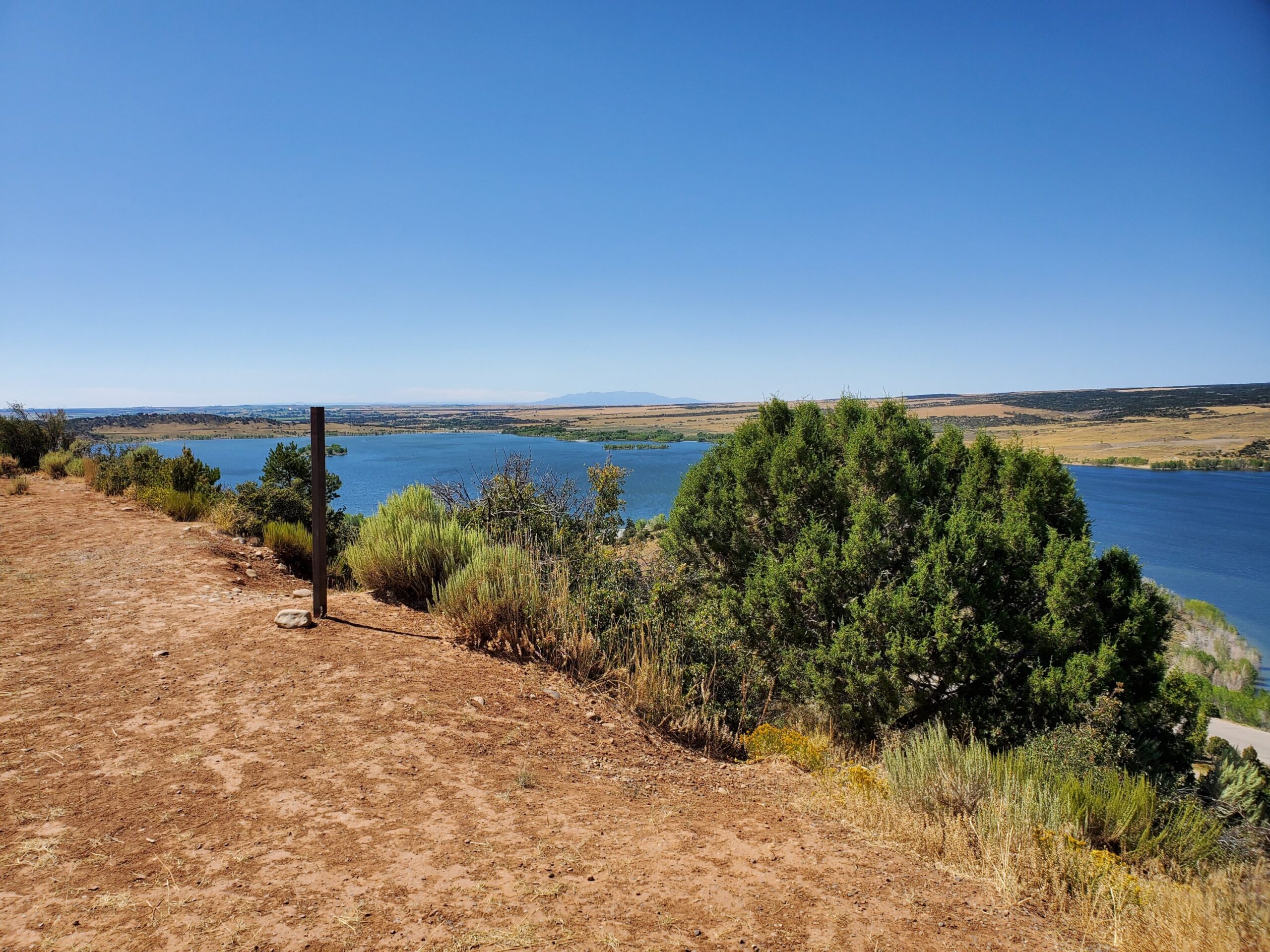 Mesa Verde National Park
Mesa Verde National Park was created in 1906 to preserve the archeological heritage of the Ancestral Pueblo people, both atop the mesas and in the cliff dwellings below. The park includes over 4,500 archeological sites; only 600 are cliff dwellings. We visited the Mesa Verde Visitor and Research Center, the Chapin Mesa Archeological Museum and drove the Mesa Top Loop Road.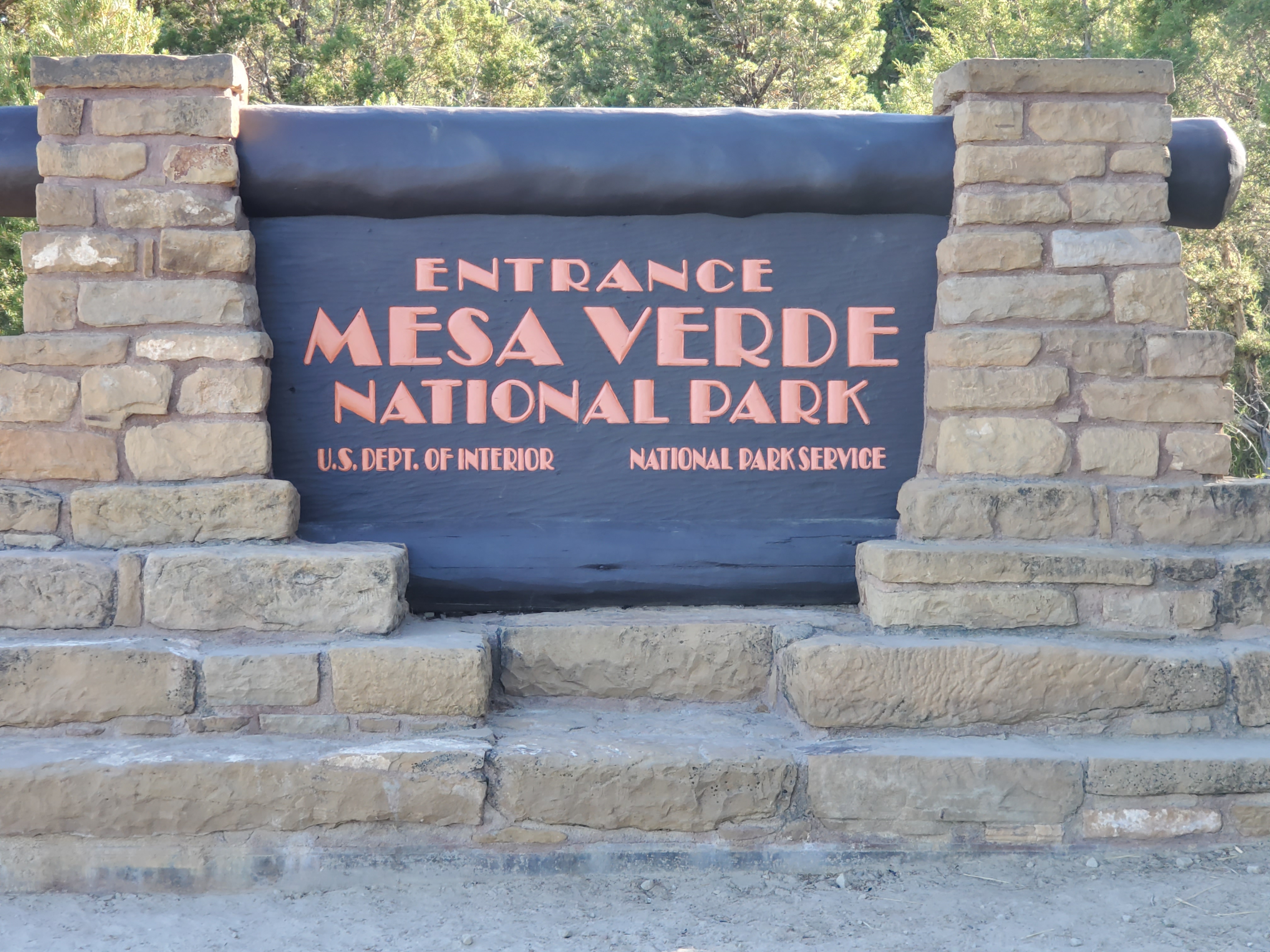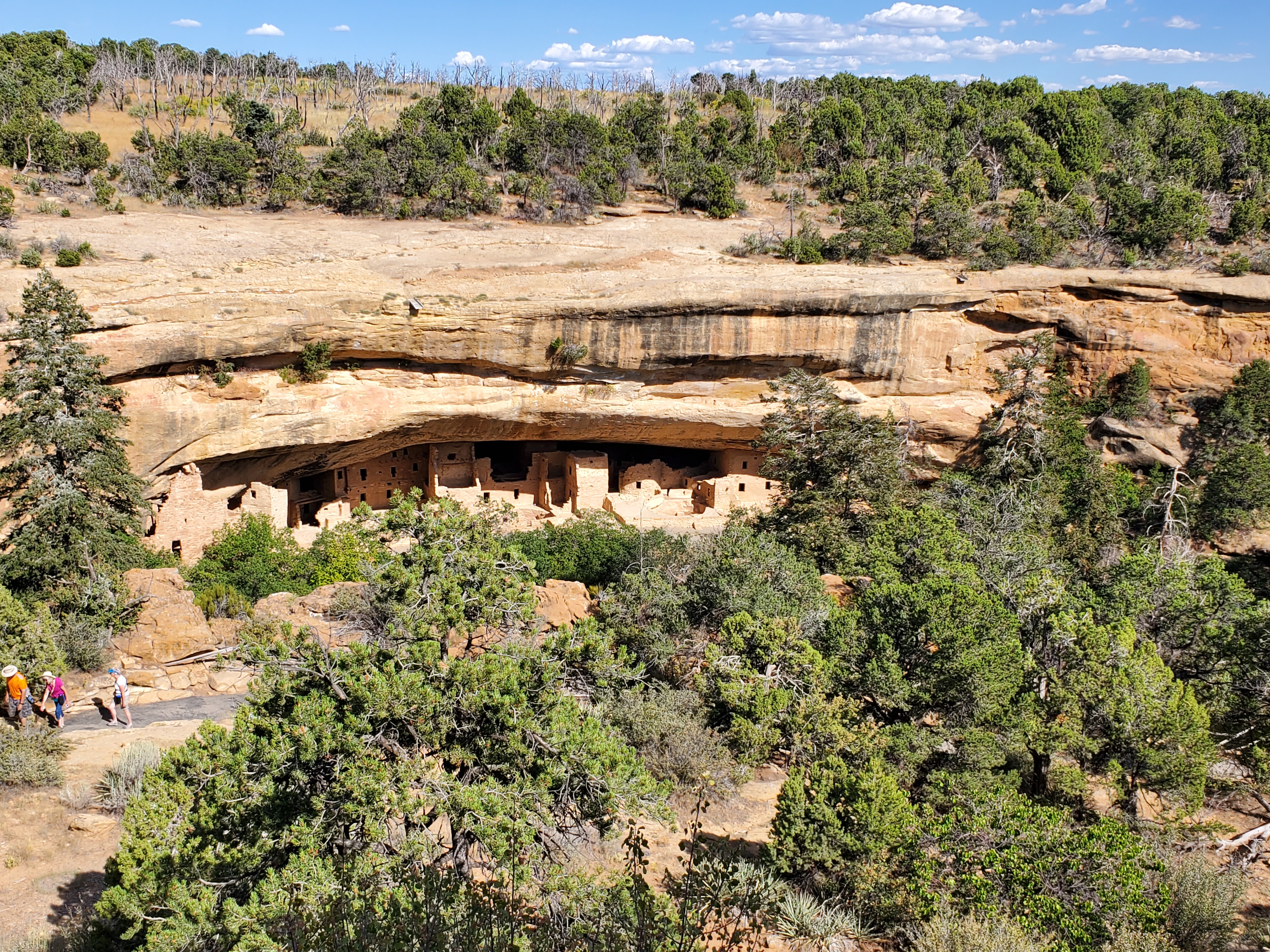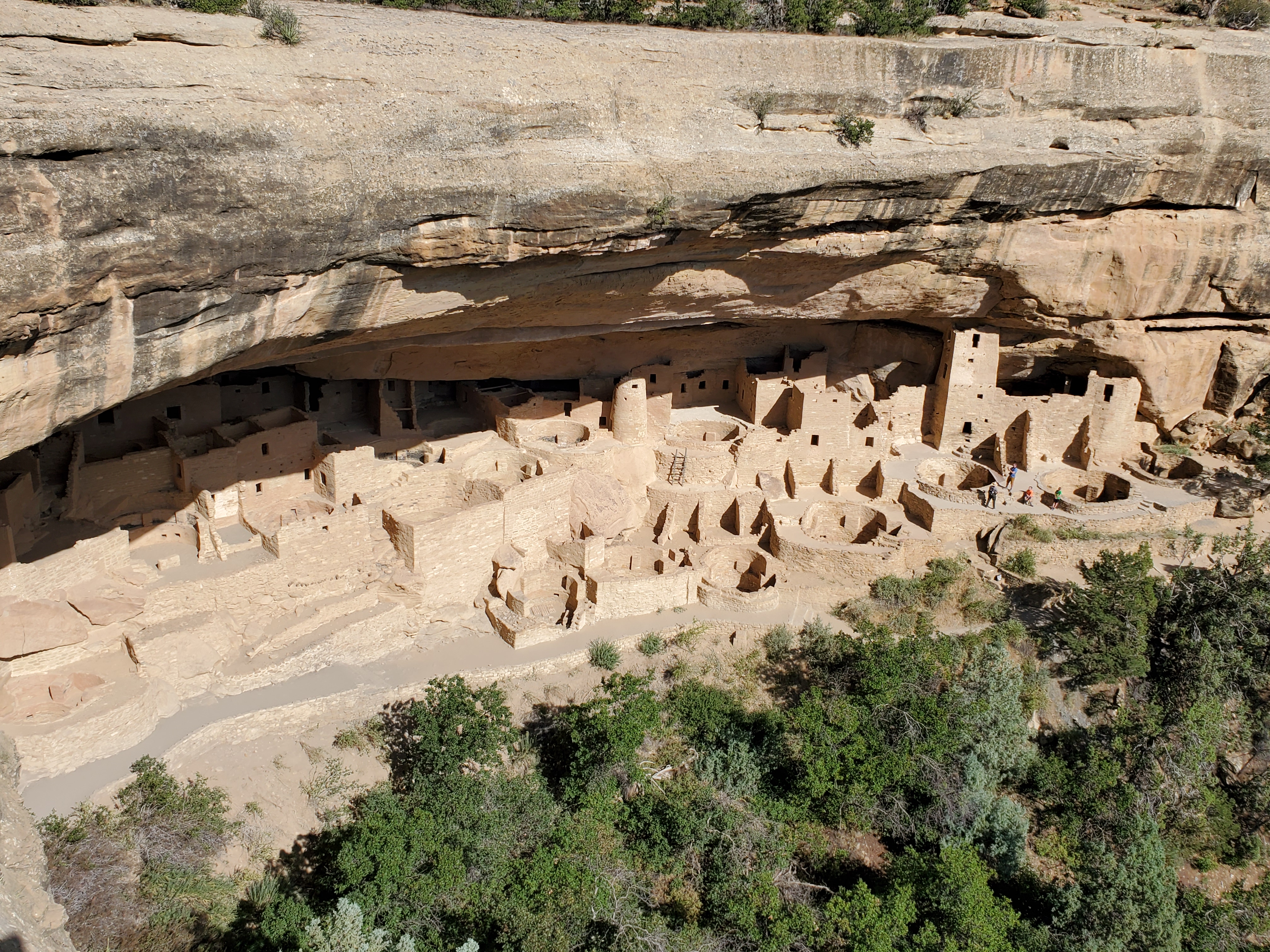 In 1978, Mesa Verde National Park was named a UNESCO World Heritage Site in recognition of its exceptional archaeological relevance – including its spectacular cliff dwellings tucked into the sandstone alcoves of its steep-walled canyons.
Canyon of the Ancients
Our morning at Canyon of the Ancients was an eye-opener. This National Monument encompasses more than 170,000 acres of high desert and protects a rich landscape of cultural and natural resources. Thousands of archaeological sites have been recorded in the monument, and thousands more await documentation and study.
Lowry Pueblo is the only developed recreation site within the monument. It has stabilized standing walls, 40 rooms, eight kivas and a Great Kiva.
Humans have been part of this landscape for more than 12,000 years. Changes in cultural life over time ranged from hunting and gathering to farming. In the beginning (about 750 A.D.), farmers, Ancestral Puebloans, built year-round villages, clustered pit houses. Over time, these ancestors build larger masonry homes with connecting walls above ground. In time, factors such as population growth, soil exhaustion and changing weather compromised the area's natural resources. By about A.D. 1300, these ancestors migrated to New Mexico's Rio Grande Valley or farther west to where the Acoma, Laguna, Zuni and Hopi people live today.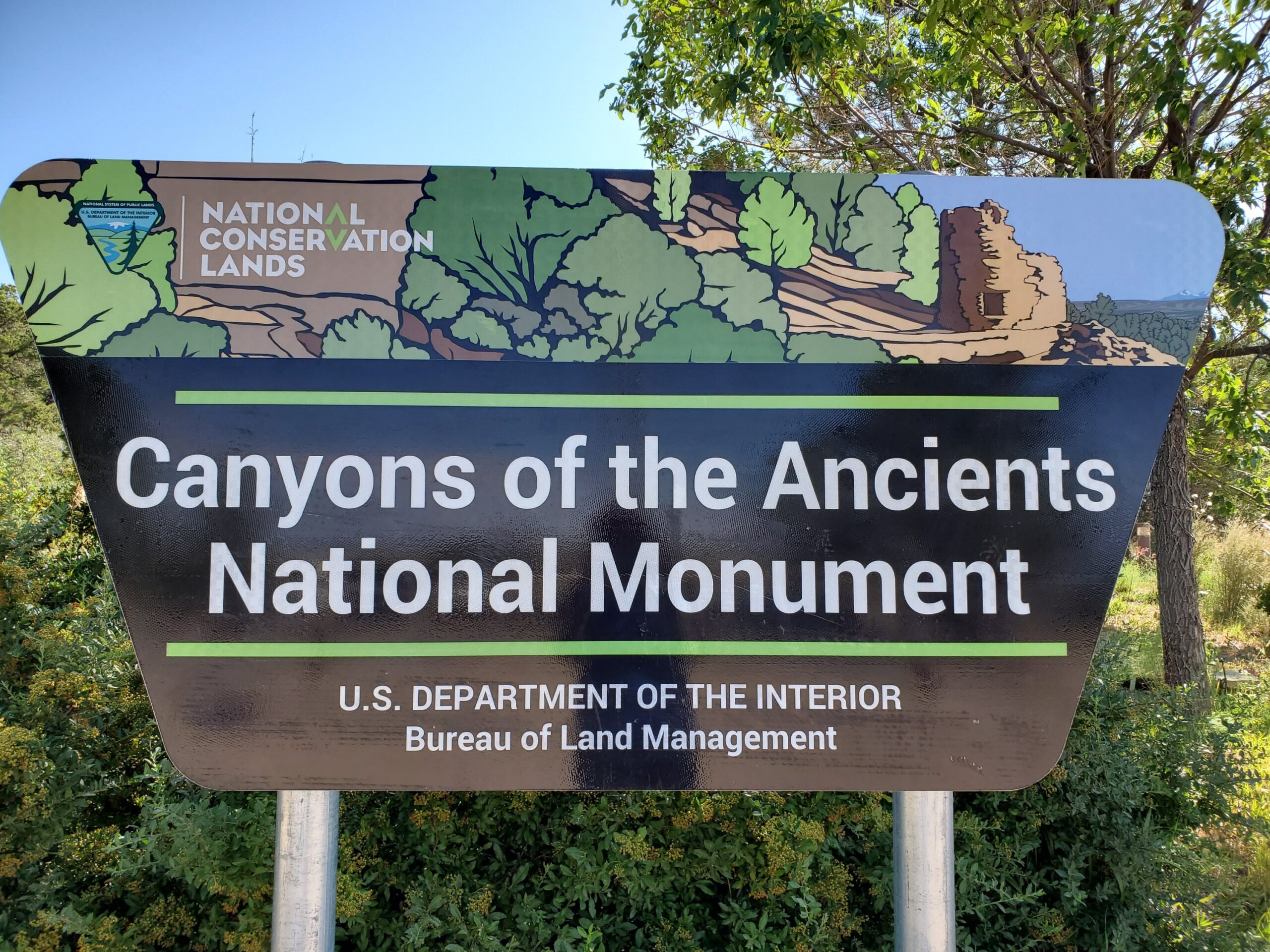 During our summer travels, we go out of our way to see and enjoy our national resources: parks, monuments, forests, wildlife refuges and BLM land. This year, though, we are grateful to find ourselves more committed than ever to the preservation and defense of these treasured places.
"We have fallen heirs to the most glorious heritage a people ever received, and each one must do his part if we wish to show that the nation is worthy of its good fortune." – Theodore Roosevelt
Last stop: Prescott, AZ
We're biding our time in Prescott while it cools down on the "West Coast of AZ." We need to be back in Lake Havasu City mid-September, which is still a little too hot for our liking, so we decided to spend our last two weeks in Arizona, but at a higher altitude.
So here's an admission, a possible reality of full-time RV living and traveling: Enough of a good thing is sometimes enough. We've had a fantastic summer season, but we're both looking forward to getting back to what has become "home" and a regular routine. This stop brings us within an easy day's ride of that goal.
I chose Willow Lake RV Park because of it's location – the heart of the Granite Dells of Prescott. As we drove in, I was thinking it was a good decision, and sure enough, there are numerous trails right from the camp that lead to the Willow Lake Loop Trail (about six miles in length).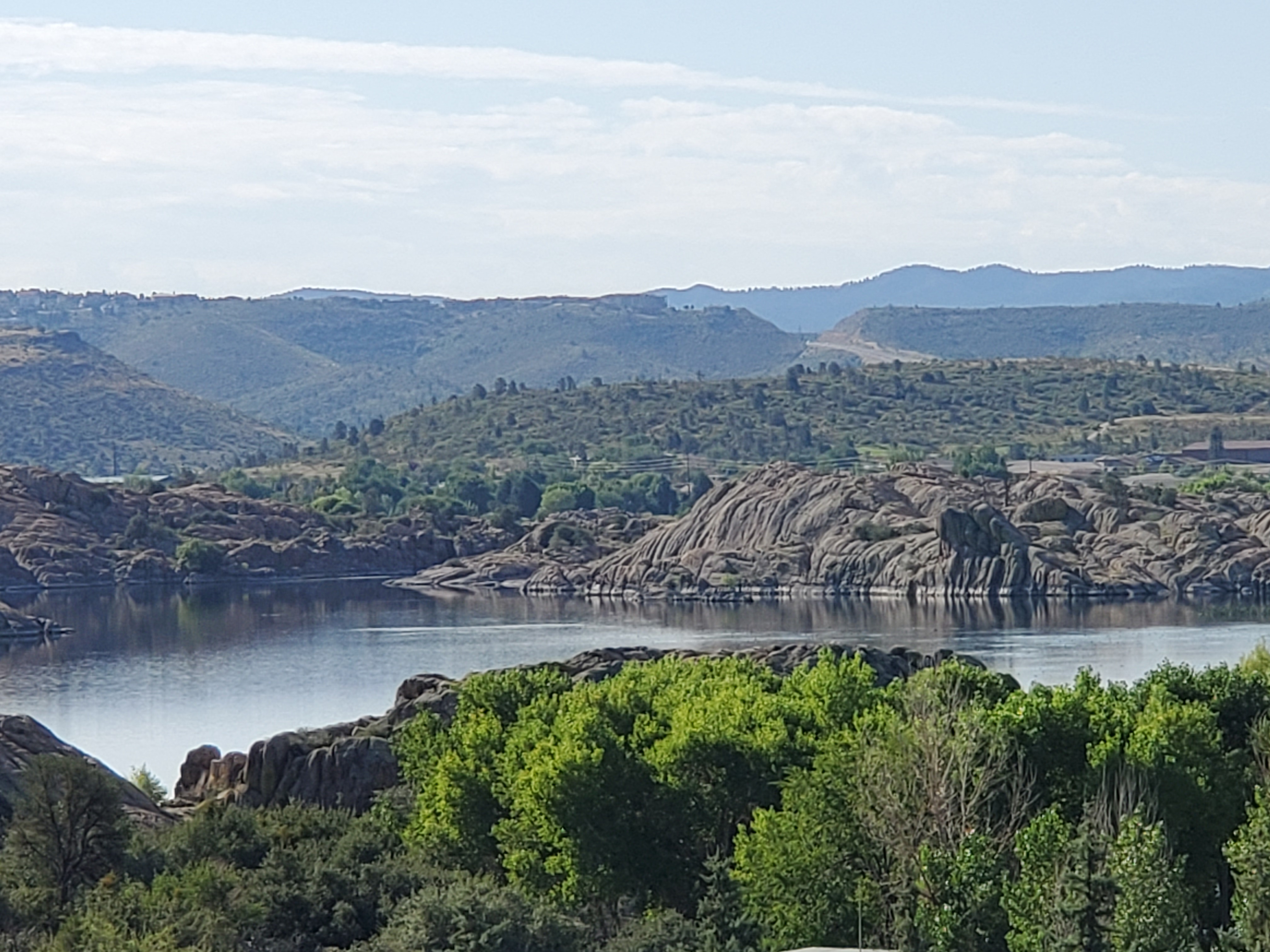 One day I was walking and some pink and purple flowers caught my attention off the path. There were plenty of yellow flowers in bloom, but nothing like this. Investigating, I saw they were artificial flowers indicating a grave. As I continued on, contemplating my find, a metal reflection caught my eye and I left the path again to investigate. Aha! It was an informal pet cemetery. What a lovely idea in such a peaceful place. Later, I looked on-line to see if I could learn more about it, but no luck. A hidden treasure.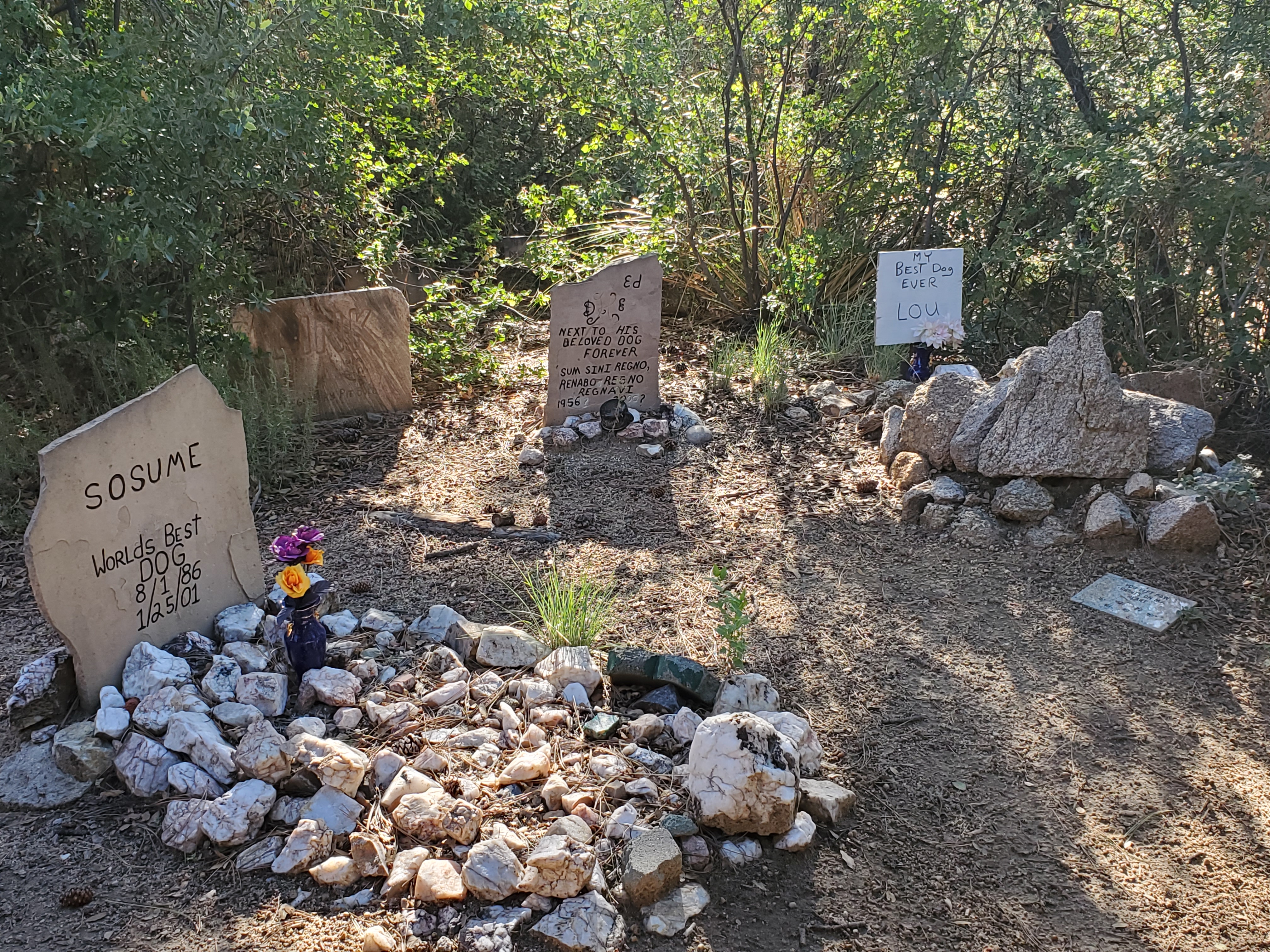 I did learn though that Prescott's Mile-High Trail System contains approximately 100 miles of trails including Rails-to-Trails projects along the former Santa Fe Railroad, the Prescott Circle Trail System, the Greenways Trails System and the Dells trails around Watson and Willow Lakes. In our many trips to Prescott over the years, I had no idea of the recreational opportunities.
Mainly, in the past, our opportunities have been limited to shopping since Prescott has my favorites when it comes to groceries: Costco, Trader Joe's, Sprouts (none of which are present at or near Lake Havasu City).
Another fabulous summer into our memories. Havasu Springs, here we come!