We needed to be back in the area in mid-September for a number of reasons. Due to restrictions in our Colorado River Adventures (CRA) membership, we can only stay six months at our favorite resort, Havasu Springs. We booked a month's stay at CRA's Lake Havasu location.
This "resort" is a place to park your RV with full hookups and, really, little else. It's quite a large park, with parking facilities on both sides of London Bridge Road, though the east side is currently closed. It will get crowded this time next month and they will offer winter activities, but right now it's a ghost town. No matter to us. It was a great location for all we need to do in the next month.
A new venture
Last summer, D.A. decided to start business as a fishing guide from our "home" at Havasu Springs. "Havasu Net Em" was born. D.A. has been fishing his whole life, and was once a  professional fisherman. He even traveled the world for Orvis for a while, catching fish for their videos. D.A. loves to fish and he also loves to share his knowledge. A match made in heaven.
While preparing for the AZ Game & Fish Guide Test, he learned the Coast Guard has jurisdiction for Lake Havasu too. This meant he would have to take and pass the Coast Guard Captain's Test! This news changed our plans dramatically. A lot of studying has been taking place since. The test is on October 9th.
At the beginning of September, Joey, the Wildlife Refuge Specialist at Bill Williams River National Wildlife Refuge, started weekly nature tours at the "Bill Will." He hoped this activity would eventually be taken over by our Friends Group. Then it turned out he was going to be away on the 26th, so he asked me to conduct the tour.
Great opportunity! I asked one other Board member, Sue, to join me since she, too, is interested in leading tours, and then I asked D.A. to join us for his "birding" skills.
I don't know if I mentioned this before, but D.A. is also an excellent photographer. He knows the birds and waterfowl on our end of the lake, and could add much to our tour.
Are you kidding? Is it really going to rain in September in Arizona??
On the day of our tour, it rained and no one showed up for the tour!! We hatched a new plan within a few minutes, because the sun came out and our boat was already moored practically next door at Havasu Springs… "Let's go fishin'!"
We were on the water only a few minutes when we had our first "Striper." It was nice size but we let it go… later we regretted that decision. We caught a couple of smaller Stripers, and then found ourselves in Smallmouthland. Look at this beauty –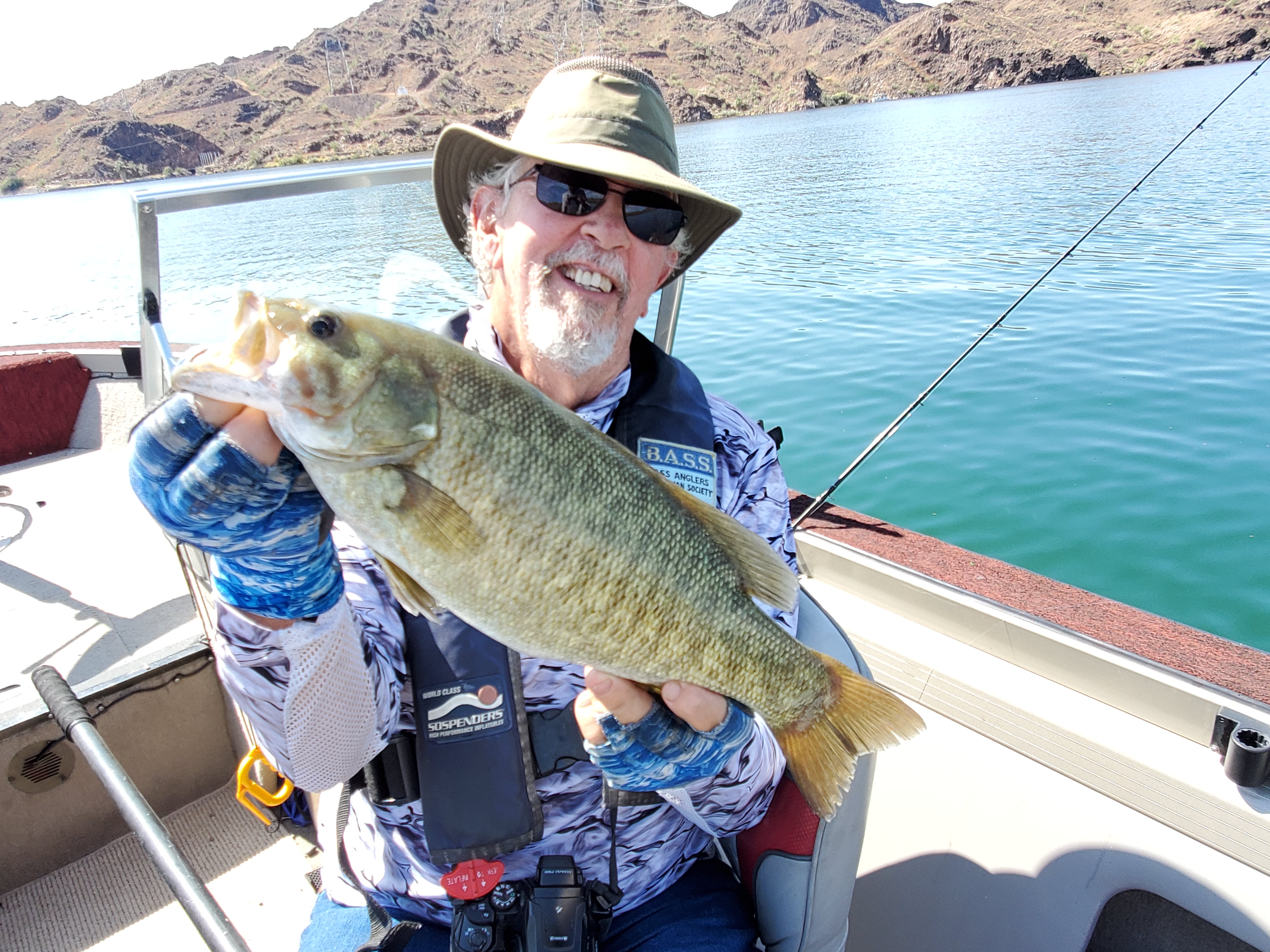 We kept this one and another a little smaller.
The clouds in the mountains above Bill Williams River were growing dark and we could hear thunder, so we started back. I took this picture to show the relationship of the communities on this end of the lake.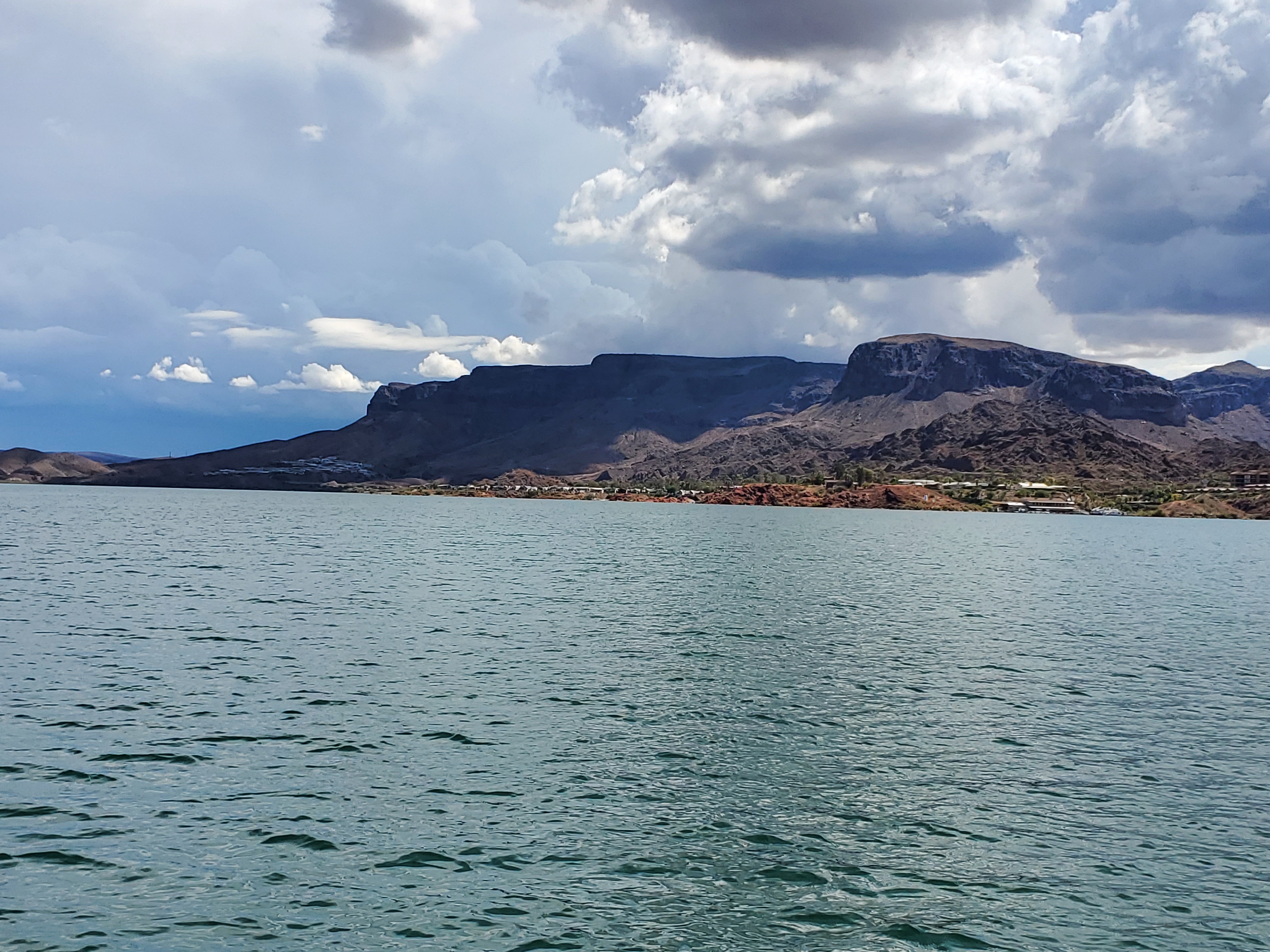 On the right is the Havasu Springs Resort. On the left, going up the hill, is the Hillcrest Bay Community. In the middle is the Bill Williams River NWR. The bridge on Highway 95 and the actual river are to the left of Hillcrest.