Jude and I headed west towards the Colorado Front range.  It was great to see the trees again after spending more than a week on the Colorado Plains.  My mind skipped to the French Trappers who after leaving the East Coast of the Americas and encountering the vastness, utter openness of the Great Plains were very happy when they beheld the Rockies and their trees.  That is why most states north of New Mexico have towns named Du Bois or more specifically "the Trees."
We had reservations at a Coast to Coast Resort just a little north of Colorado Springs.  When we were close, I noticed the elevation at 7000 feet.  That meant we climbed steadily off the plains with an elevation of 3700 feet.
I noticed the RV's engine as it was working a little harder climbing up the hills to Monument Colorado.  Our camping site was on the side of a treed knoll but it was not far from the constant rumbling of I-25.  I could hear other engines working hard to reach the crests and peaks of the I-25 corridor.
Colorado Springs is green.  It is a welcome treat for the eye from the endless brown of eastern Arizona, New Mexico and southern Colorado.  Jude and I could not help to just jump in the HHR Toad and take a short drive through lush green pastures settled among rolling foothills at the sunset on Highway 105.  It was a pleasant drive counting the various shades of green as they progressed up the sharp inclines of the Rocky Mountains!
The next day was cool and windy.  Again, I have never seen such a constant weather factor.  Since we entered Colorado, the wind was beyond breezy, bordering on gale force some days.  I remembered the carriage of tents in Lake Hasty campground when the winds struck with a vengeance one night.
Undeterred, we made plans to visit the Air Force Academy.  We could see the gleaming structures nestled up again the mountains but as we entered the entrance gate, the sparkle of the buildings was augmented by our closeness.  Our eyes could not escape the draw of the spired Chapel.
We arrived at the Visitor's center where we explored all the niches and corners with all their information panels and displays.  At the movie outlining the progression of cadets, I thought they kind of played down the six-week break down period.  I remember my long ago entry into Officer's Candidate School. I'm still not sure how the U.S. Military still gets away with that elevation of hazing while it is taboo in joining most any other organization.
After the visitor's center, it was a short walk to the Cadets Chapel. Jude and I were not prepared for the total majesty with this part of the Air Force Academy.  As with others who were in the chapel, our eyes were drawn upward to the lighting effects present at the top of the chapel. Once there, then our eyes followed the side panels downward to the chapel floor.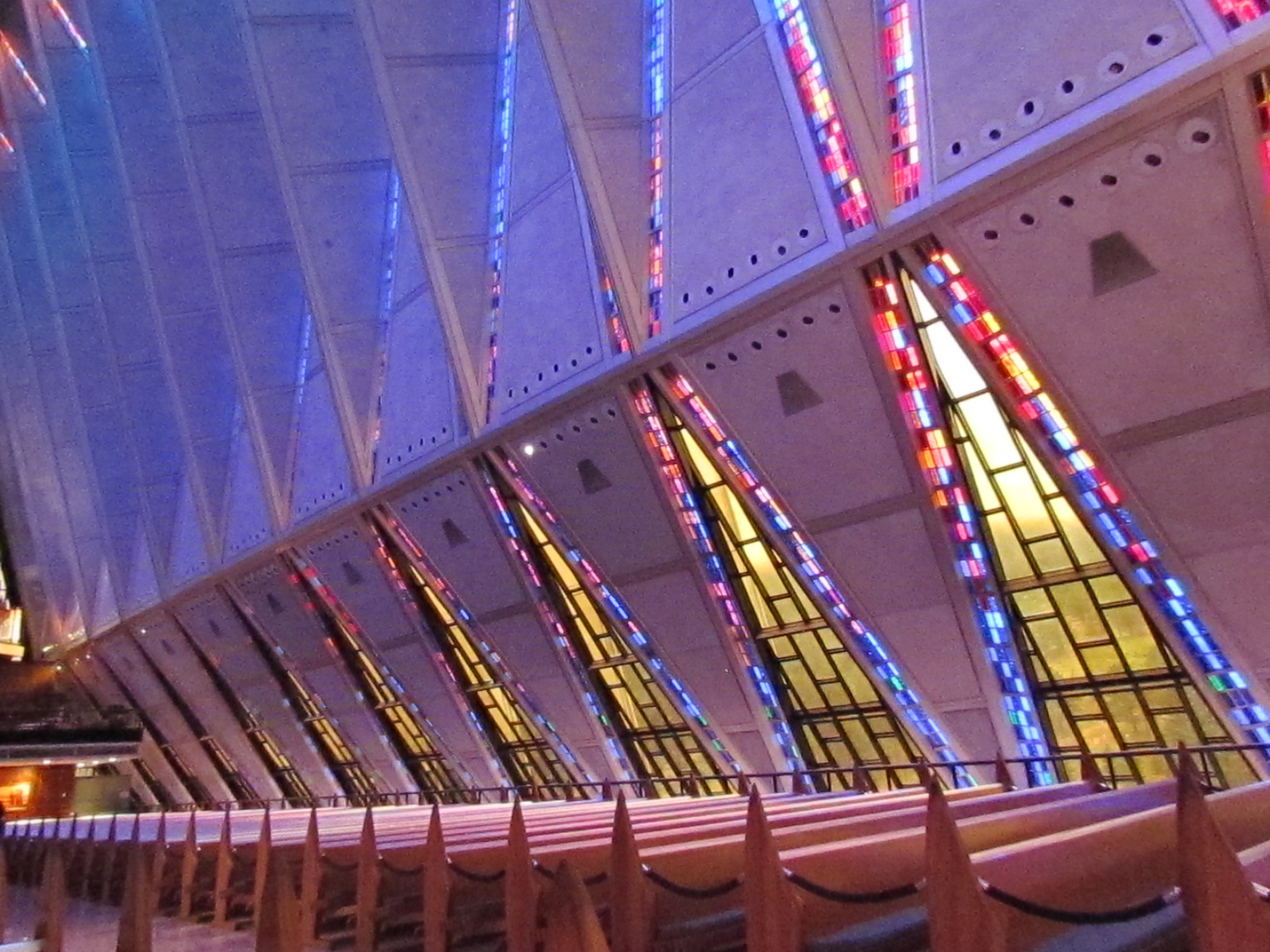 All around was this royal blue hue that gave the chapel an elegance that I have never experienced from any other chapel, church or any other place of worship I have visited.  It was definitely the highlight of our visit to the Air Force Academy campus.
Within the next week, we mustered several driving adventures. One was to the top of Pike's Peak.  It is the highest point of earth I have attained, a whopping 14,000+ elevation.  We did not experience any shortness of breath, so we wondered around looking in the distance in every direction.  It was hard to judge just how far in actual miles you could see as the distance was so far away it was just a vague outline of purple especially to the north, west and south. I could see now what inspired Katharine Lee Bates to pen the Classic American song, "America the Beautiful" after visiting Pike's Peak and especially the part about "purple mountain majesties."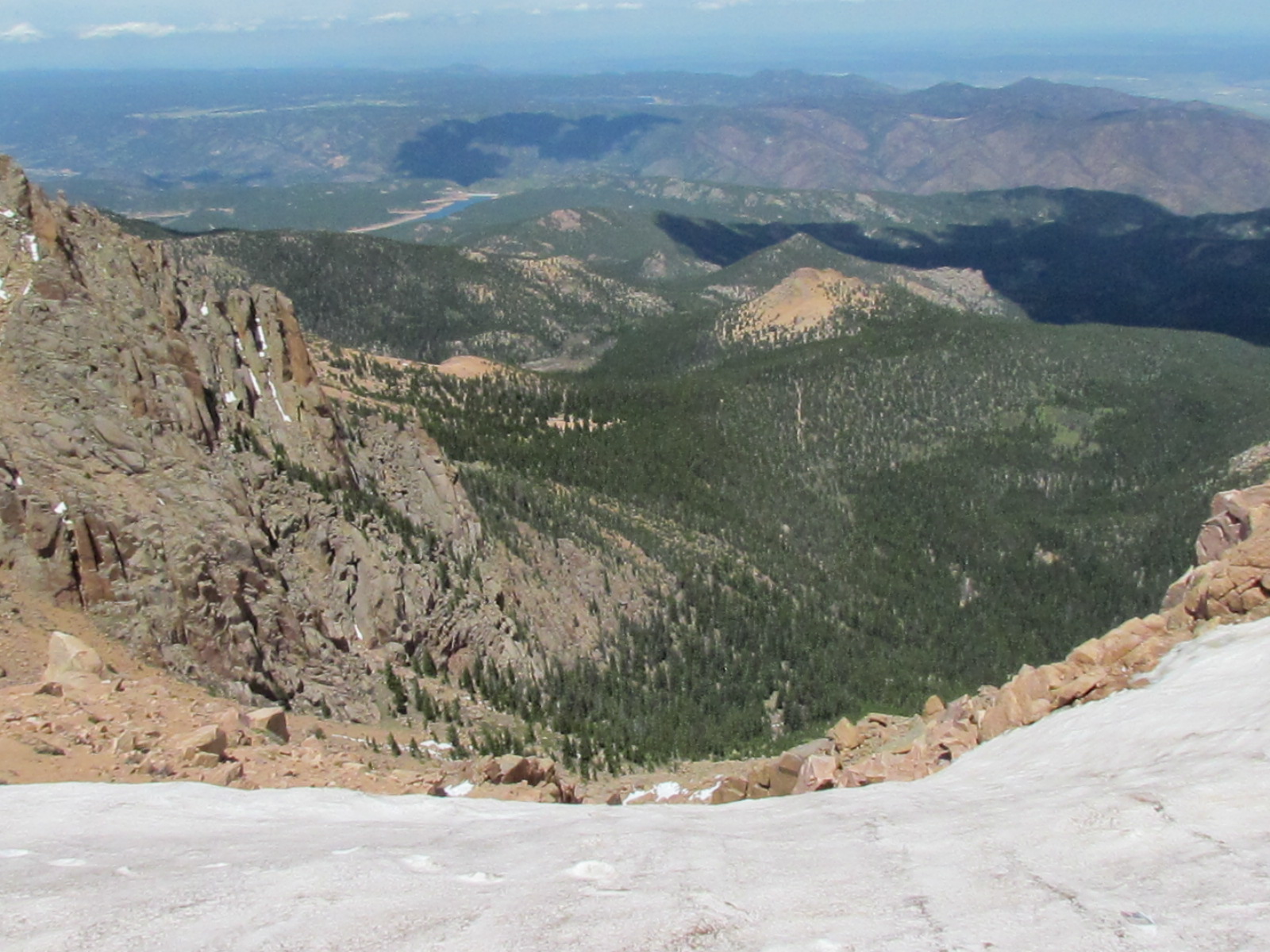 On another drive, we traveled up Highway 24 and explored three other Colorado State Parks.  Jude and I have started to develop an affinity for State Parks.  They have great services, are in beautiful locations, have friendly staff and great supporting communities. Today we were visiting Eleven Mile Reservoir, Spiny Mountain and Mueller to check out possibilities of a future stay.
We liked Eleven Mile Reservoir as it was on a high plateau, offered trophy fishing for trout, and its remoteness.  Camping there would be like a grand safari as the nearest grocery store was close to 20 miles away and was more like a garage, beer, liquor and convenience store and would certainly not have the items a regular grocery store would carry. But what an adventure with plenty to see, fish and explore.  We would just have to herd our Mirada up the steep grades of a Rocky Mountain pass, not impossible, just slow.
We also stopped at the last gold rush in the lower United States.  It was at Cripple Creek and its wealth attracted thousands of men who developed the phrase, "Pike's Peak or Bust."  It was a story of every gold discovery, men who made fortunes, men who lost fortunes and those individuals who did not do either but came anyway!
There was also the Florescent National Fossil Bed Monument.  We got there late in the day and only had just a few minutes to view the exhibits of fossilized insects, red wood tree stumps and plant leaves, along with dinosaur's bones.  This is one of the most prolific fossil beds ever found in America and the local citizens pushed to have it preserved from commercialization. Perhaps another time, we could wonder the trails to see more of the monument.
On our way home, we started to notice our next experience in Colorado.  There was a huge smoke plume on the horizon.  As we dropped down to Colorado Springs, this smoke plume was gigantic, and it actually was very close to our camping site in Monument.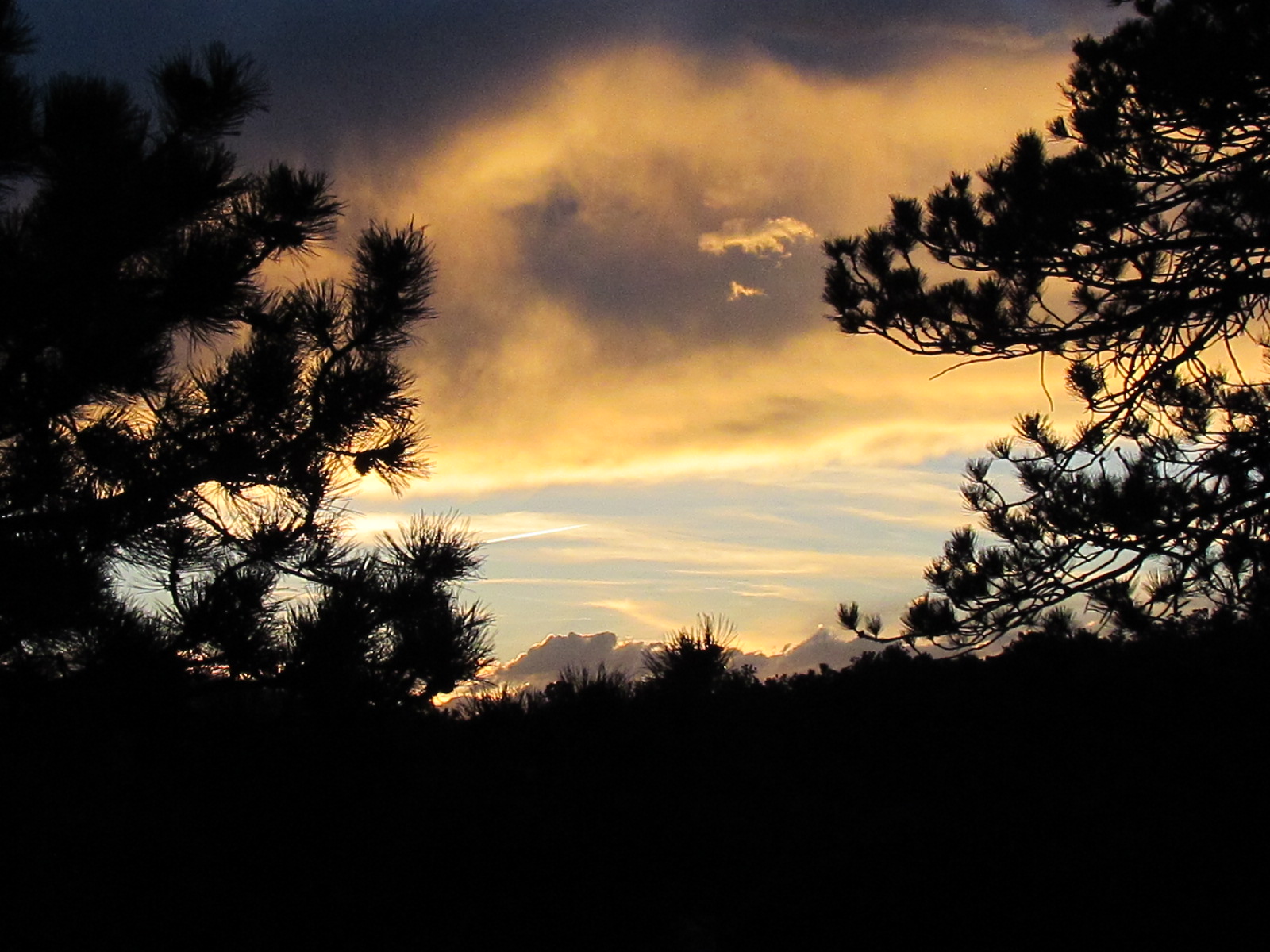 The Black Forest fire is located mere miles from our location.  Its power was fueled by the dry bug tree infected pine forest fanned by 20 to 40 mile winds that was devouring residence after residence in this Colorado Springs wooded suburb.
You could actually see the puffs of black smoke on the horizon.  These were a dead give-away of some person's home exploding.  This fire was a monster and headed our way.  We were glued to the TV and learned of the hurried evacuations by thousands of people (38K), the fear on the unpredictability of the fire, the contributions of high wind and low humidity and the army of firefighters ascending on it.  We went to a fitful sleep as helicopters and tankers continued their drops at night over the campground.  We were hoping not to hear that the campground was ordered to evacuate in the middle of the night!
The next morning we learned that the RV camp site was just on the outside edge of pre-evacuation.  Jude and I weighed our options.  We were scheduled not to leave it for three days, but the concern of possible evacuation and the increasing air quality made our decision for us!
We left Colorado Springs and headed north!  We had reservations at a State Park called St. Vrain but not for three more days. But because we were displaced by the fire, they opened up a camp host site until our reservations matured!
We continued to follow the Black Forest Fire near Colorado Springs.  It burned 14,000 acres and destroyed nearly 500 homes before fire fighters could defend a fire line.  It was a heartbreak thinking of those home owners who lost everything.  Jude and I are grateful that all we had to do was pack up a few belongings and move our home out of harm's way!
St. Vrain State Park is a series of ponds.  They hold the usual suspects of Canada Geese, White Pelicans, Cormorants, Red Wing Blackbirds, Killdeers and assorted ducks but they also had several nesting Ospreys.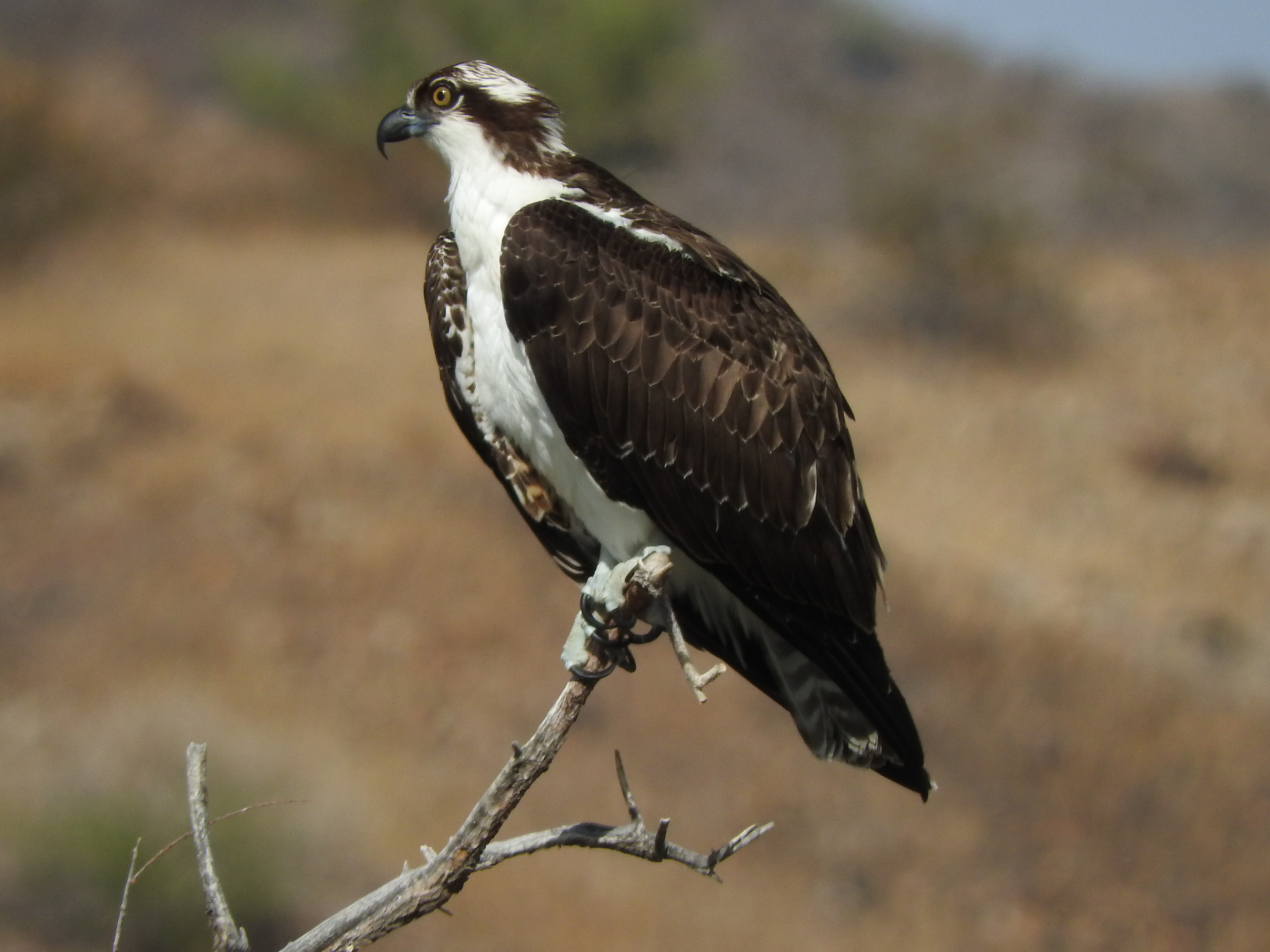 We see them hunting the ponds for Trout, Bass, Crappie, and Carp!  They dive feet first and make a huge explosion on top of the water trying to grab their intended prey.   I have always wanted to capture the moment on camera as they dive in the water from high but talk about timing. One might wait years to get on such moment let alone have one in focus.
I decided to concentrate my photographs to the open area species such as Western and Eastern Kingbirds, the Western Meadow Lark and especially the Horned Lark.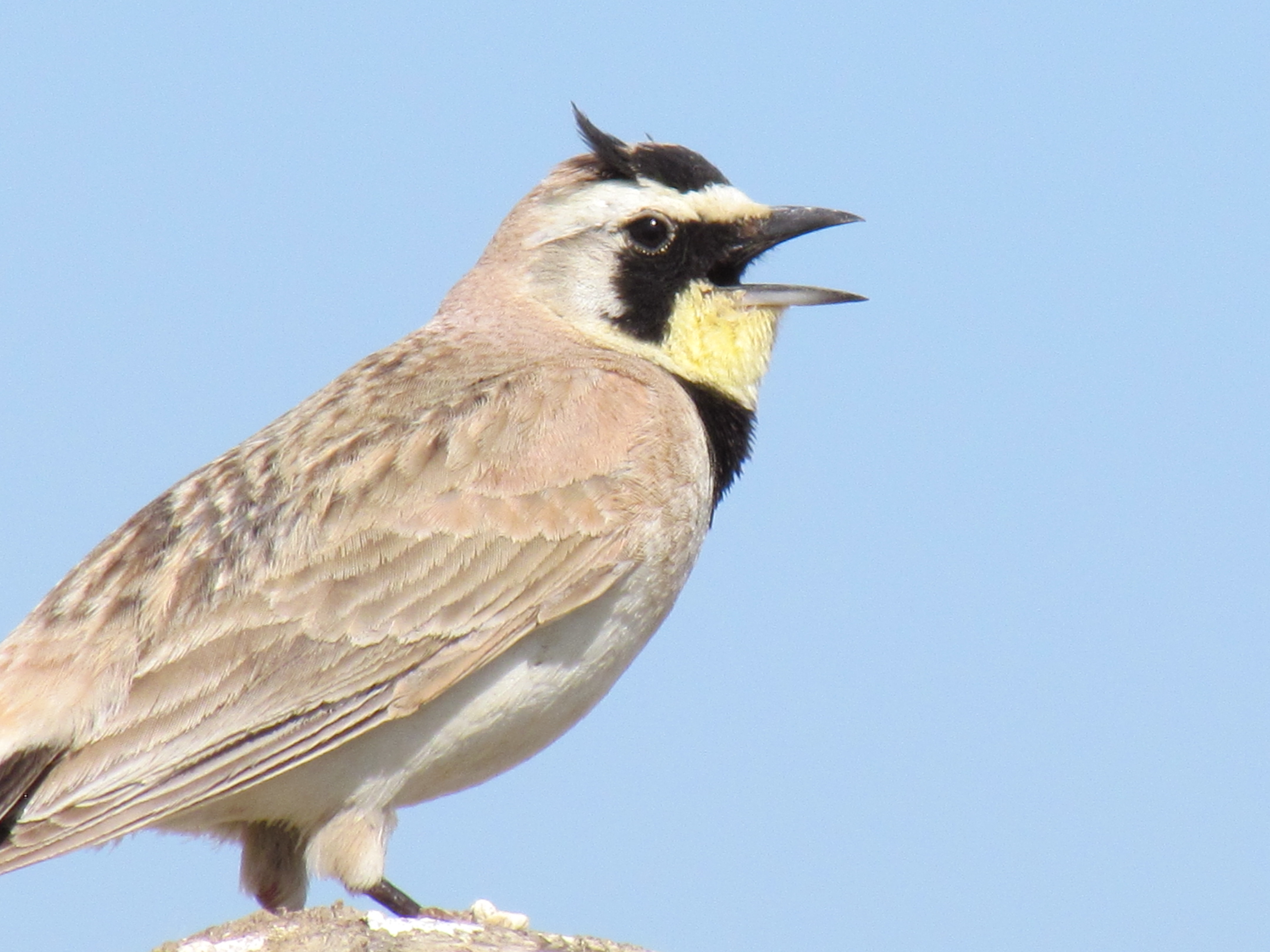 Since they were accustomed to campers, they were very willing to pose.  I have included a few photos of their posing.
One of the reasons we made reservations is so that we can pick up Jude's Granddaughter Mia.  She is flying into Denver and the park is just a few miles north of the airport.  Having a 13-year old for five weeks in our RV should be an experience for all!
After we picked her up, we drove the toad to Rocky Mountain National Park for a day's visit. Similar to Pike's Peak, there was a highway to a really high pass with a grand view!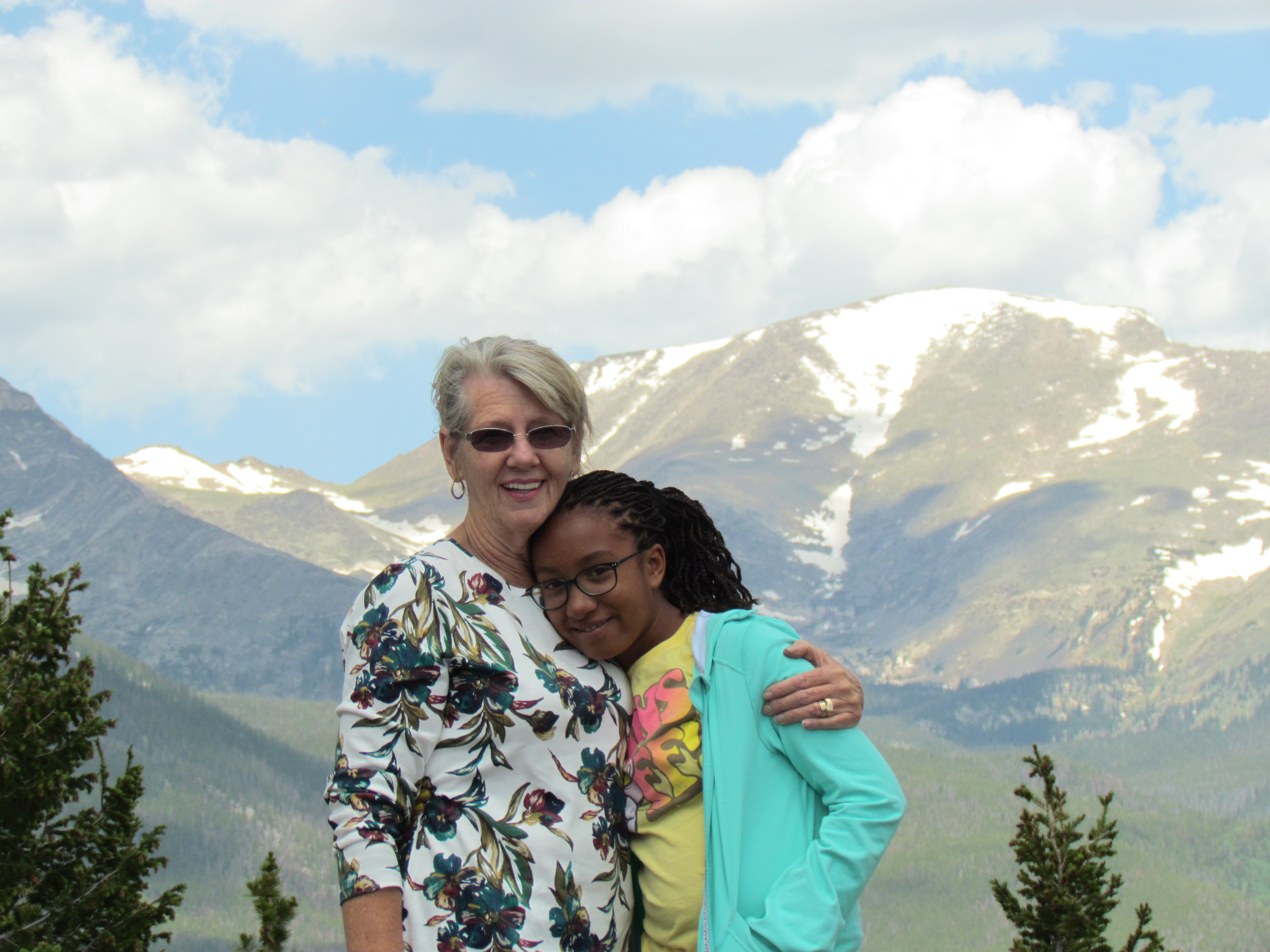 It was spectacular driving through the canyons up past the tree line. It reminded me of the many times I wandered above the trees in my Wyoming home.  Maybe that's why Forget-Me-Nots grow there.
Then the next day, we packed and organized the RV and headed to South Dakota to do our residency programs with some tentative plans to spend the 4th of July at Mt. Rushmore.