Wyoming Wrap Up
We are very interested in what is happening on the Colorado River since we have been spending summers on the north end and always spend winters on the south end. We decided a visit to Fontenelle Dam was in order to wrap up our third summer in Wyoming.
The Green River is the major tributary to the Colorado River. Fontenelle Dam is at the northern end of the Flaming Gorge National Recreation Area and Flaming Gorge Dam is at the southern end. From there it continues through eastern Utah, with a loop into northwestern Colorado, and back into Utah where it joins the Colorado River south of Moab, in Canyonlands National Park.
Fontenelle Reservoir acts primarily as a storage reservoir for the U.S. Bureau of Reclamation's Colorado River Storage Project, retaining Wyoming water in the state as a means of asserting Wyoming's water rights, with a secondary purpose of power generation.
Interestingly, the land used for the Fontenelle Reservoir and dam was previously the Stepp Ranch, owned by one of the few black ranching families in Wyoming in the 1960s. The Stepps fought for their land in court, but ultimately lost. The land had been in the Stepp family since the turn of the 19th century. More of the story here . 
Eminent Domain. No further comment. I was happy to learn there are still many Stepp family members in the area.
We had our picnic lunch in the Weeping Rock campground where the chipmunks amused us. We tossed a saltine cracker to one, and then there were two chipmunks, then there were three. You know this story. It was such a lovely, serene spot with drift boats passing by, a cloudless sky – I see why people love it so. 
And we learned a couple of things. There was a sign that told us the water weeps through the rock formations on the east side of the dam until it "weeps" at this site. Unbeknownst to us, seepage and "weeping" are common occurrences at dam and reservoir facilities.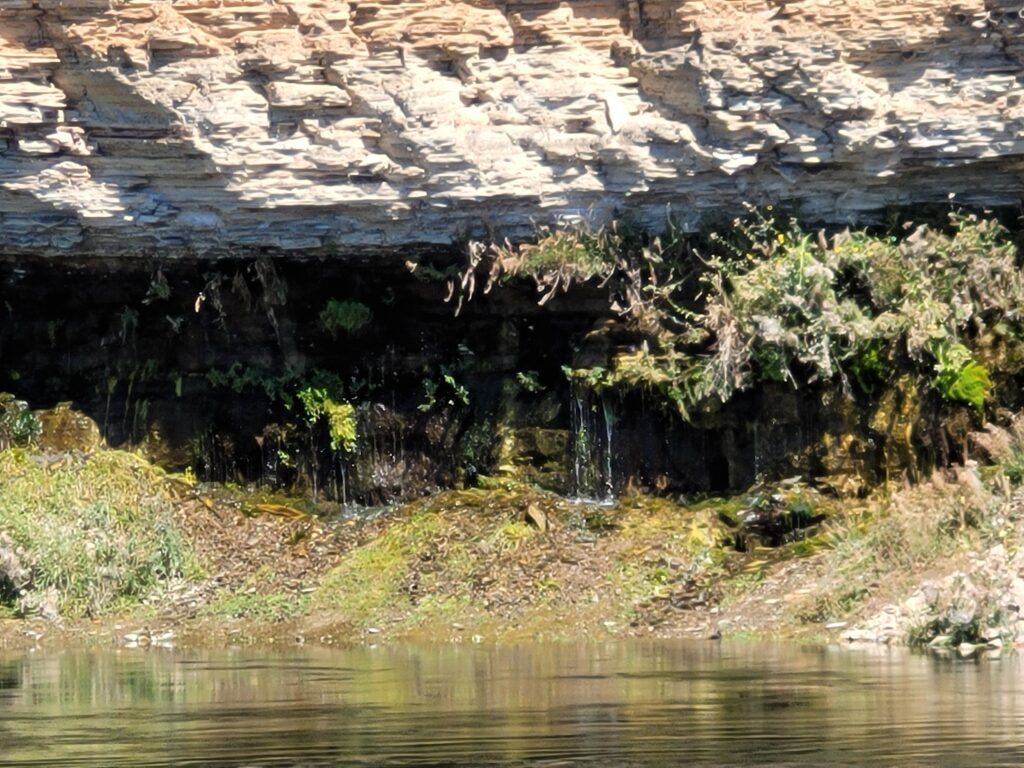 Seedskadee National Wildlife Refuge (link) – has been a "must stop" for every visit to Wyoming. Just on the entry road we saw many redtails, a falcon, eagle, osprey. This Refuge was created to offset the loss of wildlife habitat that resulted when the Flaming Gorge and Fontenelle Dams were built so the Green River runs through it. The many aspects of the Refuge are fascinating. The Oregon, Mormon, California, and Pony Express trails all cross the Refuge. One of the original goals of the Refuge was to provide suitable nesting and rearing habitat for waterfowl. There is riparian habitat, wetland habitat, upland habitat – which can all be explored on the Auto Tour.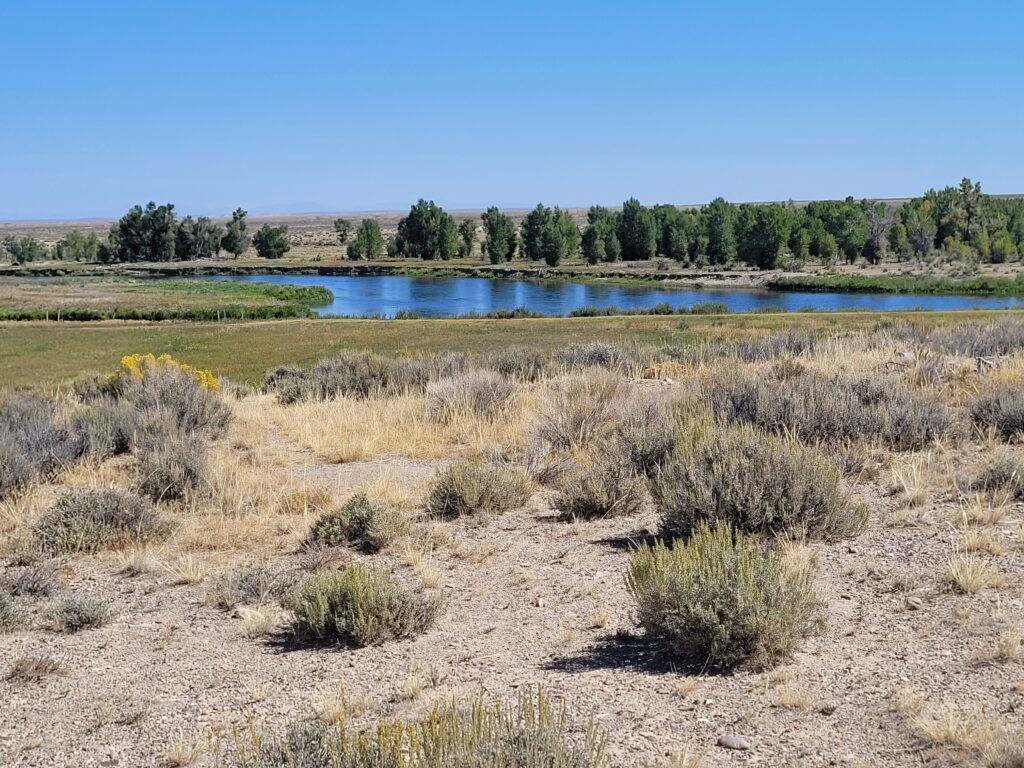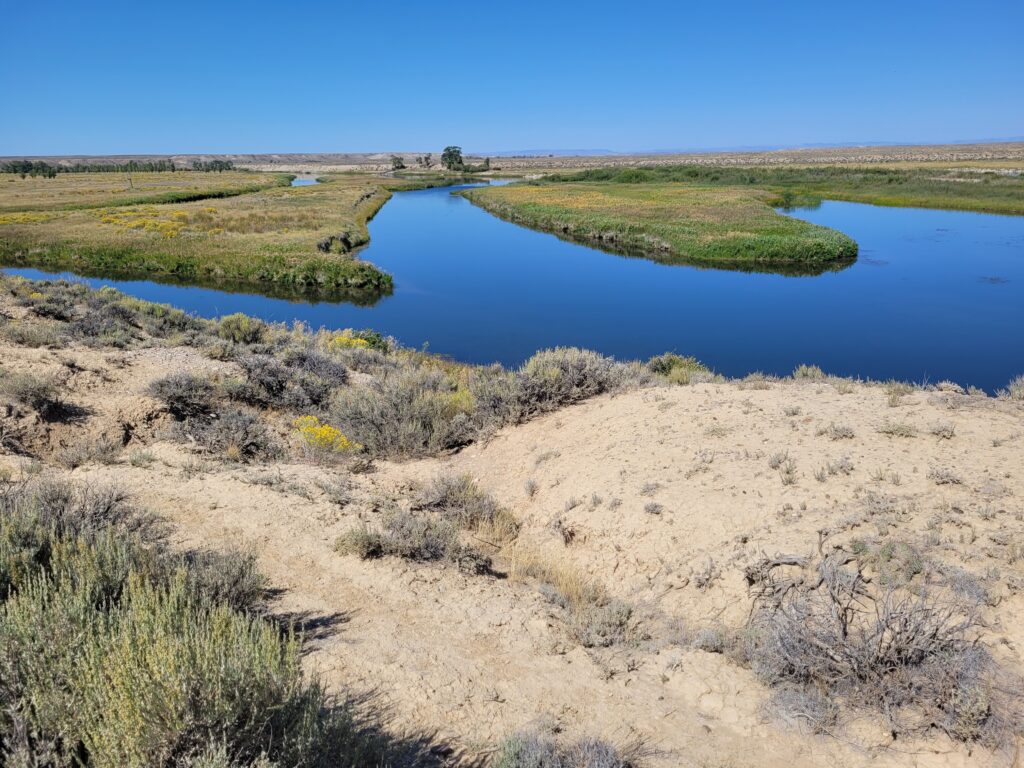 From there we took Hwy 28 over to Farson – not because it was the most direct route home. It was simply to enforce our belief that all roads in Wyoming lead to Farson Mercantile. Did I tell you about the world famous ice cream?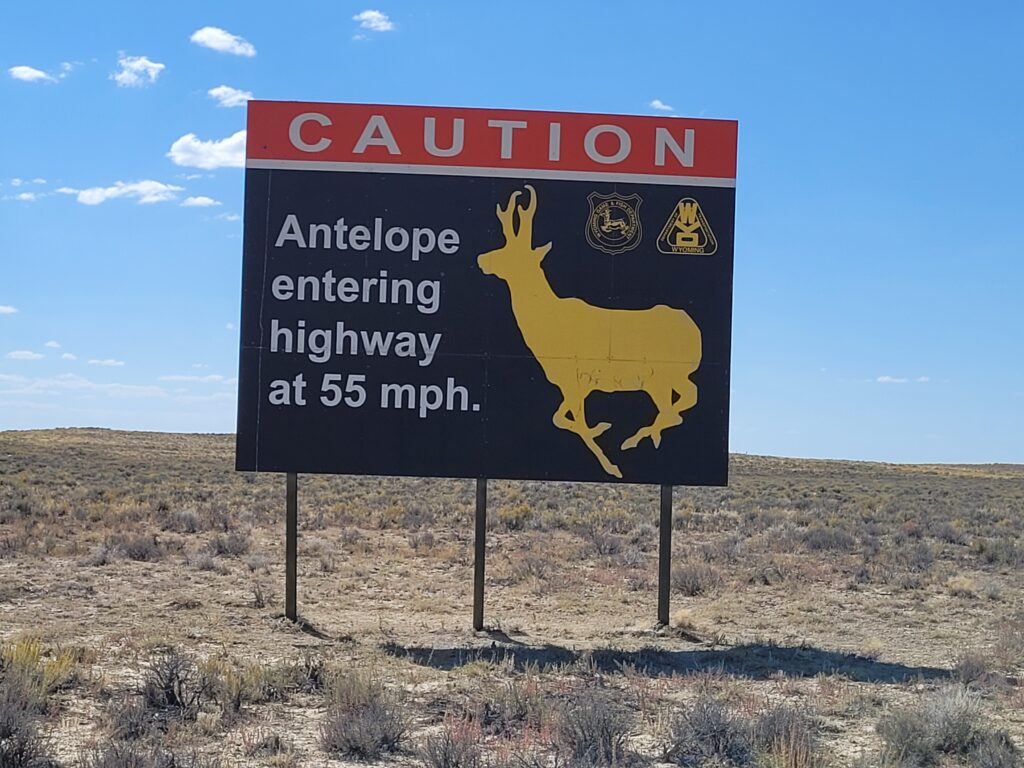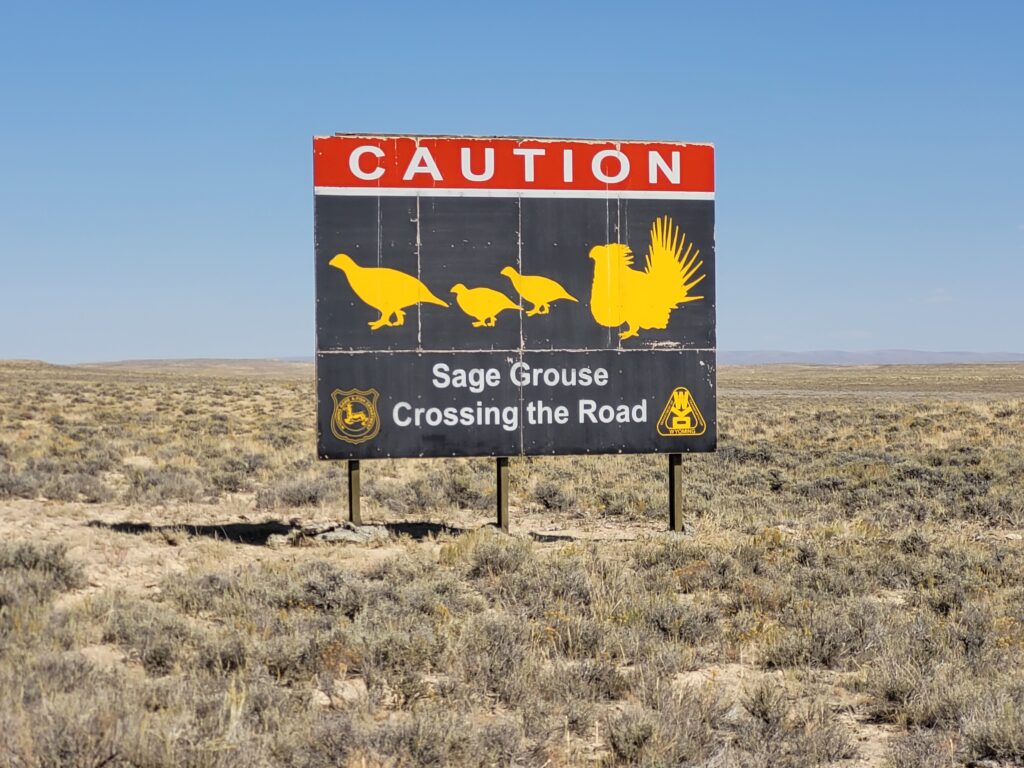 On our way out of Wyoming in mid-September, we decided to stop for a visit at Bear River State Park (add link) in Evanston. Somehow, in all our trips, we had overlooked this stop. There are small herds of bison and elk and more than four miles of paved and packed gravel trails along the beautiful Bear River. It connects to Evanston's historic downtown district via the city's Bear River Greenway trail system.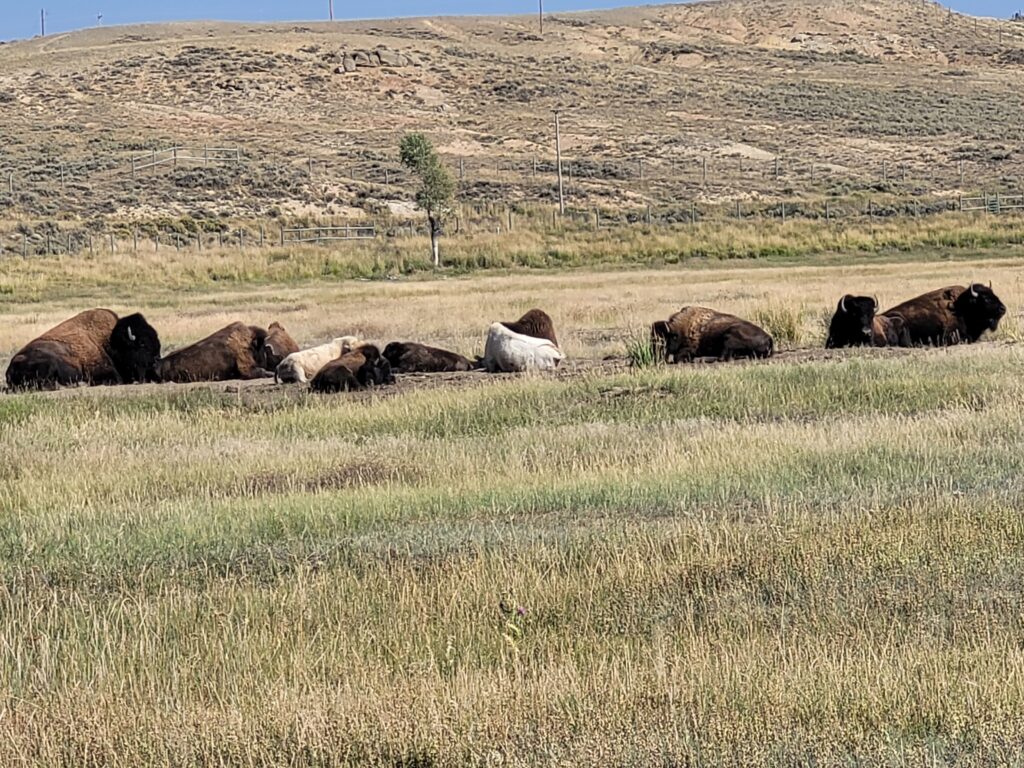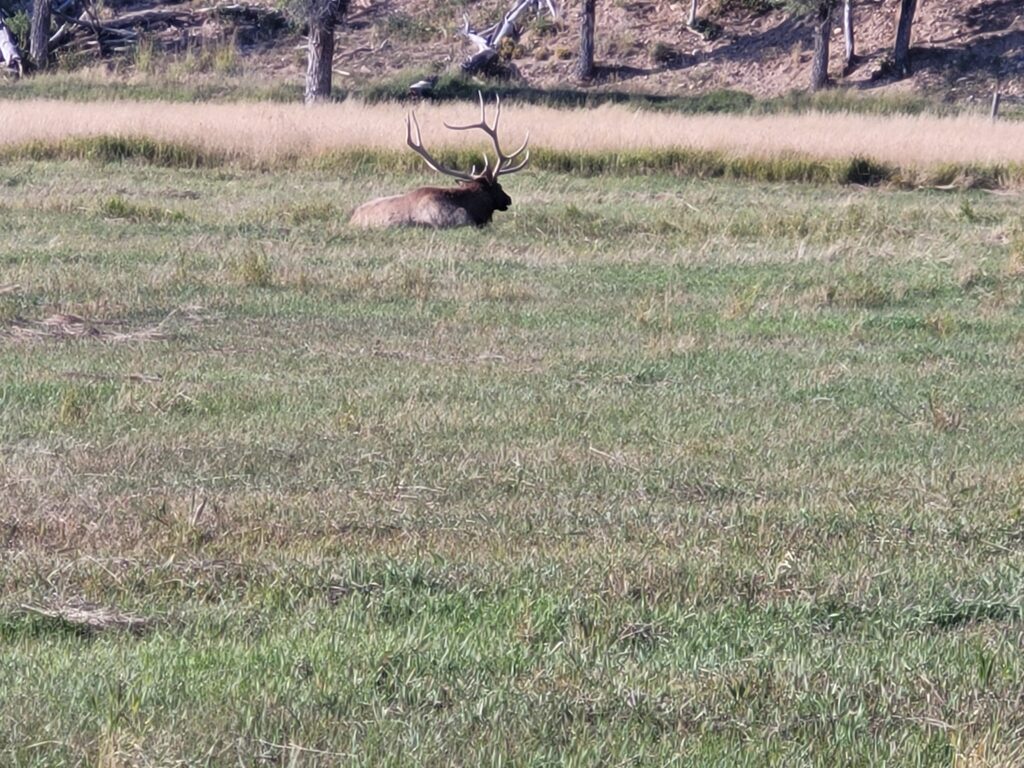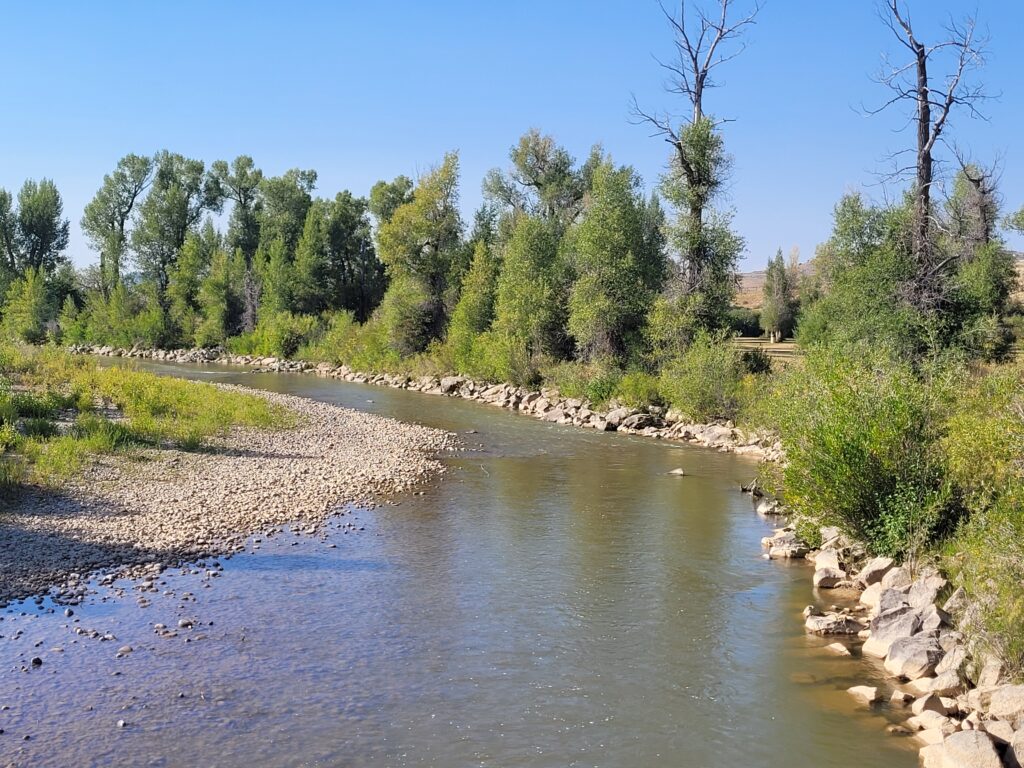 The visitor center sits above the park and has numerous interpretive wildlife displays that display Wyoming's wildlife (more than 40 full-body taxidermy mounts including a grizzly bear boar, black-footed ferrets, golden eagles, black bears).
Bear River State Park is a day use only park so we needed to find a spot to spend the night. The only game in town is Phillips RV Park – which has a very interesting history. A family owned business for over 80 years, it started in 1936 as a gas station (gas was $.19/gal.), with trailer spaces, tent camping and some cabins, then morphed and morphed into the current facility.
Returning to Salt Lake City for a couple of nights, we stayed at Sun Outdoors – off the 215 and near the airport. This was our first visit. It's a full service resort and our space was large enough to fit the RV, truck and boat. The back-in sites are about $60/night, the pull-throughs about $70. Lots of sites and some rental cabins. We would stay again without hesitation.
It's located along the North Segment of the Jordan River Parkway – a system I have really enjoyed exploring on previous visits.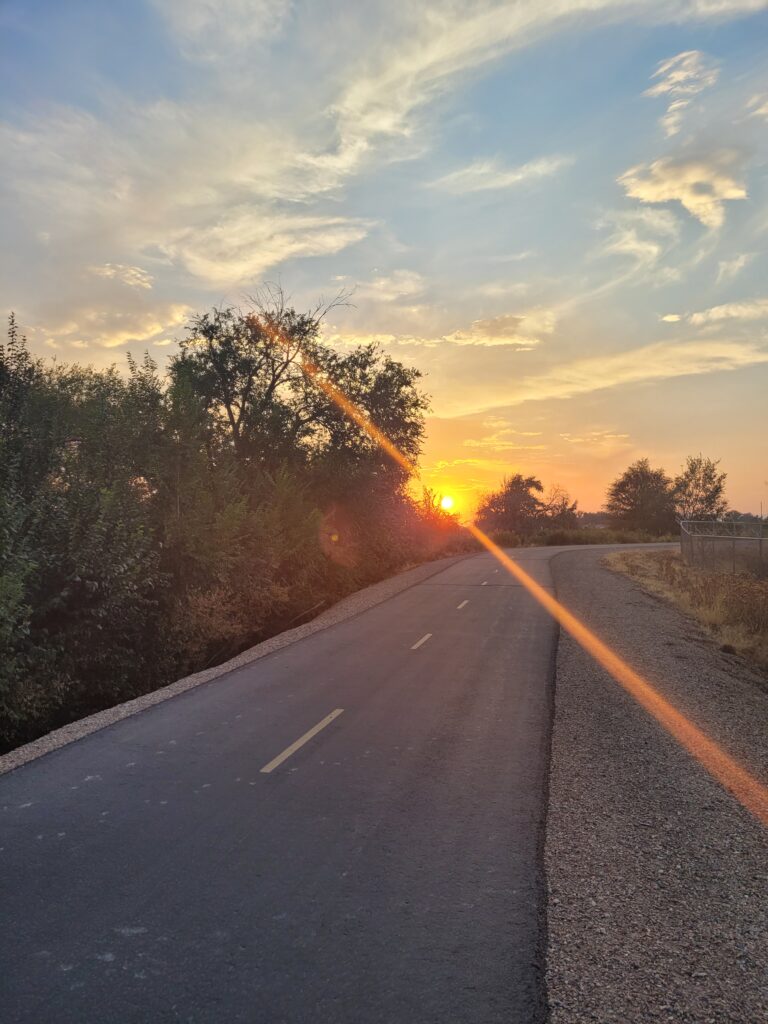 The drive from Salt Lake City was harrowing. Rain, wind and traffic at various intervals throughout the day made it exhausting for both of us. I drive the truck towing the boat and am the navigator. D.A. drives the RV.
We spent our last night on the road at Beaver Dam Lodge – it's located off Hwy 15 south of Littlefield AZ and north of Mesquite NV. This was our second visit. 29 Sites so far (the number will double in November 2022), the central sites (5 of them) are huge pull throughs. All have full hookups. While I was waiting at the desk to register, their phone never stopped ringing with people calling for winter reservations. The resort's response? "Nope. Nothing. Call in November to reserve for next year!" Gives you an idea how popular this lifestyle has gotten. The charge for one night was $52.75. 
As we prepared to set up, the first thing we always check is that there is plenty of room for our slides to open on the utility side, then we walked around to the entry side. There we found a panel missing from the coach! The missing panel protects the fresh water tank…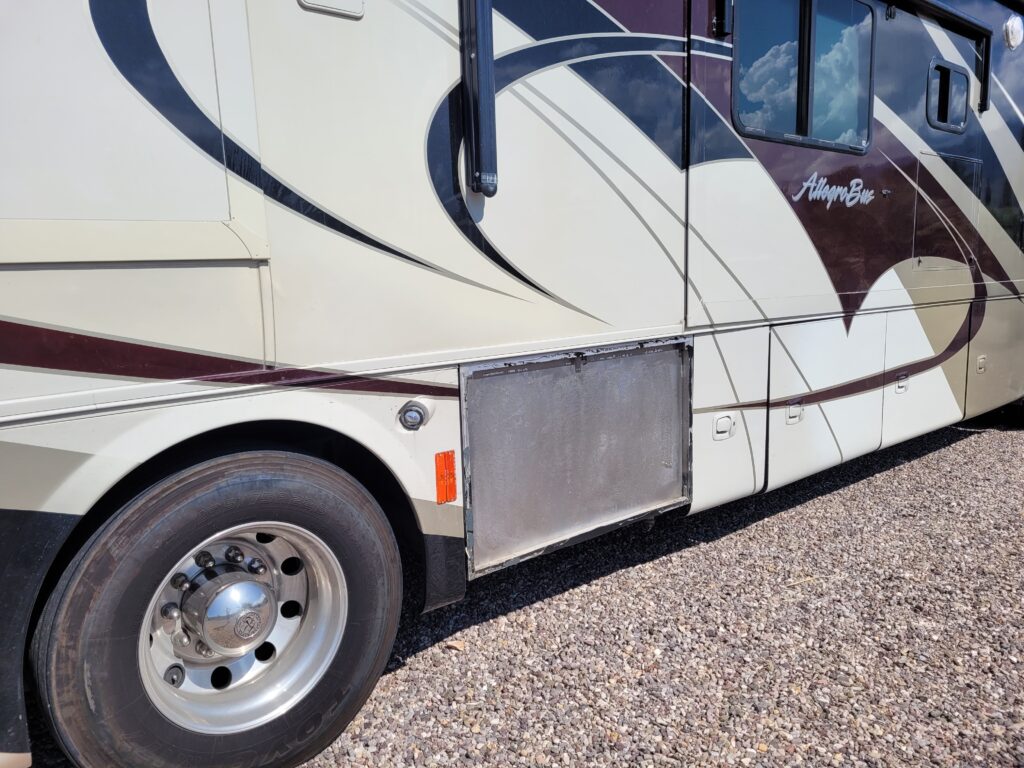 We hadn't noticed a problem with the panel. We assume it became detached when we were in the slow lane because it could have caused a horrific accident if we had been traveling in the left lane! Was it loose and if so, why? Of course we'll never know, but that cover had been removed just before we left Havasu for the summer when we had maintenance done on the Aqua Hot system. 
So you check to be sure all your bays are closed properly before you hit the road, but would you ever think to check panels? We never did.
Back safely to home base but only briefly. We have a date with the Norwegian Bliss in Seattle in a couple of days!