Delta Days
Our first stop after leaving Arizona was Lighthouse Resort in the thousand mile waterway between Sacramento and San Francisco known as "The Delta." We had been there once before for a lengthy time when my son was diagnosed with brain cancer – a whole "nuther" story.
D.A. loves the world-class fishery, and I was hoping to visit family and friends in the Bay Area I hadn't seen in a couple of years.
Generally, resorts along the Delta are dated. Development has been slowed, and so a visit to the Delta is the opportunity to step back in time to a less-complex lifestyle. While the towns of Antioch, Oakley, Stockton, Lodi continue to grow like crazy, the towns of Rio Vista, Isleton, Walnut Grove are reflective of mid-last century, rather than the current one-delightful in many ways!
We chose Lighthouse because of its very close proximity to Willow Berm Marina, the perfect place to moor a boat in the area. Since the truck is how we move around once the RV is parked, we're often trying to figure out how two people can be in two places at the same time. A marina across from our camp is a great solution! D.A. can drive over in the morning with all the fishing gear he needs, and then I can walk over later and pick up the truck for whatever I need to do.
Another benefit is that the Lighthouse has rental cabins, which is great when we have visitors, rather than trying to put extra people in the RV. Yes, our little couch and dining area can be made into sleeping areas, but in a 31-foot RV, it is very crowded.
During our month in the Delta, I rented two cabins at Lighthouse, and an AirBnB "flat" (a common San Francisco term meaning two separate housing units under one roof)  near Sugar Barge Resort to accommodate guests.
Of the two cabins at Lighthouse, one I would recommend with reservation, and one I would not recommend.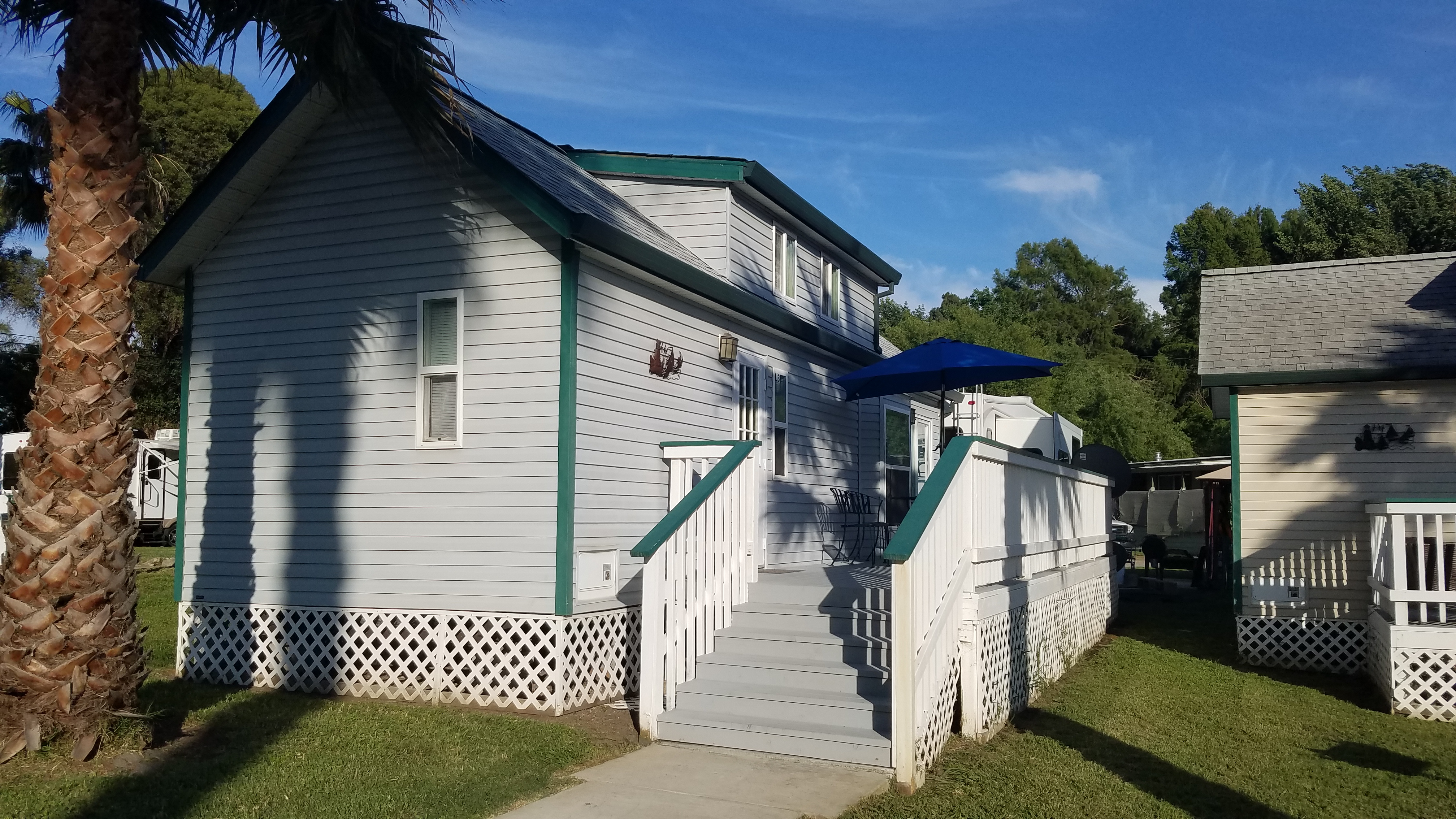 This is #L3, a cute little cabin near the pool and miniature golf, that was perfectly suitable in many ways. It had one bedroom downstairs and a loft that would be great for kids. It had a lovely deck with a nice table and chairs.
My complaints: The kitchen table in the unit. It was tiny, with two leaves. When you pulled out the little wood block to put up either leaf, the block didn't fit properly, so anything you set on the leaf was subject to sliding off the table! There was only one lamp in the bedroom, but no light on either side of the bed.
Nonetheless, I would rent this one again (and I'd bring a folding plastic table and a reading light – ha ha).
I didn't take a photo of the second cabin, #6 aka 2. The layout was actually better than the first. There was a bedroom at each end of the cabin BUT the exterior stairs and deck were very badly worn and there was no table or chairs on the deck. No table or chairs on a deck at a resort? #ohwell
Heads up if you go: The cabins near L3 (L1 through L5 and 20, 21) are newer and nicer.
My dear friend, Sharon, visiting from New York, caught a trout!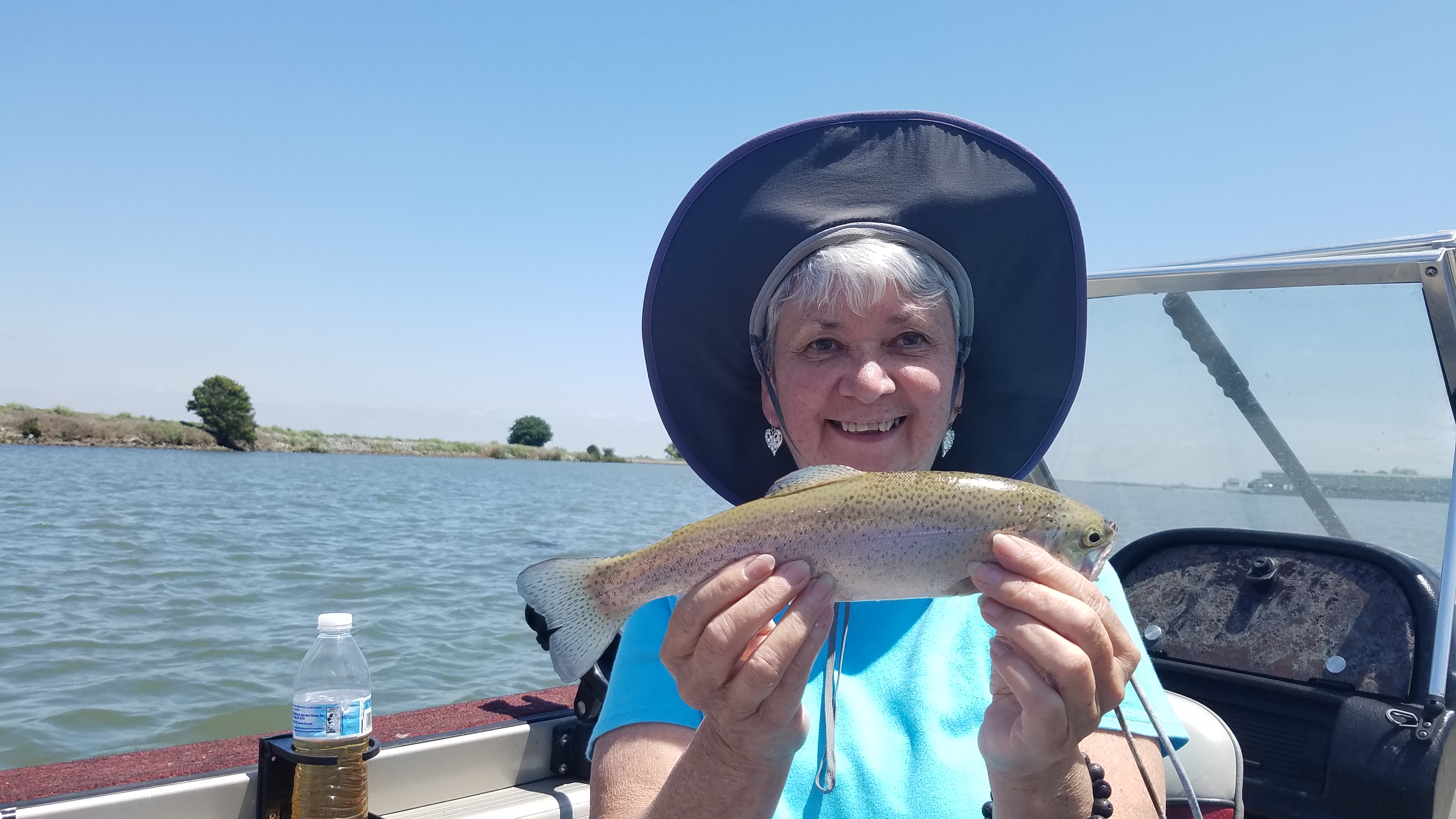 Sonora Pass to the Eastern Sierra
Friends we met in Havasu Springs, Gail & Don, told us about the summers they spend in Bridgeport, CA, on the eastern side of the Sierras. We decided to see it for ourselves this summer on our way north. By the time we got around to making reservations, everything was pretty well booked, but we could stay a few nights at one of the resorts our friends recommended, Twin Lakes Resort.
Heading east from the CA Delta (our vehicles configured as in the picture above), GPS guided us to Hwy 108. Little did we know what we were in for on that amazing and mostly gorgeous ride…
Eventually we found ourselves in what was left of Dardanelle after the 2018 fire – an event we remembered from national news last summer. We had been climbing for a long time by the time we reached the camping/skiing destinations near Dardanelle, and we kept climbing our way to Sonora Pass (9643 ft.) when we saw the scariest sign we've ever seen in our nomad travels: 26% Downgrade Ahead!
When traveling, we communicate by walkie-talkie. D.A. asked if I saw the sign. I said yes. He said there was no place to turn around, so… ONWARD!
Endless alpine views and wildflowers, but guess what? No guardrails. 26% downgrade, 15 miles. You tell me. I eventually had to stop to give the truck brakes (being constantly pushed by the boat and trailer) a rest. D.A. did fine in the Mothership. This is not considering the fear factor in either vehicle. Enormous!
From the summit, CA 108 drops dramatically into the Walter River Valley, ending at its junction with U.S. 395, and it comes out 17 miles northwest of Bridgeport.  About four miles before that intersection, you pass the Marine Corps Mountain Warfare Training Center that trains service members to survive and fight in cold weather and mountainous environments across 46,000 acres of the Toiyabe National Forest.
Note to self: When planning travel, don't rely entirely on GPS. It would be okay to look at the Road Atlas too!!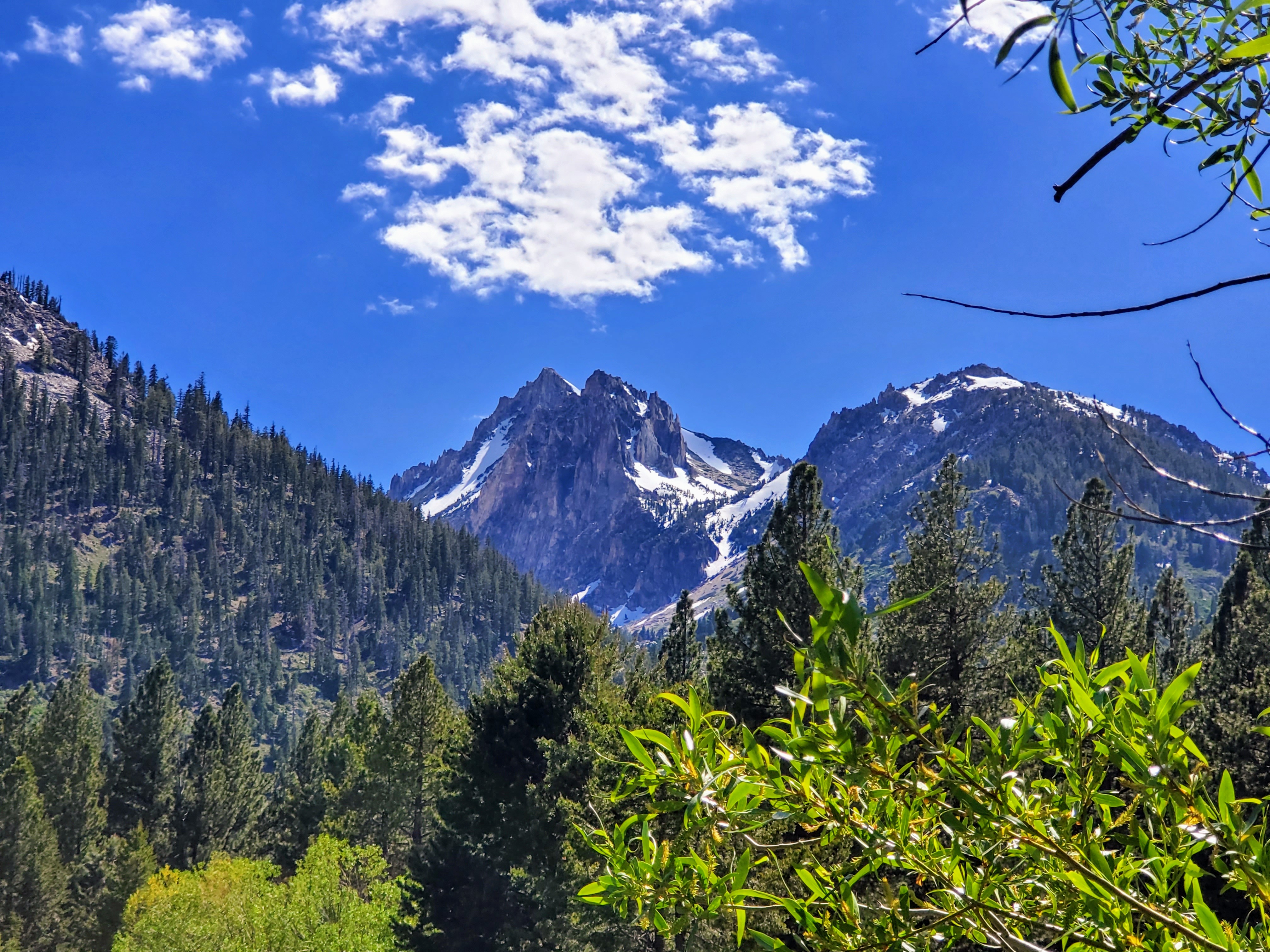 Driving into Bridgeport was enchanting. Bridgeport is the center of a summer-to-winter recreational playground. It is popular with fishing, hiking and outdoor enthusiasts as a gateway to High Sierra canyons, peaks, lakes, streams, and hot springs. Stunning.
But, Bridgeport had a big surprise waiting: $5.09 a gallon gas!!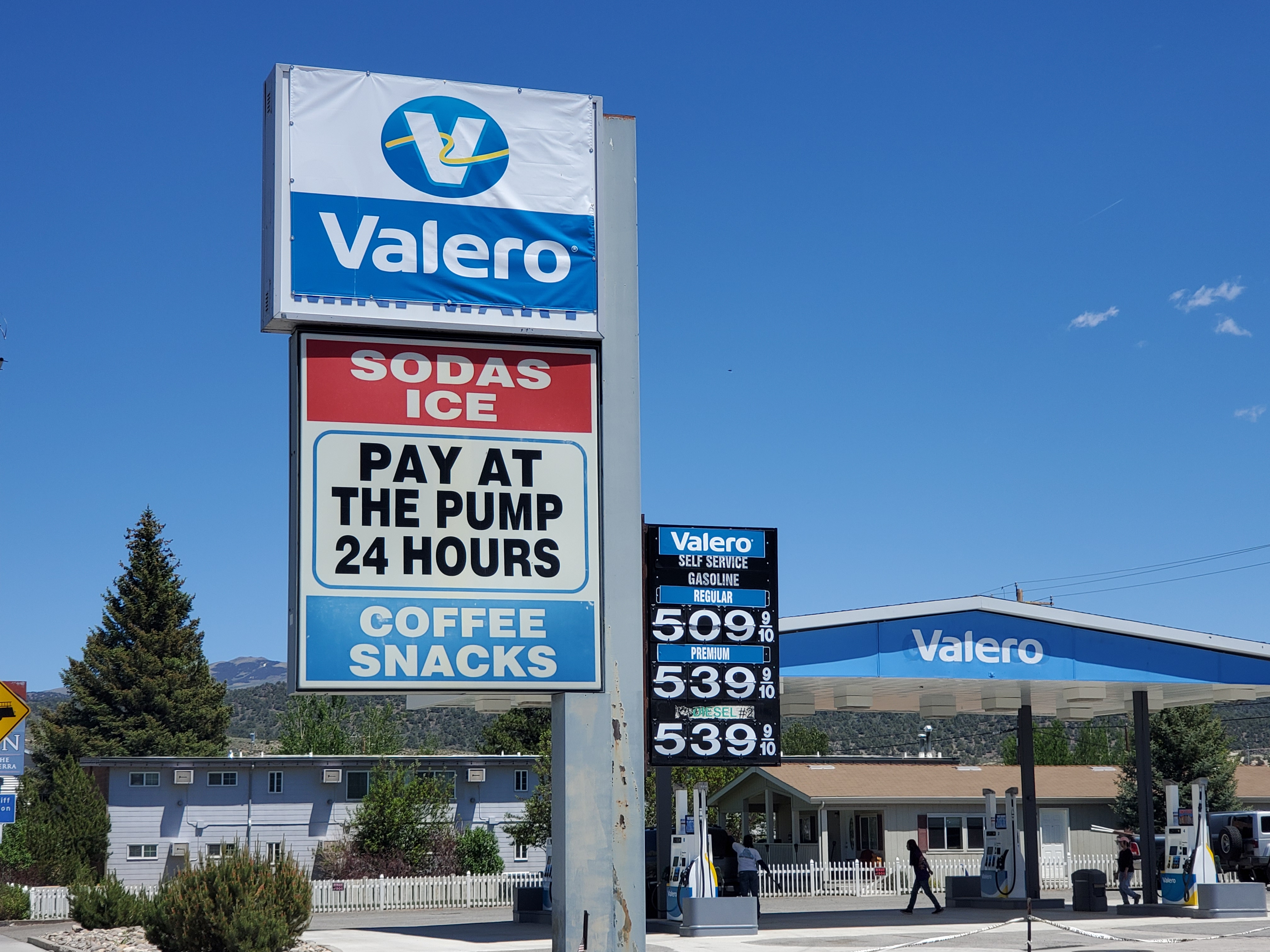 As we turned on the road to Twin Lakes, the views, the setting, was even more spectacular. Upper Twin covers nearly 400 acres and Lower Twin more than 250. They offer legendary fishing. The boating, camping and cabin rental options at Twin Lakes are excellent. The views the lakes afford, however, are what really distinguish them.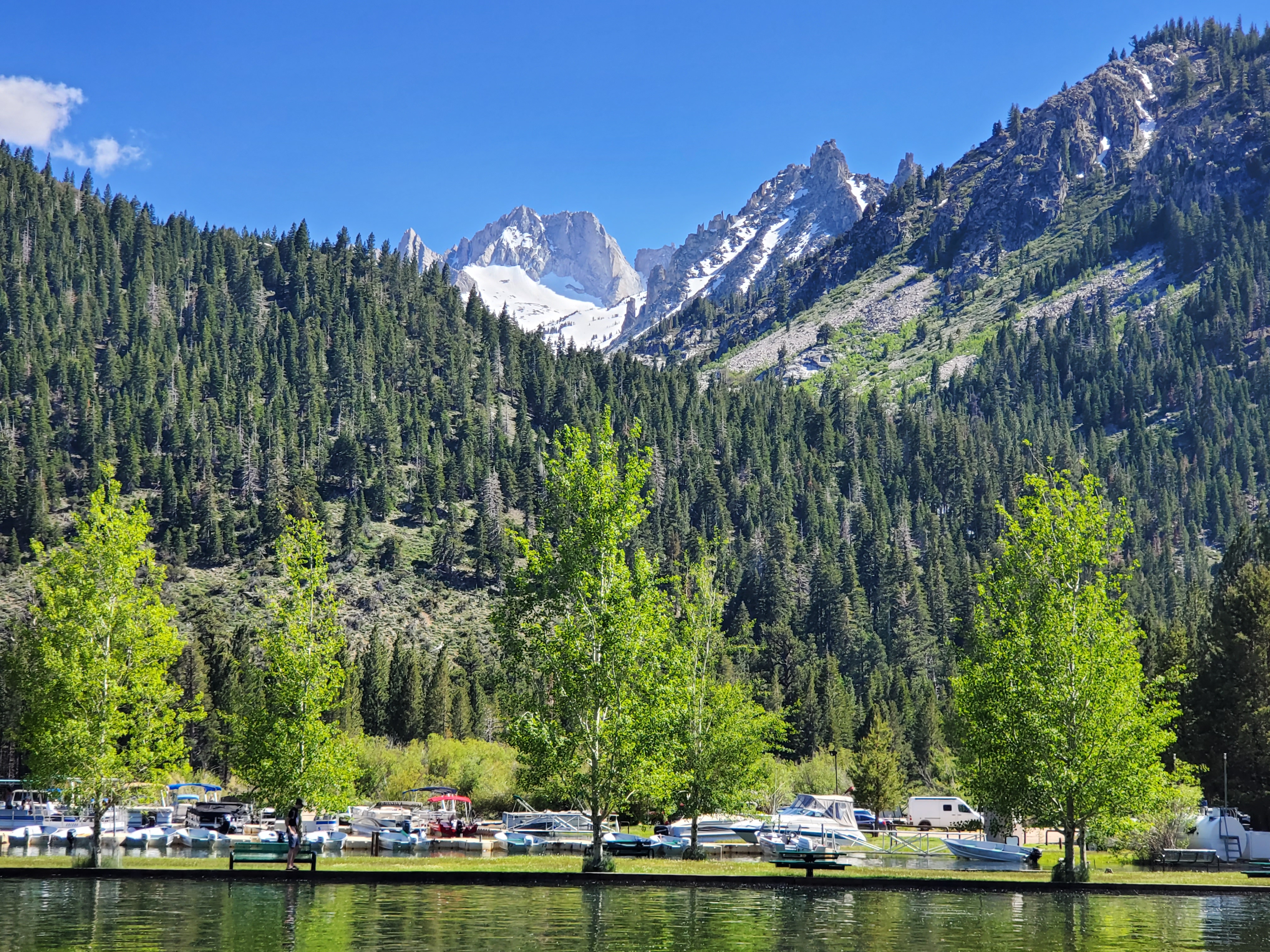 The large alpine lakes are lined by evergreens and run along what is often called the "California Alps," the Sawtooth Ridge and Sierra Crest, which divide the Twin Lakes Basin from Yosemite National Park.
While the Twin Lakes Basin is certainly beautiful, it's also home to some of the best trout fishing in the Golden State. The state record brown trout—weighing in at 26 pounds, 8 ounces—was caught in Upper Twin in 1987. That fish knocked off the reigning champ, which had been landed in Lower Twin Lakes, by just a few ounces. D.A. caught a selection of Rainbow trout, from three to six pounds.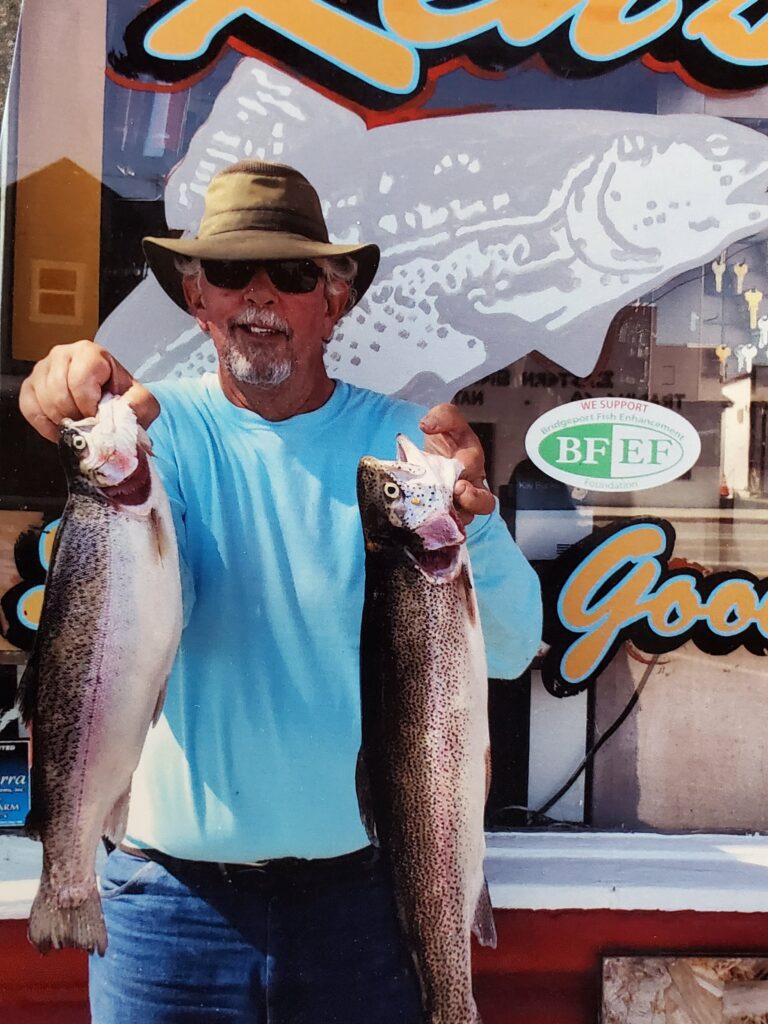 We camped at Twin Lakes Resort, on the lower lake. They had a marina, cafe, and convenience store. They offer eight cabins, four premium RV sites (10 are being added this summer), and 16 standard RV sites with full hookups. We were in the standard sites (two wagon-wheel loops of eight sites each), which were fine, with a huge laundry/shower facility.
Our days there passed too quickly: fishing, visiting with our friends, sightseeing. We easily see why our friends spend summers there. We also learned they honeymooned at Upper Twin Lakes some 40+ years ago.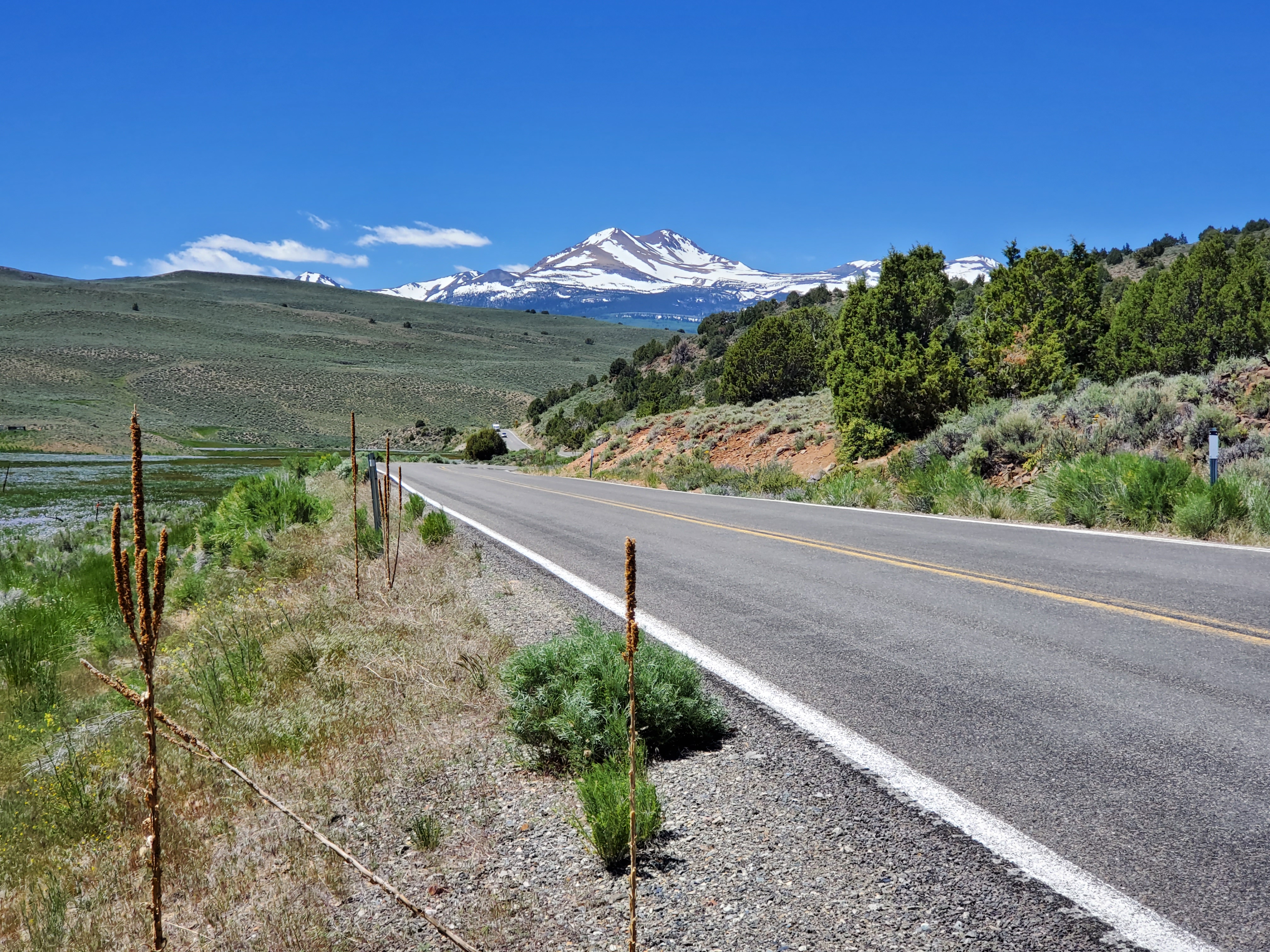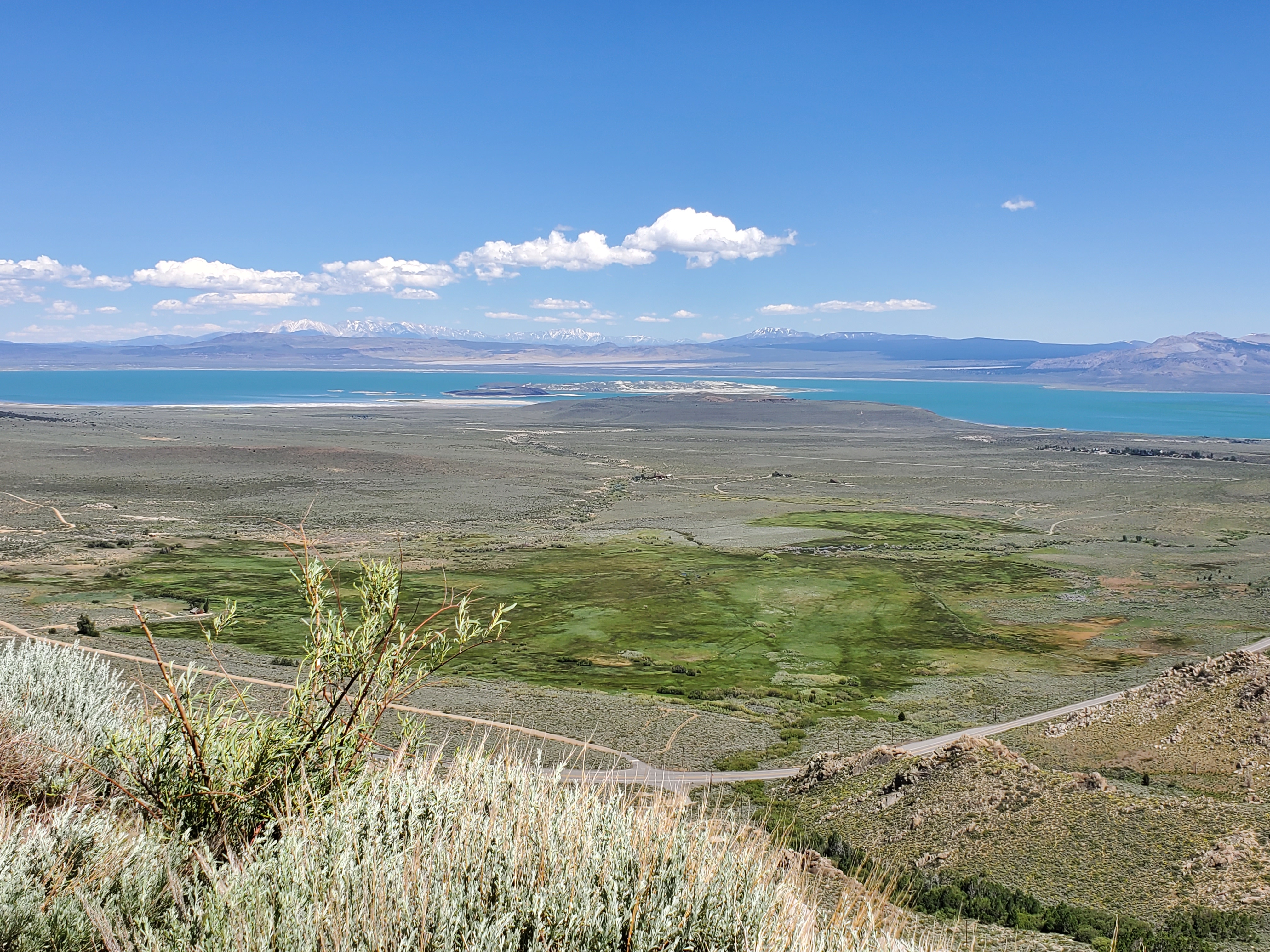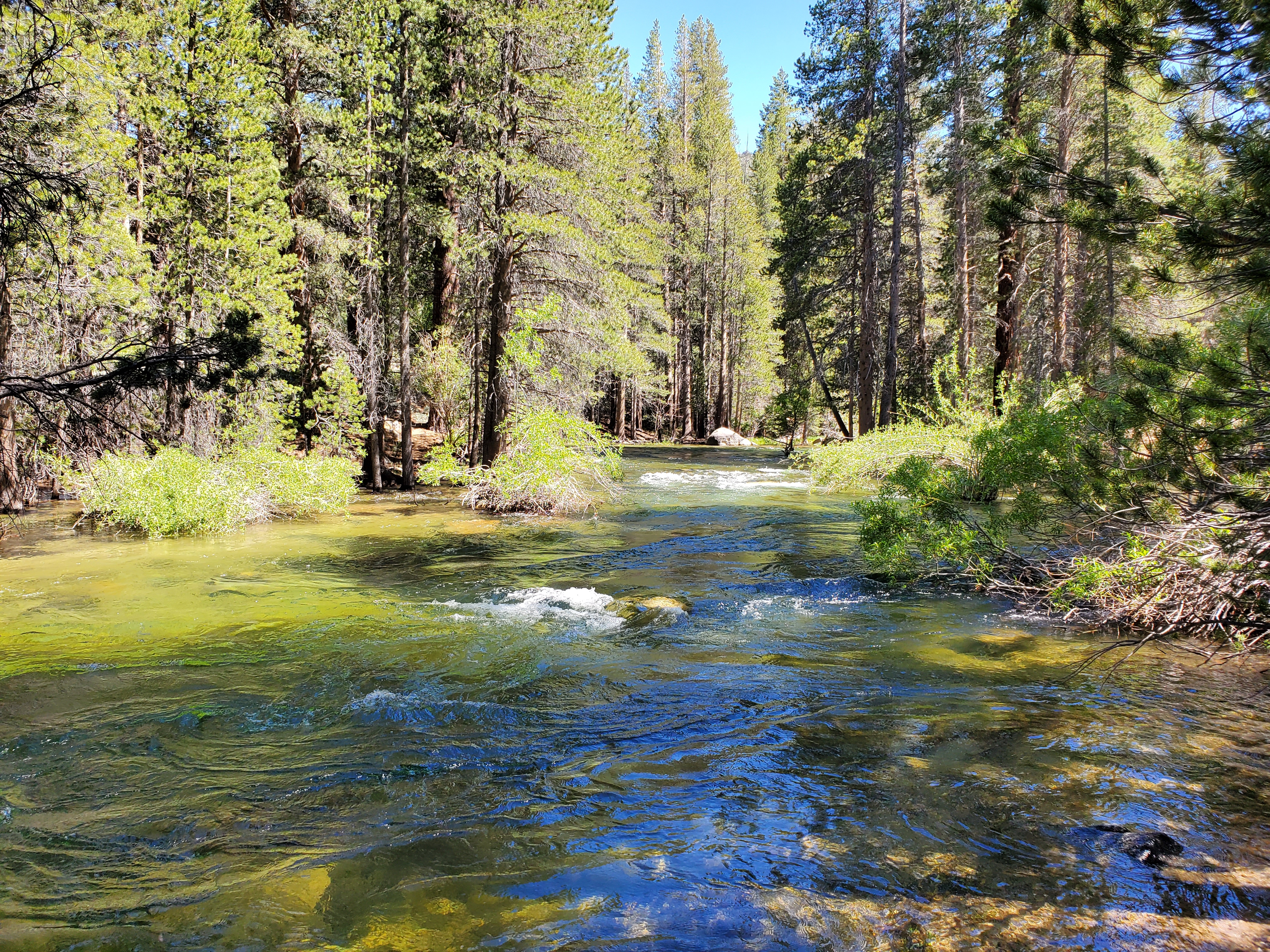 What an awesome way to start our summer. Can't wait to see what happens next!!